For the Love of Food: Harvest in the Kitchen – The Flavors of Fall
 By Aly Wagonseller
As the days get shorter and searing temperatures tumble, the crisp nights of autumn beckon meals filled with warmth, substance and the bountiful flavors of fall.  Vibrant acorn and butternut squash, juicy pears, tart apples, ruby red pomegranate seeds and cranberries, and the star–mellow pumpkin–speak volumes to the season; their colorful appearance and savory flavors satisfying our palates from entrée to dessert.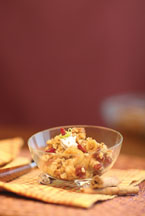 Yet, with all the abundant squash, root vegetables and fruit in the produce department, fall cuisine can be time consuming in the peeling and chopping department. While this may not be a problem for weekend cooking, in fact for some it can be very therapeutic, what about during the week when a quick, yet substantial meal is still in order? A few tricks can save a lot of time.
One of the best ways to get in and out of the kitchen in a flash is by using pre-chopped ingredients.  Found in most grocery or specialty stores including Trader Joe's, prepackaged sliced apples and cubed squash are huge time savers, allowing for very little prep time, yet maintaining fresh flavor.  Frozen squash puree is also a wonderful alternative, especially in soups, as this eliminates the need for blending. Fruits like pomegranates can be especially challenging, with prepackaged seeds being a costly alternative that may not be worth the expense.  No need to omit them.  Cut a fresh pomegranate in half and, holding the cut side down over a bowl to catch the seeds, gently tap the outside of the fruit with a rolling pin. No broken seeds or juice all over the countertop!
Autumn is a wonderful time to cocoon in a cozy kitchen. And with recipes that include a delicious Harvest Soup, Creamy Pumpkin Pasta Bake, and an earthy Autumn Fruit Crumble, you can serve your family meals that warm the soul any day of the week.     
Sweet and Savory Sausage Stuffed Acorn Squash
Serves 8
4 small acorn squash
1 1/2 tbsp. butter
1/2 cup diced red bell pepper
2 large green onions, thinly sliced                                                                                                                                                                           4 cremini mushrooms, coarsely chopped                                                                                                                                                         3 tbsp dry roasted pistachio nuts, chopped                                                                                                                                                      3 tbsp. craisins
1 pound bulk breakfast sausage
1 cup seasoned stuffing croutons, slightly crushed
1/2 cup canned beef broth
1/2 teaspoon pepper
1/4 teaspoon salt, optional
2/3 cup light molasses
Preheat oven to 400°F. Cut two 3/4-inch-thick slices from the center of each acorn squash for a total of 8 slices (reserve ends of squash for another use). Scoop out seeds and fibers from center slices and discard. Arrange squash rings in single layer on parchment or foil lined 15x10x2-inch baking dish. Set aside.
Melt butter in a heavy, nonstick skillet over medium heat. Add bell pepper, green onions and mushrooms, sautéing until tender, about 3 minutes. Transfer to large bowl and cool. Mix in sausage, stuffing cubes, pistachios, craisins, broth, pepper and salt. Divide mixture into eight portions, approximately 1/3 cup, mounding the portions into the center of each squash ring. (Can be prepared 1 day ahead. Cover and refrigerate.)
Brush sausage and squash with half of molasses. Bake 15 minutes. Brush with remaining molasses and bake until squash is tender and sausage is cooked through, about 30-35 minutes.
Harvest Soup with Pancetta and Gruyère Croutons 
Serves 8
 ¼ cup plus 2 tbsp. butter, divided                                                                                                                                                                         4 slices pancetta, chopped
1 large onion, finely chopped
4 large garlic cloves, chopped
3 cans low-salt chicken broth
4 cups butternut squash, peeled and cut into 1-inch pieces
4 cups acorn squash, peeled and cut into 1-inch pieces                                                                                                                               1 red apple, diced
2 1/4 tsp. minced fresh thyme, divided
2 1/4 tsp minced fresh sage, divided
1/4 cup whipping cream
1 baguette bread loaf, cut into 24, ¼ inch slices
1 cup grated Gruyère cheese
1 teaspoon minced fresh thyme
1 teaspoon minced fresh sage
 In a large pot over medium heat, sauté pancetta until crisp. Remove from pan and drain on paper towel.  Leaving 1 tsp. of pancetta fat in the pan, add ¼ cup butter, heating until melted.  Add apple and onion and sauté for five minutes. Add garlic and sauté until tender, about 5 more minutes. Add broth, squashes and 1 ¼ tsp. each of the thyme and sage. Bring to a boil then reduce heat and cover, simmering until squash is very tender, about 20 minutes.
Meanwhile, preheat broiler. Butter 1 side of each bread slice with remaining butter. Arrange bread, buttered side up, on baking sheet. Broil until golden, about 1 minute. Turn slices over and sprinkle with cheese and remaining herbs. Sprinkle with salt and pepper. Broil until cheese melts, about 1 minute. Set aside.
Working in batches, puree soup in blender. Return to pot and stir in cream, Simmer until slightly thickened. Ladle into bowls, garnishing with pancetta, croutons and freshly ground pepper. 
 Autumn Fruit Crumble with Cinnamon Whipped Cream
Serves 8 
2/3 cup plus 1 ½ tsp. sugar, divided
3 tbsp. plus ½ cup flour, divided
2 tsp. ground cinnamon, divided
1/2 tsp. ground nutmeg                                                                                                                                                                                            ¼ tsp. salt
4 large Granny Smith apples, peeled and cut into 1/4-inch-thick slices 
2 large ripe pears, peeled and cut into 1/4-inch-thick slices 
¾ cup craisins                                                                                                                                                                                                                              1 tbsp. fresh lemon juice
½ cup (one stick) unsalted butter, room temperature                                                                                                                                  1 ¼ cups rolled oats
½ cup packed golden brown sugar
2/3 cup toasted pecans, chopped
1 2/3  cup chilled whipping cream
¾ tsp. vanilla
Preheat oven to 375°F. Butter a 13×9 or 11×7 inch glass or ceramic baking dish. Mix 2/3 cup sugar, 3 tbsp. flour, 1 tsp. cinnamon, and nutmeg in large bowl. Add apples, pears, and craisins; sprinkle with lemon juice and toss to coat. Transfer to prepared dish.
Stir together oats, flour, salt, brown sugar and pecans. Blend in butter with fingertips, mixing until mixture forms small clumps.  Scatter over fruit mixture and bake until juices are bubbling and topping is golden brown, about 40 minutes. Cool about 20 minutes.
Meanwhile, beat whipping cream, remaining 1 ½ tsp. sugar, vanilla and cinnamon until soft peaks form.  Serve over crumble along with vanilla ice cream if desired.
Creamy Pumpkin Pasta Bake
Serves: 8
1 pound sweet Italian sausage                                                                                                                                                                            3/4 cup chopped onion                                                                                                                                                                                              1 tbsp. minced garlic                                                                                                                                                                                                    1 tsp. red pepper flakes                                                                                                                                                                                              2 tbsp. oil                                                                                                                                                                                                                          1 (15-ounces) can pumpkin puree                                                                                                                                                                         1 1/2 cups chicken stock                                                                                                                                                                                            2 tsp. fresh sage leaves, chopped                                                                                                                                                                            2 tsp. salt                                                                                                                                                                                                                      1/2 cup heavy cream                                                                                                                                                                                                 ¾  pound ziti pasta, cooked al dente                                                                                                                                                                    2 tbsp. fresh parsley leaves, chopped                                                                                                                                                                  1 cup freshly grated Parmesan  
 Butter (8) 8-ounce ramekins. In a large, deep skillet, cook sausage over medium heat until crumbled and brown. Remove from skillet, drain on paper towels and set aside. Discard all but 2 tbsp. of the sausage fat from the skillet, adding the oil and heating over medium heat until hot. Add onion, garlic and crushed red pepper flakes, cooking and stirring until soft; about 3 minutes. Stir in pumpkin puree, chicken stock, sage and salt. Bring to a boil then lower the heat and simmer 5 minutes. Stir in cream and sausage and simmer until creamy and slightly thickened.
 Add cooked pasta to the skillet and gently toss to coat. Mix in parsley. Divide between prepared ramekins. Sprinkle with Parmesan cheese and bake for 35 minutes until the topping is golden brown.