Livin' Local: Head Above Water – Outdoor Adventures at Lake Mead

By Mike Sweeney

Can you feel it yet? Step outside and you should find the skin blistering temperatures of summer fading away into the cooler atmosphere of fall. Now that autumn has arrived, we can safely venture outside without melting away like the Wicked Witch and enjoy a brisk hike, a fun camp out or a wide range of water sports. All that and more awaits at beautiful, scenic Lake Mead.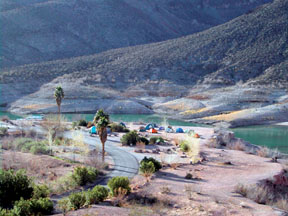 Take a Hike
While the human hamster wheels of your local gym might prove more convenient, there's nothing like exercising in the fresh air. Strap on your hiking boots and explore Lake Mead's endless trails, including the unique 3.6 mile Railroad Tunnel Trail, best accessed from the Lake Mead Visitor Center. Once used to haul supplies during the building of Hoover Dam, these five tunnels now provide an easy, level walking path with great views of the lake, perfect for even the most novice hiker. Each tunnel runs the length of a football field, pleasantly shaded from the midday sun, with jackrabbits and bighorn sheep in the surrounding area. The trail ends at the dam's visitor parking area for a stunning view of southern Nevada's famous historic landmark.
For more history to go with your hike, take a stroll through Anniversary Narrows, a slot canyon with stunning geological features that will lead you right past an abandoned mining site. Start at the trailhead at Mile 16 on Northshore Road and head up the wash, remembering to steer clear of the actual mine entrance. From here, the trail narrows into a canyon with sparkling gypsum deposits and colorful layered sediment. A narrow, steep climb in places, but the scenery is worth it. Not difficult enough? Try the 2.25 mile Goldstrike Hot Springs trail, accessed off U.S. 93, just past the Hacienda Hotel. This route keeps your blood pumping as you hike through slot canyons, over rocks and along steep ledges on a trek to the Nevada Hot Springs and the Colorado River.
Detailed information on hiking trails at Lake Mead can be found at www.birdandhike.com.
Tent City
Maybe you've had a stressful week at work and a rigorous hike just isn't your thing. If you'd rather kick back and unwind, the cooler temperatures of fall make Lake Mead a perfect spot for camping. Hundreds of individual campsites are available at several campgrounds, including Boulder Beach, Callville Bay, Echo Bay, Temple Bar and more. Plan ahead, because single site camping is first come, first served, though reservations are required for group camping. For more adventurous types, many areas of the backcountry can be reached by boat, car or backpacking for a one-with-nature experience – but if you're going to be out of touch, remember to let someone know where you'll be going and when you plan to return.
Lake Mead's campgrounds have all the amenities you need for a relaxing getaway. Bathrooms and running water ensure there's no need to dig a hole in the woods or bring a case of Arrowhead just so you can brush your teeth. Grills and fire pits are also available, perfect for cooking up a juicy ribeye or tasty s'mores – and if you're not going to make s'mores, why bother going? Of course, you don't need to rough it to have a good time. You can "camp" out on the water at Echo Bay Marina by renting out one of their "floatel" luxury houseboats. Spoil yourself and your friends with comforts such as central air, full kitchens, queen beds, a sundeck and more with a cost of $190 a night for up to four people. Call (702) 394-4000 for reservations and info.
More information on Lake Mead campgrounds can be found at www.nps.gov/lake.
Float Your Boat
Sure, hiking and camping are always a blast, but the best thing about the lake is the chance to play in the water. No matter how old you are, the thrills never change – just the toys. And if you don't have any of your own, you can rent everything from power boats and WaveRunners to canoes and kayaks at Las Vegas Boat Harbor (www.boatinglakemead.com). Whether you're leaving a wake or riding one, it's all in a day's fun. Pack your rod and reel for a chance to catch some striped bass, channel catfish or bluegill and cook 'em up at home. You will need a fishing license, which can be obtained at the marinas or local bait and tackle shops. And with water temps still hovering in the 70s, it's a perfect time for a cool dip!
For a nice bite to eat on the water, you can pack sandwiches or visit the snack bar, but it's more fun to dine in style on the Desert Princess. Breathe in the wonderful fresh air on the deck of this majestic Mississippi style paddle wheeler, then head inside to enjoy a tasty breakfast buffet with their champagne brunch ($45 per adult, $19.50 per child), departing every Sunday at 10am. If you're seeking a more romantic excursion, join up for their dinner cruise ($57.50 per adult, $25 per child) on Sunday, Tuesday or Thursday at 6:30pm. Bring your beloved for a special occasion (or just a nice date) and stuff yourself with a hearty meal of beef, chicken, seafood or pasta, watching as moonlight glows on the calm water. Visit www.lakemeadcruises.com for info.
A trip to Lake Mead is a perfect local getaway for this time of year. A vigorous hike or camping under the stars won't leave you sweating buckets and there are endless activities to enjoy on the water. Start planning your outdoor adventure today and turn fall time into fun time at the lake!