Meet Your Neighbor: Heidi Hayes & Ted Pretty
By Callie Thomas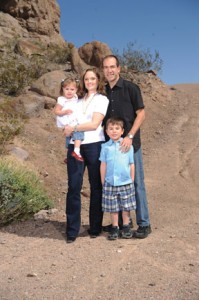 Pioneer American broadcast journalist Edward R. Murrow said that to be persuasive, one must be believable; to be believable, one must be credible; and to be credible, one must be truthful.  Viewers need little persuasion to watch the Fox5 morning news show every day because of the authentically candid demeanor of its most familiar news personalities, residents Heidi Hayes and Ted Pretty.  The married news and weather duo, who have been on-air longer than any other members of the Fox5 team, are engrained in the very fabric of our community.
"I was born and raised in Las Vegas," says news anchor Hayes with passionate pride. "I'm a proud native.  I grew up just a few miles from the 89012 area, and back then it was all desert."  Meteorologist Ted Pretty has resided in the valley for just over a decade, but has immersed himself within the community to earn him nearly native status.  "The last decade has absolutely flown by with all the personal and professional changes," adds Pretty.  "I was single and 25 when I moved here; now I'm married with two children, and Fox5 has grown by leaps and bounds."
When Hayes started her career in the news business, her dream was always to come back to her hometown.  "I am proud to represent my community on live TV everyday.  Since this is my hometown, getting involved in the community is an honor."  Pretty, like most aspiring news journalists, worked his way through small markets across the country before landing in Vegas as the morning features reporter.  He later became the station's meteorologist after earning his certification and seal of approval from the National Weather Association nearly seven years ago.
Both Hayes and Pretty feel strongly about giving back to the community and can be found supporting an extensive list of organizations throughout the valley.  The couple participates in fundraisers for the March of Dimes, Opportunity Village, Ronald McDonald House Charities, Nevada Cancer Institute, and so many more.  Ted sits on the Board of Directors for the Southern Nevada Chapter of the March of Dimes and also lends his time to causes such as Habitat for Humanity, Leukemia/Lymphoma Society and The Salvation Army.  Heidi visits local schools to speak and read to children of all ages.  "My favorite would have to be Keith and Karen Hayes Elementary School, which was named after my parents," she said.
One of the most important events that the couple participates in each year is the annual Float Like a Duck water safety and awareness campaign created by Paragon Pools. "Drowning is the number one cause of preventable death for children under the age of four, and with two small children myself, I feel it's important to educate parents on how to keep their children safe," says Hayes.   Pretty concurs.  "We love helping out with the Float Like a Duck Campaign along with the Fire Department, Las Vegas Metro Police and the Southern Nevada Health District."
The 7th annual event will be held this May at the Heinrich YMCA Branch Water Sports Park.  "Floating" is regarded as the first building block in a series of water-related safety programs that families can build on throughout their child's upbringing.  The event teaches how to be safe around all bodies of water in a fun-filled setting.  "It breaks my heart every year when I have to report tragic stories of children drowning or being seriously injured in backyard pools when it can be prevented," says Hayes.
Giving back to the community is a no brainer for Heidi Hayes and Ted Pretty who are dedicated to making it the best it can be.  "Just do what you can.  Not all of us can donate thousands of dollars to our favorite cause, but we can give our time and talents."
1 Comment