Mind Body and Soul: Help and Hope – Alternative Therapies for People with Special Needs
By Lindsay Minor
If anything is for certain, it's that life is a journey fraught with many challenges and as many ups as there are downs. That is the case with all people, but for those who face life with mental and/or physical disabilities–and their families–it's that much more complicated. Sadly, the problem is not as uncommon as we'd like to think. According to the most recent census research, as many as 1 in 5 Americans live with a disability of some kind, including (but not limited to) mental and developmental disorders such as Down syndrome, autism or ADHD; physical disabilities such as paralysis, deafness or blindness; and social disorders like depression, anxiety or obsessive-compulsive disorder.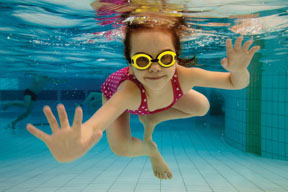 While modern science has come a long way in developing pharmaceutical and psychotherapeutic treatments for these conditions, experts also acknowledge that exercise and interpersonal interaction produce profound benefits for both able-bodied and disabled individuals working to reach their physical, mental and social potential. That aspect of treatment can be found in what is broadly known as "alternative therapy." Used in conjunction with traditional medicine, alternative therapy is proving to be an integral contributor to optimal quality of life for those with disabilities.  
What's the Alternative?
Before venturing into specific alternative therapies, it's important to understand just how various and far-reaching the gamut of disabilities is. According to the Nevada Department of Health and Human Services, people with mental illness may suffer from "reduced ability to function psychologically, socially, occupationally or interpersonally." There are varying degrees of mental illness and several classifications including mood (depression or bi-polar), anxiety (panic or phobia), cognitive (Alzheimer's or dementia), developmental (autism or learning disability) or personality disorders (borderline or antisocial). Physically disabled individuals may include those with cerebral palsy, multiple sclerosis, spinal cord injury, visually or hearing impaired or simply mobility impaired. In addition, many people are temporarily disabled during part of their lives–whether aged, infirm or recuperating.
There are no easy solutions to the riddles these conditions create, and no miracle cure-all, but progressive institutions like Spirit Therapies, Bubble Swim School, Kravenko Foundation and Studio 8 Ten are doing what they can to help individuals with disabilities cope with and, in some cases, overcome their limitations.
Spirit Therapies
At Spirit Therapies, a volunteer-run nonprofit group, a horse is not just a horse, of course, it's a four-legged therapist that helps people of all ages with special needs improve their lives through physical contact, exercise and interaction with others. They offer therapeutic horseback riding for people with Down syndrome, multiple sclerosis, muscular dystrophy, spinal cord injuries and emotional distress, as well as active and veteran military personnel.
Spirit asserts that the physical benefit associated with the horse's warm body and three dimensional gait has been shown to increase circulation, relax muscles, strengthen weak muscles, increase mobility in the pelvis and trunk, develop balance and coordination as well as improve posture. Moreover, it provides riders with something they might not get in an ordinary day: adventure and freedom. "It's amazing and exciting to see the success of these individuals," says coordinator Charla Glimp. "The therapy impacts every area of their lives with physical, mental and emotional benefits while also increasing communication and social skills." Visit www.spirittherapies.org or call 219-1728 for further information.
Bubble Swim School
Bubble Swim School is another place where recreation becomes a life-altering event. Bubble conducts adaptive aquatic therapy and swim lessons for people 1 ½ years of age and older with special needs.  They are the only establishment in the western United States offering adaptive aquatic therapy for children with autism and the only swim school in Nevada with accredited special education teachers.
Owner David Perkins contends that because the water requires three times more effort to move through, it stimulates the entire body, encourages relaxation and provides the extra stimulation that children with autism, as well as those that are hyperactive, seem to need. He also adds that aquatic interventions have shown to be a significant factor in the development of sensory processing, providing a calming tactile stimulation that decreases a child's hyperactivity and stress. According to Bubble, aquatic programs have been used with great success for children with autism, spina bifida, hyper active disorders and other mental and physical disabilities. For more info, visit www.bubbleswimschool.com or call 368-SWIM.
The Kravenko Foundation
Another nonprofit group, The Kravenko Foundation seeks to improve lives through the art of dance. Their alternative therapy is based on a fairly simple concept. Autism and other similar developmental disabilities are often marked by inattentive behavior, language skill deficits and difficulty bridging information between each side of the brain. Learning to dance requires both brain hemispheres, as participants must hear the music, process a sequence and then dance. Kravenko facilitates the process by offering three unique programs: On Site Dance, Movement & Expression and Musical Chairs. 
Through the On Site Dance program, senior dancers of the Kravenko Dance Academy perform for area schools and youth groups in an effort to increase awareness of what is possible for both at-risk children and those with physical or developmental disabilities. Their Movement & Expression program gives participants with autism or similar disabilities a chance to experience the fun of moving to music, the excitement of dance and the challenge of achievement. Finally, Musical Chairs provides children confined to wheelchairs an opportunity to move to music accompanied by teenage dancers in an assortment of creative, contemporary and traditional dances.  Says director Janet Kravenko, "In the beginning they are all a bit reserved, but then they discover they can do it. Their optimism increases and they learn the reward of it all." The Kravenko Foundation can be reached at www.kravenkofoundation.org or by calling 876-2806.
Studio 8 Ten
For adults with mental and physical disabilities such as autism, traumatic brain injury and cerebral palsy, among others, there's alternative therapy and work available at Studio 8 Ten, a division of Transition Services Inc. The program, which began more than 10 years ago, not only introduces participants to crafting, it offers disabled individuals a chance to earn a paycheck and exercise their creativity while gaining independence and more control over their lives.
Today, Studio 8 Ten participants produce 45 different products, including scrapbooks, journals, bath and body items and pet toys. The employees take pride in their product line and are able to connect with the community in a meaningful way through the sale of the products. Studio 8 Ten store supervisor Andy Caston says, "I see lots of improvement in our employees. This is their home away from home. Their social skills increase. They're having fun with their friends and getting paid for it." Visit their website at www.studio8ten.com or call 644-9418 for info.
For additional information on supportive services, visit the Nevada Department of Health and Human Services at www.dhhs.nv.gov or contact Nevada 2-1-1, a nonprofit resource for information about social or community services, by dialing 211 on your phone.
Why some people seem to be favored in life while others face a more challenging journey, we may never truly understand. But as we search for answers and cures, it is comforting to know that innovative treatments are out there, as well as kind-hearted volunteers who dedicate their time and talent to making life a little easier for others.
Sidebar
Local organizations that offer alternative therapy are numerous. Here are a few more:
The Caring Place (871-7333; www.thecaringplacenv.org): A nonprofit group for people touched by cancer that offers support groups, healing arts programs and art classes for children who have a family member with cancer.  
Parks and Recreation: All area parks and recreation departments have therapeutic recreation. In fact, the City of Henderson offers their BLAST program (Building Lifetime Adult Social Ties) for adults of varying disabilities. The program provides recreation and independent living activities such as learning to swim or cook and offers participants the chance to experience and develop lifetime leisure skills in a community-based setting.
Best Buddies (822-2268; www.bestbuddies.org): A nonprofit group creating friendships between intellectually and developmentally disabled citizens and people without disabilities.
Positively Kids (262-0037; www.positivelykids.org): Provides Alternative Compatible Therapies (ACT) that include music, cranial-sacral, infant massage and stimulation to children suffering from chronic or terminal illness, as well as educational classes to family members.
Give Me A Break Inc. (898-2216; www.givemeabreakinc.com): A nonprofit group providing unique alternative therapy of all types to families caring for an individual with physical or mental disabilities, chronic or terminal illness, or where special physical or mental healthcare is required.