Where Are They Now?: Holly Villamagna
Sierra Vista High School
Class of 2007
We could have copied Holly's 10-year goals from her A Step Above interview and pasted them right here…which is no surprise, since she is just as determined to meet her ambitions now as she was back then. Not only is Holly an aspiring pediatrician (and we have no doubt she will open her own family practice someday), but she is also a bona fide journalist – another check off of her bucket list – with a degree from the University of Southern California. She's grown to appreciate the connections she's made upon moving back to Las Vegas.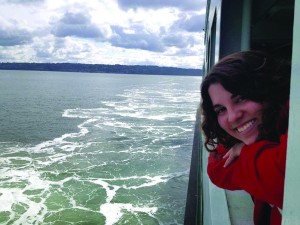 Where are you currently living?
I returned to Las Vegas in 2013 after living in Los Angeles and Reno.
What field are you working in and how did you end up doing what you're doing?
I am a third year medical student at the University of Nevada School of Medicine, and plan to pursue residency training in pediatrics after I graduate in 2015. I have planned on a career in medicine since high school, and have found that I greatly enjoy getting to know patients and educating them about their health.
What achievements/recognitions are you most proud of since graduation?
I graduated from USC in 2011. In addition to my pre-med classes, I completed a bachelor's degree in print journalism. While medical school was always my ultimate goal, I have always had a passion for journalism and writing and I am extremely proud to have recognized my dream of attending journalism school. I hope to someday pursue medical journalism and writing in addition to practicing medicine.
Are you married? Children? Pets?
Check back in a couple of years. J I am happy to say that my dog Buddy, who appeared in my A Step Above photo, is still doing well and we are enjoying spending more time together this year after I was away at school for so long.
How did growing up in Henderson/Las Vegas have an impact on the person you are today?
I left Las Vegas right after high school graduation, and returning here last year to complete my clinical rotations at UMC have helped me see the city in a new light. I think the most important thing I have learned from attending high school in Las Vegas and later moving back to the city is that, even in a transient area like this, the connections you have with friends, family, and with the community are the most important part of living in any city.
Has your outlook on life and/or work changed since high school? If so, how?
I don't think my outlook on life and work has changed too much since high school – always do the best you can and treat the people around you well.
How did you feel when you were featured as A Step Above and what kind of feedback did you receive?
I brought my Westie, Buddy, to my A Step Above photo shoot, and probably got more comments about how cute he was than the feature itself, which was totally fine by me!
Favorite Quote to Live By:
"Alice laughed: 'There's no use trying,' she said; 'one can't believe impossible things.'
'I daresay you haven't had much practice,' said the Queen. 'When I was younger, I always did it for half an hour a day. Why, sometimes I've believed as many as six impossible things before breakfast.'" – Louis Carroll, Alice's Adventures in Wonderland