Meet Your Neighbor: Jason Gerber
Unlike the title of the 1992 movie, there are more than "A Few Good Men" and 89117 resident Jason Gerber is one of them. The attorney at Marquis Aurbach Coffing (MAC) currently handles corporate, business and civil litigation, but once upon a time he was an officer in the United States Army Judge Advocate General's Corps (also known as JAG, and yes, also the central theme of a few hit television shows). During his time in the army he became the sole trial defense counsel (defending soldiers being court martialed) in California at Fort Irwin. Gerber was deployed to Camp Taji, Iraq as part of Operation Iraqi Freedom in 2004 and 2005. He represented hundreds of soldiers in court martial and administrative proceedings in the United States, Kuwait and Iraq.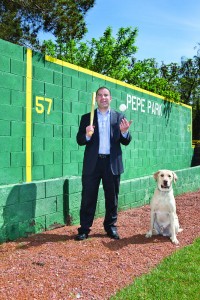 By: Callie Thomas
Upon his return to the states, he married his wife Tammy, completed his active duty service and was hired by MAC. After working his way through the legal ranks, he was promoted to Director, and now Shareholder, at the firm. While he's dedicated his life and career to helping others, he continues to support those in need through several local organizations.
In his early days at the MAC law firm, his wife volunteered for Camp-to-Belong, which helps bring siblings separated in the foster care system together for a week of bonding. While at the camp, Tammy met a sibling group of three, Josh, Kyla and Skyler and fell in love with them. When she came home, the couple began proceedings to become foster parents and to adopt the children. Their adoption was finalized in 2012 and they've become one big happy family, along with their three dogs Pepe, Gus and Grover. Jason Gerber talks about their work with foster care services, Red Rock Rotary of Las Vegas and his other passion—the Cleveland Indians.
You've become very involved in organizations that assist foster care kids.
"I don't think I could be more fortunate. I grew up in a great home, with great supportive parents, with access to great education and opportunities. I know how lucky I am and feel a need to try and help those who are not as lucky. After working with Camp to Belong we started volunteering with Child Focus, another group that help siblings separated in foster care."
How did you become involved with Red Rock Rotary of Las Vegas?
"While volunteering for Child Focus I met several members of the Red Rock Rotary Club. I started attending their meetings and eventually joined. We do regular service projects and social events each month. It's a great way to help a lot of different groups on a regular basis."
Other than Red Rock Rotary, how do you and your family support local charities?
"I'm a board member of the Global Charity Foundation and I participate in the Annual Veterans Free Legal Clinic on Veterans Day. Our family also donates regularly to Heaven Can Wait Sanctuary (we rescued two of our dogs from their shelter) and St. Baldericks."
We hear you also built a house for a family in Mexico?
"I was part of Corazon Super Build with the Rotary last year. In just one day you build a house for a family in need. You make the trip to Mexico with a group of about 45 people and spend one really hard day working on the house. The level of poverty in the community you visit is overwhelming and the entire trip is a life changing experience that I intend on participating in every year."
In your spare time what do you enjoy doing?
"I coach sports with the kids and I like sitting in our backyard with my wife and a glass of good whiskey listening to some Springsteen. Since buying our house we've become pretty talented DIY-ers and we've had to spend a lot of time on projects."
So, how about those Cleveland Indians?
"At the beginning of every baseball season, no matter what, I'm convinced the Cleveland Indians will win the World Series. I am wrong every year. But, I have a really good feeling about this season."