Where Are They Now?: Jennifer Gulbransen-Jensen
Coronado High School
Class of 2005
When we last saw Jennifer, she had received three congressional nominations for entrance into the Air Force Academy to become an aeronautical engineer. After graduating from the Academy (complete with jump wings in sky-diving) she is now married to the love of her life with their black lab, Buddie, and happily living out her dream in Oklahoma. What's changed since high school? Instead of focusing simply on accomplishments, Jennifer has found that balance and time, with her loved ones and for herself, has become her ultimate goal. She also sees her hometown as a catalyst for her attitude toward life.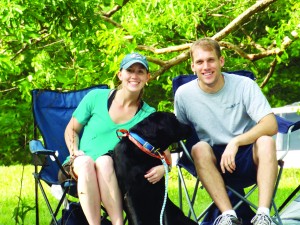 Where are you currently living?
Enid, Oklahoma
What field are you working in and how did you end up doing what you're
doing?
I'm currently a contract specialist at Vance Air Force Base working towards obtaining my contracting warrant. I also have recently entered the Reserves, working as an Officer recruiter for the Air Force Academy.
What achievements/recognitions are you most proud of since graduation?
Graduating from the Air Force Academy is at the top of my list. I graduated with a Bachelor's of Science in Political Science, specializing in U.S. Government. I also had the opportunity to get my jump wings in sky-diving as a student at the Air Force Academy. I am also proud of completing my Masters and receiving a degree in Justice Administration while working full-time.
Are you married? Children? Pets?
I am married to the love of my life, Jacob Jensen. We got married in Dec 2011. We are parents to our amazing black, furry pet-child Buddie. He is a rambunctious, fun, and lovable lab.
How did growing up in Henderson/Las Vegas have an impact on the person you are today?
Growing up in a big city like Vegas teaches you how to be strong and independent, especially as a female. Another huge impact Las Vegas has had on my life is the tremendous diversity you are exposed to in many different forums. That diversity is a huge reason why I have such a passion for learning about and exploring new culture, art, food, and meeting new people.
Has your outlook on life and/or work changed since high school? If so, how?
Yes, my outlook has definitely changed since high school. The difference now is I have a much bigger picture perspective. In high school my world revolved around going to the Air Force Academy and pursuing a career which I thought would be the defining part of my life. However, I realized that it's not really my job and achievements that make me the most happy. It's the small things that bring me the most joy like hanging out with my husband, taking my dog for a walk, having time to cook dinner in the evening, getting a workout in after a long day and spending time with friends and family. And when you learn to balance those aspects of your life, that bring you the most joy, with your busy work life, everything seems to go smoother because you are happy and centered.
How did you feel when you were featured as A Step Above and what kind of feedback did you receive?
I was overwhelmed and flattered to be featured in A Step Above. The biggest feedback I received from being featured in A Step Above was how great it was that a magazine was recognizing the dedication and hard work of high-school students.
Favorite Quote to Live By:
Far better it is to dare mighty things, to win glorious triumphs even though checkered by failure, than to rank with those poor spirits who neither enjoy nor suffer much because they live in the gray twilight that knows neither victory nor defeat. – Theodore Roosevelt