Where Are They Now?: Jessica Buckley
Coronado High School
Class of 2008
Jessica took her hard working attitude and competitive spirit many places after high school graduation. She played rugby and studied engineering at the University of San Diego (becoming an ARCS scholar and presenting her work at both the National Conference on Undergraduate Research and the International Mechanical Engineering Conference and Exposition in 2011), conducted research at Purdue and even took some time to study abroad in Australia. She's now happily pursuing a Master's degree in Mechanical Engineering in Colorado, and fondly remembers her time as A Step Above.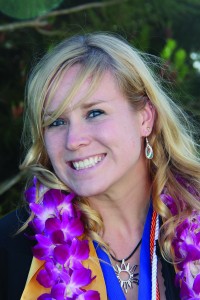 Where are you currently living?
Golden, Colorado
What field are you working in and how did you end up doing what you're doing?
I am currently attending Colorado School of Mines for a Master's in Mechanical Engineering. I wanted to get additional research experience before entering the workforce full-time and saw it as an ideal time to try a new place for a couple years.
What achievements/recognitions are you most proud of since graduation?
I am most proud of the experiences I have had that shape who I am today. Studying abroad in Australia was the single best decision I made in college, giving me a better perspective of the world and a new understanding of independence. Being an ARCS Scholar allowed me to undertake undergraduate research and present my work at both the National Conference on Undergraduate Research and the International Mechanical Engineering Conference and Exposition in 2011. Attending the University of San Diego and completing the Honors Program allowed me to pursue a degree in engineering while still developing a strong core curriculum for a more holistic worldview. Among the many projects involved in an engineering education, my favorite was constructing an acoustic guitar for our Machine Shop course. From playing rugby in San Diego to researching at Purdue to moving to Colorado to returning home to Henderson, I cannot imagine living the last 6 years any differently because I would not have the network of friends and mentors, the lessons learned, or the memories that ground me wherever I happen to be.
B.S./B.A. from the University of San Diego in Mechanical Engineering, Honors Program, Summa Cum Laude, January 31, 2013
Are you married? Children? Pets?
Nope. My golden retriever Rylie still lives at home and she will be 12 this year (she actually was in the 89012 picture). My little sister Megan will start high school this fall.
How did growing up in Henderson/Las Vegas have an impact on the person you are today?
I think how you spend your time and the people you spend it with have a much greater effect on who you are becoming than the actual place. Perhaps I would have been different if I had grown up somewhere else, but I can't really know that. I liked being grounded in one place, but since I graduated, I have immensely enjoyed living in different places, learning new things, and forming new relationships along the way. On a more mundane note, I now have a greater appreciation for 24-hour gas stations and snow-free roads.
Has your outlook on life and/or work changed since high school? If so, how?
I feel like I have grown not into a different person but perhaps a more open-minded person. Most of my ideas are similar, but I have a better appreciation for the importance of balancing hard work with fun and good memories and making the best of wherever you are.
How did you feel when you were featured as A Step Above and what kind of feedback did you receive?
I was very honored to receive the recognition and hoped to be a good role model among the many students who excelled in so many different ways. I received congratulations from family, friends, and other members of the Coronado community.
Favorite Quote to Live By:
"To laugh often and much, to win the respect of intelligent people and the affection of children, to earn the appreciation of honest critics and endure the betrayal of false friends, to appreciate beauty, to find the best in others, to leave the world a bit better… to know even one life has breathed easier because you have lived. This is to have succeeded!" Ralph Waldo Emerson