Pastimes: Join the Design Revolution! Creating Custom Fabric, Wall Paper, Decals and Gift Wrap
By: DeeDee Birdsall
Did you catch the Project Runway episode where contestants were given the challenge to design and create their own fabric in less than an hour? "I'd love to create my own fabric," you might have thought. "But wait — I'm not a designer!" Maybe you've been looking for that perfect wallpaper or gift wrap for a special room or occasion and just can't find the ideal pattern to complete your vision. Well, fret no more.  Whether you're a fashionista, a seamstress in search of the perfect fabric or an occasional crafter with a hankering to create something truly unique, all you need is a little creativity and the help of technology to create personalized materials with professional results.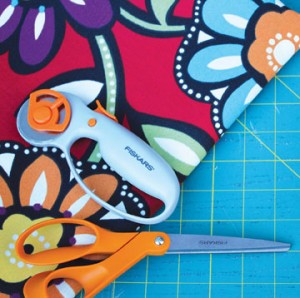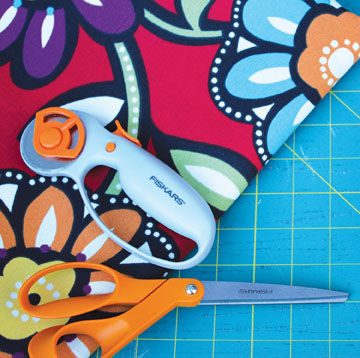 The Power of Spoonflower
In the old days we crafters could print our own designs onto fabrics, calendar pages, clear decals, etc. using ink jet printers with specialized sheets of materials. The size constraints were obvious, as was the substandard quality in color and saturation if you had more than one sheet to print. With the power of the Internet, creating your own designer items has become dramatically revolutionized. There are several websites that help you design your own projects, and although they have similar design concepts, services and pricing, Spoonflower.com stands above the rest in terms of ingenuity.   Spoonflower includes a community connection to other designers (currently over one million users), and encourages creativity by hosting giveaways, contests such as "Design of the Week," a BlogSpot, virtual studio and storefronts, plus ways to earn royalties if you choose to sell your designs. It is the largest network of independent fabric and wall  covering designers in the world and the great thing about those designers is that many of them are just like you and me! Best of all, they offer an array of projects to brighten up your home and gift giving options while letting your inner designer show through.
One-of-a-Kind Textiles
Whether making pillows, curtains, quilts, or other home decorating or wearable items, the fabric sets the tone for the finished project.  With Spoonflower you can design your own unique pattern then print swatches, fat quarters, or entire yards of fabric. The site provides several design layout options, step-by-step instructions and examples, plus it hosts an online gallery of thousands of fabrics for purchase.  Pricing ranges from $17.50 a yard for basic combed cotton to $38.00 for silk crepe de chine.  They also offer a 20% discount on purchases of 20 yards or more.
Wallcoverings and Decals
How many times have you had a vision of the perfect wallpaper and not been able to find it?  What about the labor-intensive removal process once that oh-so -1980's pattern has lost its luster?  Today's wallpaper is a different story and Spoonflower's print-on-demand totally removable wallpaper is an excellent choice.  Perfect for temporary homes that need a facelift (i.e. college dorms, apartments, etc.), each roll comes in the standard 24ft x 12ft size at a cost of $60.00 each.  Considering that awesome design from Anthropologie at a cost of $168.00 per roll? Now you can create your own similar look for a lot less cash!
Looking to snazzy up your room but don't want to cover an entire wall?  Spoonflower also offers custom-designed peel and stick wall decals or murals. Offered in three different sizes, they can add a whimsical feel to a child's bedroom or playroom, or create a sophisticated scene that adds drama to the more formal spaces in your home. Pricing ranges from $5.00 to $30.00 each.
Gift Wrapping Options
Want your gift to stand out from the crowd at your next wedding, baby shower or birthday party?  Spoonflower provides a custom gift-wrap option that takes your design and transforms it into a work of art.   It's a fun way to create something truly unique that you can personalize – no gift tag required!  Gift-wrap rolls cover approximately four average sized gifts for a cost of $15.00 per roll.
From Digital Photos to a Designer Masterpiece  
Getting started on Spoonflower may take a bit of practice and knowledge of sending digital files, but it's a simple, six step process once you get going. Before getting into full board design mode, it's recommended that you order a color map, color guide, and a swatch booklet off the site. This is an inexpensive way to verify you've chosen the right colors and fabric for your project the first time around!
Upload your image.  Any photo or design image you have saved in a standard file format such as a JPG, PNG or GIF can be uploaded to Spoonflower.  Don't have an image?  Hundreds of images are free, or for sale on sites such as www.Shutterstock.com. Make sure to read the fine print, as many images are not for resale. If selling your finished design is your goal, heed the warnings and don't violate copyright laws.
Edit your design. Using Picmonkey.com, a free online editor linked to Spoonflower, you can edit your image to include color changes, size, special effects, frames, and more. For high-tech editing use Photoshop outside  of Spoonflower and upload your finished design.  Keep in mind, color is your responsibility. Be sure to order swatches prior to full yardage production as to not be disappointed in your finished product.
Create a design repeat.  Spoonflower prompts you to determine your design placement.  A basic repeat creates tiles of your design horizontally and vertically, while other options include half-drop or half-brick staggers.
Proof your design. Once you've ordered your design there's no turning back!  Take extra time to verify the design is as you intended prior to production or offering it for sale in the virtual shop! Use your resources to assure the color is as you envisioned.  All sites assume once you have placed an order, the product is finalized.
Print your design.  Using the step-by-step instructions, order the type of fabric and number of yards.  If you're unsure of fabric types, make a quick trip to your local fabric store and ask for a quick lesson in fabric types and weights, then match what's available on Spoonflower, choosing what's conducive to your project.
Sell your designs (optional). With a click of your mouse, you can make your designs available for sale in Spoonflower's virtual shop.  As the designer, you retain the rights to the design and earn 10% of the sales.  Earnings are paid in the form of "Spoondollars" which can be used to purchase other items from the site, or can be paid to your PayPal account monthly.
Design Project Ideas
You're limited only by the imagination as to what can be designed on the Spoonflower site.  Consider these ideas to get the creative juices flowing!
One-of-a-kind lining for totes and purses
Designer gift-wrap with children's names, business names, photos, etc.
Personalized growth charts or cartoon frescos from decals and murals.
Customized tablecloths and napkins for weddings, family gatherings, gifts.
Print family recipes to make tea towels or aprons.
Upload children's artwork to make teacher and grandparents' gifts.
Create matching fabric and contrasting wallpaper for any room in the house.
Upload company logos to upholster office chairs or use for wallpaper and decals.
Cover a lampshade; make pillows and other home décor items. 
As Robert Frost once said, "The artist in me cries out for design." Explore your inner artist and create fabric, home decorating and gift-wrapping options that are uniquely you!