Where Are They Now?: Jordan Mitchell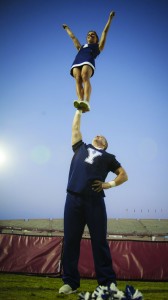 Silverado High School
Class of 2007
Through his years after high school, Jordan has overcome challenges with the same vigor and passion as when we first met him. From studying and cheerleading at BYU, to overcoming a serious back surgery in order to live out his childhood dream of becoming a fighter pilot for the United States Air Force, Jordan has kept his eye on the prize. He's currently engaged to be married in August 2014, and counts his hobby of building drones as pets – so he hasn't lost his sense of humor! Las Vegas has a special place in his heart.
Where are you currently living?
Provo, UT (at BYU)
What field are you working in and how did you end up doing what you're doing?
I am a student. Majoring in Geospatial Intelligence and minoring in Aerospace Studies at BYU.
4.5 years of AFROTC
2 year BYU Cheerleading (one year before surgery, and one after back surgery)
2 year LDS Mission
What achievements/recognitions are you most proud of since graduation?
I don't know if I have a single achievement I am most proud of, I am still working to achieve my child hood dream of being a Fighter Pilot in the USAF. I have had many setbacks and trials trying to get to where I want to be. One of the biggest trials was receiving a Pilot Slot from AFROTC to go to pilot training just hours after having back surgery which later disqualified me from the AFROTC program before I even had a chance to recover. I was deemed physically unfit for military service prematurely. I had to push pass that, recover and become strong enough to convince AFROTC that I was physically fit enough. I focused on my childhood dream and in just a matter of months I was back to strength and was medically cleared by the Air Force. I am proud of myself for not giving up even when all the odds were against me. Unfortunately, my fight isn't over yet, I was clear medically to be an Officer in the Air Force, but due to the force reduction of the Air Force I have been told there isn't room for me. Many Air Force leaders and friends of mine are working hard on my behalf to get me re-instated and I am grateful for their efforts.
Are you married? Children? Pets?
I'm engaged to Jennifer Lezeu (23 Aug 2014). Do the Drones I made count as pets?
How did growing up in Henderson/Las Vegas have an impact on the person you are today?
Growing up in Vegas had a huge impact on who I am today, from cultivating a desire to serve our country (I went to elementary school near Nellis AFB and watched the jets fly around) to an appreciation of different cultures and people of all walks of life. Las Vegas is a melting pot of cultures and because of that I grew up and made friends with many different kinds of people, from whom I learned how to appreciate the differences in each of us and how everyone has so much to offer. In the various leadership roles I have assumed over the years, I have been able to strengthen the groups I have been with by bringing out the best in each member because I could see how they were different and turn those traits into strength.
Has your outlook on life and/or work changed since high school? If so, how?
While at BYU I have had the chance to study many cultures from around the world. These classes expanded my understanding of what I had learned growing up in Vegas. I have come to look at the world as a very large beautiful place full of wonderful people just striving to get by each day. I still have a great desire to serve and do my part to help other and protect the freedoms and blessings I have been given.
How did you feel when you were featured as A Step Above and what kind of feedback did you receive?
When I was featured as A Step Above, I thought it was pretty cool and I was a bit awe struck because it made me reflect on all the things I had done and the ways I had grown. Before high school I was just this homeschooled boy who wanted to be a fighter pilot one day, but because of that goal worked hard in school, I learned leadership skills, I played sports and I made great friends who taught me so much. I had a blast through high school.
Favorite Quote to Live By:
"Never stop fighting for your dreams." – Ret. Brig. General Charles Mitchell III, USMC, Grandfather.