For the Love of Food: Just Chillin'…Simple Summertime Suppers 'n Such
By Aly Wagonseller
When the temperature rises above the century mark, the motivation to cook usually dips to an all time low. I mean seriously, who wants to slave over a hot stove or heat up the house with a blazing oven just for the sake of dinner?  Still, when hunger strikes, supper must follow, even if you can't stand the heat in the kitchen. What's the home cook to do?  Chill…that's what…preparing cool foods that satisfy without spiking the thermostat.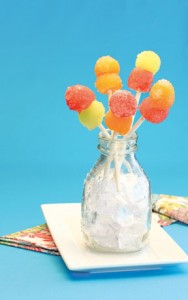 Lucky for us, summertime yields a wealth of fruits and veggies that are fresh and particularly tasty this time of year. Still, when considering the main meal, many of us have come to expect a little bit more sustenance, especially when there are big eaters in the house. Don't despair! The use of prepared foods and left over proteins become your biggest ally in the summer months, helping to keep cooking to a minimum and allowing for a variety of family friendly options.  Rotisserie chicken, cooked chicken breast strips, leftover steak or pork, even canned tuna or salmon are fast and easy ingredients that transform a head of lettuce into a substantial main dish meal.  Cold rice, pasta or other whole grain foods like couscous are a wonderful base for showcasing grilled vegetables and meat, making a one dish supper that's filling, yet nutritious.  Fruit, when paired with savory nuts, spices and proteins, adds a delightful element for creating refreshing soups and salads with unexpected heartiness, plus makes for an easy way to serve dessert without added calories.  And don't forget the average Joe sandwich; a summer staple that easily escapes humdrum boring when livened up with different breads, spreads and fillings.
Keeping your kitchen chill on can be a challenge, but just because you take the heat out of the kitchen doesn't mean your summertime grub can't sizzle.  With recipes like healthy Mango Gazpacho, Georgia Peach Salad, Greek Panzanella and refreshing Melon Pops, you can wow your family with delicious summertime meals without ever lighting up the stovetop.
Georgia Peach Chicken Salad
Serves 4
2 large ripe peaches
2 cups cooked chicken, cubed or torn
½ cup thinly sliced red onion
1/3-1/2 cup Brianna's Poppy Seed Dressing
6 cups baby lettuce mix or organic greens
½ cup pecans, toasted and coarsely chopped
Thinly slice 1 peach into 12 thin slices; set aside.  Dice remaining peach into small, bite size pieces; place in large bowl.  Add chicken and onion.  Toss with enough dressing to coat lightly.  Cover and chill at least 15 minutes or up to 2 hours.
Divide greens amongst four plates and drizzle lightly with additional poppy seed dressing.  Mound chicken salad over greens, garnishing with peach slices and toasted pecans.
Melon Pops
Servings Vary
1 seedless baby watermelon
1 cantaloupe
1 honeydew melon
½ cup orange flavored liquor, vodka, tequila or rum (optional)
Popsicle or sucker sticks
Cut melons in half and scoop out seeds.  Using a melon baller or small ice cream scoop, carve out several melon balls, using only the flesh of the fruit.  If desired, gently poke three small holes into fruit with a small toothpick and soak in liquor of your choice for 3-5 minutes; shake off excess liquid.  Insert popsicle or sucker stick into flat side of melon ball, layering various varieties of melon if desired.  Freeze for at least two hours.
Mango Gazpacho
Serves 4-6
2 cups diced mango
2 cups orange juice
2 Tbsp. extra virgin olive oil
1 seedless cucumber
1 small red bell pepper
1 small red onion
2 medium cloves garlic, minced
1 small jalepeno, minced
3 Tbsp. fresh lime juice
2 Tbsp. cilantro
Salt and pepper to taste
In a food processor, blend mangos, orange juice and oil until smooth.  Chop cucumber, red bell pepper and red onion into ¼ inch diced pieces.  Transfer to medium bowl.  Add mango mixture and remaining ingredients, seasoning with salt and pepper to taste.  Chill at least 30 minutes or up to several hours.
Greek Panzanella Shrimp Salad
Serves 4-6
Vinaigrette:
2 cloves garlic, minced
1 tsp. dried oregano
½ tsp. Dijon mustard
¼ cup red wine vinegar
1 tsp. salt
½ tsp. ground black pepper
½ cup olive oil
Salad:
Olive oil
1 small French baguette, cut into bite sized cubes (about 6 cups)
1 seedless cucumber, peel on, sliced or cubed
1 large red bell pepper, diced
1 large orange bell pepper, diced
1 pint grape or baby heirloom tomatoes, halved
½ small red onion, thinly sliced
½ pound feta cheese, cubed
½ cup kalamata olives
20-25 cooked shrimp
Whisk together first six ingredients for the vinaigrette.  While continuing to whisk, add oil in a slow stream to produce an emulsion; set aside.
On a shallow, microwave safe plate and working in batches, combine half the bread cubes with 1/3 cup olive oil, lightly stirring until all sides of the bread cubes are coated with the oil.  Sprinkle with salt and pepper.  Microwave for 2-3 minutes, stirring midway through cooking; repeat with remaining bread cubes.  Croutons will harden as they cool.
 Place chopped vegetables into a large bowl.  Pour the vinaigrette over vegetables.   Add the feta, olives, shrimp and bread cubes, tossing lightly to coat.  Set aside for 30 minutes to allow flavors to blend.  Serve at room temperature.