Livin' Local: Keeping Your Cool – Soothing Escapes from the Summer Heat
By Haley Etchison
There's nothing surprising about 108-degree days in Las Vegas. We've learned to stock up on sunscreen, guzzle gallons of water and take shelter whenever we can, but our dark sunglasses often block out the blue skies of Southern Nevada. Sometimes it's easy for us to forget that we live in a summer paradise with plenty of fun and unique ways to stay cool amid the sweltering temperatures.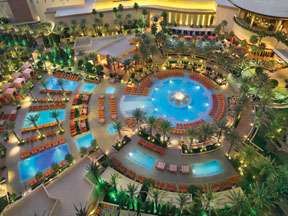 Into the Pool
While some of the fancier resort pools in town may be off limits to those without a room key, you don't need to spring for an expensive suite at the Bellagio to enjoy a day at the pool. Savvy Summerlin sunbathers will feel right at home at the Cabana Club at the Red Rock (www.redrocklasvegas.com). Red Rock's main pool is for hotel guests only, but the Cabana Club is a hidden gem for locals 21 and over. Lounge chairs and comfy couches help create a more relaxed vibe without the huge crowds you'll find on the Strip, but there's still plenty of energy with a live DJ and a fun loving crowd. Sun yourself by the pool, relax at the bar or escape the heat in style with a cool cabana that will make you feel like a modern day sultan. Bring some friends or your sweetheart along to help enjoy this desert paradise.
Looking for an upscale day club experience that will still soothe your nerves from daily stress? The Pond at Green Valley Ranch (www.greenvalleyranchresort.com) has got just what you're looking for. A perfect spot for sun worshipping secluded among towering palms, this 21 and over hideaway charges a $20 cover, but it's a small price to pay for a slice of heaven on a summer afternoon. Work on your tan, stake out a table in the shade, kick back in a lounge chair or take a relaxing dip in the private pool, complete with its own waterfall. The secluded vibe is more laid-back, spoil-yourself vacation getaway than happening desert dance party, ideal for those seeking to avoid a big hubbub or the swarms of tourists at more congested hotspots. With friends or on your own, The Pond is a great summer escape.
Altitude Adjustment
If chilling out by the water isn't your thing, don't hide indoors when the temperature soars. You can always escape to the mountains instead. Run away for a day to Mt. Charleston's cool climes and share in a tradition of local leisure. Just because the slopes are bare doesn't mean you can't have any fun at the Las Vegas Ski & Snowboard Resort (www.skilasvegas.com). Pack some snacks and enjoy a bird's eye view of the mountain, taking in the picturesque green scenery and fresh mountain air. For an even better view, cuddle up next to your loved one for a scenic chairlift ride or get some high altitude exercise with a game of disc golf, a variation on the classic outdoor game that's played with a Frisbee. Not only do you get to stay cool, you can enjoy a relaxing break from the distracting sounds of the city.
For even more summer fun on the mountain, make sure you check out the return of the resort's Music on the Mountain outdoor concert series. Held one Saturday a month all summer long, this showcase features a wide range of styles, including blues, bluegrass, classic rock, folk, reggae and more. "Guitarmageddon" will take place on July 28th, featuring Chris Bell, Stoney Curtis and Guitar Shorty, while August 18th will feature the rockabilly and zydeco sounds of performers such as the Howlin' Hounds, Blues Storm and the Mike Vaughan Band. At just $15 for an adult ticket, the prices can't be beat; even better, you get to spread out on a nice blanket under towering pine trees for quality time with friends and family instead of wedging yourself into cramped seats in a noisy, smoke-filled Strip venue.
One Scoop, Two Scoop
Once you're down off the mountain, things will start heating up again, so cool down with a tasty treat! Ice cream and frozen yogurt shops seem to be a dime a dozen these days, but a few chilly choices stand out. Vivido Gelato (202-4444) provides a classy escape in the heart of the trendy Fashion Village at Boca Park. The stylish atmosphere offers upscale indulgence with colorful flair and plenty of unique and varied flavors to make your taste buds dance a summer jig, from crème brulee to caramel pistachio to dark chocolate hazelnut, along with delicious cakes, pastries, gourmet coffee and more. For those looking for something a bit more decadent, you can also sample their sinful, fruit-filled crepes.
For a taste of dessert that's more "your way," Cherry on Top Frozen Yogurt (www.cherryontop.net) styles itself after a typical big franchise yogurt shop but with a neighborly niche that sets it apart. Their extra-friendly taste experts are always on hand to offer suggestions to summer sweet seekers both young and old. Cake batter is a perennial flavor favorite, while blueberry tart makes a popular seasonal special. But the delectable frozen yogurt is only the beginning. Personalize your dessert with 45 toppings to choose from, including fruits, nuts, syrups and a wide assortment of candy. The ultra-modern décor and space age serving machines help put a shiny new spin on a classic summer delight.
Summertime in Las Vegas doesn't have to be a sweat-soaked trial that leaves you begging for fall. Kick back by the pool, take a trip up the mountain or indulge in a soothing dessert in the desert, and you'll soon find yourself wishing summer would last forever… Or at least long enough for one more scoop.