Meet Your Neighbor: Matt Smith
Passion means many things to many people. For resident Matt Smith, it is synonymous with family, and helping people through the rehabilitation services provided at his physical therapy clinics. Smith owns and operates 13 facilities and manages four more throughout the state. He has become the largest provider in Nevada for physical therapy. Their cultural mantra of "changing lives" and helping the patient as well as those in need throughout the community is number one.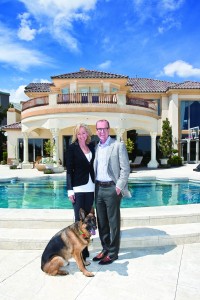 By: Callie Thomas
Smith's lifelong career began from a devastating accident that left a high school friend a paraplegic. While accompanying his friend to physical therapy, Smith was impressed by the therapists' commitment to the work and how they were making a difference in the lives of their patients. It was then he decided to become a physical therapist. Throughout his practice he has met many people from all walks of life and circumstance, which has been the catalyst in becoming committed to supporting the community.
Matt Smith Physical Therapy Centers interact directly with those in need by supporting a variety of charitable organizations. Funding drives which involve the staff and patients at each of the therapy centers are held on a quarterly basis. From feeding the hungry and sheltering the homeless to starting a scholarship program for at risk kids, Smith and crew are living true to their customer-centric culture.
While Matt finds success difficult to define, he has much to be proud of, first and foremost his family, which includes wife Kami and his four children, Christopher, Alyssa, Sophia and Jaxon. We had an opportunity to talk with him about his charitable efforts and learned about some of his out-of-the-ordinary hobbies which just might include an upcoming safari trip to Africa.
Tell us about the charitable organizations that you support.
"In first quarter we support Three Square, which provides food for in-need kids throughout the community. In second quarter we are involved in a drive to obtain school supplies for an at-risk junior high or grade school. We support the Nevada Chapter of the Juvenile Diabetes Research Foundation (JDRF) and the annual Rock the Walk, which is a family concert under the stars in third quarter, and then a toy drive to benefit Child Haven in fourth quarter. These are all company-wide events and there's a bit of competition among the 13 clinics. We also started a scholarship program with the Latin Chamber of Commerce to help three students go to college and pursue degrees each year. We also give matching dollars at each clinic annually to donate to a charity of their choice."
Any experiences through your charitable efforts that you would like to share?
"The thank you cards we receive alone are worth the effort. The near homeless, brilliant youths that we have been able to assist in secondary education has been particularly enriching. The stories of these kids are both humbling and inspiring."
Why is giving back so important?
"I'm at an age where I get to look in the rearview mirror and appreciate everything the community has done for me. To return this in a small way seems insignificant, but we do what we can."
What are you most proud to have achieved?
"Nothing brings a smile like watching your kids grow up and succeed. I also enjoy helping people reduce their pain and live their lives to the fullest through our services at the clinics."
How do you unplug after a busy day?
"I like to kick back at home with a glass of wine from France or Italy after a day in the backyard with the kids in the pool and a serious game of bocce ball!"
We understand you also have some unique hobbies?
"I really enjoy hunting pheasant, partridge and grouse in the UK each October. Dressing up in British attire and being in the countryside is the best. I've been on African safaris and would like to do more. It doesn't get any better than that."