Meet Your Neighbor: Terri A. Clark
By Callie Thomas
A good photographer has the ability to look at any scene in an everyday setting and focus on the smallest detail, a detail that turns out to be a spectacular subject that might otherwise have gone unnoticed and uncelebrated. As it turns out, 89052 resident Terri Clark has that gift. While not a photographer by trade like her husband Keith, Terri focuses on her mission of seeing to the unmet needs of the children and youth of our community by directing her attentions into every resource that can change the lives of thousands of children each day.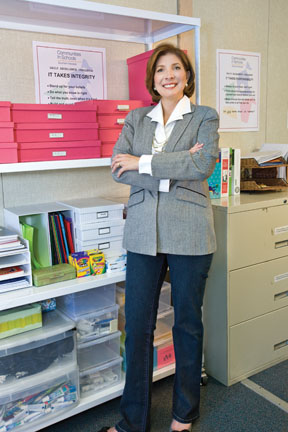 Clark began her career in healthcare management with the Blue Cross and Blue Shield Foundation, where she had the opportunity to help start a dental outreach program for children who didn't have access to dental care. As the throngs of children came through the mobile dental bus, she began to see the suffering that was going on right here in Las Vegas. But dentistry wasn't the only problem that needed fixing. Clark often encountered school principals and nurses who had asked if she knew of any other outreach efforts that addressed basic needs such as vision care, clothing, food, counseling, medical care and immunizations.  She was overwhelmed by the amount of need versus so few resources.
Clark learned of and began work with an organization called Communities In Schools of Nevada (CISN) in 2006 to research, develop and establish the state's northeastern affiliate. Her hard work paid off when Communities In Schools of Northeastern Nevada launched in 2007, with Terri as the Executive Director. In 2011, Terri relocated from Elko, Nevada back to Vegas and became CEO for the Communities In Schools state office. She shares her journey, accomplishments and what inspires her to make a difference in the youth of our community.
Why are you passionate about Communities In Schools?
"I believe that this program is the solution to the crisis in education our state faces. This is exactly what the schools had been asking for and the solutions are provided on campus to give students the support they need to graduate. I see the impact that our staff makes in the community and I know someone is better off because we are there."
How does CISN help?
"We are actively engaged with policy makers, school staff, parents and business partners to ensure that CISN services are extended to as many K-12 students as possible and that those students have access to college."
You had some incredible results that first year in rural Nevada.
"We helped 2,998 children get immunizations and people of all ages get whooping cough vaccines. We also formed a hunger prevention committee to feed breakfast to kids who qualified for free and reduced breakfast programs. We even went beyond breakfast to solve the issue of hunger on the weekends by connecting students to backpacks of food. Last year, the program served over 34,000 breakfasts and handed out 4,100 backpacks of food."
You were recently named one of the top ten "Women Who Mean Business" by the Las Vegas Business Press. What do you think makes you successful?
"I'd have to attribute it to my incredibly supportive family, which includes my husband of 30 years and our children Christopher, Rebecca, Rachel, David and Stacie; my faith in God; my father, who taught me the power of hard work; and an engaged board of directors at CISN who take the work to heart, along with a team that really believes in the work we do."
How do you unplug after a busy day?
"I find math problems particularly distracting. But I might have to cut my enthusiasm for the subject as my son said, 'Sorry Mom, no math homework tonight, but maybe I can get some tomorrow.' "
Tell us something about you that you think others in the community might not know?
"I love pulling off a great practical joke, but be warned, if you play a practical joke on me, I will retaliate and it will be big."