Meet Your Neighbor: Meet The Neighbor – Cheryl Ruettiger
By Callie Thomas
As parents, we want to give our children every opportunity to fulfill their deepest dreams, whether that is becoming a baseball or football player, a pop singing sensation, the next great chef or even a movie or Broadway star. With a great deal of support and determination, anything is possible when you have someone like 89012 resident Cheryl Ruettiger making a difference in the community. Ruettiger has dedicated herself to helping youth fulfill their dreams as Executive Director of the Rudy Foundation, which she co-founded with her then husband, Rudy Ruettiger, the inspiration behind the blockbuster film Rudy. The Rudy Foundation is a nonprofit organization that recognizes those who aspire to fulfill their dreams through character, courage, contribution and commitment. Ruettiger has developed a series of scholarship showcases to benefit students and sports teams as well as theater and dance groups.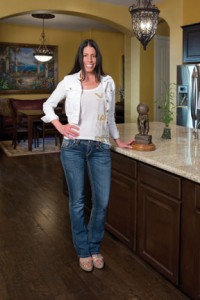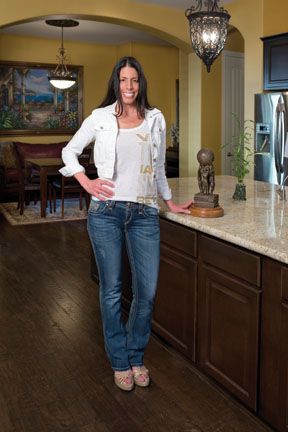 To meet Cheryl Ruettiger is to become immediately drawn by her genuine optimism, passion and enthusiasm for building helpful relationships, focusing on the good in people and creating experiences that positively impact the community. As a self-proclaimed night person, she works tirelessly into the later hours, creating and promoting programs for the foundation. This includes the upcoming Master of the House Showcase of ensemble musical theater talent that will feature productions performed by local high schools and theater groups in a competition to earn scholarship funds. Her own dream for this year is to build a theater where Las Vegas youth can come together to rehearse, perform and put on great shows for the community. Ruettiger talks about her passion for rewarding and encouraging young people for their accomplishments and the inspiration she draws from her own children.
This year, you are focusing on the performing arts through the Rudy Foundation?
"I am blessed to have had the opportunity to produce events for the Rudy Foundation and to work with so many influential performing arts leaders over the years. The experience I have acquired is a valuable part of my continued journey with talented youth and adults in America. It has greatly contributed to expanding my vision to realize my dream of funding a performing arts theater in Vegas and provide them with an opportunity to live their dreams."
Tell us about the Master of the House Showcase.
"I've teamed with Erik Ball, the multi-talented director, producer, teacher, actor, singer and radio personality, to bring about this exciting production this month at Faith Lutheran. The competition provides local high schools and theater groups with an opportunity to earn scholarship funds. The show will be emceed by Maggie Wheeler, best known for her role as "Janice" on the hit TV show Friends. A professional panel will review the performances and award the top three groups, with the top honor of Master of the House going to the school earning the highest score. It's fast-paced musical theater with a competitive edge and an element of surprise!"
What is the accomplishment you are most proud to have achieved?
"I will never forget giving birth to my kids, Danny and Jessica, right here in Vegas and creating the Rudy Foundation."
What inspires you every day?
"My kids inspire me all the time. My son Danny loves soccer and hockey, and you can also catch him singing on the stage from time to time. My daughter Jessica loves the performing arts. Every day, you will find her singing, dancing or doing both performing in a show."
Do you sing or dance?
"I like singing in the car! I've also enjoyed producing a short film called This is My Dream to share positive messages that help others believe in themselves and build character and confidence and overcome struggles on the journey to their dreams."
Do you have a favorite life inspiration or quote you'd like to share?
"Let the rhythm of your heartbeat drive you toward your dreams."