Meet Your Neighbor: Meet The Neighbor – Dr. Todd Newton, DDS, Dr. Robert Nisson, DDS, Dr. Corry Timpson, DDS
By Callie Thomas
You've probably heard of the term "band of brothers" used to refer to those that have shared a camaraderie and kinship while serving together in the military. Residents Doctors Nisson, Timpson and Newton have created a band of dentists that are committed to paying homage to the veterans in our community while also initiating a special program called Freedom Fridays that provides unemployed vets in the greater Las Vegas area with free dental services.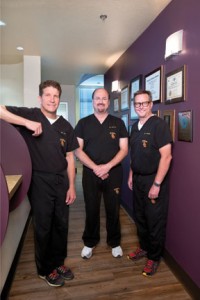 Warm Springs Dental was established in 1990 by Dr. Nisson. After the practice began to grow, Nisson convinced his dental school roommate Dr. Timpson to join him. Soon the small office was overwhelmed with patients seeking treatment, during which time Dr. Newton joined the practice. In just a few short months, it was clear that the team of three dentists and their staff needed a bigger office, so the practice was developed at Warm Springs and Stephanie across from Green Valley High School. In 2002, the three dentists joined forces again to open a second (satellite) location called Anthem Village Dental, located in the Vons center of the Anthem community.
Since the doctors have enjoyed the support of the Henderson and Las Vegas communities for the past twenty-two years, they decided to give back in a way that shows their appreciation for the men and women that fought for our freedom, particularly in these tough economic times. This band of dentists understands that tough times can be even harder for veterans who have fought for our country and been unable to find consistent employment to support themselves and/or their families after returning home. The doctors talk about the Freedom Fridays program that provides comprehensive dental care to vets and about their own lives and aspirations.
Tell us about Freedom Fridays and why it's such an important program.
Dr. Newton: "Warm Springs Dental and the specialists and contributors of the program provide highly detailed and comprehensive treatment without restrictions of cost and barriers of insurance to a growing number of vets in the area."
Dr. Timpson: "Treating our unemployed veterans shows our gratitude and appreciation for our vets and their service to our country."
Dr. Nisson: "The program offers a luxury that many vets can't afford, which affects their health and self confidence. It also affects their ability to get back into the workplace. Your smile plays an important role in that process."
How do vets get into the program?
Dr. Newton: "Vets living in Clark County, Nevada who are unemployed and in need of dental care should contact Angela Alegna at American Helping Heroes or Karen Lewis at the Las Vegas Urban League. You must qualify through one of these two organizations to get into the program. Visit FreedomFriday.org for additional information."
What does giving back mean to you?
Dr. Nisson: "We, along with our staff, give up our Fridays to do this pro bono work. It's a great feeling and makes us less selfish. We all need to realize the importance of giving back."
Dr. Timpson: "I was never in the military, but Freedom Friday gives me a sense of giving back to our country a little."
Dr. Newton: "My personal reward is attached to the deep emotions provided as I sit with a deserving vet and become aware that we are both fighting back the impulse to simply let the tears fall. If the reward is measured in goose bumps, I have been paid in millions."
Any personal aspirations?
Dr. Nisson: "Provide dental services to third world countries!"
Dr. Newton: "Expand Freedom Fridays to cities across the United States."
How do you relax after a busy day?
Dr. Timpson: "I do yard work at my home. That's where I do my best thinking. I also enjoy spending time with my family."
Dr. Nisson: "I'm home with my wife and family, playing with the kids. I also like to fix things."
Dr. Newton: "Stop moving for ten minutes, then work out. Otherwise, enjoying my USC season football tickets."