Meet Your Neighbor: Ken Henderson
By Callie Thomas
Think back and try to remember–who was your first role model?  Was it the current singing sensation?  A superstar athlete?  Or perhaps it was someone closer to home like an influential teacher or even a big brother?  Resident Ken Henderson is best described as the grown-up role model for the community.  In fact, not only is he CEO of one of the most well-known modeling agencies in the city, through his on-going support of the Junior Diabetes Research Foundation as well as other organizations that help those in need, he is truly someone to look up to.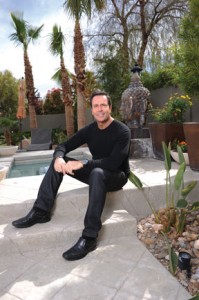 The native Las Vegan has been the CEO of the BEST Agency, a full service model, production, event and entertainment company for the past 13 years.  You could say he represents the best of both worlds.  The BEST Agency is a mix of glamour and talent with a heavy dose of charitable spirit.  "I am proud to say that our stellar reputation for creating entertainment concepts and events in Vegas has also enabled us to work with and contribute to many major charitable organizations," says Henderson. "Our spectacular team all have the same giving attitude." 
Ken Henderson sits on the board of the Juvenile Diabetes Research Foundation (JDRF) as the Vice President of Events and newly appointed President-elect.  The focus of the group is to find a cure for diabetes and its complications by supporting research.  JDRF helps to move research from the laboratory to the patient's bedside, which translates medical advances into longer, healthier lives for those with diabetes.   The local Nevada chapter provides educational information and support for newly diagnosed individuals and their families.  "I am passionate about JDRF for many reasons," he said.  "First and foremost, it's about kids…also our dedicated board and the fact that over 80% of JDRF's expenditures directly support research and research education."
Each spring, Henderson chairs the annual Hope Gala in Las Vegas. At the black-tie event, a local member of the community is honored for their consistent dedication and commitment in the search for a cure.  The fundraiser includes an exclusive live and silent auction.  "I have the honor every year to work with children and young adults who have this terrible disease," Ken said.  "They never cease to amaze me with their strength and confidence while enduring the disease, as well as their dedication and optimism that a cure will be found soon."  Henderson produces a very special video that features young diabetics and their stories.  "The video serves as a key component to our event and there is nothing I do all year that is more fulfilling."
Ken Henderson hopes to be a role model for his own daughter, 18 year old Paige.  "I look at her every day and am grateful for her health," he said.  This desire is also the reason Henderson devotes time to other organizations and events, including one called Holiday Magic, which he created along with another neighbor, Tom Carroll, to showcase the many organizations that help others in the community.  "In 2004 we created a 13-day event which was held on the grounds of the JW Marriott to create a platform for a charity each night to share their information and purpose in the community," says Henderson.  The event supported such organizations as Homeless Babies, Nevada Childhood Cancer, Candelighters for Children's Cancer, St. Jude Ranch for Children, UMC, Ronald McDonald House, Child Haven and more. 
Ken's successes in life may be attributed to his passion for his work, his integrity and his desire to help others.  "I believe it is our obligation as a human being.  Raising money for charities is essential but there are so many other ways to help…your time, resources and connections are all very important.  You don't have to be wealthy to make a difference."