Livin' Local: Neon Lights, Festive Nights – Christmas in the Desert
By Mike Sweeney

When most people think of Christmas, Las Vegas probably isn't the first place that comes to mind. Our miles of outlying desert and neon canyons of mega resorts don't exactly define the holiday spirit. But if you look beneath the surface during this festive time of year, our community comes alive with new energy and a seasonal excitement that rivals the North Pole.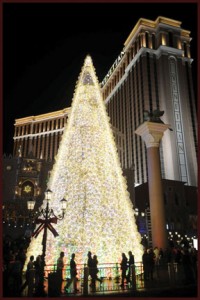 Holiday Escapes
Part of the fun of spending Christmas in Las Vegas is discovering the local traditions that can transport you out of the desert and into another world. None of these holiday extravaganzas are more spectacular than Winter in Venice, held at the Venetian and Palazzo from November 18th through January 6th. This magical showcase carries you far from the arid sandscape of Southern Nevada and into a new world steeped in rich folklore and old world Italian splendor. Holiday displays and 3-D light shows share space with roving entertainers such as stilt walkers, jugglers, magicians, puppeteers and more. Enjoy a whimsical nightly parade filled with colorful characters hailing from traditional Italian tales and stories, then skate to your heart's content at the outdoor ice rink located above the Venetian's Grand Canal, offering spectacular views of the resort's hallmark gondolas. Visit www.venetian.com or www.palazzo.com for more information.
For a journey sure to transport you into the land of holiday enchantment, board the Santa Train at the Nevada State Railroad Museum in Boulder City. During the second, third and fourth weekends in December, you can join a festive railway for a 45-minute ride that includes a visit from Santa and Mrs. Claus. It's like Southern Nevada's own personal Polar Express. While you wait to board, have the little ones send off their letters to St. Nick at Santa's Mailbox, then take a ride on the NSRM 503 train to visit the "bone yard" of unrestored equipment or witness demonstration runs from the 1875 Eureka steam locomotive. Whether you're a railroad enthusiast or just looking for a fun holiday ride, this should get your Christmas season started on the right track. Visit www.nevadasouthern.com for tickets and information.
The Light Fantastic
The blazing lights of Las Vegas Boulevard can be seen for miles, but when the holidays roll around, the neon glow of the Strip isn't the only vivid display you'll find in town. The Lakes Festival of Lights, held December 8th at The Lakes near West Sahara, brings a colorful spectacle of decorated boats to wow young and old alike. An impressive flotilla draws cheers from the crowd as the festive, sparkling vessels drift across Lake Sahara, casting their hypnotic glow on the still waters. In addition to the boat parade, the event also features a wide range of live family entertainment, arts and crafts, a car show, a petting zoo and visits with Santa. Best of all, this is a hometown local event through and through, completely planned, organized and operated by unpaid community volunteers. Visit festival.lakesassociation.com for more information.
That same festive twinkle can be found in many other locations off the Strip, including the amazing Holiday Spectacular at the Springs Preserve, held this year on December 8th – 9th and 15th – 23rd. The desert comes alive with the glow of thousands of beautiful LED lights, all eco-friendly, as one would expect from the Preserve. From tasty treats to holiday arts and crafts to photos with Santa, this family event has enough Christmas spirit to light up your season brighter than the biggest casinos. Take a detour into the Springs Café for delicious dishes, desserts and seasonal beverages, then head outside to enjoy the live entertainment by high school madrigal singers and other local artists. You can even get a jump on the festival with the snowman building contest and create your own Frosty to be displayed along the garden Snowman Stroll. As the lights turn on, you and your family are sure to feel the glow in your hearts as these glittering festivities brighten up your desert night with the sights and sounds of a Vegas holiday happening. Call 822-7700 or visit www.springspreserve.org for tickets and information.
Visions of Sugar Plums
With the recent opening of The Smith Center for the Performing Arts, a touch of class and sophistication has been added to the Las Vegas cultural landscape. The stage comes to life this holiday season as the new home for the Nevada Ballet Theatre's performance of The Nutcracker, with seven shows running from December 15th – 23rd. Set to Tchaikovsky's elegant classical music score, this Las Vegas tradition immerses audiences in an extraordinary fantasy world filled with magic, romance, pageantry and an entire Land of Sweets ruled by the Sugar Plum Fairy. Artistic director and choreographer James Canfield joins with the creative forces of scenery and prop designer Patricia Ruel and costume designer Sandra Woodall for this imaginative showcase of a timeless favorite. It's a refined holiday gem well worth unearthing from the desert sands this December. Call 982-7805 or visit www.thesmithcenter.com for tickets and information.
No matter where you hail from, the holidays are always a cause for joyous celebration. But don't feel like you need to pack your bags and rush out of town because you're thinking there's no seasonal magic to be found in our desert home. From ballet to festivals to train rides with Santa, Las Vegas has all the holiday charm you need to make your Christmas season a memorable one.