In the Know: New Rules of the Road | Tips for Handling a "No Injury – No Response" Car Accident
Since the Las Vegas Metropolitan Police Department's new "no injury – no response" accident policy went into effect March 3, there's been much confusion on how drivers should handle a "non-injury" accident. With the LVMPD traffic accident report no longer available following many car accidents, it will be the drivers' responsibility to investigate and document the wreck. The Richard Harris Law Firm offers tips people should follow to protect their legal rights.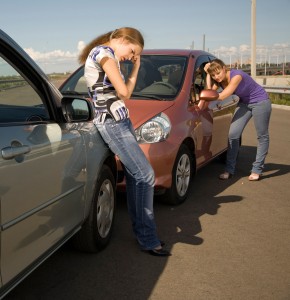 Stay in your vehicle until you feel calm. When able, leave the vehicle and calmly introduce yourself to the other driver.
Don't be confrontational with the other driver. If they do admit fault, ask if they are willing to give a statement in writing or by video taken on your smartphone.
Call police and follow their instructions. If the other party is intoxicated or high, let the dispatcher know. If the other person involved in the accident refuses to give you their information and flees the scene, it has become a hit-and-run, a situation that Metro will also respond to.
Realize that documentation is your friend. You can use your camera phone if you have one, or carry a disposable camera in your glove box. Take as many photos and videos of the accident as possible. Recommended photos include:
• the property damage to your vehicle
• the other vehicle (include the license plate)
• the scene of the accident including street signs or signal lights
• the position of both vehicles after the accident before they are moved (if safety considerations allow)
Write down a description of the accident while it is still fresh in your mind. This will help verify your case to your insurance company. Video or document (written or audio) statements from witnesses and those involved in the accident. If witnesses to the accident stop, make sure you also obtain their contact information. Having an un-biased, third-party's account may help you in the long run.
Exchange names, addresses, driver's license numbers and insurance policy information with the other driver. If multiple vehicles are involved, obtain this information from all parties. If any other party refuses to comply, call the police.
If you have any symptoms of injury, promptly visit an Emergency Room, or Urgent Care facility.
Being in a traffic accident is traumatic and difficult, especially when you're dealing with the situation on your own. By documenting the facts of the accident and the people involved, and obtaining a consistent and accurate description of what transpired, you'll be better prepared to protect your rights now and in the future.