For the Love of Food: Power on the Plate – Spices that Boost the Body
By Aly Wagonseller
If you've ever sweated bullets after consuming throat scorching salsa or fire breathing dragon curry, you know there's something about spicy food that just revs up the body. It's long been determined that standby pepper varieties including cayenne, red flake and plain old freshly ground black work digestive magic while tingling the taste buds, but recent studies have shown that several other spices can shift your metabolism into high gear, reduce the body's negative response to fatty foods that clog our arteries and minimize inflammation associated with ailments from Alzheimer's to arthritis. A combination of just two tablespoons per day of the super food spices listed below can lower your blood fat levels by 30%, increase your metabolism up to 25%, and increase cancer fighting antioxidants in the blood stream by up to 13%.
Cinnamon – shown to increase your metabolism twentyfold with just a 1/4 to 1 teaspoon per day, it's easily incorporated into foods from oatmeal to Moroccan chicken.
Cumin – used in a variety of international cuisines spanning the globe from India to Mexico, cumin has a thermogenic effect that raises the inner temperature in the body allowing you to burn more calories at a faster rate.
Ginger – a true super spice, this versatile addition to anything from tea to lentil soup contains an enzyme that aids in fat absorption and lowers high cholesterol and triglyceride levels, while raising the good cholesterol in your body. It also has thermogenic properties.
Turmeric – responsible for providing bright yellow color and a mildly bitter flavor to predominantly Asian cuisine, turmeric reduces inflammation, lowers cholesterol and can prevent blood clots that cause strokes.
Stocking your spice rack with a body boosting assortment of flavor is a cinch.  They're readily available at most grocery stores, and you can mix and match quantities to suit your tastes.  Experiment with combinations of your own, premixing them and storing in airtight containers that allow for no-brainer additions to scrambled eggs, marinades, dips or grilled foods, or try one of our spicy concoctions sure to add kick to your dinner table.  It's a delicious way to add spice and good health to your life!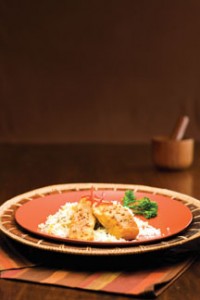 Salmon in a Bengali Mustard Sauce
Serves 2-3
3/4 pound skinless salmon fillet cut into 2 inch wide pieces
1/2 tsp. salt, divided
1/2 tsp. ground turmeric, divided
1/2 tsp. cayenne pepper, divided
1 tbsp. ground mustard
2 Tbsp. mustard oil (use extra virgin olive oil as a substitute)
1/4 tsp. whole brown mustard seeds
1/4 tsp. whole cumin seeds
1/4 tsp. whole fennel seeds
2 green or red bird's eye chilies, slit slightly
Make rub for fish by combining ¼ tsp. each of salt, turmeric and cayenne pepper. Rub mixture evenly on fish pieces. Cover and set aside in the refrigerator for 30 minutes or up to 10 hours. Combine the mustard powder, remaining cayenne, turmeric, and salt in a small bowl. Add 1 tablespoon water and mix thoroughly. Add another 7 tablespoons water and mix. Set aside.
In a medium frying pan, heat mustard or olive oil over medium-high heat. Add mustard seeds and allow to pop (a few seconds). Add the cumin and fennel seeds. Stir once and quickly pour in the mustard paste mixture. Add chilies, stir, and bring to a gentle simmer. Place the fish pieces in the sauce in a single layer. Simmer gently for about 5 minutes, or until the fish is just cooked through, spooning the sauce over the fish all the time. Serve with basmati rice.
Recipe from Epicurious.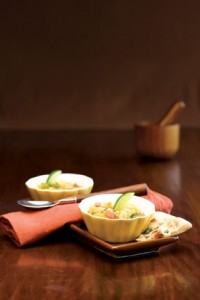 Red Lentil Soup
Serves 4
1 cup red lentils, washed and soaked for 1 hour, drained
1 medium onion, thinly sliced
1 large tomato, diced
1 green serrano chile, split and seeded
1-inch piece ginger, peeled and minced
2 cloves garlic, thinly sliced
2 Tbsp. canola oil
1 tsp. cumin seeds
1/2 tsp. turmeric
1/2 tsp. paprika
Kosher salt
Honey, to taste
Chopped cilantro leaves, for garnish
In medium saucepan, over medium heat, combine the drained lentils, onion, tomato, chile, ginger, garlic and enough water to cover. Bring to boil, then lower the heat and simmer until the lentils are tender, about 30 to 45 minutes. Whisk the cooked lentils to release some of their starch and break them down further.
In small saute pan, warm the canola oil over medium heat. Add the cumin seeds and cook until they are sizzling and spluttering. Stir in the turmeric and paprika. Pour the seasoned oil into the lentils (be prepared for a big sizzle). Stir to combine, add salt to taste, and a small drizzle of honey. Ladle into soup bowls and garnish with cilantro.
Recipe from Aarti Sequeira, Food Network.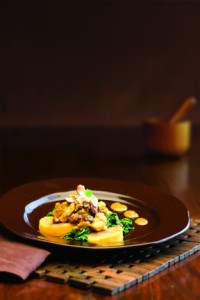 Moroccan Chicken with Polenta
Serves 4
 2 Tbsp. all-purpose flour
1 1/2 tsp. ground cumin
1 1/2 tsp. ground coriander
1/2 tsp. ground red pepper
1/4 tsp. salt
1/4 tsp. ground cinnamon
1 pound skinned, boned chicken breast, cut into 1-inch pieces
2 tsp. olive oil
3/4 cup low-salt chicken broth
1/3 cup raisins
1 tsp. ground turmeric
1 (16-ounce) tube wild-mushroom polenta, cut crosswise into 12 slices
Cooking spray
1/4 cup plain fat-free yogurt
1/4 cup sliced almonds, toasted
1/4 cup chopped fresh cilantro
Combine the first 6 ingredients in a medium bowl; reserve 1 Tbsp. flour mixture. Add chicken to flour mixture in bowl; toss gently to coat. Heat oil in a large nonstick skillet over medium-high heat. Add chicken; cook 5 minutes, stirring frequently. Stir in broth, raisins, and turmeric; bring to a boil. Reduce heat; simmer 8 minutes or until slightly thick.
Preheat broiler. Place polenta slices on a baking sheet coated with cooking spray and sprinkle with reserved 1 Tbsp. flour mixture. Spray tops lightly with cooking spray. Broil 8 minutes or until thoroughly heated. Serve chicken mixture over polenta; top with yogurt and sprinkle with almonds and cilantro.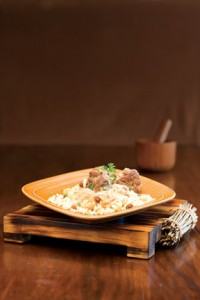 Turkey Kefta with Sweet Onion and Raisin Sauce
Serves 4-5
4 cups sweet white onion, thinly sliced
1/2 cup raisins
1/2 tsp. black pepper
1 (14-ounce) can chicken broth
1 3/4 tsp. salt, divided
1 1/2 tsp. Ras el Hanout, divided (recipe follows)
1/2 cup finely chopped fresh parsley
1/4 cup dry breadcrumbs
1/2 teaspoon freshly ground black pepper
1 egg, lightly beaten
1 1/4 pounds ground turkey breast
Olive oil
1/4 cup slivered almonds, toasted
Ras el Hanout (makes enough for several uses)
2 1/2 tsp. kosher salt
2 tsp. ground cumin
2 tsp. ground ginger
2 tsp. freshly ground black pepper
1 1/2 tsp. ground cinnamon
1 tsp. ground coriander
1 tsp. ground red pepper
1 tsp. ground allspice
1 tsp.saffron threads, crushed
1/2 tsp. ground cloves
1/4 tsp. freshly ground nutmeg
Make Ras el Hanout by combining all spices in a small bowl. Store in airtight container.
For kefta, combine first 4 ingredients along with ¾ tsp. salt and ½ tsp. of the Ras el Hanout in a Dutch oven; bring to a boil. Reduce heat and simmer 10 minutes or until sauce thickens, stirring occasionally.
Combine remaining 1 tsp. salt, 1 tsp. Ras el Hanout, the chopped fresh parsley and the next 4 ingredients (through ground turkey breast) in a large bowl; shape mixture into 20 meatballs. Heat oil in a large skillet. Slighty brown meatballs, not cooking through, draining on a paper towel. Place browned meatballs on top of onion mixture; cover and cook for 20 minutes or until done. Serve over couscous if desired, sprinkled with slivered almonds.