Mind Body and Soul: Putting Spring Back In Your Skin
The elongated chilly evenings are soon to be replaced by those big yellow rays gleaming through the mountain peaks. Families are preparing for a splish-splash into spring break getaways and Moms are finally taking a few seconds to think beyond packing lunch boxes and carting kids to activities. Post getting-the-kids-out –the-door haze, you walk past a mirror and wonder, "Who is that haggard woman staring back at me, surely not moi?" The sleepless bags have settled into your orbital sockets, a stress pimple trumpets on your chin, and you haven't shaved your legs since when?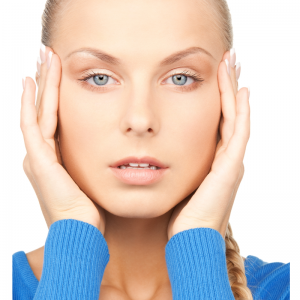 Spring cleaning doesn't just apply to the dust-bunnies under your bed. Spring is a time to think about cleaning, clearing, and rejuvenating the largest organ of your body, your skin.
On your next shopping trip, as you maneuver down the grocery or World Wide Web aisles, here are seven products you should not skip adding to your cart.
Cleansing: The grime and oil of the day should be cleansed away morning and night for clean healthy looking skin. Washing more than twice daily can be drying and unnecessary. To banish desert flake, revive your skin using a gentle moisturizing wash like Aveeno Positively Radiant Brightening Cleanser. This product uses soy extract to improve the tone and texture of skin, while maintaining a gentle non-comedogenic nature. However, for oily skin, Cetaphil Dermacontrol is a great product to reduce sheen while not causing dryness.
Hydration: The arid Vegas air leaves your skin gasping for water. Dip your outer layer into a pool of moisture daily. CeraVe moisturizers provide a new technology called Ceramides to help fill in dry skin crevices with natural emollient promoters. Cetaphil offers a similar technology under the Restoraderm line. When picking a moisturizer know that lotions will be thinned with alcohol content, while creams will be thicker, and best for really thirsty skin. And don't forget your lips! Keep your pout soft with a layer of gentle cream or a dab of Vaseline overnight.
Sun Protection: Sunscreen…Sunscreen…Sunscreen is a MUST throughout the year to protect skin from UV radiation. Excessive or even general daily sun exposure can unravel aging signs such as wrinkles, discoloration and, even more concerning, skin cancer. Incorporate sunscreen as part of your morning routine before applying make-up. If past experiences with acne induction, greasiness, or a white pasty look with sunscreens makes you hesitant; there are several options that defy these effects. Neutrogena Tone & Repair has the American Academy of Dermatology's recommended SPF 30 incorporated into a light conditioning lotion along with several others containing helioplex technology to keep your product active longer. Cerave AM provides a moisturizing non-comedogenic lotion with SPF 30 while Vanicream Sunscreens are available for super-sensitive skin types.
Damage Control: Like Mom always said, "Eat your fruit and veggies," as they are packed with skin rejuvenating Vitamins A, C, E, Coenzyme Q10, Alpha-Lipoic Acid, Lycopenes, Flavanoids, and B vitamins. However, vitamins and minerals combined in the right topical concentration are also beneficial for the outside of your body. Antioxidant topicals should be part of a morning routine and can be found as a combination ingredient in some sunscreens. Neova Crème de la Copper is a popular antioxidant that has configured copper with DNA repair enzymes to target photo-damaged cells. Revaléskin Intense Recovery Treatment provides cutting edge ingredients such as coffeeberry, grape seed extract, green tea, and vitamin E to help fight photo-aging. If looking for an item on traditional store shelves, Neutrogena Healthy Defense combines a moisturizer, sunscreen, and the antioxidant Vitamin E.
Wrinkle Repelling: Before the creases of mature skin start to settle, it's important to kick-start youthful skin with a nightly retinol. Find RoC Retinol Correxion Deep Wrinkle Night Cream or Neutrogena Rapid Wrinkle Repair Serum stocked in neighborhood beauty venues. For medical grade products, check out La Roche-Posay Redermic or Obagi Retinols that come in two strengths based on your skin type. For those with sensitive skin opt for Avene YsthéAl Anti-Wrinkle Cream.
Smoothing and brightening: Hyaluronic acids are often used to firm and plump saggy areas, like under the eyes. Neostrata Eye Cream is a gentle formula which includes this, plus, ingredients like green tea and primrose. Neova Refining Eye Lift is another such product, but with the added benefit of argireline and saccharomyces lysate extract to relax wrinkles and reduce puffiness. La Roche-Posay offers Redermic R Eyes Antiaging Corrector for those with sensitive skin while Olay Total Effects Eye Treatment offers a vitamin and herbal punch for eye circles and puff.
Lightening: Sun damage, pregnancies, and hormones can all cause uneven splotches on skin. Regain an even tone with the use of medical grade products containing a lightening agent called hydroquinone. Neocutis produces Blanche which contains hydroquinone and melaplex to more effectively diminish dark spots. On store shelves, pick up Physicians Formula Dark Spot Corrector which is packed with spot fading soy, algae, and Bellis flower.
Finding the right skin product can be like walking through a maze, but these options provide over-the-counter and medical grade selections for a daily beauty regimen. To ensure you're not just paying for a product that sits on the top of your skin rather than sinking into it, purchase brands that invest in the science behind the product. There are reputable varieties available in stores as previously explored. However, the cosmeceuticals mentioned above are medical grade cosmetic products only available through special beauty retailers and health care practices. These items provide consumers with higher concentrations and diversity of substances to enhance effectiveness. If your skin has advanced signs of aging, however, it may need more oomph than non-prescription products can provide. Consult with your dermatology clinician for stronger prescription grade topicals, as well as options for botulinum toxins, fillers, chemical peels and lasers to spring your skin back into youth.
Erika Kimble, MA, MS, APRN is a Dermatology Nurse Practitioner at Linda Woodson Dermatology in Las Vegas. She is an award winning author of the Malcolm Finney, Medical Detective, children's health series, mother of two, wife, and new resident to the 89135 area. You may find more information about Erika and her professional work at www.bandagesandbooboos.com . The author has no formal affiliation with the products listed. The above information if for educational purposes and does not substitute medical advice from your health car