Livin' Local: Raise Your Glass – The Downtown Cocktail Experience
By Mike Sweeney

With the kitschy pop of laser light shows, kiosks selling tacky Sin City souvenirs and a zip line that hurtles whooping tourists down the Fremont Street Experience, downtown Las Vegas seems to cater to a hip crowd looking for a "Vegas, baby!" good time. That's all well and good for out-of-towners, but what about we locals who are seeking a different sort of downtown nightlife? Well, we're in luck because the Fremont East district offers a host of bars and cocktail rooms that are big on style and run the gamut from low key to lively for a super fun night on the town.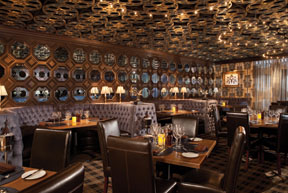 The Perfect Aperitif
Before we begin our cocktail journey, let's grab a bite to eat… but let's chow down somewhere we can also find an exquisite beverage to kick things off. The Barrymore (99 Convention Center Dr.) may not be downtown, but it's close by in the Convention Center district, still convenient enough for a pre-Fremont visit – and if you're going to pre-game, you may as well do it with style. You can practically picture Ol' Blue Eyes himself kicking back with a Manhattan in one of the comfy leather chairs or Angie Dickinson primping in front of the elegant mirrors.
The menu of classic American fare is constantly changing and evolving, but you can always find great steaks, chops and seafood to fit any particular taste. Still, let's face it: this outing is all about the cocktail, so sip a martini (the Blue Corpse Reviver #2 has a nice citrus flair with a dose of absinthe), enjoy a Barrymore on the rocks with Gentleman Jack, or if Scotch is your thing, there's a smooth Macallan 18 year that's calling your name. With only fifty seats available, you'll want to make reservations, so call 407-5303 or visit www.barrymorelv.com for more info.
Go East, Young Man
With our bellies full of food (and a smooth beverage or two to go with it), it's time to head downtown and start up our cocktail room walking tour. We're heading for Fremont East, so the big red garage at 4th and Carson is a good place to park: easy to get in and out of, close to the action, and there's a convenient pay kiosk (cash or credit) that you can hit up as you leave.
Once you hit Fremont, head east across Las Vegas Boulevard, and you'll see the Downtown Cocktail Room (111 S. Las Vegas Blvd.) just south of Fremont. The bohemian vibe here is super mellow this early in the night, making it a great place to unwind after work or bring a date for a quiet, romantic evening, and the drinks are just as sexy as the atmosphere, many infused with seasonal ingredients. The Apple Pie tastes exactly like it sounds; the Clever Genever has a dash of egg white for a unique spin; the S'mores Better and Root Beer Float add a touch of sweetness to their respective tequila and spiced rum. This is one place that celebrates the cocktail with style and sophistication. Call 880-3696 or visit www.thedowntownlv.com for more info.
Now that you've enjoyed a quiet diversion, let's liven things up a bit. Head across Fremont to the Vanguard Lounge (516 Fremont St.), a post-modern joint that comes alive with high energy electronic music and the only street-side patio in the Fremont East District – a perfect place for people watching. Classic cocktails take on a modern twist here with selections like The Elderfashioned, a new spin on the classic Old Fashioned with Bulleit Bourbon, St. Germain liqueur and Angostura bitters. The Wob Woy twists up its sound-alike cousin with single malt whiskey, sweet vermouth and plum bitters. One of the specialties here are the "Neighborhood Negronis," a 1920s Italian spin on the Americano cocktail served with various choices of gin, sweet vermouth and bitters. Call 868-7800 or visit www.vanguardlv.com for more info.
Not So Common
Keep the energetic vibe going as you cross back over Fremont at 6th Street and visit Commonwealth (525 E. Fremont St.), a bustling nouveau pub right out of the 19th century with dark wood, candlelight and exposed brick; old school Boston meets new world Vegas. Cocktails hail from both the modern and Prohibition era, served in everything from punch bowls to glasses made from recycled wine or liquor bottles. The Horny Tailgater is a standout, made with barbecue flavored bitters and garnished with beef jerky, served in a mesquite salt rimmed glass.
Head up to the rooftop bar for scenic views of downtown and an entirely different cocktail menu. While up here, sample a bright and tasty Exotic Feelings, made with vanilla vodka, coconut Nigori sake, fresh mint, lime and ginger beer. Speaking of beer, there are plenty of great craft brews on tap such as the Delirium Tremens from Belgium or the Stone IPA from San Diego, all served out of unique taps with handles made of everything from hammers to tennis rackets. Call 445-6400 or visit www.commonwealthlv.com for info. But hold on, we're not done here yet…
Behind the Curtain
Want to know the best part about Commonwealth? Well, that's kind of hush-hush… But we're going to let you in on the secret. Located behind a hidden door inside the pub, The Laundry Room (the former site of the El Cortez's actual laundry service) is the closest thing Las Vegas has to a traditional speakeasy. As such, there are a few rules to follow. Reservations are required, but they are only taken via text message. While you're wrapping up your pre-cocktail dinner, shoot them a message to secure a spot. Once you arrive, your host will lead you into a separate hall to explain the rules of the house, among them "don't be creepy" and "no name dropping."
Only then will you enter the exclusive Prohibition-era domain with its tufted couches and old-timey music. Drinks are categorized by type of alcohol and you can sip everything from classics such as an Old Fashioned or French 75 to handcrafted, trendier beverages. The Bee's Knee is a delight for gin lovers, accented with lemon and honey, while whiskey fans will dig the sweet Ward 8 with rye whiskey, lemon, orange and grenadine. Drinks run $15 a pop, but they're strong enough to justify the price. What you're really paying for is the experience of feeling like you're part of a very exclusive club. Visit them on Facebook at www.facebook.com/thelaundryroomlv.
As we wrap up our night and head back to the garage (or to the taxi stand, if we're still feeling a bit tipsy), we can take comfort in the fact that we've enjoyed a nice dinner, good conversation, some lively atmosphere and a touch of special treatment. While downtown Las Vegas may be constantly reinventing itself, we can only hope that this vibrant cocktail scene is here to stay.
1 Comment