For the Love of Food: Recipes From April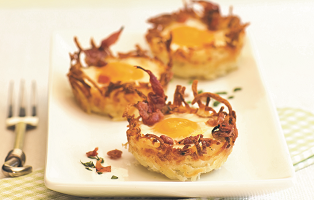 Eggs in a Basket with Maple Prosciutto 
6 servings
1 bag Simply Potatoes fresh hashbrown potatoes
1/2 stick unsalted butter, melted
Kosher salt and freshly cracked black pepper
6 slices prosciutto, about 2 1/2 oz., chopped
2 Tbsp. maple syrup
6 eggs
3/4 cup shredded provolone
-Preheat oven to 350 degrees F. Spread hashbrowns in a thin layer on paper towels and dry thoroughly. Add the potatoes to a large bowl, stir in the melted butter and season well with salt and pepper to taste.


-Spray a 6­cup, jumbo sized muffin tin lightly with nonstick cooking spray. Press the grated potatoes evenly into the cups being sure the potatoes go up the sides and cover the bottom in a thin layer. Bake until the top edges turn light golden brown and the potatoes are cooked through, about 35 to 40 minutes. Meanwhile, in a small bowl, toss together the prosciutto with maple syrup and a few grinds of freshly ground black pepper. Set aside.


-Remove the potatoes from the oven and gently crack an egg into each cup. Bake until the egg whites set but the yolk remains runny, about 6 to 8 minutes. Remove from the oven and set the oven to broil. Top the eggs with grated cheese and put the maple prosciutto on another sheet tray. Broil both until cheese melts, and meat crisps slightly, about 1 minute. Top the eggs with crispy prosciutto and serve immediately.


Recipe from Sunny Anderson, Foodnetwork.com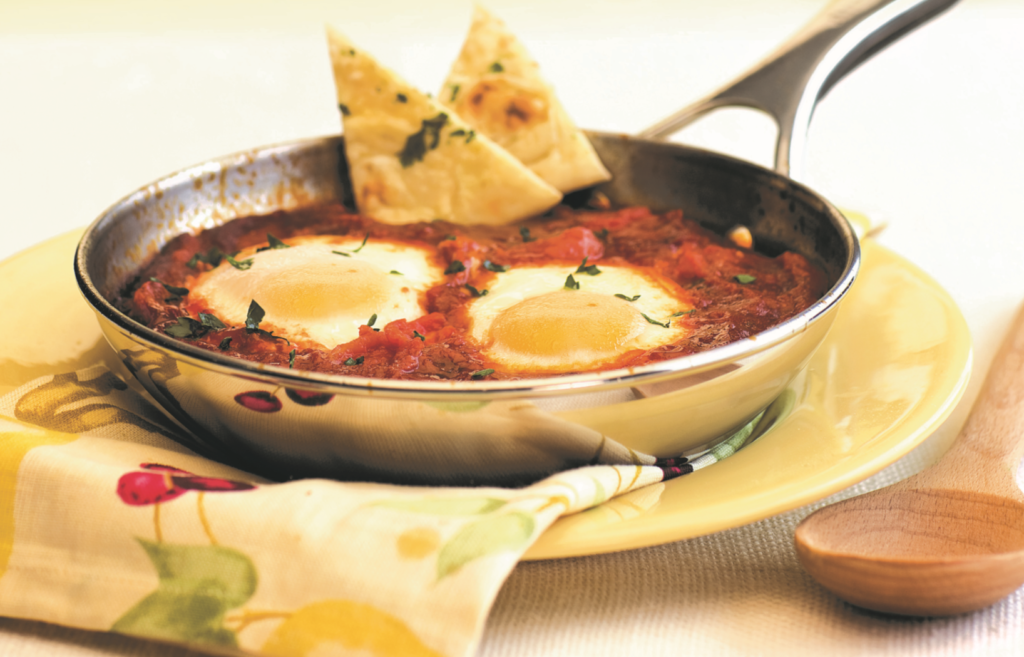 AIsraeli Poached Eggs in Spicy Tomato Sauce 
Serves 4
1/4 cup olive oil
4 Anaheim chiles, stemmed, seeded and finely chopped
1 small yellow onion, chopped
5 cloves garlic, crushed then sliced
1 tsp. ground cumin
1 Tbsp. paprika
1 (28 oz) can whole peeled tomatoes, undrained
Kosher salt to taste
6 eggs
1/2 cup feta cheese, crumbled
1 Tbsp. chopped flat-leaf parsley
Warm pitas or crusty bread, for serving
-Heat oil in large skillet over medium­high heat. Add chiles and onions and cook, stirring occasionally, until soft and golden brown, about 6 minutes. Add garlic, cumin and paprika and cook, stirring frequently, until garlic is soft, about 2 more minutes.
-Put tomatoes and their liquid into a medium bowl and crush with your hands. Add to skillet along with 1/2 cup water, reduce heat to medium and simmer, stirring occasionally, until thickened slightly, about 15 minutes. Season sauce with salt.
-Crack eggs over sauce so that eggs are evenly distributed across sauce's surface. Cover skillet and cook until yolks are just set, about 5 minutes. Using a spoon, baste the whites of the eggs with tomato mixture, being careful not to disturb the yolk. Sprinkle with feta and parsley and serve with bread for dipping.
Recipe Adapted from Saveur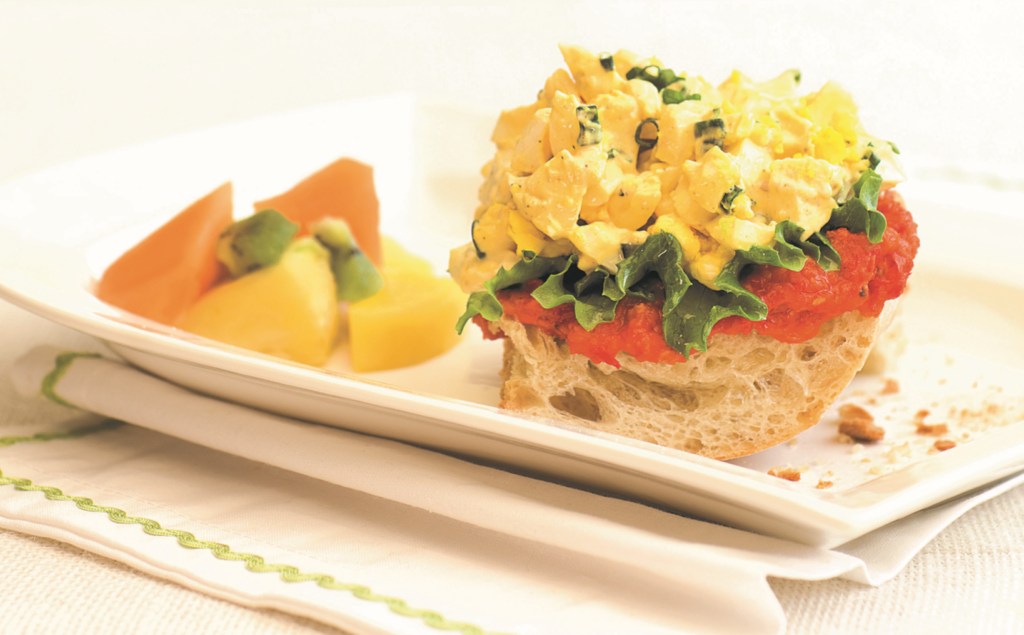 Fork and Knife Mediterranean Egg Salad Sandwich
Serves 2-­4
8 hardboiled eggs
1/2 cup mayonnaise
1 tsp. yellow mustard
1/4 cup thinly chopped green onion
1/4 tsp. smoky paprika
Salt and pepper to taste
1-2 Tbsp. olive oil
Garlic salt
Trader Joe's Red Pepper/Eggplant Garlic Spread
Leaf lettuce
Ciabatta bread
-Combine eggs, mayo, mustard, onion and paprika. Season with salt and pepper to taste and refrigerate for at least one hour.


-Slice bread into thick slices. Brush with olive oil, sprinkle with small amount of garlic salt and grill until warm through. Cool bread slightly and then coat with a generous amount of red pepper/eggplant spread. -Top pepper mixture with a few slices of leaf lettuce. Scoop egg salad mixture over the lettuce. Garnish with additional paprika if desired