For the Love of Food: Recipes From June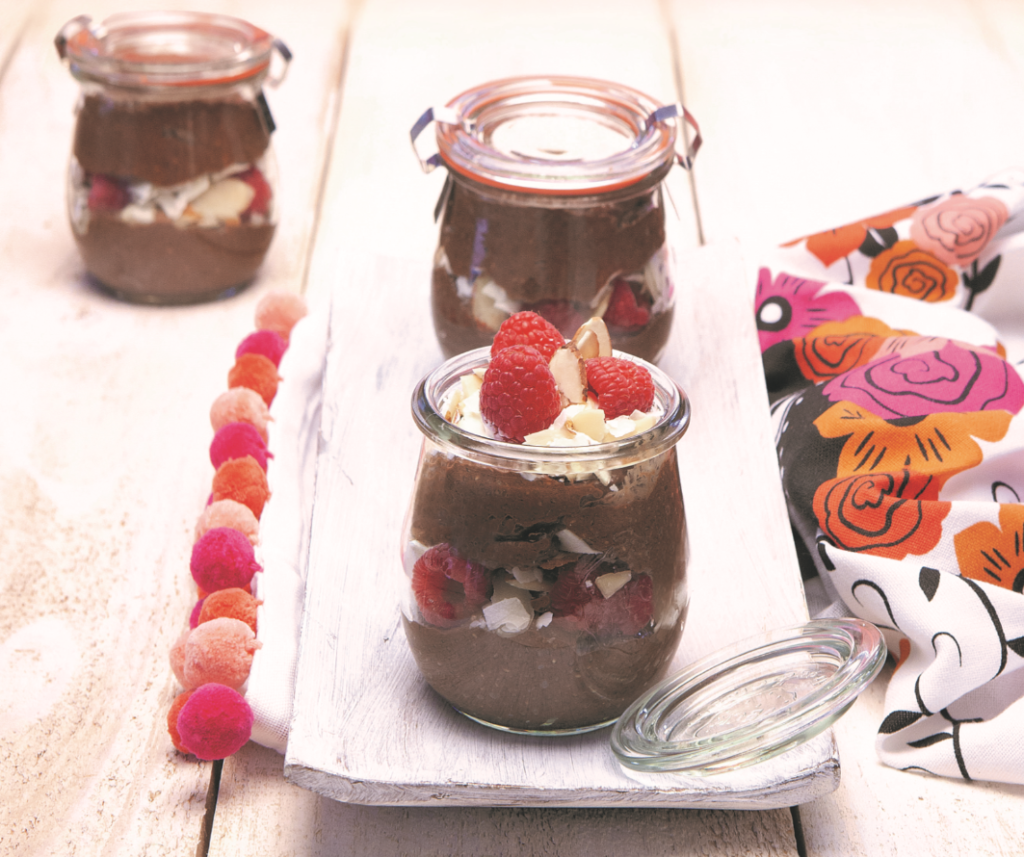 Chocolate Raspberry Chia Seed Pudding 
Serves 4
1/4 cup cacao powder or unsweetened cocoa powder
3-5 Tbsp. maple syrup
1/2 tsp. ground cinnamon
1 pinch sea salt
1/2 tsp. vanilla extract
1 1/2 cups almond or coconut milk
1/2 cup chia seeds
Raspberries, sliced almonds and unsweetened coconut
-In a small mixing bowl combine cacao powder, maple syrup, ground cinnamon, salt and vanilla. Add a small amount of the almond milk and whisk until a paste forms. Add remaining almond milk and whisk until smooth. Add chia seeds and whisk once more to combine. Layer pudding and raspberries, almonds and coconut in small jars with lids. Cover and refrigerate overnight, or until it's achieved a pudding­like consistency. Garnish with additional fruit and nuts.


Adapted from a recipe found at MinimalistBaker.com.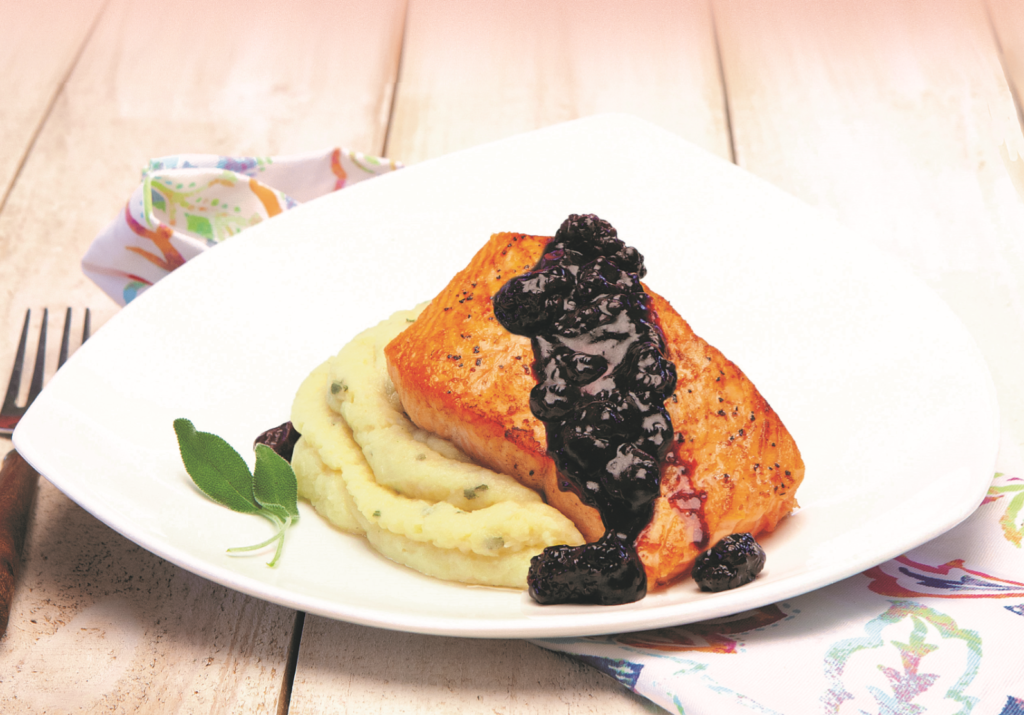 Wild Salmon with Berry Noir Sauce 
Serves 4
4 (6oz.) wild salmon filets, skin on
2 lemons, juiced
4 Tbsp. butter, divided
Kosher salt
Fresh ground black pepper
1 cup blueberries
1 cup blackberries
1 cup Pinot Noir wine
1/3 cup good quality balsamic vinegar
2 fresh sage leaves
-Bring the wine and balsamic vinegar to a boil in a small saucepan. Add the sage. Reduce heat and simmer until sauce has reduced by half. Add half of the berries. Muddle the berries to release juices. Add the remaining berries, keeping them whole, and stir in the butter. Season with salt to taste and let simmer for 10 minutes. Keep warm.
-Season the salmon with lemon juice, salt and pepper. Heat 2 Tbsp. butter in a shallow pan over medium­high heat until melted and just sizzling. Add the salmon filets skin side up and cook three to four minutes. Flip the salmon and cook two to three more minutes, or until the fish is firm and opaque. Remove skin and serve with sauce.
-Recipe adapted from Forkknifeswoon.com. Visit their website for mashed sage parsnips–the perfect accompaniment!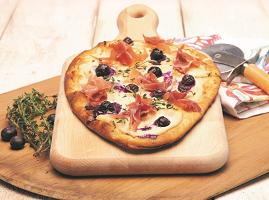 Blueberry Flatbread with Honeyed Goat Cheese and Prosciutto 
Serves 2-­3
4 oz. goat cheese, softened
2 Tbsp. honey
3 small pieces of naan bread
1/2 pint fresh blueberries
4 to 5 slices thinly shaved prosciutto
3 tsp. fresh thyme leaves
Freshly ground black pepper, optional
-Preheat oven to 425°F. In a bowl, combine goat cheese and honey until well blended. Place the naan on a baking sheet. With the back end of a spoon or a knife, spread the goat cheese evenly on the naan slices. On top of the goat cheese, add a handful of blueberries. Place in the oven and bake for 15 minutes until the naan is toasted and the blueberries softened.
-Remove from the oven and add prosciutto and 1 tsp. of thyme to each flatbread. Sprinkle with a pinch of black pepper, if desired. Slice and serve.
-Recipe adapted from Steelehousekitchen.com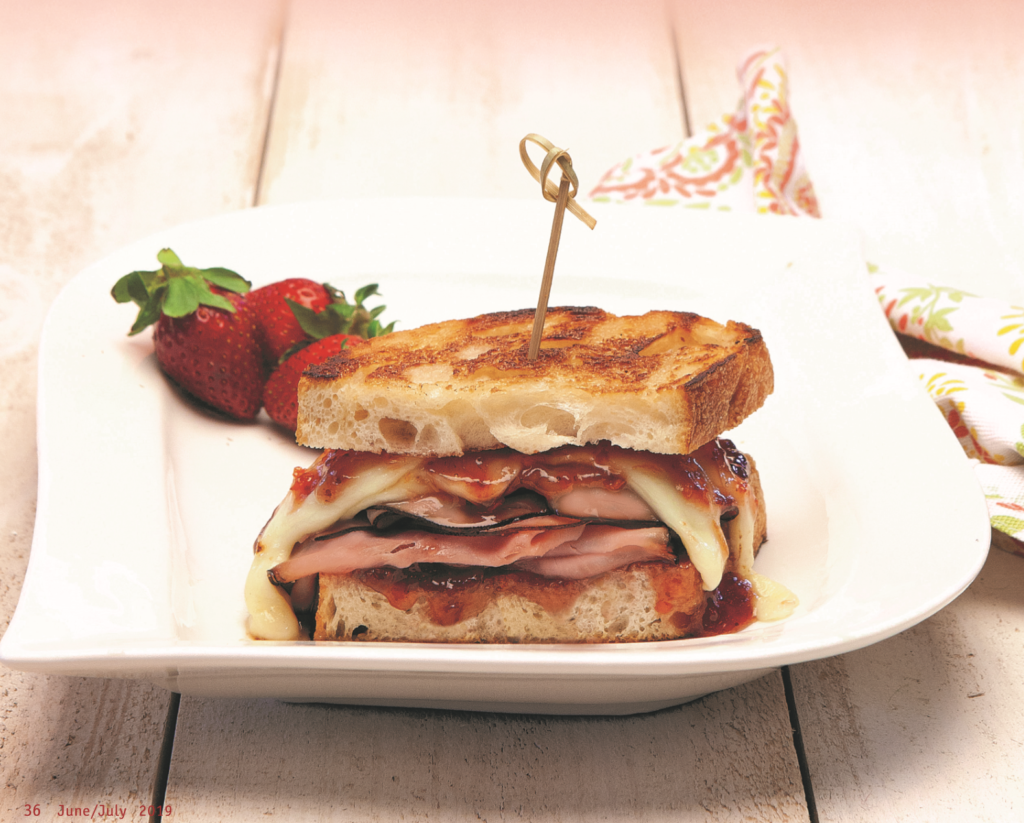 Grilled Ham and Cheese with Strawberry Habanero Jam 
Serves 4
1/2 cup good quality strawberry preserves
Zest of half an orange
2 habanero chilies, seeded and minced
8 slices crusty bread
8 slices gruyere cheese (double for extra cheesy)
3/4 pounds thinly sliced black forest ham
Softened butter
-In a small saucepan, combine preserves, habanero chilies and orange zest. Bring to a simmer and cook for 5­10 minutes. Let cool.


-Assemble by spreading strawberry habanero jam on one side of each slice of bread. Layer cheese and equal portions of ham over top of the spread and put the sandwich together. Butter the outside of the sandwich and place in a cold skillet. Turn the heat to medium and grill, turning once, until cheese is melted, ham is heated through and bread is golden brown. Serve with additional strawberry spread if desired.