Where Are They Now?: Riley Marriage
Coronado High School
Class of 2005
Always a lover of (and stickler for) the English language, Riley has moved through a number of interesting jobs to land her perfect fit as a high school English teacher in Newport Beach (she received Teacher of the Year at her previous school in Los Angeles in 2013). From reading to young children as the character Belle from The Beauty and the Beast at Disneyland during her graduate program at the University of Southern California, to an SAT essay scorer, she has consistently stayed true to her interests. Through it all, Riley has kept her sense of humor, pride for her hometown and appreciation for the little things in life.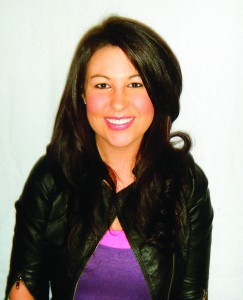 Where are you currently living?
I recently moved from downtown Los Angeles to Newport Beach, CA. They say God parked his car here on the seventh day, but then they towed it on the eighth.
What field are you working in and how did you end up doing what you're doing?
Having always had a penchant for literature, learning, and correcting people's grammar, I received my dual Master's from USC in Education and Journalism and am currently an intervention/opportunity high school English teacher for Long Beach Unified School District. During grad school I had a variety of interesting jobs, including a gig as Belle at Disneyland and a position as a SAT essay scorer, and each one was a great learning experience for shaping me into the teacher I am today.
What achievements/recognitions are you most proud of since graduation? I've been very fortunate to have many great opportunities, such as serving as President for my sorority Kappa Alpha Theta at UNR, receiving a generous scholarship to USC, and then winning New Teacher of the Year 2013 at my school, but honestly, the award I covet the most was being Coronado's Female Athlete of the Year in 2005. It makes me smile knowing my plaque still hangs in the school's gym and it's a great motivational tool to tell my current students how great the school experience can be!
Are you married? Children? Pets?
Due to my last name, I get asked this question three times and have a variety of witty comebacks, but I don't think there's enough publishing space to list them…
How did growing up in Henderson/Las Vegas have an impact on the person you are today?
Having worked in both the private and public schooling systems in California, I am constantly amazed and thankful for the extreme quality of education I received in Nevada. I went to Burkholder, Bob Miller, and Coronado and had the most effective and inspiring teachers and coaches throughout my secondary education. I also am remarkably thankful for growing up with Capriotti's and Port of Subs. The monopoly of Subways in Southern California is a force to be reckoned with.
How did you feel when you were featured as A Step Above and what kind of feedback did you receive?
I remember taking my photo on the track at CHS during one of the worst windstorms of the year and it was hysterical! Dave, the photographer and I kept laughing because we seriously couldn't even keep our balance in the wind. The front office of Coronado had it on display the month it came out and during that month people at school and in Vons' would comment on it. It was a pretty special feeling and definitely motivated me to strive for more!
Favorite Quote to Live By:
"Why, sometimes I've believed as many as six impossible things before breakfast. " Lewis Carroll, "Through the Looking Glass and What Alice Found There"