For the Love of Food: Souper Delicious –
By Aly Wagonseller
 Awww… the mystical allure of a steaming bowl of piping hot soup. Touted as one of the world's oldest forms of cooking, the simple act of piling fresh vegetables, proteins, a grain or pasta and liquid into a large pot has transcended cultures from India to Spain, the U.S. to China. Who'd have thought that something so humble could turn out such diverse flavors and textures while remaining relatively easy to prepare?
Besides being mighty tasty, the benefits of eating soup don't end with the tip of your spoon. Grandma's cure for the common cold has been attributed to curbing your appetite, helping maintain weight loss and making for an easy way to consume healthy doses of antioxidants necessary for optimal health. In recent studies conducted by Pennsylvania State University, dieting adults that started their meal with a broth based soup or consommé  ate 20% less calories than those who didn't consume the appetizer. A variety of textures and recipes were tried, from chunky vegetable to blended soups, with all versions ranging between 100-150 calories producing favorable results.
Soup is also a great way to make a complete meal in a flash. Throwing all ingredients into a Crock Pot will save time, as will pre-chopping vegetables on the weekend to be used for a quick meal during the week. We've provided a variety of flavorful soups easy enough for after work preparation. They're all souper healthy and fairly low in calories, making them the perfect choice as a weight loss appetizer. Add a sandwich, quesadilla or fresh salad to the mix, and you've got a hearty meal that will leave you feeling satisfied without any of the guilt.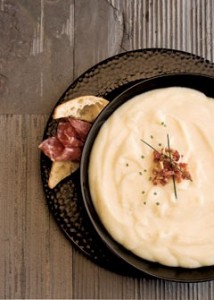 Creamy Cauliflower Soup with Pancetta
Serves  4 to 6
1 Tbsp. extra-virgin olive oil
6 slices pancetta, finely diced
1 leek, washed and dried, thinly sliced
6 cups organic chicken stock
1 small cauliflower, chopped into bite-size pieces
2 russet potatoes, diced
1 bay leaf
3/4 cup aged cheddar cheese
Pinch sea salt and freshly ground black pepper
Fresh chives, minced
In a pot, heat the extra-virgin olive oil over medium heat. Add the sliced pancetta to the pot and sauté until crispy. Remove the cooked pancetta from the pot using a slotted spoon and set it aside.
In the pancetta oil, sauté the leeks for a few minutes, until soft. Deglaze the pot with the organic chicken stock. Add the cauliflower, potatoes and bay leaf to the stock and simmer for 15 to 20 minutes, until the veggies are fork-tender. Remove from the heat. Remove approximately one cup of cauliflower florets and potatoes and set them aside.
Puree the soup using a hand blender, then put the cauliflower and potato pieces back into the pot. Add the aged cheddar cheese, sea salt and freshly ground black pepper. Turn the heat down to medium-low and whisk until the cheese is melted.
Serve the soup topped with crispy pancetta and fresh chives.
Recipe from Nadia G.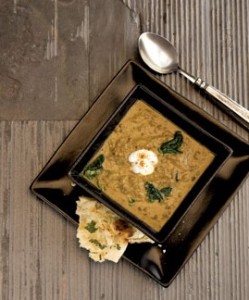 Curried Lentil Soup with Yogurt and Cilantro
Serves 4
1 Tbsp. canola oil
1 cup chopped onion
1 Tbsp. minced fresh garlic
1 Tbsp. minced peeled fresh ginger
1 1/2 Tbsp. curry powder
1/8 tsp. ground red pepper
3 cups fat-free, lower-sodium chicken broth
1 1/2 Tbsp. balsamic vinegar
1 – 16 oz package steamed lentils (available at Trader Joe's)
2 cups fresh baby spinach
1/4 tsp. kosher salt
1/4 tsp. freshly ground black pepper
1/4 cup chopped fresh cilantro, divided
1/4 cup plain 2% reduced-fat Greek yogurt
Heat a medium saucepan over medium heat. Add oil to pan; swirl to coat. Add onion; sauté 3 minutes. Add garlic and ginger; sauté 1 minute. Add curry powder and red pepper; cook 30 seconds, stirring constantly. Add broth, vinegar and lentils. Increase heat to high; bring to a boil. Reduce heat; simmer 5 minutes.
Place half of lentil mixture in a blender. Remove center piece of blender lid; secure lid on blender. Place a clean towel over opening in lid. Blend until smooth. Add blended mixture, spinach, salt and pepper to pan; stir until spinach wilts. Stir in 2 tablespoons cilantro. Serve with yogurt and remaining cilantro.
Recipe from Cooking Light Magazine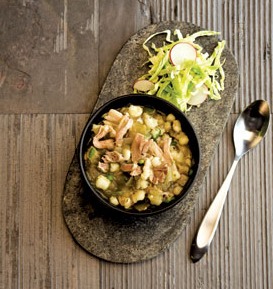 Easy Chicken Posole
Serves 6-8
1 pound tomatillos
6 cups chicken stock
2 cups chopped onion
3 pounds chicken breast and thigh pieces, skinned
4 garlic cloves, chopped
2 jalapeño peppers, seeded and quartered
1 (30-ounce) can white hominy, drained
1 tsp. cumin
1 tsp. oregano
1 tsp. salt
1/2 cup chopped fresh cilantro
1/4 cup reduced-fat sour cream
Lime wedges, cabbage and radishes for garnish
Discard husks and stems from the tomatillos. Cook whole tomatillos in boiling water 10 minutes or until tender; drain. Place tomatillos in a blender; process until smooth; set aside.
Place stock and the next seven ingredients (stock through oregano) in a large stockpot; bring to a boil. Cover, reduce heat and simmer 35 minutes or until chicken is done. Remove chicken from bones; shred. Stir in pureed tomatillos and salt; cook for 5 minutes or until heated. Stir in chicken and serve with cilantro, sour cream and garnishes.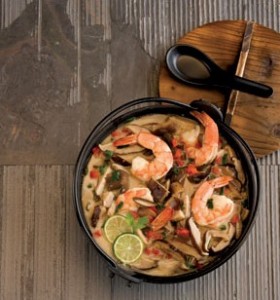 Spicy Thai Coconut Shrimp Soup
Serves 4
3 1/2 cups fat-free, less-sodium chicken broth
1 cup sliced mushrooms
1/4 cup finely chopped red bell pepper
1 Tbsp. light brown sugar
1 Tbsp. fish sauce
1/2 tsp. grated peeled fresh ginger
1/2 – 1 tsp. red curry paste
1 cup light coconut milk
1 pound large shrimp, peeled and deveined
1/4 cup thinly sliced green onions
2 Tbsp. thinly sliced fresh basil
2 Tbsp. fresh lime juice
Combine first seven ingredients in a large saucepan over medium-high heat; bring to a boil. Cover, reduce heat and simmer 10 minutes. Stir in coconut milk; cook 2 minutes or until hot. Add shrimp to pan; cook 3 minutes or until shrimp are done. Remove pan from heat; stir in onions, basil and juice. Serve.