A Tour for All Tastes: Speed Photo Tour
The Speed Tour (Photo-op Tour)
These guys want the crash course in all things Las Vegas. With not much time to spare, they are looking to hit all the tourist hot spots (read: The Strip in all its glory) and have some genuine Vegas knowledge for their return home to those not lucky enough to spend the holidays in the "Entertainment Capital of the World."
We divided this page into checklists for you to use as a resource, or provide to your guests should their tour be self-guided. Remember to mix and match based on interests!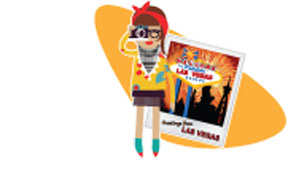 The Ultimate Tourist Photo Tour
Welcome to Fabulous Las Vegas Sign, 5200 S. Las Vegas Blvd
If you haven't been in a while, a new parking lot makes access a whole lot easier and less dangerous.
Fountains and the Bellagio, 3600 S. Las Vegas Blvd.
Check online for schedule and music. Show starts every hour between the hours of 3 p.m. and 7 p.m. and every 15 minutes from 7 p.m. to midnight.
Fall of Atlantis at Forum Shops at Caesar's Palace, 3570 S. Las Vegas Blvd.
See statues come to life in pure Las Vegas style. Shows begin every hour on the hour Sunday-Thursday from 10 a.m. to 11 p.m. Friday and Saturday until midnight.
Volcano at the Mirage, 3400 S. Las Vegas Blvd.
Shows begin at 7 p.m. and run every hour until 11 p.m. nightly.
Top of the World Restaurant at Stratosphere Casino, Hotel and Tower, 2000 S. Las Vegas Blvd.
The Fremont Street Experience, 425 Freemont St.
Binions Million Dollar Photo, 128 Fremont St.
Vegas Movies and TV Photo Tour
Circus Circus, 2880 S. Las Vegas Blvd. (Fear and Loathing in Las Vegas)
Riviera, 2901 S. Las Vegas Blvd. (Casino, Ocean's 11, Showgirls, Austin Powers)
Tropicana, 3801 S. Las Vegas Blvd. (The Godfather)
Bellagio, 3600 S. Las Vegas Blvd. (Ocean's 11 and The Hangover)
Caesar's Palace, 3570 S. Las Vegas Blvd (Rainman)
The Little Church of the West, 4617 S. Las Vegas Blvd. (Viva Las Vegas)
Gold & Silver Pawn Shop, 713 S. Las Vegas Blvd. (Pawn Stars)
Rick's Restoration, 1112 S. Commerce St. (American Restoration)
Vegas "Around the World" and Biggest/Best Photo Tour
Pyramid and Sphinx at the Luxor, 3900 S. Las Vegas Blvd.
New York Skyline at New York, New York, 3790 S. Las Vegas Blvd.
Eiffel Tower at Paris Las Vegas, 3655 S. Las Vegas Blvd.
Grand Canal Shoppes at the Venetian Hotel, 3377 S. Las Vegas Blvd.
World's Biggest Gift Store, 2440 S. Las Vegas Blvd.
Hand of Faith at the Golden Nugget, 129 E. Freemont St.
Vegas Vic at Freemont Street Experience, 425 Freemont St.
Hoover Dam