For the Love of Food: Terrifyingly Tasty –
 By Aly Wagonseller
There's something about Halloween that brings out the kid in all of us. Clever costumes,   masked madmen and predictable, yet somehow still startling practical jokes fill the evening with spooktacular fanfare and fun. Candy is what it's all about for the kids, filling their bags (and bellies) with enough of the sweet stuff to last the entire year. But, while Snickers Bars and Candy Corn might be their entrée of choice, no Halloween "boo"ffet would be complete without a spectacle of ghostly delights ready and waiting for the hungry trick-or-treat crowd.
In keeping with the spirit of the evening, a festive Halloween feast is all about presentation. Much like the identity changes you make by putting on a costume, transforming innocent ingredients into eerie, yet edible snacks is limited only by your imagination.  Whoopie pies assume spindly spider form with the addition of licorice legs and spooky candy eyes. Turkey cocktail wieners wrapped in tortillas take on a life of their own when served with everyday chili adorned with an easy-to-make edible headstone. Even a simple, hollowed out pumpkin can create the perfect vessel for spine tingling soups and stews.
"Boo"tify this year's Halloween celebration with a selection of chilling, yet surprisingly delicious recipes designed to put a little fright into your night. From blood curdling tomato soup with an "eye" on the spirit world, to ghostly, white chocolate covered strawberries even the little ones will love, you're sure to be a hit with ghosts and goblins of any age.
Devilishly Bloody Eyeball Soup
Serves 6
Favorite tomato soup recipe
1 (12 oz.) container marinated mini mozzarella balls (Trader Joe's)
8-10 large green olives, pits in tact
8-10 pitted black olives
Drinking straw
Prepare soup and keep it warm.
Prepare eyeballs. Create the iris by cutting off the top and bottom of each green olive (this will form two irises), gently peeling them off the pit, creating a little dome.  Lay each dome on a cutting board; using the end of the drinking straw, poke a hole in the middle of each piece. This will be the hole for your pupil.  Using the same straw, cut holes from the black olives and place them snuggly into the hole of the green olive.   Drain the mini mozzarella balls, leaving the herbs intact on the cheese.  Place the iris/pupil olives onto each ball, creating an eyeball. Cut a flat spot on the cheese if necessary, to hold the iris in place.  Float eyeballs in the soup and serve.
Web-a-licious Whoopie Pies
Makes 6 large or 12 small spiders
Cake:
1 1/4 cups unbleached all-purpose flour

3/4 cup whole-wheat flour

1/2 cup unsweetened cocoa

1/2 tsp. baking soda

1/2 tsp. fine salt

1 stick unsalted butter, at room temperature

1 cup granulated sugar

1 large egg

1 cup milk
Filling:
1 stick unsalted butter, softened

1 2/3 cups confectioners' sugar

1/2 tsp. vanilla extract

2 cups marshmallow cream

Twizzler licorice (cut long ways into quarters, then cut into approx 2 1/2- 3" pieces)

Colored sugar

White tube frosting

Candied sunflower seeds or other candy for eyes
Preheat oven to 425°F.  For cakes, whisk flours, cocoa, baking soda and salt in a medium bowl; set aside.  Cream the butter and sugar at high speed with an electric mixer until fluffy, about 4 minutes.  Add the egg and beat until combined.  At low speed, add half the flour mixture, beat until combined, then add half the milk mixture, mixing until smooth.  Repeat with remaining flour and milk. Using a small melon baller, or ice cream scoop for larger spiders, scoop dough onto parchment paper lined baking sheets, leaving approx. 3 inches between each.  Bake 5-7 minutes, or until springy. Cool completely before filling.
For filling, beat the butter and confectioners' sugar at low speed until blended, then beat at high speed until fluffy, about 5 minutes. Add the vanilla and marshmallow cream and mix at low speed until blended, about 1 minute.  Match pairs of cake with the same shapes and spread the bottom side of 1 cake with filling. Place 4 pieces of licorice on each side and sandwich with the other cake, bending licorice to form legs.  Sprinkle filling with colored sugar if desired.  Form eyes with tube frosting and candy centers.   Refrigerate.
Mummy Toes with Headstone Chili
Servings Vary
Favorite chili recipe
Toasted bruschetta bread
Ketchup
1 lb. cocktail franks
6-8 flour tortillas
Toothpick
Shredded cheese
Green onion, cut into small chards
Small squeeze bottle
Prepare chili; keep warm. Make headstones by putting ketchup into a small squeeze bottle. Write RIP with the ketchup onto the toasted bruschetta bread; set aside.
Heat the oven to 350°F. Cut a wedge into the end of each cocktail wiener to make a flat toenail. Cut the tortillas into strips about 4 inches long and 1/2 inch wide. Discard the ends. Soften the strips in the microwave between damp paper towels for 10 to 30 seconds. Roll each wiener in a tortilla strip around one end and secure with a toothpick. Place on a cookie sheet and bake for 7 to 8 minutes. Remove from the oven, then fill the toenail with ketchup. Remove toothpicks.
Ladle chili into small bowls or ramekins. Sprinkle with cheese. Prop headstone into chili, sprinkling green onion around the bread to create "grass". Serve with mummy toes.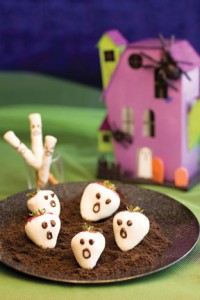 Strawberry Ghosts
Servings Vary
Approx. 30 fresh strawberries
8 ounces white baking chocolate, chopped
1 tsp. shortening
1/8 tsp. almond extract
1/4 cup miniature semisweet chocolate chips
Wash strawberries and gently pat with paper towels until completely dry. In a microwave-safe bowl, melt white chocolate and shortening at 50% power; stir until smooth. Stir in extract.
Dip each strawberry in chocolate mixture; place on a parchment paper-lined baking sheet, allowing excess chocolate to form the ghosts' tails. Immediately press chocolate chips into coating for eyes. Freeze for 5 minutes.
In a microwave-safe bowl, melt remaining chocolate chips; stir until smooth. Place mixture into a small, resealable baggie.  Cut a tiny hole in the corner of the bag and pipe mouths onto strawberries. Refrigerate.