Livin' Local: The Colors of Outdoor Life – Red Rock Canyon
By Lisha Ross
It was tough for my husband and I to commit to our first guided group hike in the Red Rock Canyon National Conservation area. It's not that we don't enjoy being outdoors; it's just that we like our excuses more. It's too hot. I'm too tired. I don't know where to go. Nevertheless, we weren't even halfway through our 2-hour geology hike one Wednesday evening before we vowed to return at least twice a month.  It wasn't just the scenery, or the fact that the hike introduced us to a trail we'd never been on before. Mostly, it just gave us a break from our normal routine. That's just one of the beauties of living in this desert town of ours. We've got this beautiful place to escape to right in our own backyard. And if you find yourself scrolling through all those reasons not to go: stop!  With so many free guided hikes, art classes and educational programs offered in the canyon seven days a week, there's plenty of time and means to make a trip to the canyon a monthly, weekly or even daily event.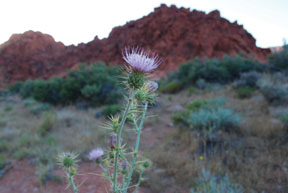 Just Visiting
If you're a newbie to the canyon, or you just haven't been there since before April 2010, a trip to the Red Rock Visitor's Center is a must. Renovations have turned this once average building into an interactive learning center where volunteers roll out the welcome mat and make visitors feel right at home. Inside you'll find usual "visitor" stuff, like trail maps, general information, a gift shop and impromptu presentations on special topics. Outside is where the most exciting renovations have taken place, including the installation of a permanent exhibition separated into the elements of earth, air, fire and water, as well as a viewing deck. It's enough to fill an afternoon and quite probably stir up a desire to explore the canyon's local wildlife, vegetation and culture up close and personal. As the gateway to the 13-mile scenic loop drive and 30 miles of hiking trails, the Visitor's Center is an excellent starting point.
Ready to Rock
Ah but there's still that intimidation factor. Where do I go? What am I looking at? Not to worry; you don't have to go it alone.  Volunteers from Friends of Red Rock and Red Rock Canyon Interpretive Association graciously donate time for guided hikes and a variety of programs suitable for both adults and children.
Hiking Day and Night
Weekday, weekend or evening, guides take you through some of the canyon's most notable trails, pointing out geological features and historical facts. Each guide is intimately acquainted with the canyon and specializes in a particular area of expertise. Nick S., an enthusiastic geologist who speaks wildly with his hands, heads up evening geology hikes, during which he sheds light on curious points of interest like the Keystone Thrust and Aztec sandstone. Anthropologist and bird enthusiast Jen V. offers birdwatching hikes, and Dr. Bob, who holds a Ph.D. in biology and a degree in botany, likes to lead his groups to water features and wildflowers. Astronomy hikes by Aaron show a different side of the canyon–one covered by a blanket of stars. For anyone who doesn't wish to brave the heat of summer, astronomy and evening hikes offer a unique opportunity to get out anyway, when the evening temperatures drop into the pleasant realm of double digits.  
Fun for Kids and Families
Red Rock Canyon also has something extra special for kids! Environmental awareness classes are held every Saturday and Sunday, where kids learn through stories, activities, music and craft. The All About 'Fill-in-the-Blank' series offered on Saturdays gives children ages 2-7 a chance to learn all about butterflies, bird beaks, owls and more. Sometimes, weather permitting, the lessons move outdoors, and kids can go on their own easy guided walk.
Amidst all this color and wildlife, you might even feel inspired to paint. Earth Tones and Art Naturally are two art programs offered for novice artists of all ages. No experience necessary; just paint your heart out! You don't even need to bring supplies, as it's all provided free of charge. Periodic canyon clean ups also give families a chance to enjoy the scenery and make new friends while teaching the young ones to appreciate and care for this, our city's pride and joy.
Check out the calendar of programs and hikes at www.redrockcanyonlv.org, pick one that interests you and call to reserve a space at least a week in advance. Only 10-15 people are allowed per hike and spaces fill up fast.
So there you have it. All the reasons you need to enjoy Red Rock Canyon and no excuse not to.  Take some time, be it an hour, an afternoon or a whole day, to discover what some consider one of the natural wonders of the world. Make it a part of your lifestyle and enjoy. You'll treasure every moment, I promise.