Livin' Local: The Downtown Container Park – Where Everyone Has a Story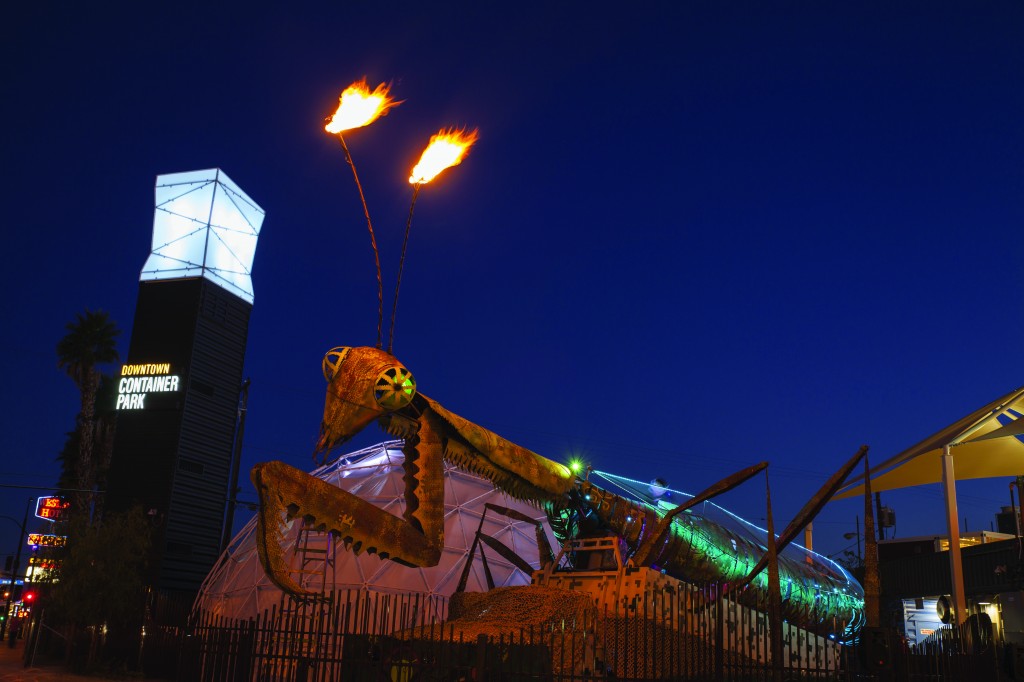 Strolling through a city block piled three-stories high with repurposed shipping containers – amongst laughing children, chattering adults, live music and the addicting waft of mesquite barbeque – it's hard to believe we just stepped off the streets of what was once considered a virtual no man's land. Our first time visiting the new Downtown Container Park at 707 Fremont Street was anything but. The buzz and energy within the 20,000 square feet of boutiques, restaurants, bars and giant tree house (also fashioned from reborn cargo containers) was tangible, and the genuine pleasure of the inhabitants – many of whom are local artisans calling this a "first" location – endearing. The newest addition to the beatnik business mash-up that are the Fremont East and Arts Districts in Downtown Las Vegas caters more to locals, and is a sign of good things to come.
The Secret
I'm not sure how this "new" downtown has managed to collect so much momentum. The generosity of Zappos' Tony Hsieh and the relocation of the company's headquarters were unquestionably a good start, but there's much more to the magic than the boutiques, restaurants or bars in the area. The most refreshing sip I took from the Downtown Container Park was not of a crisp white at Bin 702 (although it was tasty). Rather, it was the energy of people like Bin's resident "Wine Goddess" Kat, an experienced, yet unpretentious sommelier who took the time to tell us her story, sending us off with a hug despite just meeting us. See, every store we walked into had a tale to tell – its own little quirk –and it's the people and the stories behind this downtown transformation that truly make it pop.
The Stores and The Stories
The Container Park is a hodgepodge of more than 30 different establishments ranging from art galleries like Blackbird Gallery (www.blackbirdstudioslv.com), to home furnishings to a store dedicated completely to women's leggings.
BluMarble (www.blumarble.com) was the first store we entered, drawn in by distressed wood crates and the unmistakable air of hipster funky. What we found inside was a pleasant surprise – walls, crates and tables filled with repurposed bottles in the form of glasses, vases, jewelry and more. At first glance the store is a gifter and decorator's dream filled with artfully flattened wine bottles destined to do double duty as both conversation starter and Brie and cracker platter. Yet a brief chat at the checkout counter uncovers a Matryoshka doll of interesting stories. The co-owners, Jennifer Jordan and Rachel Cohen, were repurposing queens who became both disturbed and inspired by the amount of glass discarded nightly by local casinos, restaurants and events. The pair began "rescuing" the post-drunk misfits to give them new life in the form of something beautiful and reusable. Knowing that each bottle of Grey Goose Vodka-turned-vase has its own story from lone potato to wild bachelor party (and that the bottles saved annually by the business can power a computer for 10 years) brings the store to a whole new level of cool, and fits in perfectly with the old-to-new-again vibe of the park.
On our way down the row of what we effectively forgot were shipping containers (they don't look much like the real deal after drywall and décor) we were summoned by the smell of jerky. Not your average jerky, mind you, but beef, turkey and even prickly pear cactus vegetarian versions found at JoJo's Jerky (www.jojosjerky.com). Greeted with a smile and a sample (score!) we discovered JoJo's namesake happens to be the CTT (Chief Taste Tester) and close family friend of the owner. When he started his taste-testing career, he was just six years old and apparently had quite the distinguished palette, trying every flavor and providing sound feedback for improvement. As a frequent car traveler and self-proclaimed jerky junky, I must say the product was delicious. I was also impressed by the assortment of spiced nuts wrapped in brown paper and innocently (I'm sure) dubbed Nut Sacks, as well as the dry rub assortments sourced from local ingredients.
And so it continued from 702 DTLV (www.702dtlv.com), a First Friday regular co-owned by Melissa – a local wife, mother and jewelry maker with a passion for transforming Downtown Las Vegas – to GabyOlivia (www.gabyoliviaboutique.com), an eclectic boutique named after the daughter of one co-owner and future daughter of the other. Even the giant, fire breathing praying mantis that greets you at the entrance has a story. Just ask around and most everyone will be happy to share it.
At the end of the day the Downtown Container Park is an outdoor mall, but it's really more than that. It's an idea that a previously underutilized portion of the city we love can be renovated into a hotspot for art, culture, music and entrepreneurship for visitors AND locals alike. It's worth a trip to find a new world of local people who are "doing" things.
The "Deets"
Along with shops, the Container Park also boasts a few small (and somewhat pricey), restaurants including Pork & Beans (www.porkmelv.com), Big Ern's BBQ (www.bigernsbbq.com), Pinches Tacos (www.pinchestacos.com) and Simply Pure (www.chefstaceydougan.com) for our vegan and gluten-free friends. For a local cocktail you can visit The Boozery (www.theboozerylv.com) and Bin702 (www.bin702.com) for fine wine.
A children's play area with high-tech games and a full-sized tree house fitted with three, adult friendly slides makes the location family-friendly during the day, while a large stage for live music and performances allows for evening fun for the over 21 crowd (the park closes to minors at 9:00pm.)
For more information on the shops, hours of operation and information on renting out the space for events visit www.downtowncontainerpark.com.