Livin' Local: The Feelin' is Always Right…For Ladies' Night
By Lisha Ross
It goes without saying: we love our husbands, boyfriends and children. But darned if we don't need a break from them every now and then. Mom, I need this. Honey, I want that. It's enough to drive any woman to the brink of insanity. Yet, sometimes all it takes to calm those frazzled nerves is an afternoon or evening out with your lady friends. Estrogen-based conversation over a chilled sake-tini or pampering spa treatment. Shopping therapy and a creative outlet. And if you can get a discount just for being female, that's even better. Enter the ladies night special! A welcome staple in this touristy town, it is by no means a novel concept, but the trend seems to be growing. With restaurants, art studios, spas, even retailers jumping on the bandwagon, the time has never been more right for ladies night.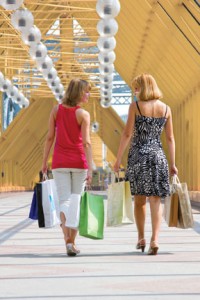 Glamming it Up
If you and your girls have champagne wishes and caviar dreams, the boutique-style salon at Vdara is a fitting place to make them come true. Open and airy, with soft, organic lines, what makes a visit to this salon so special is the luminous ambiance and classic, upscale feel. Ladies can line up along the beauty bar for their treatments or gossip while indulging in a warm foot soak, all the while sipping champagne and nibbling light snacks.
Complementing a lengthy menu of individual services, their discounted "Glamour Packages" beg the question, "Who do you want to be today?" Will it be a Femme Beauty ($96), with sultry eye makeup and a salon blowout?  The IT Girl ($116 or $128), with full makeup, an evening updo or salon blowout? Or will you be the explosive Beauty Bombshell ($160), with full makeup, updo and pedi-perfect fingers and toes?  You decide. Looking better than ever, you're sure to walk out feeling sassy and ready for whatever the evening brings. Call 590-2474 for appointments, or visit www.vdara.com to learn more.
Dinner, Drinks and Dames
Normally I advise steering clear of crowded parking structures and long walks through casinos just for dinner, but if there ever was a reason to brave these elements, an outing at Nove Italiano at the Palms is the one. Sheer decadence graces the space and the menu, from elegant Swarovski chandeliers to distinctive culinary creations by Executive Chef Geno Bernardo. On most days this kind of booty demands a painful swipe of the credit card, but if you're a local female ready for gastronomic thrills on Tuesday night, Nove is offering an incredible deal: 50% off your entire bill, including food, wine by the glass and specialty beverages.
Playful cocktails like the Pimmp's Cup, a frisky mix of Pimm's liqueur, gin, cucumber, mint, strawberries and apple gastrique, all but induce ecstatic cheers, as does the wine selection. The antipasti alone are worth the trip, with creamy Burrata cheese and artichoke salad taking a top spot on my list of favorites. Crispy calamari over sliced banana peppers and savory, sea salt cured Crudo (an Italian version of sashimi) follow closely behind. It's ever so easy to over-indulge in the house specialty Nove Spaghetti (lobster, shrimp, crab, scallop, calamari and basil) and other freshly-made pastas, seafood, steaks and chops. Do not resist a side of Death by Potatoes–mashed potatoes, mascarpone cheese, truffle oil and pancetta that'll send you right to heaven–and do leave room for strawberry Carpaccio topped with crème fraiche gelato.   
Shop-a-holics and Artsy Types
Sometimes girl's night is just about spending time together doing what you love. If that's shopping, then you're in luck. Patty's Closet, all three locations, are joining in on the trend with their own answer to girl's night out. Every Wednesday from 5-8 p.m., they're offering ladies a 20% discount off of their entire purchase. Fashions found here are fun, flirty and youthful, but with a wide selection of clothing and accessories, they've got something for that hip fashionista in all of us. Visit www.Ilovepattyscloset.com for locations and info.
Have a crafty bunch looking for a low-key night of artistry? All Fired Up Paint-Your-Own Ceramic Studio invites you to have some painting fun with the gals on Thursday nights starting at 6 p.m. The unwritten rules are: no kids, no husbands, no boyfriends. On the other hand, you can bring food and beverages (alcoholic or otherwise) to enjoy while you "paint your art out." To top it off, they offer a 15% off promotion (see website for details)…that and you don't have to clean anything up when you're done. Call 269-4444 to learn more.
There's still more ladies' night fun to be had, including Wednesday nights at Blue Martini (949-2583) in Town Square or Tacos & Tequila in Luxor (262-5225), and two-stepping country action at Stoney's on Las Vegas Blvd. (435-2855) on Thursday nights. Whatever you do, wherever you go, keep it classy. Shake off the demands of the day, slap on some strappy heels, or heck, put on those comfy sweats and round up your friends for a girls-only adventure. You'll be basking in the priceless glow of friendship and camaraderie for weeks to come, I promise.