For the Love of Food: The Magical Fruit…Let's Have Beans at Every Meal
By Aly Wagonseller
Most of us fondly remember that famous schoolyard sing along.  You know…the one that touted the not-so-secret side effects of the fabulous, fibrous and protein friendly morsel…the bean.  Snickering aside, as grown-ups we've come to realize the tasty legume–which, in reality, is classified as a fruit–is a versatile and healthy addition to our family's diet.  From stretching your meat dollar further, to adding color and texture to soups, salads and main entrées, beans are a great way to save money, bulk up on fiber and cut back on dietary fat. But there's more.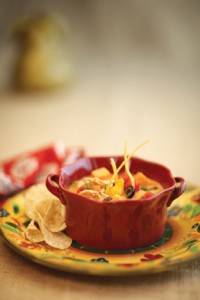 The real magic of beans comes from their ability to lower cholesterol, reduce the risk of certain cancers, and balance sugar and insulin levels in the body. Soluble fiber's the key. That's the indigestible portion of plant food that's responsible for pushing chow through the digestive tract, removing cholesterol and creating even distribution of insulin as it travels through the blood stream.  A study conducted at the University of Kentucky has shown that by adding just one cup of beans a day to your diet, you can reduce your cholesterol an average of 19% in just three weeks. This equates to reducing your risk of a heart attack by up to 40%. Diabetics (and sugar-hyped children) reap the benefits as well, especially early on in the day,  because beans stabilize sugar levels in the bloodstream, keeping those highs and lows to a minimum. Certain chemicals in beans have also been proven to reduce some forms of cancer.   Data from 41 countries has demonstrated a correlation between bean consumption (or lack thereof) and morbidity of breast, prostate, and colon cancers.
Although we're sharing some bean-a-licious recipes, some obviously made with beans and others not so much, getting the entire family on the bean-eatin' bandwagon may require some trickery. Try adding them to hearty meat or lasagna dishes, putting them in soups and stews, or hiding them inside your favorite enchilada or meatloaf recipes.  For the super stubborn set, consider pureeing beans and using them in cookie recipes, like the oatmeal chocolate chip version found at Epicurious.com.  And, there's no need to spill the beans to the family either, sometimes what they don't know certainly won't hurt them, in fact, it may add a few years to their lives! 
Santa Fe Chicken Chowder
Serves 6-8
2 Tbsp minced fresh green chile peppers
1 cup chopped onion
1 1/2 tsp ground cumin
1 tsp ground coriander
1/2 tsp dried oregano
1/2 tsp salt
2 Tbsp olive oil
1/2 cup diced carrot
3 cups diced sweet potatoes (Precut available in the produce dept.)
2 cups chicken broth
1 cup diced red or green bell pepper
1 can fire roasted, diced tomatoes
1 cup corn, fresh or frozen
1 cup diced zucchini
2 oz cream cheese, softened
3/4 cup shredded sharp cheddar cheese
1 cup milk
2 cans black beans, drained and rinsed 
2 cups cooked and shredded chicken
In a large, heavy pot, heat oil over medium high heat. Add the chiles, onion, cumin, coriander, oregano and salt. Saute, stirring frequently until onions are clear, about 10 minutes. Add the carrots, sweet potatoes and broth. Bring to a boil, reduce heat, cover and simmer for 10 more minutes. Add the bell peppers, tomatoes, corn and zucchini; stir to combine. Cover and cook over medium high heat for 15 minutes, or until vegetables are tender.
Transfer 3 cups of the soup to a blender. Add the cream cheese, cheddar and milk, processing until smooth.  Add the puree, along with the black beans and shredded chicken, back to the soup.  Heat over medium low heat until thickened to desired consistency.  Serve with tortilla strips, black olives and sour cream, if desired.
Chili Crusted Black Bean Tart
Serves 6
 1 1/4 cups all-purpose flour
1 tsp ground cumin
1 tsp chili powder
1 tsp paprika
1/2 tsp salt
6 Tbsp chilled unsalted butter, cut into bits
2 Tbsp ice water
1 medium red onion, chopped
1 bay leaf
2 cups canned black beans, rinsed and drained
1 cup refried black beans
1 Tbsp plus 2 tsp olive oil, divided
1 (10 oz) package frozen corn, thawed
1 red bell pepper, chopped 
1/2 cup cilantro, cleaned and chopped
1 3/4 cups coarsely grated Pepper Monterey Jack 
1 can chopped jalapeños, drained
1/2 cup green onion, chopped
1 cup plus 2 Tbsp sour cream, divided
2 tsp fresh lime juice or to taste
Preheat oven to 350°F.  Combine 1 cup sour cream and lime juice until well blended.  Refrigerate.
Combine the first five ingredients in a food processor. Add butter and pulse until mixture resembles coarse meal. Add ice water and pulse until mixture forms a dough. Press onto bottom and sides of a 10-inch tart pan. Chill 15 minutes, or until firm. Line shell with foil and fill with rice or pie crust weights. Bake shell until edge is set, 8 to 10 minutes. Remove foil and rice and bake 10 minutes more, or until golden. Cool. 
Heat 2 teaspoons olive oil over medium high heat, adding the onions and bay leaf and sautéing until tender. Add 2 cups canned black beans and sauté for 2-3 minutes. Remove from pan, discard bay leaf, and place in a large bowl. Set aside. Heat the additional 1 tablespoon olive oil. Add the corn and sauté over high heat for about two minutes.  Salt and pepper to taste. Add corn mixture to the beans, along with the bell pepper, cilantro, cheese, jalapeños and green onions. Season again with salt and pepper.
Mix the refried beans with 2 tablespoons sour cream.  Spread evenly onto the cooled crust. Fill with the bean/corn mixture, pressing down gently. Bake for approximately 20-30 minutes, or until cheese is melted.  Cool in pan for 15 minutes. Serve with lime sour cream.
Tuscan Ribollita
Serves 6
2 Tbsp olive oil
4 oz pancetta or bacon, chopped
1 small onion, peeled and roughly chopped
1 carrot, peeled and chopped
1 celery stalk, chopped
3 garlic cloves, peeled and smashed
1 (15 oz) can diced tomatoes
3 (15 oz) cans cannellini or white kidney beans, drained and rinsed
2 cups chicken broth
1 sprig fresh rosemary
1 package baby spinach
1/2 cup toasted, fresh bread crumbs
Shaved Parmesan cheese
Olive oil and red wine vinegar for drizzling
Heat olive oil in a large pot over medium heat. Add the pancetta and onion, sautéing 2-3 minutes.  Add the carrots and celery, sautéing for 3 minutes. Add the garlic and saute approximately 2-3 minutes more. Add the tomatoes and their juices, along with the beans, broth, and rosemary. Simmer, covered, until the beans break apart, about an hour.
Add the spinach and cook for 5 to 7 minutes more. Cool to room temperature.  Before serving, add the bread crumbs to the soup and gently reheat. Serve, drizzled with olive oil, vinegar and shaved Parmesan cheese.
Moroccan Short Ribs
Serves 4-6
1 Tbsp dried thyme, crushed
1 tsp salt
1 tsp ground ginger
1 tsp black pepper
1/2 tsp cinnamon
6-8 beef short ribs
2 Tbsp olive oil
2 cups beef broth
1 (16 oz) can garbanzo beans, drained and rinsed
1 (14.5 oz) can diced tomatoes, drained
1 large onion, cut into thin wedges
1 med fennel (anise) bulb, cut into thin wedges 
1 cup chopped carrot
4 cloves minced garlic
1 package roasted garlic flavored couscous
1/2 cup slivered almonds, toasted
1/3 cup dried currants
Salt and pepper to taste
In a small bowl mix the thyme, salt, ginger, pepper and cinnamon. Dry off short ribs with a paper towel.  Sprinkle with the spices, messaging into the meat. Heat the olive oil over medium high heat. Brown the short ribs, working in batches to ensure space in between ribs. Drain the fat. Deglaze the pan with a bit of the beef broth, scraping up browned bits. Pour into a 6-7 quart slow cooker.
Layer the remaining broth, beans, tomatoes, onion, fennel, carrot and garlic in the slow cooker, ending with the short ribs on top. Cover and cook on low setting for 8-9 hours or high setting for 4-5 hours.
About 20 minutes before the meal, prepare the couscous according to package directions, adding the almonds and currants to the pot along with the dry couscous. Serve with 1-2 short ribs and a healthy serving of vegetables.