Livin' Local: The Sounds of Summer – Music in the Great Outdoors
By Mike Sweeney
Nothing helps to create those long lasting memories of summer quite like the tunes that always go with it. Joe Walsh's smooth chords might bring back thoughts of listening to The Eagles on a vacation road trip. Jimmy Buffet's southern pirate music may help you recall a season spent sailing on the lake. No matter how we spend our summer, music is always a big part of it, and thanks to some great summer concerts at a wide range of fabulous local outdoor venues, you can create new memories to carry with you as you soak in the tunes that bring out the summer fun.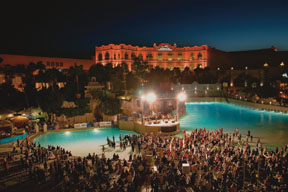 Life's a Beach
The nearest shoreline may be a four hour drive away, but that doesn't mean you can't find a small dose of sand and surf here in the desert. The Beach at Mandalay Bay is an aquatic playground in true Las Vegas style. Situated on eleven lush acres, this slice of paradise features 2,700 tons of real sand, a 1.6 million gallon wave pool and 100 rentable cabanas, bungalows, daybeds and personalized villas. Music lovers can crash on blankets in the sand or catch some waves in the artificial surf while enjoying the stellar lineup of music all stars set to take the stage.
Nostalgia is the name of the game at this summer concert series with two exclusive tours featuring hit makers of decades past. The Under the Sun Tour (7.6) features 90s superstars Sugar Ray, Smashmouth and Gin Blossoms, while the Lost 80s Live concert (8.10) rocks out with Wang Chung, A Flock of Seagulls, Bow Wow Wow and more. Four great bands will play four of their greatest records back to back at The LP Tour (7.19) featuring Big Head Todd and the Monsters, Soul Asylum, Wailers and Matthew Sweet. Other standout acts include Counting Crows with Wallflowers (7.20) and Sublime with Rome (8.17), while Ziggy Marley (9.1) closes out the summer season. Visit www.mandalaybay.com for a full schedule, tickets and more info.
Are You Experienced?
If any outdoor venue is distinctly Vegas, it's the Fremont Street Experience. Where else can you enjoy nightly concerts on multiple stages beneath a canopy of blazing neon lights? The endless parade of costumed characters and awestruck tourists is a feast for the eyes, but it's the rock and roll sounds that will keep you dancing and partying all summer. Rock music is a big tradition in this part of town; U2 even filmed their "I Still Haven't Found What I'm Looking For" music video here. From tribute bands to Elvis impersonators to local favorites and more, downtown has it all for rock aficionados. As summer kicks into gear, the rock and roll tradition continues with the return of the annual Rock of Vegas summer concert series at the Fremont Street Experience.
Rock of Vegas features some of the biggest names in rock music coming together to make the season a memorable months-long party filled with killer tunes. The series kicked off in May and continues throughout the summer with an all star lineup that includes Hinder (6.8), Three Days Grace (7.4), Sister Hazel & Tonic (7.20), Eve 6 (7.27), The Presidents of the United States of America (8.3), Third Eye Blind (8.17) and Puddle of Mudd (8.31). One of the highlights is sure to be the Summerland Tour 2013: Alternative Guitars (6.29) which unites Everclear, Live, Filter and Sponge for one amazing show that will give 90s rock fans something to shout about. All concerts are free of charge and start at 9:00 p.m. Visit www.vegasexperience.com for more info.
Jazz It Up
For those looking for a break from the hard hitting rock and roll of other venues, Lake Las Vegas provides the perfect alternative. The Aston MonteLago Village Resort offers a scenic promenade filled with fun shops and great restaurants with the architectural flair of an old timey township just off the Mediterranean. Lake Las Vegas has had a long standing tradition of providing great music to go along with its stunning views and upscale atmosphere. When things cool down in the evening, you won't find a more relaxing spot to watch the stars and enjoy some soulful sounds.
Every Saturday night throughout the summer (and continuing into fall), Lake Las Vegas offers their Jazz on the Lake concert series featuring weekly performances by noted jazz musicians, many of whom will appear several times over the course of the season. Featured artists brining their distinctive sounds to the lakeside include Tommy Thompson, Everett B. Walters, Rick Arroyo, Lady "J" Huston & The Fireballs, Rocky Gordon and Anthony James Baker. For those who want to keep rocking, you can still enjoy the Father's Day Classic Rock in the Park (6.16) featuring Three Blind Mice. Visit www.montelagovillage.com for a full schedule and more info.
Holiday Harmony
One of the most memorable parts of any summer is the Fourth of July holiday. It's a great time to celebrate with friends and family, watch the fireworks and bask in the lazy days at the height of the season. And of course, music makes any celebration better, so why not "tune" in at a couple of special events that will offer plenty of fantastic music to go along with all the festivities.
The Las Vegas Philharmonic will play host to an afternoon of food, fun and fireworks on the grounds of Symphony Park at The Smith Center with hot dogs, hamburgers, ice cream and other summer favorites. But music is what we're here for, and you can enjoy plenty of live entertainment on the outdoor stage, from twangy bluegrass to elegant jazz. If you feel so inclined, you can even grab a ticket to see the Philharmonic playing inside at Reynolds Hall, then head back outdoors for the fireworks. Visit www.thesmithcenter.com for tickets and more info.
Mission Hills Park will host the festivities in Henderson, where The Randy Anderson Band will bring their country, oldies and classic rock sounds to one stage, while a Battle of the Bands competition heats up stage number two. For a classier touch, the Henderson Symphony Orchestra will be on hand to add a vibrant classical score – including Tchaikovsky's "1812 Overture" – to the dazzling fireworks show. Visit www.hendersonlive.com for more info.
From rock and roll to jazz to classical and more, this summer offers a wide array of music at a host of outdoor venues for a rocking good time. The mercury may be climbing, but that's no reason to miss out on all the fun. Whether you want to relax under the stars or dance the night away under more artificial illumination, the sounds of summer have something for everyone.