Mind Body and Soul: Think Pink!
By Aly Wagonseller
Much more than a fundraiser, the Southern Nevada Affiliate of the Susan G. Komen Race for the Cure is underway in a sea of pink! A celebration of life as well as a tribute to the memory of those who've lost their fight to breast cancer, this year's event marks the eighteenth anniversary where thousands of local women, men, children and even pets lace up running shoes and paws to raise spirits and funds for breast cancer research, support and medical services in Southern Nevada. The event has continued to evolve over the years, with stories of wacky team antics, Chippendales finish line meet and greets and visions of everything pink, from tutus to hairdos, permeating Downtown Las Vegas on race day. It's fun, it's lively and most of all it benefits a great cause.
"The Race for the Cure is a 5K or 1 mile run/walk put on annually by the Southern Nevada Affiliate of Susan G. Komen for the Cure in order to raise funds for breast health services in our community," says Stephanie Kirby, executive director of Susan G. Komen of Southern Nevada. "Since our inception in 1995, the Southern Nevada Affiliate has been able to put over $6 million dollars back in to the community to help uninsured and underserved women and men access breast health services, from clinical exams and mammograms to treatment for breast cancer," she adds.
With more than 600 race teams of at least ten members each, the dedication of both athletes and volunteer personnel is enormous. "Each team has a captain who is responsible for recruiting, motivating their members and raising money through creative fundraising," says Kirby. "In addition, we have a committee of incredible individuals who work with us to plan every single detail of the Race. On Race day, we need about 300-400 people helping us with everything from set-up to guarding barricades to trash pick-up. It's not always glamorous, but very rewarding!"
As Stephanie can attest, the race is anything but work for those that participate, each being treated to a day of laughter, life and hope for a future without the disease. "The event is filled with many touching moments such as the Survivor parade and the reaction of many participants as they cross the finish line to see a group of Chippendales Dancers waiting for them! We see men running in pink tutus, firefighter rookies running in formation, pink dogs, full costumes… anything you can really think of, you will see out there! It is such an emotional event as we honor those who survived this disease and remember those we have lost too soon, but it truly is a joyous day full of laughter, hugs, tears and high fives."
With this year's race scheduled for May 4th, there's still time to get involved. Stephanie adds,
"There is a wealth of information on the race as well as other opportunities to help the cause if you're not athletically inclined. Visit our website at www.komensouthernnevada.org. to find out how you, a group of friends, family or coworkers can get into the pink spirit!"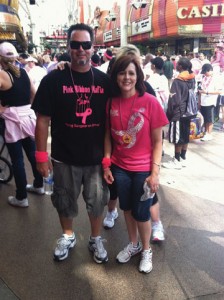 Profile of a Survivor
Heather Seitz and Team Pink Ribbon Mafia
I am a two time breast cancer survivor. My sister was diagnosed with breast cancer in 2008. My OB/GYN ordered a mammogram and ultrasound as a proactive measure and a lump was found in my right breast. I was officially diagnosed with breast cancer (DCIS) in 2009. I had a bilateral mastectomy because I was BRCA1 positive. Eight months after my surgery, I found a few small lumps in my right breast near my scar. Turns out I had breast cancer again, and this time it was invasive, stage 1, triple negative, IDC. I had five months of chemotherapy and six weeks of radiation. Since my diagnosis, I have focused my energy on promoting the Komen foundation and spreading the word about early detection. I am on the Speaker's Bureau for the Southern Nevada Komen affiliate and I was featured in a TV spot last year for the Race for the Cure, along with my father in law, who is also a breast cancer survivor.
My Race for the Cure team was started by my husband and myself. I came up with the name Pink Ribbon Mafia and my husband created the T-shirt design. We have a slogan: "Going Gangster on Cancer." Our team consists of a few of my survivor friends and lots of friends and family. This will be the third year that we've had the name the Pink Ribbon Mafia, but we have participated in the Komen walks since 2009.
I am very grateful for the support of my family and friends. I met three wonderful ladies (Melanie, Lorraine and Amy) when I was diagnosed the second time, who became my mentors and support while going through chemo. We met online and became fast friends as we shared our cancer journeys. One of those friends, Amy, passed away from Triple Negative breast cancer in 2011. We all walk in her memory. The rest of us have remained in remission since 2010 and meet regularly for lunch or dinner. Having this friendship and bond has made me a stronger person in dealing with the ups and downs of my breast cancer journey.