Mind Body and Soul: Together We Can…Grassroots Philanthropy for a Better Community
By Aly Wagonseller
It is estimated that 85% of American households donate or volunteer their time to charitable causes. Yet, the dynamics of giving are changing. It's not just the Warren Buffets of the world who are out to make a difference. People with more modest means are looking for creative ways to not only make dollars count in their community but to promote neighborhood camaraderie, instill philanthropic habits within their children and make charitable endeavors personally meaningful. Banding together to form partnerships for giving just may be the answer.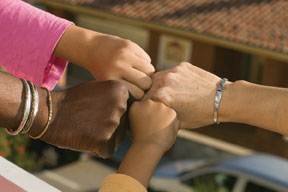 Outside of the Box
A concept known as the Giving Circle is the model for this collaborative approach to modern day philanthropy. In its most basic form, groups are comprised of like-minded individuals who pool both financial and voluntary resources in an effort to fund a variety of giving projects. It's not an entirely new concept; prominent organizations including Dining for Women, a Giving Circle where members "dine in" together as a chapter once a month and donate to charity what they would have spent eating at a restaurant, are in part responsible for the more than $100 million dollars donated by the 400 plus Giving Circles worldwide. Various organizations offer different social and activity structures, making for a variety of groups to choose from. Whether you're drawn to a local girl's night out event, start your own neighborhood circle, or participate in more traditional groups with structured donation requirements, Giving Circles are a realistic way to mix and mingle while promoting social consciousness.
The Domino Effect
In most cases, circles are started by one individual with a penchant for philanthropy. That person enlists friends, co-workers, or neighbors who are like-minded, and hence the organization is born. Such is the case of local success story, Nevada Women's Philanthropy (www.nvwomensphilanthropy.org). Founded by Las Vegas resident Heather duBoef, and modeled after the organization Everychild in Los Angeles, this active group of local women has gifted $2.5 million dollars in grants since its inception in 2006, including a $350,000 grant this past year to Goodwill of Southern Nevada to launch a veteran's work integration program. "We've been successful as a word-of-mouth network and have found that asking our members to make an investment with us gives them a feeling of ownership over the projects we've funded," says current president Nazanin Ford of the $5000.00 annual commitment each member brings to the circle. "The appeal was that pooling our funds to make one large grant would magnify the impact the money could make in our community," she adds. Each member is encouraged to participate in the decision-making process for grant recipients, with the final decision being made by member vote. "This form of fundraising, as opposed to the more traditional, allows us to be an all-volunteer group because we don't have to plan multiple big events to fund our operations."
Smaller scale donations can also make for meaningful gifts in our community while promoting friendship, networking opportunities and social activity among the group's members. That's the philosophy behind Fabulous Shoe Night www.facebook.com/fabulousshoenightlasvegas, a form of Giving Circle whose local chapter was founded this past August by Henderson resident Julie Yeomans. "Fabulous Shoe Night is a vehicle for busy women to have a fun and affordable night out while doing good in the community," shares Yeomans. "Eight times a year, women put on their favorite shoes and gather for a Girls Night Out event at participating local restaurants. A $25.00 admission at the door includes appetizers, $5.00 drink specials, and a $15.00 donation that goes directly to a local Las Vegas charity chosen for the month," she adds. Strength in numbers and an active Facebook following have allowed the group to donate more than $6500.00 to local charities including Project 150 and Girls on the Run in just four outings. "We're excited about the potential in 2013. We have already scheduled an event at Blue Martini on February 27th to benefit The Barbara Greenspun WomensCare Center of Excellence, and another on March 21st to benefit Goodie Two Shoes Foundation."
Success in Numbers
Creating your own group of do-gooders is a wonderful way to promote neighborhood or friendship activism with big monetary results. It doesn't take long to realize the impact you can make by pooling money together for a cause. For example, experts from SmartMoney.com estimate that the average cost of a night out for a family of four, including dinner, a movie, and other incidentals, can top $200.00. If you go out twice a month for 12 months, that's $5000.00 you've spent on entertainment! By opting for dinner and a movie every other month at home, you'll bank close to $1000.00 per year. Recruit eight to ten other families who share your vision, and you've created a Giving Circle with the ability to provide close to $10,000.00 annually to those in need. Think about the activities you or your family enjoy and "pitch" the idea to others involved in these same activities. Set up a Facebook page to promote events, post after party pictures and recruit new members. The beauty of it all is that you'll have as much fun, if not more, while collectively gaining a sense of accomplishment by helping the community.
Details to Consider
Any time money and donations are involved, a few important details must be addressed.
Set financial goals for the group. Consider how often you'll be meeting and the amount that each person in the circle can reasonably donate, as well as any yearly dollar commitments you might require.
Find a common area of interest among members and donate to organizations that match those interests. Check the credentials of organizations to ensure their validity and donation history by visiting sites including www.give.org or www.charitynavigator.org.
Decide how the funds will be administered. The easiest way is to open a joint checking account that requires at least two signatures, preferably from different families. Checks will be written from this account to chosen charities.
Elect a treasurer to handle the accounting and devise a reliable way to keep track of the funds given and dispersed. Consider using an Excel spreadsheet or QuickBooks software.
Explore the tax ramifications by speaking with a tax professional. Consider seeking a host, such as a community foundation that may provide certain tax benefits to members.
Visit www.givingforum.org/givingcircles for additional information.
Traditional means of fund raising often leave people with limited resources feeling like they can't make a significant difference. By pooling money together and joining a social organization that shares in your idea of generosity, you'll be giving back in a bigger way than you ever imagined.