Livin' Local: Unexpected Treasures – Pahrump Valley Winery
By Lisha Ross
I first visited Pahrump Valley Winery in 2001, and quite frankly, I wasn't impressed. A novel idea it was, but the reality of it left a lot to be desired. That is to say, you could sip on halfway decent wine and look out onto the small vineyard, but you could never escape the fact that the desert is the desert, Pahrump is a bit on the fringe and the cooler climes and sophistication of Northern California are still hundreds of miles away. Tiny, shriveled grapes gasped under the blazing sun, the food in the restaurant was bland and poorly executed, and the interior was more shabby shanty than wine country chic. That being said, it met my expectations. I mean really, a bonefide winery in the Mojave desert? How is that even possible? Well, naysayers, myself included, should bite our parched tongues, gas up the car and enjoy the ride, because with some heavy renovations and a passion for creating fine wines, Gretchen and Bill Loken, who took over the establishment in 2003, have transformed this shadow of a winery into a vision of Napa.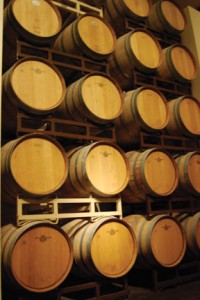 Pahrump Valley Winery (www.pahrumpwinery.com; 800-368-9463) sits on 1.5 acres of land–not exceptionally large for a vineyard, but the Loken's have taken advantage of every inch. Property that is not crawling with Zinfandel and Syrah vines is carpeted with grass and shaded by stately weeping willows. A babbling fountain sits near the center. Taking some time for a leisurely stroll along the ambling walkways or indulging in quiet reflection on one of many benches is a must. Taste a grape! The red ones are delicious; the green ones tart. Even in the middle of summer, the lush landscape makes the temps seem tolerable and provides the perfect backdrop for imbibing a refreshing glass of Chardonnay or Pinot Noir. 
Let your experience begin with a tour of the grounds guided by Gretchen, if she's available; she's well versed in wine making from seed to bottle and likely has the answer to any question you can throw her way. Next, you'll want to move inside to quench your thirst with a respectable, complimentary tasting, which includes a handful of choices from eight of their award-winning selections. Since 2004, their wines have accumulated over 200 awards. As winner of 7 awards, their 2005 NV Ridge Zinfandel Crush, the first wine ever to be fully grown and produced in Nevada, attests to the Lokens' wine-making talent and prowess.
Possessing light, sweet and fruity flavors, Desert Blush and Burgundy run neck and neck for biggest seller, probably for their approachable composition, but the selection varies greatly from the dry, light oak Chardonnay to a very smooth Crème Sherry. At summer's end, Pahrump Valley Winery is diversifying the selection by introducing 11 new varieties on 3 new labels: Nevada Ridge, Villa Bianca and Loken Cellars. We were privileged enough to have a pre-release taste of the new Cabernet Sauvignon, and it was heaven on the palate. Those who enjoy their wine like punch should definitely have a go at their specialty Sangria, made with Burgundy wine as the base. They'll even give you the recipe for it, as well as Hot Mulled Spice Wine and a Sherry Spritzer.
Taste until you find one you love, buy a glass or a bottle, and move around the elegant space. There's a charming gift shop with gift baskets, t-shirts and the usual souvenir goodies, a comfortable sitting area with a window view into the wine cellar, and you can even check out the cask-lined fermenting room. When you're ready to satiate your appetite for food, Symphony's at the Winery is an intimate and stylish place for an afternoon or evening nosh. The menu is replete with dishes prepared with the winery's creations, like the Incredible Lobster Bisque laced with Crème Sherry (every bit as creamy and delicious as the name suggests), steaks finished with red wine reduction, and Zinfandel Glazed Pork Ribs. Winners round our table were the Calamari Puttanesca, the Kobe Beef Burger, Ginger and Teriyaki Glazed Atlantic Salmon, and a ridiculously light and mouth-watering Crème Brulee for dessert.
By day's end, you should be sufficiently toasty and satisfied any season, but fall, being harvest, is a special time to visit the winery. Not only is the weather fine for outdoor toasts, on October 9th and 10th the winery will once again host the annual Grape Stomp event. Willing participants partner up–one to stomp, one to collect the juice–and compete for a token trophy and esteem of master grape stompers. Once a one-day affair, the event has been so successful in previous years that it's been extended to two full days of stomping fun, live entertainment on the outdoor stage, BBQ and family activities.    
Getting over the hump to Pahrump is an easy drive and part of the fun. It's a straight, relatively traffic-free shot up NV 160 N which runs parallel to the Spring Mountains. However, unless you have a designated driver (yeah) or plan on staying at a hotel in Pahrump (nay), you'll have to find alternative transportation, which is really great if you enjoy riding in style. Scenic Las Vegas Tours (866-921-7547) offers limousine transportation to and from the winery in 5 hour blocks for $400 for 1-8 people.
Surrounded by the sandy beige hues of the Mojave, it's not quite Napa. But if you let your taste buds guide you, indulge in the bouquet, and allow your senses to drift, you will certainly be intoxicated by this sparkling glass of heaven, I promise.