For the Love of Food: Upsetting the Apple Cart – Dibs on Dinner Instead of Dessert
By Aly Wagonseller
It's certainly no mystery that apples make for some mighty good eatin'. Almost everyone will agree this crispy, crunchy fruit is not only a satisfying snack, but it's also the basis for many delicious dessert options from pan dowdy to All American apple pie. But apples can be used for so much more than merely satisfying a healthy sweet tooth. It's time to ring the long overdue dinner bell for a fruit that's ready to reside on the savory side of the supper plate.
There are more than 2,500 varieties of apples grown in the United States, with about 100 varieties commercially produced for local grocery stores across the nation. Because apples will keep for up to eight months in refrigerated conditions, many varieties are available year round. If you prefer a fresher version right off the tree, Gilcrease Orchards, located at 7800 N. Tenaya, offers five varieties including a deep red Arkansas Black that may not be a staple at the corner Vons. Still, with so many varieties to choose from, picking the proper fruit to use for hot preparation is an important detail to consider. You want fruit that's firm and flavorful and can stand up to savory flavors and hearty meats.  Apples that can take the heat in the kitchen include:
Granny Smith: An apple that's sharp and tart, the cooling flavors of this firm apple complement recipes with spicy notes; the flesh holds up well, keeping its shape during the cooking process.
Braeburn: Mildly tart in flavor, this variety possesses a  spicy sweetness and crispness that's great for salads as well as sautéing.
Fuji: Exceptionally crisp, very sweet, and firm, producing a satisfying crunch when you bite into them. Also great for salads, they pair nicely with stronger cheeses including goat and feta varieties.
Gala Apple: Firm and crisp, sweet and juicy, the Gala apple is great with pork since it's a juicier apple that can keep the meat moist.
We've provided a selection of tasty recipes using America's favorite fruit. Whether you spice them up with jalapeños in a Mexican inspired salsa or use them to brighten a decadent blue cheese pasta dish, there's one thing for certain… Apples are moving on up the food chain.

Pork Chops with Roasted Apples and Onions 
Serves 4
2 1/2 tsp. canola oil, divided
1 1/2 cups frozen pearl onions, thawed
2 cups Gala apples wedges
1 Tbsp. butter, divided
2 tsp. fresh thyme leaves
1/2 tsp. kosher salt, divided
1/2 tsp. freshly ground black pepper, divided
4 (6-ounce) bone-in center-cut pork loin chops (about 1/2 inch thick)
1/2 cup fat-free, lower-sodium chicken broth
1/2 tsp. all-purpose flour
1 tsp. cider vinegar
Preheat oven to 400°. Heat a large ovenproof skillet over medium-high heat. Add 1 tsp. oil to pan; swirl to coat. Pat onions dry with a paper towel. Add onions to pan; cook 2 minutes or until lightly browned, stirring once. Add apple to pan; place in oven. Bake at 400° for 10 minutes or until onions and apple are tender. Stir in 2 tsp.  butter, thyme, 1/4 tsp. each of salt and pepper. Set aside.
Meanwhile, heat another  large skillet over medium-high heat. Sprinkle pork with remaining salt and pepper. Add remaining 1 1/2 tsp. oil to pan; swirl to coat. Add pork to pan; cook 3 minutes on each side or until desired degree of doneness. Remove pork from pan; keep warm. Combine broth and flour in a small bowl, stirring with a whisk. Add broth mixture to pan; bring to a boil, scraping pan to loosen browned bits. Cook 1 minute or until reduced to 1/4 cup. Stir in vinegar and remaining 1 tsp. butter. Serve sauce with pork and apple mixture.
From Cooking Light Magazine.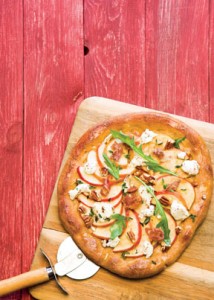 Apple, Goat Cheese and Pecan Pizza           
Serves 6
1 (1-pound) six-grain pizza crust or premade crust
Cooking spray
3 cups thinly sliced Fuji apples
1 oz. prosciutto, sliced
4 oz. crumbled goat or feta cheese
2 tsp. chopped fresh thyme
1 Tbsp. extra-virgin olive oil
2 tsp. Dijon mustard
1 tsp. fresh lemon juice
1 1/2 tsp. honey
2 cups baby arugula
3 Tbsp. chopped pecans, toasted
Preheat oven to 450°. Place pizza crust on a baking sheet coated with cooking spray. Arrange apple slices evenly over pizza crust; add prosciutto and top with cheese. Sprinkle thyme evenly over cheese. Bake at 450° for 8 minutes or until cheese melts and begins to brown.
Combine oil and next 3 ingredients (through honey) in a medium bowl, stirring with a whisk. Add arugula; toss gently to coat. Sprinkle pecans evenly over pizza; top with arugula mixture. Serve.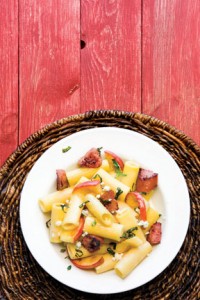 Apple and Sausage Rigatoni     
Serves 4
6 oz. packaged dried rigatoni (about 2 cups)
8 oz. cooked smoked pork or chicken sausage, halved lengthwise and cut into 1-inch pieces
1 1/2 pounds Red Macintosh or Braeburn apples, cored and cut into 1/2-inch-thick slices
1/2 cup whipping cream
1/2 cup, 2 oz. crumbled Gorgonzola cheese
Fresh herbs, chopped
In a 4-quart Dutch oven, cook pasta according to package directions. Drain; set aside. In the same Dutch oven, cook sausage until lightly browned. Add apples; cook about 5 minutes or until apples are lightly golden, stirring occasionally. Stir in cooked pasta, whipping cream, and cheese. Heat through. If desired, garnish with fresh herbs.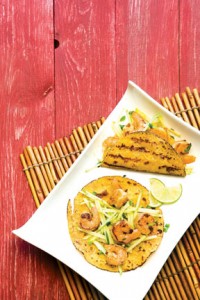 Shrimp Tacos with Green Apple Salsa
Serves 4
 1 1/2 Tbsp. olive oil, divided
4 tsp. fresh lime juice, divided
1/4 tsp. ground cumin
1/4 tsp. hot smoked paprika
1/4 tsp.  ground red pepper
1 pound medium shrimp, peeled and deveined
1/3 cup sliced green onions
1/4 tsp. salt, divided
1/2 tsp. grated lime rind
1 Granny Smith apple, thinly sliced
1 seeded jalapeño pepper, minced
8 (6-inch) corn tortillas
1 oz. crumbled queso fresco, if desired
Combine 1 Tbsp. olive oil, 2 tsp. lime juice, cumin, paprika, and red pepper in a small bowl. Combine shrimp and spice mixture in a zip-top plastic bag and seal. Let stand 15 minutes. Meanwhile, make salsa by combining  remaining  1 1/2 tsp. oil, 2 tsp. juice, onions, 1/8 tsp. salt, rind, apple, and jalapeño. Set aside.
Remove shrimp from bag; discard marinade. Heat a grill pan over medium-high heat. Sprinkle shrimp with 1/8 tsp. salt. Arrange half of shrimp in pan; grill 2 minutes on each side or until done. Remove from pan; keep warm. Repeat procedure with remaining shrimp. Toast the tortillas in grill pan, if desired. Place 2 tortillas on each of 4 plates, and divide shrimp evenly among tortillas. Divide salsa evenly among tacos, and top with queso fresco.
From Cooking Light Magazine.