Livin' Local: Vegas Cycle Pub – A Pedal Powered Pub Crawl
By Meghan Pescio
Ahh the pub crawl. Known by many names — beer crawl, gin walk, bar hopping or my personal favorite the Bohemian Death March, this European pastime leads groups of friends from pub to pub in search of a variety of ambience, drink specials, social experiences and, most importantly, a good time. Traditionally on foot (or hands and knees as the name implies) the pub crawl got its start in England where establishments were close enough together to walk.  As life moved west and local parlors further apart, the custom became mobile (think party limos or buses) and with the age of sustainability it has morphed yet again. Enter Cycle Pub in Las Vegas' newest hot spot Fremont East District, and you get a whole new…well…spin on things.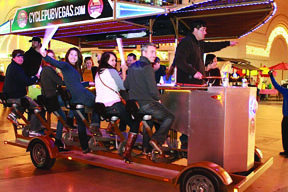 Not Your Average Five Speed  
The newest trend in pub crawling? You guessed it – the bicycle. Originating in the heart of the burgeoning craft beer scene in Bend, Oregon, Cycle Pub (www.cyclepub.com) is the marriage of a highly unlikely pair: alcohol and exercise. Add that to the neon lights of downtown with Cycle Pub Vegas (www.cyclepubvegas.com) and things start to get a little crazy. Fun, that is.
This is not the bike you rode as a kid with gears, handle bars and the occasional basket for Toto. Think of it more as a bar patio on wheels, and you'll get the picture. It is quite a spectacle with 14 seats (or saddles for the road biking enthusiast), six on each side opposite one another and a bench in the back for those staunch believers that cocktails and conditioning are better left separate. Groups from 6-14 people have two hour blocks to pedal their way from bar to bar in what is by far the most fun exercise routine I can think of. The adventure, starting at $192 for a base of six people and $32 for each additional rider, comes with a driver and second chaperone to get you and your friends, relatively unscathed, to three or four of the most popular local taverns off its Very Important Pub (www.cyclepubvegas.com/pubs) list.
Yes, that's right, a driver. For the less cycling inclined, never fear. The Cycle Pub is not solely run on the energy of tipsy humans, but comes equipped with a power motor for inclines.  Beware, however, as your playful tour guides can increase the workload based on your good (or bad) behavior.
A Different Perspective
Even more interesting than the apparatus is the downtown experience to be had in this uncharted territory between walking and driving.
Cycle Pub Vegas begins and ends at Mob Bar (201 North 3rd Street), in the Fremont East District. Harkening back to the days of Frank "Lefty" Rosenthal and Bugsy Siegel, it's the perfect starting point to bridge the city's colorful past with the new and exciting developments of the Downtown Project. A minimalist will be perfectly content sipping on the traditional Old Fashioned cocktail with brandy soaked maraschino cherries crushed at the bottom. While it's hard to picture Tony "The Ant" Spilotro on a bicycle, the ambience of Mob Bar will get you in the mood for the adventure ahead.
Now for the fun part – pick your saddle (hint: near the wheels gets you out of peddling) and get ready to take off onto the streets of Downtown Vegas. Known as an excellent spot for people watching, you'll be surprised by the amount of downtown partiers who are actually snapping shots of you and your group as you glide by.  If you think ahead and load a playlist to your phone or other music device, the Cycle Pub is equipped with speakers. Pedal hard, admire the lights and nighttime personalities, and prepare to be the center of attention for the evening.
You can't go wrong with any of the watering holes your Cycle Pub guide steers you toward. From back alley bars with DJs and teeter totters (you read right) to Atomic Bar, the self proclaimed "oldest freestanding bar in Las Vegas," aptly named for its rooftop viewing parties of the atomic bomb testing in its early years. All are welcoming to your CyclePub crew, and your guides are more than happy to provide a history lesson should you be interested. Look into purchasing wrist bands from Cycle Pub to gain access to drink specials at each location.
If you make it to Gold Spike, be prepared for a throwback to your college years when frat parties reigned supreme. From a giant version of the beanbag toss game, Cornhole, to billiards, darts and cheap beer you'll be hard pressed not to break out into a rendition of Journey's "Don't Stop Believing" in true college form.  Speaking of college, if you get hungry during the night many of the pubs provide food as well. Your guides can even call your order ahead to save time for the rest of your crawl.
Fine Print
Like any business, Cycle Pub is subject to city statutes, so heed cautions from your guides on the rules. No alcohol is allowed on the Cycle Pub, but you'll surely be too busy gawking at the views and "Downtowners" (try Cycle Pub on a First Friday!) to notice.
At an average speed of 5 miles per hour, this moving party is far from dangerous, but be sure to check out the Cycle Pub Waiver and Damage/Late Return Policy on Cycle Pub's website to know the risks before you ride.
If you're looking for a unique group party, Cycle Pub offers a fun and safe way to experience the new Fremont East District with a little flare. Visit www.cyclepubvegas.com or call (702) 706-5084 for more information on booking an evening. Have a safe ride, and try to keep from literally crawling!