Where Are They Now?: Whitney James
Liberty High School
Class of 2007
While maybe not traveling far in miles, Whitney has been through thick and thin since graduation. Through great tragedy and inspirational triumphs, she is standing strong as the owner of a small business, Whitney's Pawlished Pets Mobile Grooming in Las Vegas. After six years at Petsmart and working for her grooming degree, "Successful Business-Owner" does not top her list of accomplishments. "Mother" to her 10-month-old daughter, Addison, takes first place. After the tragic death of her child's father seven months into her pregnancy, Whitney finds solace in being the best parent she can be. She gives credit to the Henderson and Las Vegas community for the successful person she is today.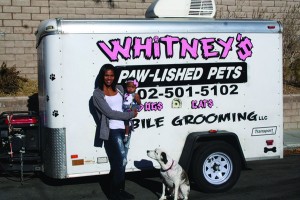 Where are you currently living?
I am currently living in a house in Las Vegas, Nevada… the 89178 zip code.
What field are you working in and how did you end up doing what you're doing?
I am currently in the pet grooming field. I started as a bather at Petsmart while I was in high school and ended up going to grooming school. I fell deeply in love with the job. I was at PetSmart for six years before deciding to branch out on my own. I cashed out my 401k and started my own business: Whitney's Pawlished Pets Mobile Grooming.
What achievements/recognitions are you most proud of since graduation?
Being a small business owner is a big achievement that I am very proud of. I have been open two years and currently going very strong. It has been a tough two years and let me tell you, "the struggle is real!" However, with continued support from my family, my amazing clients, a positive attitude and a smile on my face… ANYTHING IS POSSIBLE!
My little girl by far my proudest accomplishment. I am a single mother. My boyfriend died in a motorcycle accident when I was seven months pregnant. That in itself was tough. Giving birth and raising this little miracle is something I can't even begin to explain. I consider myself truly blessed because I had someone very special taken from me but seems to have been replaced with his twin; in girl form! A blessing for sure. I have an amazing support system that helped me through my healing process, transitioning into a mother, and maintaing a business.
Are you married?
I am currently single.
Children?
I have a Daughter 10 months old Addison Avery Reed

Pets?
Izzy my pound rescue dog
Milkshake and Zoey, my cats
How did growing up in Henderson/Las Vegas have an impact on the person you are today?

Growing up in Henderson/Las Vegas has had a huge impact on the person I am today. I was able to meet the friends I have today. I still maintain so many of those friendships. Working at the Silverado ranch /Eastern Petsmart gave me life and inspiration to do more and branch out. Growing up in the Henderson area also taught me a lot about diversity. I grew up with and have friends from every race, religion, and economic status. I believe it truly helped me to not be judgmental and to just embrace everyone!
Has your outlook on life and/or work changed since high school? If so, how?

No not really. I always said what you put into your school and work is what you get out of it. I feel the same way. I made it a priority to have friends of all races and friends in different cliques. Having a variety of friends exposes me to different activities and makes life interesting. Life's too short to sweat the small stuff. Smile and take lots of pictures!!! I haven't changed one bit!!
How did you feel when you were featured as A Step Above and what kind of feedback did you receive?
It was great! It felt great to be recognized for all my hard work. I know a lot if students that were just as great but didn't get to receive the recognition. I still receive feedback today. Liberty has all of there students featured, hanging up.
Favorite Quote to Live by:
Life is like a camera. Just focus on what's important, capture the good times, develop from the negatives, and if things don't turn out – take another shot.
-Unknown