Livin' Local: Into the Wild – Up Close and Personal with Our Local Animal Kingdom
I wasn't quite sure what I had gotten myself into when I turned around to see a 500 lb. male lion just inches behind me. Mind you, he was busy slurping up raw meat and didn't seem at all interested in what I was doing there (oh, and did I mention the layer of industrial strength plexiglass between us?), but the sheer size and presence of such a powerful animal that close up is a bizarre mixture of unsettling and truly inspiring all at once. You might wonder how I got the opportunity to hobnob with the "King of the Jungle." Honestly, it wasn't that hard. I didn't have to hop on a plane, or even flash my media badge for a behind the scenes peek. I drove 10 minutes on St. Rose and walked right in. It was one of the two places I traveled in our diverse city to experience close-up encounters with some pretty fascinating wild animals.
By Meghan Pescio
The Lion Habitat Ranch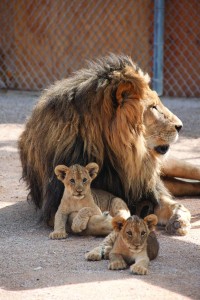 When the Lion Exhibit at MGM Grand closed in early 2012 the lions' owners, Keith and Beverly Evans, began to receive inquiries from visitors missing the excitement. They decided to retrofit and open the habitat they had run behind their home for 25 years so that the public could once again enjoy and appreciate the majesty of the creatures they cared for.
We're glad they did. There's no other way to describe this place besides downright cool.
Nearly 50 African lions and two newly adopted female ostriches reside at the habitat on 382 Bruner Dr. just east of the M Resort in Henderson. The 8.5 acre outdoor facility takes visitors in a circle to interact with the cats – sometimes lazily spread out in a shady spot and other times right up against the fences, seemingly within reach (although not quite) to onlookers. In addition to watching them interact, hearing a bone chilling roar and simply admiring that familiar, formidable strut, onlookers learn history and hear stories and fun facts from experienced handlers with a special, unmatched love and respect for the exotic beasts. If you've never seen a 5'4" woman walk up to five male adolescent lions and pet them like house cats…then you haven't seen anything.
Truth is, to Keith, Beverly and the hired handlers, these animals are close to family. With decades of experience with large wild cats between them, it was clear during my visit that daily work consists of ensuring the safety, comfort and happiness of the animals as well as the safety of employees and visitors. After all, they're dealing with lions and nobody's forgotten that. The ultimate goal of the organization run by Evans, The Cat House Inc., is to raise awareness and funds to protect animals in the wild – which aren't faring so well due to loss of habitat and human conflict in Africa.
Entry into the sanctuary is $20 for adults with free entry for a child 13 years or younger with each adult. In addition to general visitors, the Lion Habitat Ranch also hosts special events from large corporate get-togethers to children's birthday parties. Small dinners can be held in a section of the habitat that protrudes into one of the dens – the lions will be just as curious about you as you are about them. A completely unique experience exists in special programs such as Trainer for a Day during which you shadow a trainer for feeding, bathing and handling lions for 3-4 hours. At $800, it's not cheap, but when you get to be up close and personal with the king of all beasts, it's worth it.
For more information on hours of operation, facility rental and more visit www.thecathouse.us.
Gilcrease Nature Sanctuary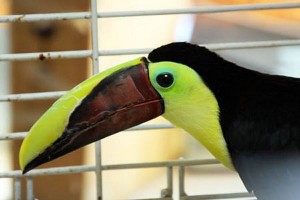 The friendly staff at Gilcrease Nature Sanctuary joke that their facility, located at 8103 Racel St., is half way to Reno. For any bird lover or parent with young children the trip's Return On Driving Investment is solid – it makes for a great half day adventure to interact closely with all sorts of animals from colorful macaws and toucans to a mule deer and two adorable pot bellied pigs.
Established in 1970 by William Gilcrease, the facility is used mainly to care for pets, predominantly birds but also barnyard animals, which have been estranged from their owners either due to inability to provide care or to abuse. Bambi, a friendly mule deer you can pet and feed, greets visitors as they enter the eight acre grounds. Aviaries featuring small, colorful cockatiels and larger, more exotic looking Turacos take center stage while cockatoo, macaw and pheasant are housed separately. The cockatoo room is loud, and may be a bit off putting for the little ones, but if they enjoy seeing the birds up close visitors can trek between the cages to the back where a beautiful toucan calls home. A well-groomed nature trail brings guests to a small petting area with goats, burros and llama as well as miniature ponies, ostriches, emus, peacocks, tortoises and of course the pots. A small amphitheater welcomes field trips, events (such as the April 19 "Wings in Spring") and more.
Most exciting for the sanctuary are future plans for redevelopment. After a devastating fire in 2010, staff is busy preparing to restore and improve the facilities to give animals even more comfort and space. The loving and knowledgeable attitude of the staff, as well as their emphasis on education, is refreshing after seeing animals that have already been through so much.
General admission ranges from free-$4 based on age. For more information on hours, events, donation and volunteer opportunities and more visit www.gnslasvegas.org.
10 Comments