Livin' Local: X Marks the Spot: A Sin City Scavenger Hunt
By Mike Sweeney
Think back to those awesome birthday parties you loved as a child. You and your BFFs gorging yourselves on cake and ice cream then staying up late playing games or watching movies. Odds are some of those parties also featured a scavenger hunt. You know the drill – get a list of things to find or stuff to do, break up into teams, then try to be the first group to the finish line. Those days may be long gone, but that doesn't mean you can't enjoy a good scavenger hunt, especially when you have the city of Las Vegas as your hunting grounds.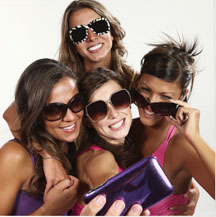 My girlfriend decided to stage a scavenger hunt at Town Square for her birthday this past year. She put a lot of thought into crafting a checklist and came up with some seriously creative stuff. This was going to be a challenge where brain power would trump endurance. Armed with smart phones and maps of Town Square, eight of us set out on the Great Birthday Scavenger Hunt!
A-Hunting We Will Go…
You would think a group of mature adults could handle themselves with some shred of dignity and embark on their treasure hunt in an orderly fashion, but you'd be wrong. As the hunt begins, two teams of four bolt off into the heart of the mall like a gaggle of hyperactive puppies. This sort of thing really helps to bring big groups of friends together, but it can get competitive. When that clock's ticking, two hours to finish 38 tasks doesn't allow for much wiggle room, so you have to strategize on the fly.
Our team adopts a "creative" method of splitting into two groups of two. This isn't breaking the rules, per se, just bending them. It's a solid tactic any spirited group of hunters would be wise to adopt, but remember to stay in contact via phone or text message so you don't repeat each other's efforts. My partner and I knock out some of the easy challenges right away. Balance a spoon on your nose and take a picture – check. Find the biggest floppy hat possible and make one team member wear it – done. We're feeling good so far, but we know we need to solve one of the bigger tasks: find the most expensive item at Whole Foods.
Venues like grocery stores make great locations since there's so much to explore. You could probably stage an entire scavenger hunt inside one. But our mission is more specific. What's the most expensive item? Exotic fruit? Rare Wagyu beef from the meat counter? When you're on the hunt, time is more valuable than gold, so you can't deliberate for long. That's when we see a glass display case. Those always hold expensive things! Locked inside is a $400 bottle of wine. We photograph the evidence. On our way out, messages start flying in from our other two team members, everything from a video of random strangers playing "Ring Around the Rosie" (number 18) to a photo of them posing with the biggest Jersey Shore wannabe they could find (number 24). We're making good progress, but still far from the finish.
In any scavenger hunt, there will be things you must do together as an entire team, so if you split up at the beginning, pick a time to regroup. At Old Navy, we all put on the same color sweatshirt and take a photo. Cross off number 12. Take a picture of all the members piled on a giant bean bag at the LoveSac store. Number 22 is done. Time will run out faster than you realize, so if you're missing a few items near the end of the hunt, think about what will earn you the most points. We video a child having a tantrum (number 3), though we'd hoped to get bonus points for capturing an adult version instead. By the time we find a sample of the most disgusting perfume (number 31) and the world's tackiest tourist T-shirt (number 6), it's all over.
The teams gather in front of Blue Martini, where my girlfriend's parents wait to judge the results, and our little group of "mature" adults can't resist a little trash talking. Smart phones and found objects are passed back and forth and evaluated. At the end of the night, the birthday girl's team emerges victorious, though being a blood relative of the judges does help. The winning team picks where we go for dinner, so it's off to Yard House to recount our spirited quest for scavenger hunt supremacy.
A Hunt of Your Own
Las Vegas provides many fascinating backdrops to stage your own scavenger hunt. With an endless parade of fun characters and unique locales, the Strip makes a perfect battleground, whether you pick a single casino or send your hunters up and down the Boulevard. An outdoor search at Mount Charleston or Red Rock Canyon forces contestants to dig around for natural objects or catch wildlife on film. An "alphabet" style hunt can happen just about anywhere, challenging team members to find 26 objects that all start with different letters – "A" for apple, "B" for ball, and so on. No matter what type of scavenger hunt you choose, a little planning and a lot of imagination will make sure you have just as much fun as we did.