Livin' Local: You Should Be Dancing – Waltzing into the Vegas Ballroom Scene
By Lisha Ross
Take a cue from the Bee Gees. You really SHOULD be dancing…ballroom dancing, to be more precise. It's great exercise, it's a great opportunity to meet new people, and it's F-U-N! Unfortunately Vegas' major clubs don't exactly cater to the Quickstepping, Lindy Hopping, Fox Trotting crowd. More often than not, our touristy demographic seems to shun classic social dance styles in favor of bumping and grinding to deafening techno and hip hop beats. But that doesn't mean this more refined dance scene is non-existent. It is, in fact, alive and hoppin'. Consider this your introductory lesson to a Vegas ballroom bonanza.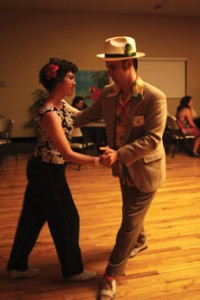 Step 1: Grab a partner…or several.
If you don't have a friend or significant other who shares your enthusiasm (or curiosity) about dance, online meet-up groups are excellent resources. Aside from helping members connect with each other, they organize group outings to nightclubs, competitions and parties. What's really great about such groups is that there are always other singles, as well as novice and professional dancers who are more than happy to take newbies for a spin. They usually offer free dance lessons, to boot. Check out Saturday Night Ballroom Dancing (www.meetup.com/Saturday-Night-Ballroom-Dancing-Meetup) and Las Vegas Dance (www.meetup.com/lasvegasdance).
Step 2: Take a lesson.
Suffice it to say the first real challenge is accepting the fact that your first attempt on the dance floor might not be as graceful as you'd like, and confidence comes from practice. There are numerous studios in town that offer instruction in every style of ballroom imaginable, as do most recreation centers, but paying for lessons is not the only option. Lots of studios and clubs offer free dance lessons weekly or monthly (see listing below). When taking advantage of dance party nights and free lessons offered by dance studios, keep in mind that you might get hustled to sign up for studio lessons. Whether you dodge the sales pitch or take them up on it, you can still keep going back for more.
Step 3: Strut your stuff.
Your ideal spot for dancing will ultimately depend on the style of dance you wish to pursue and the environment you prefer. Studio dance parties give guests a chance to try a variety of styles in a beginner-friendly, alcohol and smoke-free environment, while clubs often cater to a particular crowd. Clubs that host "Swing" nights, "Latin" nights or any other specific style usually have a following of devoted, well-practiced fans, but with the added option of liquid courage.
Vegas' longest running and most popular ballroom event takes place each Sunday at the Gold Coast Ballroom. Created and organized by professional dance instructor Manny Bonotan over five years ago, the event consistently brings in new faces, veterans and some of the most popular ballroom dancers from all over the country.
There are three sessions throughout the day. The first session, which runs from 1-5 p.m., begins with a complimentary one hour group lesson that covers the basic moves of all ballroom styles in a very approachable manner. The second session, moved by ballroom standards from Latin to Fox Trot, takes place from 5-9 p.m. The final round goes from 9-midnight but is not always open to the public, so you may want to call ahead. Call 577-5509 or email Manny at mannybonotan@cox.net. Admission to each session is just $10.
Step 4: Enjoy!
The final step is to dance, dance, dance. Make new friends and dance some more. It doesn't matter if you've got two left feet or you move like a gazelle; all that matters is that you have a great time. You might just come down with boogie fever, but it'll be the best fever you ever had, I promise.
Get Your Groove On
Studio Dance Parties:
Sergei's Dance Studio (www.sergeisdancestudio.com; 405-7293)
Open parties every other Saturday at 8:15 p.m. starting in November. Admission of $10 includes refreshments and a group class starting at 7:30 p.m.
Step by Step (www.stepbysteplv.com; 795-0041)
Fridays 8:30-10 p.m.; $10 admission includes food and beverages
Monthly specials include ladies' night, free birthday month admission and live music.
The Stage (www.thestagestar.com; 778-3100)
Open social ballroom dance party featuring Westcoast Swing, a few other styles and late night blues dancing every other Saturday 8 p.m.-midnight. ($10) An extra $5 gets you an optional 30-minute Westcoast instructional class at 7:30 p.m.
VZ Dance Studios (www.vzbalv.com; 823-1063)
Open dance socials with a variety of music and dancing on Fridays at 8:15 p.m. ($12); Salsa Party the first Wednesday of each month ($10). Admission includes refreshments.
Bars & Clubs:
Aruba Swings (www.arubalasvegas.com; 383-3100)
Fridays 7-10 p.m. except First Friday; free admission and group swing lessons from 6-7 p.m.
Havana Grill (www.havanagrillcuban.com; 932-9310)
Latin Nights Friday & Saturday starting at 10 p.m. with live DJ.
Italian-American Club (jazzinwithjeanne.com; 457-3866)
Swing dancing, dining, cocktails and all that jazz Thursdays at 7 p.m.
Saturday Night Stomp (www.saturdaynightstomp.com)
Swing dance in a vintage Vegas locale–Knights of Columbus Hall Lodge 2828–one Saturday per month. Beginner lessons at 7 p.m. followed by social dancing at 8 p.m. ($5 cash only).
Country Steppin':
Okay, so line dancing and two-stepping aren't "ballroom" styles, but they are considered "social" dancing. With large dance floors and music that works for styles from waltz to swing, the party is almost always rockin' at these popular country bars.
Stoney's North Forty & Stoney's Rockin' Country (www.stoneys.com; 435-2855)
Both bars have live music and expansive, hardwood dance floors. Stoney's Rockin' Country offers free line dance lessons every Thurs., Fri. & Sat. at 7:30 p.m.
Revolver Saloon & Dance Hall at Santa Fe Station (www.santafestationlasvegas.com; 515-4390)
Offers beginner line dance and Two-Step lessons Wed., Fri. & Sat.
Gilley's at Treasure Island Hotel (gilleyslasvegas.com; 894-7111)
Perfect for Texas Two-Stepping, line dancing and Country Waltz.
2 Comments