Browsing articles in "Daycations"
Picture this: You're driving on a quiet road. On each side of you, towering pines fly past, lining the edges of the two-lane highway. In your car, you are toasty warm but the land outside is a still winter wonderland under a bed of snow, glistening in the sunshine. You can almost smell the freshness of the air, and feel the crisp winter sting on your face. Visions of hot toddys dance in your head and you, quite literally, feel on top of the world.
Suddenly, the view of a dramatic A-frame roof and a grand lodge appears in the landscape. The once peaceful, snowy scene is transformed into a flurry of action as skiers zip past and are whisked upward in a gondola. The feeling of ski boots lingers on your feet, and you know you're in for a great weekend.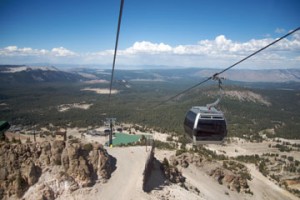 Why Mammoth
It may sound too good to be true, but this winter fairytale is less than a day's drive from our beloved desert landscape, nestled in the heart of Mono County between hot springs and national parks, in the form of Mammoth Lakes, California. We went, we saw, we conquered and came back with three reasons why you should definitely give this place a try for your next weekend vacation.
#1 Skiing and Ski Culture
OK – we get a big, collective "duh" from local skiers and boarders for this one, but with the tallest peak in California (we weren't kidding with 11,053 feet) and an average snowfall of 400 inches per year, Mammoth is one of the premier ski/snowboarding resorts in the United States. Translation: the skiing here rocks. Boasting wide open, well-groomed runs and perfect powder, the variety of ski terrain rivals other big dogs in Tahoe, Colorado and Utah…but closer to home. Throw in mostly sunny climate, a dash of moderate weather and a large helping of extra days to enjoy the snowy runs and you've just landed great t-shirt skiing through late May. At $99 per day during peak season (Jan 6. – Apr. 20) the lift ticket price is about as steep as the mountain's 3,000 plus vertical drop, but the recreation and views of the Minarets are worth the trip.
During ski hours, the mountain offers a handful of lodges, restaurants and bars with yummy food and libation for those seeking liquid courage…or warmth. As darkness takes the mountain and you cease to feel your fingertips, be comforted knowing your après ski options are vast, spanning from on-mountain bars to gourmet eats, community fire pits and nightclubs at the relatively new Mammoth Village (www.mammothmountain.com), and beyond.
Our pick for a well-deserved brewski will find you among fellow skiers as well as locals at the Mammoth Mountain Brewing Company Tasting Room. Across the main drag from The Village a tiny, nondescript entry opens into a large warehouse space with an extended horseshoe bar and lots of beanie-covered heads tasting mainstays and rotating custom brews produced just a couple blocks away. Try the Real McCoy Amber for a smooth, balanced arrangement of local flavors and the 9.5 percent Lair of the Bear Russian Imperial Stout if you've had a rough day on the mountain. The tasting room is open from 10-6 p.m. Prices vary for pints and growlers, and kegs are also available (www.mammothbrewingco.com).
Finally, get your strength back by carb-loading on pizza and handmade pasta at the newest restaurant in The Village, Campo Mammoth (www.campomammoth.com). Self-proclaimed "rustic Italian" the laid back, group-friendly atmosphere fits nicely with the fresh organic ingredients used to create authentic, wood-fired treats like the V.P.N. Margherita Pizza (think big, gooey drops of mozzarella), pasta and other entrees. The mouthwatering Salumi Board features artisan meats, cured in-house, and the Roasted Cauliflower starter with garlic and a little kick of chili are to die for. Prices range from mid-teens for entrees and pizza to $29 for a Blackened Rib Eye.
Wherever you end up, you're bound to find an eclectic mix of SoCal (this is a staple mountain for LA) and ski bums, all with a cool vibe and flavor for fun.
#2 Romance
Harken back to the scene as you pull up to the mountain. Now, picture your special someone in the passenger seat, bundled up and ready for a romantic snow holiday. Believe us, Mammoth will not disappoint.
There are quite a few options for romantic lodging in the area. For ski-in, ski-out, a fireplace and balcony with mountain views hit up Juniper Springs Resort condominiums. At about $249/night during the winter season, these condos are stocked with a full kitchen and the studio sleeps four in case it's a double date (www.juniperspringsmammoth.com). Tamarack Lodge (www.tamaracklodge.com) provides rustic cabins just 10 minutes from the Main Lodge. Starting at $199, if you're in the mood for cross-country you can start your trail from your door. Either way, once you're tired of the cold you can snuggle up in front of the fireplace with a bottle of wine or some hot cocoa. Check out www.visitmammoth.com for a full list of accommodations.
During the day, take your better half up the Panorama Gondola for crystal clear views that seem almost too perfect (www.mammothmountain.com), or head over to the Mammoth Ice Rink (www.visitmammoth.com) for figure eights and handholding. A full day is $10.50 per person, or you can go the extra mile and rent the entire facility for an hour (swoon) for $200. Finally, be sure to check out one of the natural hot springs around the area. Ask locals about Hilltop Tub or Wild Willy's to get directions.
Top the night off with a five-star dinner and hot mulled wine at the Lakefront Restaurant just minutes from town at Tamarack Lodge. The cozy, ten table arrangement offers a regularly changing menu, but expect the likes of local duck breast with white bean stew, or a local beef with Yukon potato puree and seasonal vegetables. The restaurant is priced on the upper end ($50+ per person), but if you get there before sunset to see the views of Twin Lakes, it's totally worth it. Be sure to check hours and make a reservation at (760) 934-2442.
#3 Year-Round Adventure
One of the best surprises we found on our trip was that Mammoth is NOT just a ski town. During the summer season you'll find world class mountain biking, hiking, golf and horseback riding close to the Main Lodge (www.mammothmountain.com). In addition, within an hour you could be trout fishing or kayaking at one of the many lakes or streams around the area, hiking to waterfalls and the one-of-a-kind rock formation called Devil's Postpile, or you could find yourself at the mouth of Yosemite National Park. Many of the restaurants and shops in town are open year-round, but check before you go to ensure you don't fall in the dreaded off season. You can call (888) 466-2666 or visit www.visitmammoth.com to find out more.
Whether it's a peaceful and romantic retreat you desire, or you're an action seeking powder hound, the quaint and beautiful setting at Mammoth Lakes should satisfy.
Words of Wisdom for Your Trip
If you go, here are some things you should know:
The drive to Mammoth Lakes can take between 5 and 6 hours from the Las Vegas Strip.
A four-wheel drive vehicle is a MUST if you make this drive during the winter.
Runs at Mammoth Mountain range from bunnies to black diamonds, with plenty of options for beginners. The recent installation of RFID tags makes lines manageable everywhere. Lessons for the "newb" in your group can be purchased starting at $189 for an adult at the Mammoth Mountain Ski and Snowboard School (www.mammothmountain.com).
One downfall to the high elevation of Mammoth is high winds. Be sure to wear layers and check the weather before you head up to the hill. You can even download the Mammoth Mountain App for iPhone or Android to get up-to-date weather conditions, deals and more!
By: Anne Helmstadter
The dark skies rumbled low overhead as Sadie, my sturdy Quarter Horse mount, paused at the crest of a steep incline. Bolts of lightning lit up the mountains all around and cool rain pattered on my cowboy hat. I felt my nerves tingling as I looked down the rugged drop off.  Ahead our cowgirl trail guide, Nikita, turned around and balanced on her saddle as her mare descended into the gully.
"Imagine the cowboys who worked this land 100 years ago," she shouted back. "Riding out, pushing cows in a storm. Don't you feel just like them?"
For a few days at the Rockin' R Ranch in Antimony (pronounced AN-tuh-moh-nee), Utah, I did feel just like them. Unplugged, with no phone or television, horses carried my family back to a simpler time where we adventured like authentic cowboys.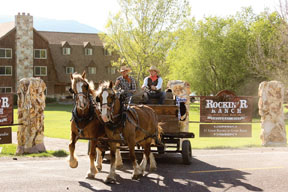 Taming The Wild West
The Rockin' R Ranch, a scenic four-and-a-half hour drive from Las Vegas, sits on the edge of The Dixie National Forest, in the heart of The Grand Circle, with easy access to five national parks: Bryce Canyon, Zion, Capitol Reef, Arches, and Canyonlands. The Black family tamed this 1500-acre ranch when they started running cattle and planting crops more than 130 years ago.  Burns and Mona Black launched the dude ranch operation in the 1970s, offering a variety of supervised activities, horse and non-horse, designed to give guests a true cowboy experience. Today, Brandon Hanks and his wife, Brandi, manage the ranch. The couple takes great pride in the ranch's ability to entertain all ages – toddlers to teenagers and middle-aged couples to grandparents – keeping them all busy, cowboy-style.
Mountain lions, coyotes and foxes roam the juniper and pinyon pine-dotted mountains surrounding the ranch, while jackrabbits, chipmunks and squirrels make their home in the sagebrush meadows and hayfields of the valley. Here, in this small ranching community, with the sounds of cows lowing and horses stamping, city slickers from across the globe can wrangle their inner cowboy in a perfectly western weekend getaway.
Cowboys and Horses
When my husband, two girls and I arrived at the ranch a tall young man in the requisite cowboy attire, Colt, greeted us. He showed us the large whiteboard in the main lobby listing our activity schedule based on my family's interests and previous horse experience.  Every guest's activity schedule is tailor-made, and all activities are optional.
Our first scheduled adventure, was a trail ride through irrigation ditches and flood channels with water so deep my nine-year-old had to hold her feet up to avoid filling her boots.  A late afternoon arena ride had us racing around barrels and pole bending.  Even my husband, not an equestrian, embraced the cowboy moment and trotted his horse through the poles.  Before dinner my girls launched themselves into the swimming hole with the rope swing and, after a few leaps into the cool water, they convinced me to climb into a canoe with them to paddle around the water under the shade of old cottonwoods.  From our canoe we watched as members of a family reunion tried to ride a bucking calf. After several of them, including a grandfather, were pitched to the arena floor we decided we didn't need to master a bucking calf on this trip.
On our second day, Cowboy Mike (sporting a handlebar mustache) brought four Black Angus cows into the arena for team penning. He gave us a few directions on how to "center the cows" and we were off, steering our horses around the bucking cattle, and pushing rebellious strays back into place with cowboy-esque whoops and hollers. After numerous attempts (and some assistance from Cowboy Mike) we centered our cows and raised our hands in victory with a newfound respect for the cowboys who accomplish in mere seconds what took us twenty minutes.
More than Horses
Eighty percent of the guests who visit Rockin' R are not horseback riders and many have never even sat on a horse. While horses and cows are everywhere you turn at the Rockin' R, the ranch provides plenty of other activities to occupy those who would rather keep their rumps out of the saddle. Kid crafts, ATVing on the Paiute trail, skeet shooting, archery, hiking, swimming, canoeing, fishing, hay wagon rides, rock climbing, and river tubing are just a few options.
Our second night, one of the worst storms of the summer slammed the ranch. This didn't stop Cody, our cowboy-tube-guide, from leading us down to the river the next afternoon for our scheduled tube run.  I knew I was in for more than I had planned when Cody's eyes widened at the sight of the rushing river. "Wow, that storm really raised the water level."
My first attempt to sit in the tube flipped me head over heels into the river and sent my tube shooting downstream, but after several curves, the initial white water calmed into a gentler river. Enjoying the ride, I imagined what the cowboys of yesteryear would say about this modern activity. I like to think they'd admire its adventurous spirit.
Hiking is also a popular activity. Ranch guides will gladly regale guests with stories about Butch Cassidy who, myth has it, used to hole up in a 150-year old ranch cabin that still exists on the Rockin' R property. Stories say he even hid a stash of gold in a rocky hideaway in the foothills that a local rancher discovered some years ago. Today, guests can walk in Cassidy's footsteps on The Butch Cassidy Hideout Hike, enjoying spring-green colors, beautiful geological formations, and clean air.
Cowboy themed evening activities complete the ranch experience: campfires and smores, cowboy songs, line dance lessons and Saturday band nights.
Cowboy Beds and Eats
The Rockin' R is ranch living, not a spa resort.  They offer 41 TV-free rooms in a rustic lodge all outfitted with comfortable beds and clean, private bathrooms with hot water. There is no cell service at the ranch but an old-fashioned landline phone is available for guests. The ranch recently added WiFi, allowing guests to feel unplugged without completely disconnecting from the 21st century. A buck head above a large fireplace in the lodge's main public room oversees log tables and sink-into sofas. A game room, dining room, gift shop and lobby ensure the lodge is ready for its guests.
Ranch cookin' serves up hearty cowboy fare at each meal: pancakes, waffles, eggs, and bacon for breakfast; sandwich fixings and fruit for lunch; steak, chicken, salmon, scalloped potatoes, cooked vegetables, and freshly baked cakes for dinner.  The ranch will accommodate special diets, whipping up something for my husband, a vegetarian, whenever needed. A fresh salad bar at lunch and dinner also offers an alternative to the meat and potatoes. Saturday night the cook serves a classic Dutch oven dinner: ribs, corn bread, mashed potatoes, and cherry cobbler. Not sophisticated eats, but filling and satisfying after a day spent outside.
The Cowboy Code
While your weekend of cowboy adventuring at the Rockin' R may not transform you into a rodeo-riding cowboy, sitting astride a horse (or an ATV) under the big western sky will leave a yearning for the simpler life where the Cowboy Code of courage, loyalty, honesty and optimism ruled the West.
As we left on our last morning, we stopped for a few minutes to gaze at the horses and cattle grazing on the open range. Our weekend of cowboy adventuring behind left our legs sore, but our souls restored.
If you go: The Rockin' R Ranch is open year round, but some activities are seasonal. The reasonable rates ($135/night per person for quad occupancy) are offered as full amenity packages: room, three meals, and most activities included. For reservations contact: (801) 733-9538 or visit www.RockinRRanch.com.
By Aly Wagonseller
There's nothing quite like an island vacation. Sandy beaches, tranquil breezes and the majestic expanse of ocean blue summons us to relax and exhale the troubles of daily life. Living in the desert, we often think that getting our island fix requires at least a week's vacation time, not to mention a bankroll of Franklins to fund the pricey necessities of airfare, lodging and car rental. But an easy four hour road trip on the I-15, coupled with a scenic one hour boat ride off the Pacific waters of Long Beach, lands us a doable weekend island retreat with amenities, scenery and attractions that rival those of other popular tropical destinations. Catalina Island, California delivers all that an island resort has to offer, with the added charm of small town local flair.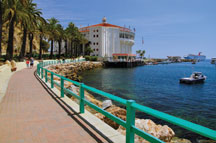 Take a Walk on the Tourist Side
Upon disembarking the Catalina Express Ferry into the island's main city port of Avalon, you'll find yourself on Pebbly Beach Road, where the familiar bustle of tour guide junkets and golf cart rentals (the main mode of transportation on the island) beckon. Here you'll find information on dolphin and sea lion excursions, parasailing, island jeep tours, snuba, scuba and snorkeling adventures, glass bottom boat and submarine rides, and even a Taste of Catalina food tour. Zipline excursions and a rock climbing wall satisfy the need for adrenaline, while a tour of the Catalina Casino (put your chips away, there's no gambling here) provides insight into days gone by, when big band icons such as Tommy Dorsey and Guy Lombardo played for local dancers.
Soon you'll be meandering onto Crescent Avenue, the main drag of restaurants, retail shops and theme bars. Undergoing a transformation of sorts due to revitalization efforts by the Santa Catalina Island Company, you'll see an eclectic mix of genres, from the upscale wine bar and polished facades of the newer Pavilion Hotel or Bluewater Grill, to rustic island mainstays like Steve's Steakhouse, Luau Larry's and the Catalina Cantina. If you're lucky enough to sip a cocktail at one of the Cantina counter seats facing the beach, you're sure to spy visitors donning identical wicker hats, a sign that one of Larry's Wiki Whacker drink specials has just been consumed. It's all part of the Catalina boardwalk charm! Across the way on Catalina and Crescent sits the town's iconic Green Pleasure Pier, where a trip to Eric's on the Pier is a must. Having served locals and tourists since the 1930s, Eric's hotdog-atop-a-hamburger concoction known as the Harvey Burger is a Catalina institution. Fishing is a favorite pastime on the Pleasure Pier with bait and pole rentals available, while a visit to the Chamber of Commerce office across from Eric's can help you garner info on island history and points of interest.
Strap on your sandals, then head past the Casino and around the mountainous bend to the Descanso Beach Club. Recently updated to reflect modern resort island standards, Descanso houses exclusive cabana and chaise lounges in a secluded beach setting that rocks the day away with music, food and cocktails. In the midst of a walk up bar with beachside seating, there's wireless Internet service for those who refuse to disconnect, and paddleboard and kayak rentals for those who wouldn't have it any other way. Regardless of where you choose to hang out, drink and eat in town, almost everything in Avalon is mom and pop (not a Bubba Gump's in sight) – a detail that adds appeal and authenticity to what this island community is all about.
Choosing the Path Less Traveled
While there are tons of mainstream things to do on the island, venturing off the beaten path might be more your cup of tea. If so, there are a host of local purveyors willing to help you experience the Catalina they intimately respect and love. The Catalina Island Conservancy protects 90 percent of the island's land and is your best opportunity for viewing the interior wild and plant life and discovering history associated with Catalina's past. Offering eco jeep tours from two hours to all day, their experienced guides drive you through the back roads behind the glitter of Avalon. You'll see majestic bison and bald eagles in the wild, learning how they got there and what's been done to help them survive and flourish. Drive along steep mountain roads originally built for stagecoach use by the then sole owner of the island, chewing gum magnate William Wrigley, as you garner folklore associated with the wealthy family and the development of the area and see modern day horse ranches and vineyards still owned by the Wrigley family. View lookout towers used during World War II, then make time for a stop at the "Airport in the Sky," Catalina's working airport and restaurant where celebrities who frequently visit the island can be seen eating lunch when they arrive. Visit www.catalinaconservancy.org for reservations.
If it's a secluded beach outing you're looking for, check out the Ultimate Beach Adventure offered by Catalina Coastal Tours (www.catalinacoastaltours.com). For only $115.00 half-day rate or $150.00 full, you'll enjoy a scenic boat trip to the expansive, sandy beaches of White's Landing, a sheltered spot up the coastline from Avalon. A rustic camp with a mess hall facility, bathrooms and showers, you can hike up Crow's Nest for scenic views of the bay, paddleboard in the protected cove, or snorkel and kayak around the shoreline. You can also enjoy a lunch or dinner that's filling and plentiful without being too fancy. For the same price as a crowded boating tour, you get a bargain private beach outing with time away from the crowds.
Staying on the island presents diverse choices, from upscale hotels and condos to home and cottage rentals. The Old Turner Inn offers a perfect bed and breakfast experience hosted by local owners with centuries-old ties to the island. A lovely, historic home that's exceptionally clean and comfortable, the inn's rich island history is conveyed in photos of family and celebrity friends such as June Lockhart and also by the proprietor's ninety-six year old father, who often visits during wine and cheese hour to tell stories of Catalina folklore. They know everything there is to know about dining, excursions and the best massage therapists in town, and are willing to go the extra mile to make your stay exceptional. Be sure to try Kathleen's homemade Catalina Granola, and remember to come hungry for their delicious breakfast. Visit www.oldturnerinn.com for reservations.
An enchanting island getaway doesn't have to eat up valuable vacation time. Whether it's a romantic escape with your spouse or family fun time on short notice, Catalina Island is the perfect destination to set your mind on island time.
One of a Kind – C.C. Gallagher's
A stand out on Catalina's Crescent Avenue, C.C. Gallagher's Café is an eclectic eatery, wine and coffee bar with a twist. Owner Pamela Miller, who grew up on Catalina then travelled the world only to return to her beloved island, brings a special artistic flair to Gallagher's. Serving fusion sushi, rustic grilled cheese, Panini sandwiches and focaccia pizzas made with gourmet artisanal ingredients, the café is also well known for their selection of decadent desserts and gelato. A coffee house by day, and a wine, Champagne and craft beer tasting room by night, C.C. Gallagher's surrounds visitors with a tasteful selection of handmade jewelry, artwork and home furnishings all available for purchase. A wine and Champagne vault rounds out the space, making C.C. Gallagher's a must visit spot on the island.
By Susan Somers
It's hard to think of a better vacation spot than San Diego. America's eighth largest city is known for its miles of beaches and near perfect weather year round, particularly in the summer when the average temperature hangs around 75 degrees. But when it's time to plan your family summer getaway, it's also important to consider how family friendly your destination might be. While urban settings may not always be a perfect fit, San Diego stands apart from the pack by offering a wide range of exciting activities, ensuring a season full of fond memories for all involved.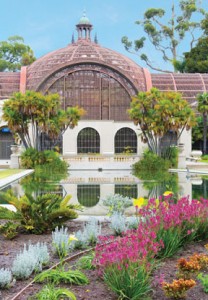 Parks and Recreation
One of the city's most famous destinations has to be Balboa Park. Situated on 1,200 acres, it's the nation's largest urban cultural park, offering a full complement of major museums, lush gardens, unique performing arts venues and one of the most famous zoos in the entire world.
Science and Nature
Budding scientists will want to check out the Reuben H. Fleet Science Center (www.rhfleet.org). With over one hundred interactive science exhibits in eight galleries, traveling exhibits and the world's first giant IMAX® Dome Theater, kids and families can nurture their love of science and enjoy giant screen films and amazing planetarium shows. A motion simulator ride will thrill smaller visitors with journeys into exciting realms. Exhibitions include Origins in Space, which details the scientific accomplishments and technological spinoffs that have resulted from NASA missions, while the Tinkering Studio will spark creativity with activities such as making origami and Spirograph artwork or creating digital bling using a variety of colorful LED lights.
Nature aficionados will love the San Diego Natural History Museum (www.sdnhm.org). Bug enthusiasts can meet Madagascar hissing cockroaches, zebra tarantulas and emperor scorpions at the Dr. Entomo's Palace of Exotic Wonders exhibition. The Dino Jaws exhibition will take you back in time to a world populated by dinosaurs, where you can even touch real fossilized dinosaur poop. The smallest dinosaur lovers can enjoy Camp-O-Saurus, a special play area that features a campground with a dinosaur's nest to play in, robotic butterflies and a "Campfire Pit."
Meditation Vacation
Once you've had your fill of the museums, you can help your little ones get their Zen on with a trip to the Japanese Friendship Garden (www.niwa.org). The Garden originated as a teahouse during the Panama-California Exposition of 1915–16 and now sits on two acres near the Spreckels Organ Pavilion. Wander the peaceful paths and take in the relaxing atmosphere as you explore a Zen garden for meditation, an exhibit house, a koi pond, a bonsai exhibit, a ceremonial gate and a beautiful Fujidana (wisteria arbor). Be sure to check out the Handcrafted Journeys exhibit, on display through July 28th, which chronicles the evolution of Japanese-American woodworking and features pieces from local collections and stories that go with them.
Wild Kingdom
For the animal lovers in your vacationing brood, carve out some dedicated time to visit the world famous San Diego Zoo (www.sandiegozoo.org). The 100 acre park is home to more than 4,000 exotic, rare and endangered animals from over 800 different species. From giant pandas from China to orangutans from Borneo and Sumatra, you and your "pack" will be transported to the most colorful habitats in the world. Africa Rocks is home to the zoo's five big cat species: mountain lion, snow leopard, jaguar, Siberian lynx and Chinese leopard. The Asian Passage takes you through a tropical rain forest with sun bears and lion-tailed macaques. Don't forget to ride the Skyfari tram for a bird's eye view of the nation's most amazing animal kingdom.
On the Waterfront
No trip to San Diego would be complete without taking in the fresh maritime air. Head south from Balboa Park to the East Village area that houses Petco Park (www.petcoparkevents.com), home of the San Diego Padres baseball team. Plan ahead, check out a game schedule and pick up your tickets so you can watch the boys of summer take the field. For the littlest fans, the adjacent Park at the Park offers playground equipment and a miniature baseball diamond fit for pint sized sluggers. Young ones can also sign up for the Jr. Padres Baseball Clinic or attend Sunday Signings to meet some of the players. True baseball addicts can go behind-the-scenes with a VIP guided tour of Petco Park, a must for any Major League Baseball fan that includes a tour of the Writer's Row press box, the Padres dugout and the historic Western Metal Supply Company.
If just being near the water isn't enough, aqua-loving families can rent out a boat or WaveRunner or take a scenic whale watching tour, all of which can be procured through Seaforth Boat Rentals (www.seaforthboatrental.com). For a unique twist on a traditional sightseeing outing, book a seat on the fully narrated San Diego SEAL Tour (www.sealtours.com), an amphibious sea and land adventure with a "Boat on Wheels" that cruises the San Diego streets as a bus, then turns into a Hydra-Terra vessel that tours the San Diego Bay. Younger sailors will delight in learning about San Diego's military history and ecological wonders and may even spot a California sea lion.
Shop, Snack & Sleep
It's not a vacation if you and the family don't take some time out to indulge yourselves. Pay a visit to Seaport Village (www.seaportvillage.com), a family friendly complex situated on the San Diego Bay. Accented by lush landscaping, Seaport Village offers over fifty boutiques and specialty shops that range from casual to quirky. All that touring around is bound to have made you hungry, so take time out to sample some homemade fish tacos while enjoying live blues, jazz, country or swing. If you like to dine alfresco, Buster's Beach House & Longboard Bar provides a laid back menu that includes sushi, soups and chowders, sandwiches and more against a waterfront backdrop. After your meal, stroll the boardwalk with the family or wander the cobblestone paths to check out the variety of street performers and artisans that provide free roaming entertainment. The younger set will especially enjoy a ride on the historic carousel.
After a long day in the sun, you'll be ready to rest your weary head. One of the best family friendly lodging options is the Hilton San Diego Bayfront (www.hiltonsandiegobayfront.com). Located a short walk from Seaport Village and just across a pedestrian bridge from Petco Park, the hotel recently underwent a multi-million dollar remodeling of its pool and lounge areas. Little ones will make a beeline for The Splash Zone, a kids-only pool and waterslide where youngsters can swim, slide and play with the hotel's water toys. For more youth oriented fun, kids can also plan their own activities through the Hilton's Kids Club, where they can spend part of their lazy summer days creating sand art by the pool, designing cupcakes and much more.
For summer destinations, San Diego has everything you could want and more. Whether you're a grown up looking for something fun to do or a young one who's eager to explore exciting new things, this is one vacation spot that's got plenty of good times in store for the whole family.
By Heather Turk
Winter in Las Vegas means you never have to worry about getting snowed in. But what can you do if you're a ski enthusiast and want to hit the slopes? The answer may be closer than you think. Located roughly an hour from downtown Las Vegas in the Humboldt-Toiyabe National Forest, the Las Vegas Ski & Snowboard Resort is the perfect place to escape after the busy holidays with over 240 inches of average snowfall per year and 250 acres of gorgeous mountain terrain.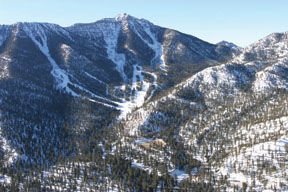 Given its proximity to the city, ski and snowboard aficionados don't have to worry about travel costs or giving up an entire weekend, as you can enjoy a leisurely day in the Spring Mountains and still be home in time for dinner. Best of all, thanks to the approval of a $35 million Master Development Plan by the Humboldt-Toiyabe National Forest Service, you'll find plenty of new lifts, trails and other features to create a fresh experience for even the most seasoned visitor.
Face Lift
Many of the resort's recent cosmetic changes were implemented to coincide with the property's fiftieth anniversary, bringing a fresh new look as a celebration of longevity. The most impressive development in visitors' eyes are likely the sixteen new intermediate and advanced trails that have been introduced—two during the 2011/12 season and fourteen for the historic 2012/13 anniversary season—bringing the total number of trails at the resort to thirty. No matter what your level of skill, from beginner to advanced, you'll find a run here to suit your needs and send you off on an exhilarating winter sports adventure. Single day lift tickets cost $50 for adults ($60 on weekends and holidays), with half day, multi-day and season pass pricing available as well.
The improvements aren't exclusive to the ski runs themselves, either. One of the resort's older chairlifts was recently demolished and replaced with a brand new, energy efficient Doppelmayr Eco-Drive quad chairlift to dramatically increase the uphill capacity to the resort's learning area. The old chairlift had been transporting eager skiers to the Rabbit Peak trail for the past thirty years, so it seemed a natural area to make some renovations, not to mention some big expansions. The new Rabbit Peak quad lift, completed in mid-December, is not only realigned to allow for easier loading and unloading access to the beginner terrain, but will also serve as the main access from a new parking lot and base lodge being built over the next several years.
While you're out having fun on the ski trails, you can rest easy knowing that your possessions are safe and sound, as the resort recently reallocated its locker space in the main lodge. Forty new lockers were added, and the old ones were all replaced. This makes a total of 140 lockers available to rent seasonally, with a new door that requires a keypad code for access to the locker room. All in all, the new set up offers security and convenience to any visitors worried about their valuables. After all, what fun is a ski trip that leaves your personal effects out in the cold?
With all the changes taking place, everything old is new again, but ski runs and chair lifts are just the beginning. The significant improvements made to the Las Vegas Ski & Snowboard Resort are just the first stages of a major, long term transformation. According to president and general manager Kevin Stickelman, guests can expect to see something new every year for the next ten to twelve years, everything from additional trails to expanded parking, as the resort endeavors to attract more kids and families.
Mountain Munchies
Skiing has long been known for offering great exercise, and a trip down the slopes is sure to help you work up an appetite. For the first time ever, you don't need to go all the way down the mountain for a quick bite to eat. You can satisfy those hunger pangs by slaloming on over to the new on-mountain grill  that opened in late December at the junction of the Bimbo and Flying Home ski runs. Open on weekends and holidays, the grill provides skiers and snowboarders alike with the perfect place to refuel, offering fresh made grilled items, soft drinks and even beer.
The Bighorn Grill, located on the upper floor of the resort's main lodge, has also been "totally gutted," featuring an entirely new kitchen and dining area. Whereas diners were previously given disposable utensils with their meals, the grill now features reusable china and glassware thanks to a new dishwasher on site. These changes help complement the grill's new and healthier menu offerings, including fresh made pastas such as shrimp scampi and an assortment of hot and cold sandwiches, soups and pizzas. Popular dishes include the chef and chicken Caesar salads and tasty breakfast burritos. Every meal is a perfect fit for any aspiring king of the mountain.
While the resort typically closes its gates for the winter season around mid-April, it reopens during the warmer summer months for disc golf, scenic chairlift rides, a summer concert series and other seasonal activities. You may even be lucky enough to spot some indigenous wildlife. There's always year round fun for the whole family, but for the best experience you can get, make the Las Vegas Ski & Snowboard Resort your hallmark winter destination this season.
For more information, including additional tips for newcomers, visit www.skilasvegas.com.
By Aly Wagonseller
There's something satisfying about slowing down. Taking time to notice the beauty in nature, architecture, the people around you. A time for relishing every breath without cluttering your mind with technology, office politics or being late to your next commitment. Our friends and family who vacationed in the late 1800s and early 1900s had it down. No Space Mountain or 3D motion machines. All they needed was a beautiful beach with an island-like atmosphere, a stimulating book or conversation, and the opportunity to explore. Times certainly have changed, but with destinations like Coronado, California  you can still take that step back in time.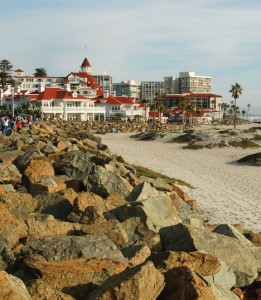 Back in the Day
Much of the allure and charm of today's Coronado is attributed to a rich history of vision, hard work, bail outs, comebacks and of course a bit of scandal. Raised from a barren, desert-like neck of land where gentleman folk used to hunt jack rabbits for sport, the peninsula's makings embodied the same entrepreneurial spirit of present day development icons. Elisha Babcock and Hampton Story, yesteryear's Donald Trump and Steve Wynn, envisioned a posh resort and exclusive community of beach homes lining the beautiful sands along the Pacific, yet ran out of money in the process. Wealthy sugar magnate John Spreckels shared in their vision and had the money to see it through, finishing what is still the most iconic structure on this islandesque destination, the Hotel del Coronado resort.
A beautifully designed, wooden Victorian beach resort, the Hotel Del was the hub of wealthy vacationers, presidents and international dignitaries in the late 19th and early 20th centuries and is said to be where Wallis Simpson first worked her abdication worthy charm on Edward King of Wales. Lavish ballrooms, lookout points, boardwalks, bountiful gardens and eating facilities still exist in impressive condition, their wooden finishes and innovative peg and glue construction a fascinating point of interest. Catch a glimpse into the dream vacation of the past as pictures throughout the resort portray the hotel's construction, the lives of the rich and famous and a modern day "glamping" development called Tent City where middle class vacationers summered in elaborate tents over a span of forty years.
As a tribute to its roots, the Babcock, Story and Spreckels names are prominently honored throughout the peninsula, branded on everything from gift stores to a lovely park that remains the center of a community whose historical buildings and character are ardently protected by its residents.
Getting the Experience
Though well steeped in history, there are plenty of modern day things to do at Coronado. Unique shops and trendy restaurants dot the city side of the bay off 1st and Ocean Blvd, where ferries run to and from San Diego, and a fabulous view of the Coronado Bay Bridge can be seen along the water front. You can rent bikes and book a riding tour of the 7 mile island loop, play golf, kayak or hop on a Segway and tool around the terrain. For something more romantic, take a sunset gondola ride in the beautiful Coronado Cays. But if slowing down, taking in the moment and enjoying a vacation free of contemporary distractions is your goal, it's time to head to the opposite side of the city.
1906 Lodge
While the Hotel del Coronado was the impetus for the resort destination's popularity, other lodging choices provide a private and personal opportunity to experience a local perspective on Coronado's culture and history. No place exemplifies old school hospitality coupled with a commitment to preserving the architecture of Coronado more than the 1906 Lodge, located at 1060 Adella Avenue (619-437-1900). Built as a boarding house that fell into disrepair, the structure was painstakingly restored by four local couples bound by stringent regulations to keep the historical restoration guidelines of the area intact. Reintroduced as a bed and breakfast, the property is located in what feels like an old fashioned neighborhood, far enough from the main drag but within walking distance of the Hotel Del, the main beach, a variety of restaurants and other points of interest.
The vibe of the 1906 is relaxed, social, quaint and homey, yet indulgent when it comes to hospitality and attention to detail. Each evening, they offer wine and cheese tastings in their parlor filled with period furnishings, where guests can mingle and chat about daily activities or peruse a variety of books about the area's history. Seventeen individually designed rooms are available, many surrounding a beautiful courtyard with seating areas, a water feature and gardens that are perfect for decompressing. Morning breakfasts are served in a common area dining room beautifully designed with an antique flair, offering gourmet selections that included an orange stuffed French toast served with berry coulis that rivaled the best restaurants in San Diego. It's also nice that someone is always on hand to answer questions about local happenings and good eats that lie off the beaten path, as well as fill you in on the community's rich past. Other accommodations in the area can be found at www.coronadovisitorcenter.com.
Touring Coronado
Coronado residents are very proud of their heritage and community, enthusiastically sharing their love of this little peninsula via several tours and designations. If you choose to walk the city on your own, you'll notice several homes displaying metal signs declaring that naval aviators associated with the nearby Naval and Seal Training base have lived there, or currently still do. Others proudly display a paper ribbon for having the best flower gardens or landscaping, an award coveted by both business and residential property owners.
A variety of scheduled tours are also readily available, running year round and hosted by several different organizations dedicated to the preservation of the island-like surroundings. Headed by the Coronado Historical Association, the Hotel del Coronado Tour ($15.00) provides a glimpse into the construction of the hotel while elaborating on little known facts about the lives and scandals of visitors from the past. Reservations can be made by calling 619-437-8788. For architecture lovers, a Promenade Through the Past walking tour meets at the Museum of History and Art on Wednesdays at 2 pm. Participants meander throughout the downtown district, viewing iconic Victorian and California inspired homes and buildings, while learning the stories behind the façade. Call 619-437-8788 for reservations.
Arguably the most well rounded and entertaining tour is the Coronado Walking Tour ($12.00) which begins at the Glorietta Bay Inn, the former home of John Spreckels. This 90 minute tour covers everything Coronado, from stories of the Hotel Del to up to date information on the amazing beach houses that line the boardwalk, and even a stroll past the bright yellow home where L. Frank Baum penned The Wizard of Oz. Call 619-435-5993 for information.
The Beach
No visit to Coronado would be complete without spending a lazy day on the spectacular white sand dunes of Central Beach. Located adjacent to the Hotel del Coronado, the beach runs more than a mile long and has been touted as one of the best spots of its kind in the country. A boardwalk provides convenient access, with areas for surfing and dogs designated along the way.
We can learn a few things from vacationers of the past. There's not always a need for speed, elaborate graphics and high tech gadgetry to enjoy a fun retreat. Sometimes it's entertainment enough to simply unplug in a beautiful and thought provoking destination filled with warm people, gorgeous surroundings and a rich history of those with vision far beyond the day at hand.
By Lindsay Minor
As much of the country spends summertime camping out and enjoying the warm days and breezy nights, many of us here in southern Nevada simply look for ways to stay cool. Believe it or not, you'll find several camp sites just a morning's drive from our city where you can enjoy nature and spend some family time creating treasured memories without worrying about heat stroke. Break out your camping gear and head to these spots for some fun in the great outdoors!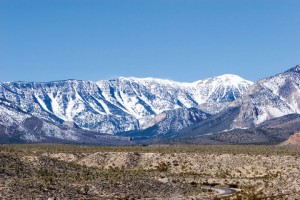 On the Mountain
One of the most popular camping areas within driving distance is Mount Charleston, where you can breathe in the clean mountain air while roasting weenies or hiking a trail with your troops. With temperatures that average at least twenty degrees cooler than the valley floor, it's the ideal place to escape the desert heat. Mount Charleston's campgrounds include Kyle Canyon and Fletcher View (both off Kyle Canyon Road), Hilltop (on Deer Creek Highway, which connects Kyle Canyon and Lee Canyon Roads) and Dolomite and McWilliams (both off Lee Canyon Road, near the ski resort). Each varies in size with anywhere from 15 to 40 plus camp sites.
Part of the Spring Mountain Range and the Humboldt-Toiyabe National Forest, Mount Charleston's views can't be beat, especially if you decide to take a hike through the majestic canyon scenery of Mary Jane Falls. If you want a break from campfire cooking, visit the legendary Mount Charleston Lodge for good grub and picturesque vistas. Even though it's summer, don't forget to pack warm clothes. Daytime average temperatures may run in the mid-to-high 70s, but it can drop down well into the 40s at night. Make sure you call ahead as reservations for any of these Mount Charleston campgrounds are recommended, but you should only need advance notice of five days. Call (877) 444-6777 or visit www.recreation.gov for info.
State Parks
While Mount Charleston may be close by, you'll find more camping gems just a few hours outside of town at some of Nevada's State Parks. Aside from the details offered here, you can find more info on amenities, recreation, climate and more by visiting www.parks.nv.gov.
Echo Canyon
For a wide range of fishing opportunities and water activities, check out Echo Canyon State Park near Pioche, where beautiful rocky outcrops and cliff walls adorn a land once populated by the pre-Columbian Fremont culture. Located just a three hour drive northeast of Las Vegas, Echo Canyon offers a 35-acre reservoir and boat launch to go along with its camp sites. Fishing in the reservoir, by boat or along the shore, may earn you a nice rainbow trout or large mouth bass. Wildlife includes waterfowl, deer, eagles and much more, while the abundant water helps maintain vegetation that includes juniper, pine and cottonwood trees that are perfect for shade.
If you're more of a landlubber, take a hiking tour of the scenic Ash Canyon Trail that runs 2.5 miles on a 300 foot climb into the backcountry. The path heads up to the valley rim, then descends along the steep canyon walls. With summer temperatures averaging in the mid-80s and lows typically in the mid-50s, the weather is perfect for some outdoor exercise. Bring your bike for some added fun! Once night falls, you can roast marshmallows, take a walk with the kids and gaze at stars galore for a fun family evening. Echo operates on a first serve basis, but with 36 camp sites and room for overflow, there's no need to worry. Call (775) 962-5103 for info.
Beaver Dam
Keep your eyes peeled for animals at Beaver Dam State Park, a designated Watchable Wildlife Area located just a few miles northeast of Caliente, about three hours outside of Las Vegas. You may be lucky enough to spot turkeys, fox, deer, herons and even the namesake beavers, though the latter are mostly nocturnal. The streams are stocked with rainbow trout by the Nevada Department of Wildlife, so you're bound to find plenty of good fishing as well while you set up camp under the shady trees. For those with more of a taste for the human side of things, the remnants of the 19th century Hamblin Ranch settlement are enough to engage any history buff.
To get your blood pumping, hike up Overlook Trail for a stunning 360-degree view of the park from a high vantage point or enjoy more fishing along Oak Knoll Trail. You may want to dress light for a daytime hike with temps reaching into the mid-90s, but you'll cool off at night as it hits around the mid-50s, perfect for enjoying some fresh grilled trout on the camp stove. There are only 30 camp sites available, but the park is usually not busy and officials claim you don't really need a reservation. But just in case you want to plan ahead, call (775) 728-4460 for info.
Kershaw-Ryan
Solitude reigns at Kershaw-Ryan State Park, located two miles south of Caliente. With only 15 camp sites, you won't find any maddening crowds here. Nestled among steep canyons with natural springs, Kershaw-Ryan offers a perfect oasis in the desert. Picnic tables, fire pits and a playground for the kids provide all the perfect amenities with impressive oak trees casting just the right amount of shade for a game of horseshoes or volleyball. Hawks fly overhead during the day and you may hear coyotes or even see owls at night. A hike above the canyon on Overlook Trail makes for great photo opportunities, but watch out for rattlesnakes in the summer.
As Nevada State Parks boasts, "Early settlers in the area cultivated a garden of grape vines, fruit trees and a grass lawn surrounding a spring-fed pond, providing a beautiful contrast to the rugged landscape." The panoramic sights are complemented by temps that run about twenty degrees cooler than Las Vegas, and while highs can still reach the 90s, it beats the 100-plus readings you'll find in town. Things will cool off at night as well, with temps dipping down into the mid-60s. Reservations are not required, but you can always feel free to call (775) 726-3564 for info.
Whether you want to enjoy an energetic hike, spend a fun afternoon fishing or just relax in the beautiful outdoors, Southern Nevada has plenty of great campgrounds to fit the bill. The chance to get away from it all is never better than during those hot summer months; just don't forget to plan ahead, dress accordingly and keep an eye out for important weather updates so you can
By
Mike Sweeney
Southern California has no shortage of gorgeous beach communities. Take a drive along the PCH and you'll find enough panoramic views to fill an entire rack of postcards. During your cruise with the top down, plan for a stop in Laguna Beach, where you'll find more than just sand and surf. There's a thriving arts community hiding in plain sight here beneath the California sun, a world where age old masterworks and modern creativity come together in living color.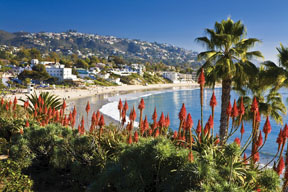 Masters of Fine Arts
Long known as a haven for artistic types from all walks of life, Laguna features one of the best art scenes on the California coast, culminating at the annual Festival of the Arts, which runs this year from July 1st – August 31st. The festival revolves around the stunning Pageant of the Masters, where recreations of classic and contemporary works of art are brought to life with real people in a vivid display of imagination. Watch in awe as famous paintings by Leonardo da Vinci, Norman Rockwell, Vincent Van Gogh and more turn into "living pictures" before your eyes, taking the idea of "performance art" to new levels of inspiration and creativity.
Purchasing a ticket for the Pageant also earns you free admission to the festival's ongoing art exhibition, where paintings, photography, sculpture, jewelry and more go on display just blocks from the ocean for casual viewing and for purchase. Stroll through the outdoor gallery as you browse through all the best art the festival has to offer. You can also take part in workshops, daily tours, live music and hands on demonstrations in everything from printmaking to ceramics and more. For more information on this year's Festival of the Arts, visit www.foapom.com.
Pardon Our Dust
If you still haven't had your fill of the Laguna Beach art scene, be sure to check out the Sawdust Art Festival, which runs from June 29th – September 2nd. Shop along sawdust covered paths through a handcrafted village as you peruse the work of over 200 local Laguna Beach artists in all media, including hand blown glass, jewelry, ceramics, painting, surf art, textiles and more. The festival also offers art classes every Friday and Saturday, where you can create your own art piece in the Sawdust Studio in one two-hour session. You'll also find plenty of food and drink and live entertainment on three outdoor stages, along with roving performers that include circus acts and much more. For more information, visit www.sawdustartfestival.org.
Galleries Galore
While you're in town for the various festivals, take time to visit some of Laguna's fine art galleries, many of which are located up and down the scenic Coast Highway. The Fingerhut Gallery (www.fingerhutart.com) highlights work by many famous artists from around the world, including a collection of rare creations from the legendary Dr. Seuss. Peter Blake Gallery (www.peterblakegallery.com) showcases modern and contemporary art from a diverse group of artists in a variety of mediums with a focus on abstraction. Wyland Galleries (www.wyland.com) features the work of Wyland, whose paintings, sculptures and photography bring the world of the ocean and its creatures to vibrant life. For more information on Laguna's many art galleries, visit www.art-collecting.com/galleries_ca_lagunabeach.htm.
Beach Eats
Some of the best culinary hotspots in Laguna Beach can also be found along the Coast Highway. For breakfast, hit up the Koffee Klatch (949.376.6867), a cozy bohemian coffee shop. Plush couches, ottomans and pillows will keep you comfortable while you peruse a wide selection of coffee, tea, espresso and blended drinks to help open your sleepy eyes. Chow down on a delicious egg and cheese croissant, oatmeal with fresh fruit or a plate of scrambled eggs with avocado for a morning treat. Best of all, it's just across the street from the ocean, so grab that coffee and Danish to go and spend your early hours taking in the gorgeous Pacific scenery.
Closer to the Main Beach, you'll find The White House (www.whitehouserestaurant.com), one of the oldest restaurants in Orange County and a pillar of great California cuisine. Eggs Benedict, omelettes and Belgian waffles highlight the breakfast menu, while lunch and dinner offer sandwiches, soup, pasta, salads and entrées that cover everything from baby back ribs to charbroiled Atlantic salmon. Portions are plentiful, so your chances of walking away hungry are slim to none. Right next to the dining room, you'll find a lounge bar with a dance floor, where you can hear live music seven nights a week and keep the party going well into the wee hours.
For a dash of elegance, make a reservation at French 75 (www.french75.net) for dinner. Nestled inside a country cottage, French 75 offers a modern take on French bistro fare in a romantic, intimate setting. Appetizers such as foie gras and shucked oysters will start your evening off right as you segue into main courses that include Bacon Tomato Mussels, Filet Mignon au Cognac and Roasted Maple Leaf Duck Breast. Choose from many a la carte side dishes as well such as mac and cheese with manchego and chorizo or their signature pommes frites. With live entertainment several nights a week and special events that include everything from wine tastings to Sunday brunch, French 75 brings a touch of class to the seaside scene.
Bunking Down
If you're looking for a rustic, old fashioned place to hang your hat at the end of your day, check in at The Carriage House (www.carriagehouse.com). This pastoral bed and breakfast was built in the 1920s and features six two bedroom suites, each decorated with its own unique theme, including Lilac Time and Green Palms. Enjoy a family style breakfast in "Grandma Bean's" dining room or lounge in the courtyard instead as you sample granola made from scratch and other home cooked recipes. Filled with colonial charm and located within convenient walking distance to the beach and local hotspots, The Carriage House is the perfect ocean getaway.
For something more quaint, try the Manzanita Cottages (www.manzanitacottages.com), where old California charm and modern comforts come together for a cozy beach experience. Choose from one of four private cottages, each with its own exclusive furnishings and décor. All come fully equipped with a kitchen, dining room, king size bed and the usual relaxing amenities of home. Secluded and hidden away in a storybook setting that includes floral gardens and an elegant courtyard, Manzanita Cottages will keep you away from the tourist hubbub when you want to unwind while still providing easy access to all the excitement Laguna has to offer.
A luxurious escape from the everyday world awaits at Montage Laguna Beach (www.montagelagunabeach.com), known for its elegant suites and beach bungalow style rooms that hearken back to the early days of the Laguna arts movement. Take a walk down to the shore and wade in the ocean or gaze out across the Pacific while enjoying a relaxing soak at Spa Montage. And if that doesn't cure your ills, head back to your room for a nap on your feather top bed while you fall asleep to the cool ocean breeze. No matter what kind of vacation experience you have planned, Montage has all the tools you need to spoil yourself.
Laguna Beach may be known for its sand and surf, but its artistic side is what truly makes it shine. Where else can you explore the works of master painters, shop for homemade jewelry and then run across the street to enjoy some of the most beautiful ocean views in the world. Life may be a beach in Southern California, but thanks to Laguna, it's a creative and inspiring one as well.
By Jenna Vandenberg
As I pull off the interstate and cruise into Winslow, Arizona, it seems fitting to have "Take it Easy" by the Eagles blasting from the car stereo. That catchy tune about a man "standin' on a corner" who catches the eye of a young woman in a flatbed pickup truck may be the only time many people have heard the name of this little town. But a quick look around reveals that there's a charm, history and personality to Winslow far greater than the classic rock lyrics might suggest.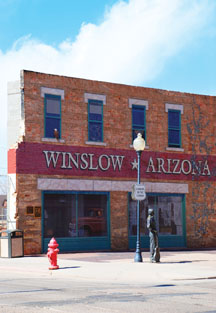 Standin' on the Corner Park
I head downtown to the famed corner of 2nd and Kinsley, where the official Standin' on the Corner Park features a mural of the truck-driving woman checking out a statue of that lonesome guitar-playing man. Across the street at the store of the same name, I trace my finger along a map of famed Route 66, still humming that Eagles song in my head. It's as good a place as any to check out all that Winslow has to offer.
A short stroll down Kinsley Avenue leads to the Old Trails Museum (www.oldtrailsmuseum.org), which offers an on-site reading room and an impressive collection of historical photos. Here you can explore life in Winslow through the ages, from the heyday of the Santa Fe railroad to Native American trade routes and much more. You can even view pictures of the famous La Posada Hotel – then head down the block to pay them a visit in person.
La Posada Hotel
This railroad station turned classic hotel has some of the most reasonably priced luxury rooms in the southwest. Originally built in 1929 by hospitality mogul Fred Harvey and architect Mary Elizabeth Jane Colter, the hotel operated until the late 1950s, after which the rooms were downgraded to office space. Allan Affeldt purchased and renovated the building in the 1990s and soon re-opened the property as a working hotel that now houses several museums and galleries. He even hosts a documentary film about the restoration, which you can view just off the lobby.
On site museums house the works of Affeldt's wife, Tina Mion, and a collection of sculptures by Dan Lutzick, the hotel's general manager. Mion's pieces cover a wide range of topics, from celebrity suicide to the wives of American presidents, while Lutzick's sculptures transform found materials such as broken lamps and old plywood into vibrant southwestern displays. In addition, the lobby holds a diverse collection of antique furniture and Native American art. You don't have to be a hotel guest to explore the galleries and stroll around the gorgeous environment, but if you'd like to make a room reservation, call 928.289.4366 or visit www.laposada.org.
The Turquoise Room
Once you've toured the grounds at your leisure, don't pass up a tasty bite at La Posada's Turquoise Room. This award winning restaurant takes culinary cues from its southwest location and nearby native cultures. The piki bread with Hopi hummus is an authentic local delight that hails from the nearby town of Second Mesa, the hub of the Hopi Indian Reservation. Hopi women have been making this delicacy for thousands of years by mixing blue corn meal and the ash from juniper bushes with water, then baking on an oiled stone to create a distinctive treat.
Chef John Sharpe, a veteran of L.A.'s upscale restaurant scene, uses mostly Northern Arizona produce and stays involved in the local and sustainable food movements. His tomato salad features goat cheese from Black Mesa Ranch in nearby Snowflake, a site committed to humanely raising free range Nubian goats, which results in fabulous fresh cheese. Check out the ever-evolving menu at www.theturquoiseroom.net, and call ahead for reservations at 928.289.2888.
Homolovi Ruins State Park
For a taste of history that goes back even further, head five miles north on Highway 87 to visit the Homolovi Ruins State Park, whose name derives from the traditional Hopi term for Winslow. This "place of the little hills" preserves ruins of the ancestral Hopi people, also known as the Anasazi. The short drive out to the pueblo site offers a scenic look at the vast desert landscape. Visit just before dusk to watch the distant red mesas turn purple with the setting sun.
Though the site was abandoned in the 1400s, it remains sacred to the Hopi people, which gives the area a sense of quiet reverence. Scholars presume that this was one of many stops ancient people made as they continued their search for a homeland. Pit houses were first constructed here along the Little Colorado River in 750 AD, only to be left abandoned. Later visitors built massive pueblos with more than a thousand rooms. Travelers can stand inside the remains of these structures and peer over crumbling walls that once sheltered a long vanished civilization.
Evidence of ancient life doesn't stop there. The pathways between pueblo sites are strewn with pottery shards. While these relics may be predictably indicative of the Hopi culture, uncovered samples of foreign pottery suggest that this site was a trading center for people as far away as Mexico and the California coast.I was told I could pick up and examine these artifacts, but that I must leave the park as I'd found it. Removal of ancient treasures such as these can have serious consequences, both on the site's historical value and with local law enforcement.
Park admission costs $7 per vehicle, which includes all related tours. You can also visit the park on your bike for $3 or camp overnight for $18 – $25, which includes the park admission price. Morning tours through the pueblo sites are available on Saturdays throughout March. Call 928.289.4106 to reserve your spot ahead of time and be prepared to walk about a mile.
Clear Creek and McHood Park 
Once you've spent enough time digging through the past, take a break for some outdoor recreation at McHood City Park on the Clear Creek Reservoir, located on the other side of Winslow. The park offers covered picnic spots, a free campsite and launch ramps for kayaks and canoes. With no white water or serious rapids, Clear Creek is ideal for novice paddlers. A trip through the canyon provides gorgeous views of the surrounding rock formations. Experienced climbers can often be seen engaging in deepwater soloing, where they crawl up the sandstone cliffs (sans ropes) and then dive back into the water. As with all river journeys, it's a good idea to call the Winslow Parks Department ahead of time at 928.289.5714 to double check conditions.
Inflatable kayaks can be rented on the way to Winslow in Flagstaff. Canyon River Equipment Outfitters (www.canyonreo.com) provides inflatable canoes (complete with paddles, life vests and air pumps) for $35 a day. The charge only applies for the day you are using the equipment, so feel free to pick up your stuff a day in advance at no extra cost. Summit Divers and Watersports in Flagstaff (www.summitdivers.com) also offers kayaks and canoes and will include a kit to help secure the watercraft to the top of your car. Rentals here start at $45 for the day, though you must return all your gear within 24 hours to avoid extra fees. It's a good idea to call either place several weeks in advance to ensure your reservation.
Back to the Corner
After a day of admiring hotel architecture, exploring tiny museums, kayaking and visiting Hopi ruins, I need a moment to relax, sit on a corner and take in the tail end of a southwest sunset. I head back to 2nd and Kinsley, and as I eat my ice cream cone from atop a park bench, strains of the Eagles' Hell Freezes Over album echo out from the corner store. Winslow residents may get sick of endless rounds of the band's signature tune, but for those of us just visiting, this is takin' it easy at its finest.
 By Mike Sweeney
When most people think of California wine country, it's Napa Valley that comes to mind. Not surprising, given that Napa hosts nearly five million visitors each year and grows enough grapes to fill the Grand Canyon. But if you cruise farther south on the 101, you'll discover the lesser-known but equally delightful town of Paso Robles, an emerging destination for serious wine enthusiasts.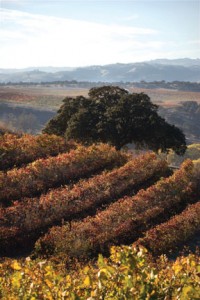 Nestled in the heart of California's beautiful Central Coast, Paso Robles combines a small town vibe with the feel of an upscale resort community to bring you the ultimate vacation getaway. With gorgeous weather, scenic rolling hills and some of the friendliest people outside of Grover's Corners, Paso offers the best in old-fashioned, California-style fun.
In Vino Veritas
With over 200 wineries to explore, there's no shortage of potent potables in Paso. Whether your tastes run to red or white, sweet or dry, there's something to satisfy every palate. Most wineries charge a nominal tasting fee but will gladly waive the cost if you take home a bottle of that must-have pinot. Package tours are always available, but it's a lot more fun to plan your own itinerary.
TIP: Need a designated driver?  Elegant Image (www.elegantimagelimos.com), located in nearby San Luis Obispo, allows you to travel in gold standard limo style while enjoying the day's libations. They'll even include a full picnic lunch for you.  
Celebrity Cellars
One of the most well-known vintners in town is JUSTIN Winery, where you can sample a lion's share of prime vintages while also touring their storage caves. You can even taste wine right from the barrel! A few miles east of town, you'll find the equally renowned J. Lohr. One of the first notable winemakers to put down vines in Paso, J. Lohr offers four tiers of award-winning wines and two exceptional wine clubs. Just off Route 46, you'll find another Paso fixture, Tobin James Cellars. Built on an old stagecoach stop, their saloon-like tasting room and outgoing staff exude a Wild West sensibility.
A Toast to Zinfandel
Paso is perhaps best known for producing zinfandel, with many wineries offering their own spin on this robust variety. Peachy Canyon, owned by the Beckett family since 1988, specializes in estate zins and houses their tasting room in a historic school house. Four Vines Winery, home to self-proclaimed "zin pimp" Bill Grant, rolls out bold zins with fun names such as "Biker" and "Maverick." Zin Alley melds old world tradition with the finesse of modern technology to create elegant yet complex wines.
Down by the Park
Downtown Paso delivers its own eclectic set of tasting rooms surrounding the scenic City Park. Arroyo Robles houses many wonderful varietals and blends, including Emma & Riley's Emergency Relief, named after their two winery dogs. Orchid Hill holds court with private wine and cheese pairing parties and showcases work from local artists. Bear Cave Cellars, run by married couple Barry and Marilyn, pours a magnificent cabernet sauvignon – and if you need some legal advice, the tasting room also doubles as the couple's law office.
For more information on wineries, tasting options and local wine events, including the Zinfandel Festival in March and the Paso Robles Wine Festival held in May, visit www.pasowine.com or www.pasoroblesdowntown.org.
Beyond the Vines
While wine may be their vocation, there's more to Paso than grapes and vineyards. Take a step back in time at the Pioneer Museum, where replicas of the city's first brick-house jail and a collection of vintage farming equipment provide a glimpse into the past. More Old West nostalgia awaits at Harris Stage Lines, where you can take a ride on an authentic stagecoach or enjoy some gourmet cowboy cooking from a real chuck wagon. Pass the biscuits and gravy, partner!
For a dose of Zen to go with your glass of zin, take a relaxing soak at the River Oaks Hot Springs Spa, where the therapeutic waters of natural hot springs melt away the stresses of daily life.   Once refreshed, take some time to explore the area's full range of outdoor activities, from hiking the coastal mountain bluffs at Montana de Oro or boating and water-skiing at nearby Lake Nacimiento. For golf lovers, the Hunter Ranch Golf Course ranks as one of the most scenic courses on the Central Coast.  
The Local Flavor
When you're hungry for a little grub to soak up the vino, Paso has plenty of culinary hot spots to choose from. Panolivo combines traditional French recipes with Central Coast flavors and fresh-baked desserts.  Bistro Laurent throws down reasonably priced soups, salads, pizza and pasta, all with a gourmet twist. For a break from the grape, Downtown Brewing Company offers hearty bar food and a refreshing selection of handcrafted beers.
For something a bit more sophisticated, book a reservation at Artisan, where Executive Chef Chris Kobayashi creates American Bistro fare using fresh seasonal ingredients. From grass-fed beef flatiron steak with cabernet butter to farm-raised rabbit in a pioppini ragu, the food and service never disappoint. Don't miss the gouda and porter fondue with andouille and broccolini, a local legend that lives up to the hype, as well as a fried egg BLT with caper thyme aioli that draws a hefty Sunday brunch crowd.  
 Checking In
Paso offers plenty of traditional hotel options, but if you're looking for something beyond the Marriott, drop your bags at the historic Paso Robles Inn. Built adjacent to the natural hot springs in 1891, you'll enjoy modern comforts with historical flair, including mineral spa tubs available in their Deluxe Spa Rooms. Majestic oak trees, koi ponds and lush flower gardens add to the calming atmosphere. Best of all, it's within walking distance to all the excitement of downtown.
If a bed and breakfast is more your speed, consider a stay at Hollyhock Farms in nearby Templeton. There's a quaint cottage for two or a larger bungalow that sleeps four, both offering a down-home slice of country comfort. Your hosts Dick and Kim Rogers rustle up a farm-fresh gourmet breakfast, plenty of good conversation and unparalleled hospitality.  Feel free to tour the grounds and visit with their diverse menagerie, including Valentino the Jacob sheep and Twitch the cat, the latter of which makes his home just outside the bungalow.
For more information on dining, lodging and recreation options, or to download a free copy of the Paso Passport Visitor's Guide, visit www.travelpaso.com.
The slower pace and smaller crowds of Paso Robles are sure to beckon both seasoned and emerging wine enthusiasts alike. But even if you fail to pop a single cork, the delicious food, unique culture and scenic backdrops are sure to provide a memorable weekend escape.
Orange Thyme Pancakes
Be sure to make a special request for these fantastic pancakes while lodging at Hollyhock Farms. If you just can't wait until you get there, Dick and Kim share this version of the recipe. Dick adds, "The secret is not to get the griddle too hot and to make the mixture quite loose so the pancakes flatten out on the griddle. Good eating!"
 Pancakes:
2 cups flour
¼ cup granulated sugar
2 tsp. baking soda
1 tsp. salt
2 eggs, beaten
1 ¾ cups orange juice
¼ cup butter, melted
1 Tbsp. chopped fresh thyme
Orange Sauce:
½ cup butter, melted
3 Tbsp. cornstarch
2 cups orange juice
2/3 cup granulated sugar
2 Tbsp. orange zest
Combine dry ingredients in large bowl. Add eggs, orange juice, butter and thyme; mix until blended. Heat non stick or lightly greased griddle over medium heat. Pour ¼ cup batter onto hot griddle. When bubbles appear on surface, turn and cook until golden brown.
To prepare orange sauce, heat butter and cornstarch in sauce pan over medium heat for 1 minute. Add orange juice; stir until thickened. Add sugar and bring to boil. Reduce heat and simmer 5 minutes until sugar is dissolved. Stir in orange zest. Add an equal amount of maple syrup to orange sauce if desired.
Recipe courtesy of Breakfast in Bed California Cookbook by Carol Frieberg