Browsing articles in "Haute Spot"
By Aly Wagonseller
Maybe because of the economy, or perhaps because our culture is one that's constantly on the run, the fast food industry has thrived while fine dining has…well…unfortunately seen better days.  This doesn't mean enjoying a five course meal in upscale digs is dead; that would be criminal. What has evolved though is a new generation of fast food restaurants that aim to satisfy the discerning tastes of diners who recognize quality eats, at a price they can afford any day of the week.  The Great Greek Grill located at 1275 W. Warm Springs #160, is just such a place where unassuming, simple and no frills dining has never been better.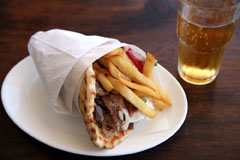 Owner Girair "Jerry" Goumroian, is no stranger to the restaurant world.  He grew up helping in his parents' Greek eateries here in town, eventually venturing on his own culinary journey by attending school then working for the likes of Adam Sobel at Rick Moonen's RM Seafood, as well as other haute spots on the Strip.  Looks like young Jerry learned a few things, as what he's dishing out at the Great Greek is cuisine that is honest in its ethnicity, yet has a modern sensibility that's fresher, lighter and definitely something special.  No matter that you order at the counter; or that the restaurant is tiny, with just a few tables for those wanting to dine-in.  What does count is that the food is worthy, and the price tag surprisingly low for the quality of what's served on the plate.
Besides a near perfect bowl of lemony, Avgolemono soup, a good representation of the classics can be had with the Mezze Plate (9.95); a nice selection of salad, pita bread, dolmades, falafel, hummus, tzaziki and a surprise serving of spanikopita.  It's fairly evident that everything is made in-house; the hummus, a textural treat that's not overly processed; a  yogurty version of tzaziki,  that's delightfully tart and hearty, yet nicely tempered by fresh cucumber; and falafel that was magically moist on the inside, despite an unusually crumbly outer texture.   The more substantial fare on the plate was equally well done, especially the spanikopita. Flakey filo was light and not overly greasy, and the spinach filling was creamy, feta cheese goodness; not too heavy and exceptionally flavorful.  
The Great Greek of course serves up the requisite Gyro sandwich (7.50) and Grilled Souvlaki Platter (10.95) that included a perfectly dressed Greek salad and crunchy fries that traditionally wind up inside the do-it-yourself pita wrap.  Both were quite good; the Gyro aggressively seasoned but in a good way, tempered by sweet tomatoes, lettuce and creamy tzaziki,  and the Souvlaki perfectly cooked – no easy feat  for chicken kabobs, which oftentimes tend to dry up and wither off the skewer. Still, my off the chart menu favorite has to be Yia Yia's Pasticcio (9.95). A Greek, ground beef and pasta casserole, layered with creamy Béchamel and tomato sauce, it's typically pretty heavy and dense.  This is where Goumroian displayed some serious cooking chops, his version exhibiting an airy, almost soufflé-like texture that preserved all the sublime flavors of the original dish, yet didn't weigh you down like a brick. Good stuff.
 The Great Greek Grill just added Mythos and Hillas beers for the sit-down crowd, and they serve homemade desserts that include a cinnamon infused Baklava, Yia Yia's Rice Pudding and Shamali, a traditional semolina and orange zest cake. Good bye kings and clowns. This is one fast food revolution you can feel good about. For take-out, call 547-2377.
By Aly Wagonseller
In general, when you think of most neighborhood Thai restaurants, heaping plates of spicy Pad Thai, a variety of curry dishes, papaya salad and fried rice comes to mind.  The food is served family style or in to-go cartons, a byproduct of décor that's typically not the highlight of the dining experience.    Now don't get me wrong. I love the sweet, salty, spicy flavors of traditional Thai cuisine; I'd eat the stuff off a slightly cracked, melamine plate any day of the week if it's good enough. And, I'm not saying that some restaurants don't cook up a far better sampling than the other guy down the street.  It's just rare that you'll find a playful, yet sophisticated take on what's considered the norm, and herein lies the beauty of Nittaya's Secret Kitchen, located at 2110 No. Rampart, Suite 110.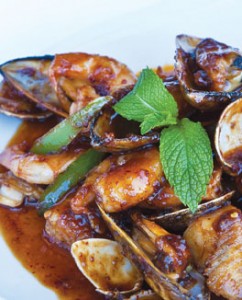 The restaurant is the brainchild of Nittaya Parawong, a talented, artistic and driven individual with a passion for fashionable food and surroundings.  Nittaya, according to our enthusiastic and very personable server, is responsible for just about every detail this tiny, surprisingly chic restaurant has to offer.  With only ten tables and as many bar stools for overflow, her choice of dark brown hues, pearl white banquette seating and modern art provides an urban feel.  Fresh floral arrangements (a nice touch that Nittaya, of course, arranges herself) and the brick walled bar create a warm, yet lively nightclub-meets-neighborhood bistro feel that's perfect for both family or date night.  Her one woman show doesn't stop there either; she is also responsible for changing things up a bit in the kitchen, personally overseeing and oftentimes preparing her unique versions of traditional Thai and Thai Tapas cuisine.
Thai Tapas…seriously?  Well why not? It's simply a trendy, much more refined Thai version of the beloved pu pu platter we Americans have clamored about for decades, with the added benefit of personalized choice.  What you do have to choose from isn't your average egg roll either. Grilled Mango Shrimp wrapped in bacon; Cilantro Steak Skewers; Shrimp in Pastry with jalapeños, leeks and cream cheese; and a Stuffed Angel Chicken Wing that was moist in the middle and impossibly crunchy on the outside are  just a few of the creative selections offered.   All are artfully plated with the kind of detail that speaks volumes about Nittaya's pride in and love for her establishment.
We started with what they call their World Famous Spinach Salad. This is not your typical salad, but more like a Thai version of chips and dip. The spinach is lightly dipped in batter and deep fried in a way that renders it crisp, without being heavy or greasy in the slightest. The lime vinaigrette dressing, a sauce I would suggest you dip into instead of pouring onto the spinach for fear of creating a soggy, tempura mess if it sits too long, is filled with ground chicken, whole cashews and carrots.  It's aggressively tangy and fresh tasting, and it's absolutely addictive when paired with the earthy, crunchy spinach leaves.  Equally enjoyable were the Whitefish Cakes.  Oh my…the flavor imparted by the licorice undertones of Thai basil is sublime, and these light, delicate and expertly prepared little morsels had just the right amount.  The addition of crispy cucumber for textural crunch and a sweet chili sauce for a bit of a kick elevate this dish to must-try status.
Nittaya's offers a large variety of family style entrees that, while more traditional, still contain a unique twist or two.  Home Style Pad Thai, with its distinctive peanut sauce, as well as Fresh off the Boat Pineapple Fried Rice, attractively served in the shell of the fruit, are two of their more popular dishes.  With an impressive wine list, many served by the glass, and special half price offers on Thursdays, Nittaya's Secret Kitchen is Thai that's got style.  Reservations are a must for dinner and can be made by calling 360-8885.
By Aly Wagonseller
There's something about the sound of a rockin' accordion pumping out some serious Louisiana Zydeco that just says party.  Add to that a dose of ragin' Cajun cuisine, a sprinkling of purple, green and gold plastic beads and a fleur-de -lis or two and you'll all but have transported yourself to Mardi Gras in the French Quarter streets of the Big Easy.  Sounds fun, don't it?  It's a good time that can be had six days a week at Lola's: A Louisiana Kitchen, located at 241 W. Charleston Blvd., Ste. 101, near the I-15.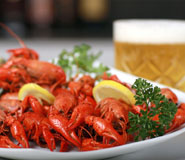 A quaint little haute spot situated in the heart of the downtown arts district, Lola's is the brainchild of  Lola "Beth" Pokorny, a charming woman who draws her culinary flair from a long line of down home "Looziana" cooks and restaurateurs, as well as her own endeavors as a successful caterer.   Beth brings a homey, soulful sensibility to Lola's; a little slice of Southern pride and hospitality that's as evident in the comfy, yet stylish décor as what's cookin' in the kitchen.   She's there to greet you most days and is happy to share the skinny on house specialties, personal faves or what's new on the menu.   
Cajun cuisine can certainly be a mixed bag, running the gamut from a humble dish of Red Beans and Rice to spicy seafood, Jambalaya and a variety of Po-Boy sandwiches.  Lola's has them all, including a seasonal crawfish boil that's offered on Fridays and Saturdays from noon until there's nothing left but empty heads, shells and tails. They're flown in fresh from Louisiana and are so popular that you need to call and reserve your stash ahead of time to avoid missing out on the fun.  For starters, you can't miss the Charbroiled Oysters.   Broiled in an open view kitchen adjacent to the small bar area, Lola's version is tender and only slightly smoky; a good thing, as it doesn't overpower the freshness of these tasty little mollusks.  Wisely restraining the amount of fresh lemon juice, garlic and cheese served atop the oysters only does more to highlight the clean flavor, making for a balanced dish that's hard to stop eating.  A Blue Lump Crab Cake was less successful, but still enjoyable.  I just would like to have had the outer crust more caramelized and the temperature of the cake closer to hot than lukewarm, something that could be attributed to the thickness of the cake.
A Cajun kitchen wouldn't hold its weight in Louisiana hot sauce without Catfish and Grits on the menu, a dish that truly shines here at Lola's.  Dubbed as bronzed rather than blackened, the spicy seasoning on this tender and flakey fish wasn't overly aggressive, something lovers of the more potent version may want to take note of.   Still, the flavors were vivid and complex served atop a nice helping of creamy grits, somewhat reminiscent of an aromatic risotto, aptly spiked with flavorful Gouda cheese and surrounded with earthy mushrooms and smoky chunks of andouille sausage.  This, to be certain, is a five star winner of a dish.   The New Orleans Style BBQ Shrimp was also quite tasty–large, perfectly cooked prawns swimming in a rich and somewhat spicy sauce with hints of cinnamon, cayenne and, I suspect, a pop of allspice.  Delicious it was with accompaniments of white rice and toasted, buttered French bread made for soppin' and washed down with the refreshing raspberry undertones of an Abita Purple Haze lager.  And, although we couldn't possibly eat more, we had to try the amazing Bananas Foster Bread Pudding. Beth's own secret recipe, the homemade banana bread and custard were artfully elevated with the addition of a sublime, cinnamon infused caramel sauce and vanilla ice cream.  Foodie dreams are made of this stuff.  
Lola's may be a bit out of the way, but the music, food and atmosphere feel miles away from anything else here in Vegas.  It's the magic of New Orleans in our own backyard.   To reserve your crawfish or make reservations, call them at 227-5652.
I miss the tradition of old school sushi.  Fresh fish, artfully and artistically prepared by artisans as serious about serving the very best seafood money can buy as they are about perfecting the knife skills to give it due justice.  There's simply a reverence about good sushi; a respect that's all too often lost when establishments jump on the All-You-Can-Eat, porno roll  bandwagon.  Herein lies the beauty of Blue Fin Sushi & Roll restaurant located at 3980 E. Sunset, Suite 102. Yes…they have AYCE sushi, I mean who doesn't these days?  And sure, there are a few rolls the names of which may make you blush.  But make no mistake; Blue Fin is not your average sushi joint.  Not by a long shot.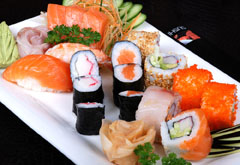 Deceptively small, the restaurant has a mere ten to twelve tables and nine stools at the sushi bar, with pleasant decor, especially when the lights are dimmed at dusk.  What they may be lacking in size (and that's not necessarily a negative) is more than made up for by the quality and artful presentation of the cuisine.  It's quite evident that owner/Sushi Chef Jin Chang has classic skills and takes great pride in what he serves to his customers. He simply would never put out sushi or rolls that suffer from what I call the sloppy toppy:  fish that's incorrectly cut too thick and plopped atop rice that's not appropriately sticky, resulting in more sushi landing on your lap than in your mouth.   It happens in more restaurants than not, and it's a result of untrained staff and a lack of sushi soul.
What Chef Chang does deliver is near perfection.  Case in point: thinly sliced tuna belly, delicately adorned with razor thin grapes that have been macerated in balsamic vinegar and oil.  It truly looked like a painting on the plate, with the flavors of the buttery tuna laced with the sweet, yet savory fruit solidifying this dish as a thing of beauty.  Fresh Yellowtail Sashimi with Jalapeño and Spicy Ponzu Sauce was equally stunning; the melt-in-your-mouth tender fish serving as a testament to the freshness and expertise in the way it was sliced. A vivid Ahi Poki Salad made for a complex combination of color and textures, the bright green crunch of seaweed and vegetables presenting the perfect base for the sesame marinated tuna.  I would have liked a bit more of the tuna in the ratio of things, but I've been known to be greedy when it comes to tuna poki.
Picture perfect cuisine certainly didn't stop with the appetizers, with the rolls and cooked options at Blue Fin presenting both striking appearance and flavorful prowess.  A variety of creative rolls are offered, with deep fried and baked versions, as well as a number of shrimp tempura selections.  Being a bit of a traditionalist, I stuck to something void of cream cheese and anything cooked, settling on the Red Dragon Roll. And, while it may not have been the hautest of choices, it proved to be simple perfection. Delicately chopped tuna and jalapeño provided a spicy pop of flavor to the mellow, rice wine scented sticky rice, the roll finished with a crown of impossibly thin tuna that held it all together. Curls of shaved jalapeño added a visual elegance and freshness to the roll–a tiny detail that speaks volumes to just how good this place really is. Caramelized Sea Scallop and Garden Vegetables would be a great choice for the sushi phobe, although I will say the scallops were not remotely caramelized.  Still, they were cooked nicely, served with crunchy broccoli, bell pepper and baby corn in a sweet and spicy sauce with ginger and chilies.  Japanese comfort food done well.
Blue Fin Sushi & Roll may be small, but this place has heart.  It's old school meets modern, and it's some of the best sushi in town. For information or takeout orders, call them at 898-0090.
By Aly Wagonseller
It's hard to keep up with what's hot and what's not on the Las Vegas dining scene. Small plates, molecular gastronomy, ChinaMex fusion and other chic eats can all be more than intoxicating to the star struck foodie. Still, despite the emergence of these latest and greatest trend spots, places a culinary hipster might perceive as the quintessential dinosaur continue to survive. Why? Because the food, while nothing fancy, simply tastes amazing. Dishes like buttery risotto, full bodied lasagna and fresh cioppino; these are the homey, go-to dishes that, when prepared correctly, have diners coming back time and again. This is the stuff of Lucio Ristorante. And, while you may not find tomato foam on your Sous Vide Osso Bucco, what you will find is rock solid food and great service in a setting where old Vegas cheese meets classic fine dining…and I mean that in a good way.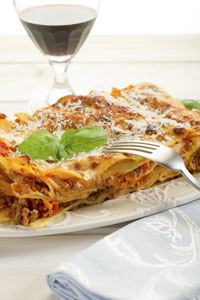 Recently expanding their operation to a second location found at 5900 E. Flamingo (previously Ferraro's), the décor is classic old school.  As you might expect, beautiful dark wood wainscot, marble flooring and linen tablecloths are all present, along with a large bar and…ba-dump-bump…a stage with backdrop curtains, a grand piano and song stylings reminiscent of many a Vegas lounge show gone by. Kitschy…well maybe, but it's also oddly comforting and a welcome departure from the drone of clubby music found in many newbie restaurants these days.  An added plus is that the place is quiet, despite being large, and has many nooks and crannies for secluded and romantic dining.    
Like the surroundings, the food is traditional, the menu inspired by classic Italian staples including Veal or Chicken Parmigiano ($17-23), a hearty Lasagna made with béchamel and meat sauces ($15) and Spaghetti con Polpettine ($15) served with flavorful, yet delicate meatballs.  Based on a friend's suggestion, as well as the recommendation of our charming and, yes, clearly Italian waiter Claudio, we chose the Gnocchi Quattro Formaggi ($16) and the Salsiccia e Spinaci risotto ($20).  There are times when the substitution of massive quantities of butter, cream and cheese to save calories could be considered criminal, and this was definitely one of those occasions, especially in the case of the decadent gnocchi dish. Light, pillow-like dumplings of pasta and potato were generously glazed in a sublime fontina, mascarpone and Parmesan cheese sauce, balanced with just enough gorgonzola and a sprinkling of fresh sage to add a nice bite.  I was impressed by the integrity of the gnocchi themselves, blissfully lacking that lead-like, stuck in your stomach quality that poorly executed gnocchi so often exhibits. These were as melt in your mouth airy as gnocchi gets…delicious.
Lucio's menu touts their risotto as being the best in town, and they certainly are in contention.  Much like gnocchi, this is a dish that requires expertise and a skilled hand to avoid the pitfalls of rice that's gooey or mushy as opposed to creamy, yet textured.  The sausage and spinach version we ordered was nothing short of outstanding; the sausage nicely seasoned, the spinach not overly wilted, and the arborio rice perfectly cooked.  The presence of butter was obvious, but it didn't overpower the other ingredients, adding just enough flavor and creaminess to elevate the dish to comfort food perfection without feeling greasy or over the top. One tiny pet peeve:  I would have liked my risotto to have cooled a bit longer before serving, as the flavors in the piping hot dish hadn't quite developed yet. No matter though; exhibiting an uncharacteristic five minutes of self control while the food cooled down proved well worth the wait.  
Lucio Ristorante has a modest wine selection, many served by the glass, imported and domestic beers, as well as full bar service. It may not be the newest kid on the block, but sometimes tradition trumps the trends.  For reservations, call them at 207-1008, or their original location on West Sahara at 233-2859.
By Aly Wagonseller
Most every restaurant has a story.  Many are proudly shared with loyal patrons, lovingly displayed on menus, cocktail napkins, Facebook pages and the like. Whether these legends are factually correct, slightly embellished or a flat out fib is of no consequence; we long to become a part of the tale, especially if flavorful food and family tradition is at the heart of the plot.  Still, a restaurant with a story yet mediocre food isn't worth the menu it's written on.  You simply can't create an epic moment with words alone; you gotta have the grub to back it up.  Giada's Italian Cucina, located at 2540 Anthem Village Dr. certainly does just that.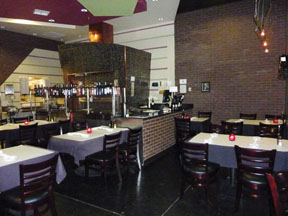 A tiny gem in a somewhat hidden location, Giada's houses just 12 tables, something I think is incredibly smart in a day where bigger is not only considered passé, but an unequivocal invitation for going broke. The dark furnishings, brick wall façade, semi open kitchen and glass tiled pizza oven feel modern, yet warm and homey. These are the details that generate credence for the story of Giada, the quintessential Italian grandmother whose recipes from Sunday "sit down" dinners are now lovingly presented to us by her grandson and owner of the establishment. Giada was certainly a great teacher.
I have a serious pet peeve regarding heavy handed Italian food, and thankfully, Giada's was a testament to the lighter, yet far more flavorful side of Italian cuisine.  With the exception of desserts that clearly weren't from the same kitchen as the rest of our meal, it was gleefully apparent there were no dark secrets (a.k.a. frozen or substandard, canned ingredients) hiding under too much mozzarella, salt and olive oil. This was obviously apparent with our starter selection, The Calamari Fritti (10.95). A heaping plate of delicately crisp, melt in your mouth morsels, it was as far away from the bricklike and breaded frozen version as you can get. Served with a balanced marinara sauce made with just enough olive oil and herbs to give it substance without overpowering the tomatoes, it was clear that my taste buds wanted more.
The menu is fairly small, but what is offered is in keeping with the philosophy that a few quality ingredients, perfectly executed, make food that's extraordinary.  Case in point, their Eggplant Parmigiana (13.95).   Thinly sliced eggplant (no breading), fried as to not take on too much oil, yet render it fork tender, was stacked with a light and flavorful tomato sauce and just the right amount of mozzarella.  It is truly an art to make a dish this flavorful while dodging the dreaded, greasy stomach grenade so often associated with a Parmigiana of any kind. Pollo Giada (14.95) also fared well, a roulade of thin chicken breast rolled with prosciutto, spinach and cheese that skillfully remained moist, despite a tendency for this kind of dish to get rubbery from over handling.  The chicken was wonderfully complimented with traditional escarole greens (a nice balance of pungent outer leaves tempered with the more mild, inner stock), flawlessly sautéed in olive oil and razor thin garlic slices and dressed with a sprinkling of sundried tomato. Rustic pizza (8.95-17.95) is another dining option, prepared with a homemade crust that's thin and crisp; the perfect canvas for showcasing fresh toppings.  I especially enjoyed the Arugula Lou, the peppery greens barely wilted over a tomato, cheese and prosciutto pie, and expertly prepared with the kind of restraint you'd expect from a celebrity chef. Pizza heaven, especially when washed down with a Peroni or a glass of wine from their limited wine list.   
Giada's would  appreciate a phone call letting them know you're coming for supper, a practice akin to finding a seat at grandma Giada's Sunday night dinner table. With recipes like these, this is one restaurant story that deserves the happiest of endings. For reservations, take out and catering, call   462-9830.
Side Dish
Wine and art in the neighborhood…what could be better? Starting Thursday, March 24th and continuing each Thursday through June 9th, Rachel's Kitchen at the District at Green Valley Ranch will host an evening of culture, libation and seasonal fun.  Each event takes place on the patio from 6-9 p.m.  Enjoy a complimentary wine tasting, live painting exhibitions by local artists, and the acoustic guitar styling's of Sean Hayle. Don't miss their first event featuring wine from the Chateau St. Michelle portfolio. For more information, call 522-7887.
By Lisha Ross
Given the sheer number of Chinese take-out kitchens in Vegas, one needn't travel far, if at all, for a helping of Mongolian Beef over steamed rice. Unfortunately, Chinese choices are more often based on convenience rather than authenticity. Take it from someone who lived in China long enough to experience the true, honest flavors of the country's cuisine, if you've never branched away from your nearest China Hut, you've been missing out on a world of flavor. What's absent are the regional spices and preparations that make each type of Eastern cuisine so unique–pungent peppercorns and dried red chilis of the Szechwan province; noodles and steamed buns from the Northeast region; mutton seasoned with cumin and five spice from the western province of Xinjiang. These bold flavors are scarcely found outside of the mom and pop joints of China Town, so if you want it, you'll have to go out and get it, but when it's from a friendly, casual restaurant like China MaMa, you'll be glad you did.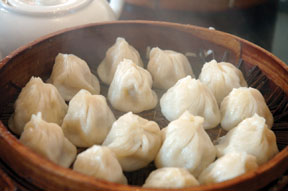 Located at 3420 S. Jones Blvd. just north of Spring Mountain, China MaMa is, like most of its kin, unassuming. Weathered façade notwithstanding, inside is a delicious treasure trove of both well-known and unusual dishes prepared in the tradition of two separate regions of China. You'll know the difference from the menus: green for DongBei (Northeast) and red for Szechwan offerings. Yes, for a rookie it can be intimidating to navigate through vague descriptions; you may even be frightened by some of the more unusual dishes like Flambeed Chitins. Not to worry. Their friendly staff is happy to help, and those not feeling adventurous can stick to familiar options like their outstanding Kung Pao Chicken (9.95), coated modestly in a light sauce and tossed with peanuts, green onion and red peppers.
If you prefer to venture into new gastronomic territory, let China MaMa lead you down the road less traveled. Craving some of my all-time favorite staples from the East, we started off with China MaMa's renowned Xiao Long Bao, or steamed juicy pork buns (7.95), and Green Onion Pancake (4.95). More like a dumpling than a bun, Xiao Long Bao is essentially a gingered pork meatball and a spoonful of garlicky broth contained in a thin pastry sheet and served with soy and chili garlic sauces for dipping along with fresh ginger strips. Green Onion Pancake was just as it should be–crisp and flakey on the outside, soft in the middle. Delicately fried without being greasy, it's perfect all by itself, but dipped in soy or vinegar and chili sauce it's immaculate.
You'd be remiss not to try the hand-pulled noodles, made in-house. Slightly softer than al dente, yet full of body, these supple noodles are served both in broth and dry. For a tepid foray outside the box, try them with Sesame Sauce (7.25), a creamy paste reminiscent of peanut butter, or as a chow mein with your choice of meat.
Crispy Chicken w/Szechwan Hot Sauce (12.50) is a novel alternative to orange chicken–tender white meat coated lightly in bread crumbs, deep fried and topped with a savory gravy, it's subtle sweetness offset by a hint of tangy vinegar. Vegetable dishes abound, Spicy Stir Fried Eggplant (9.95) and String Beans w/Chef's Special Sauce (9.95) topping the flavor charts. We all but inhaled the Cumin Spiced Lamb on Sizzling Plate (16.95). Unlike some cuts of lamb that can be fatty and difficult to chew, these thinly sliced bits were melt-in-your-mouth tender and seasoned to the extreme with zesty peppercorns, red chili and cumin. Beware! This dish is hot enough to make you sweat; cool the palate with a sweet and savory plate of Pineapple, Shrimp & Sausage Fried Rice (8.25)–delicately wok fried rice laden with chunks of juicy pineapple, small shrimp and sweet sausage akin to soft jerky–in a really great way.
 Ending with a sweet Red Bean Pancake (4.50) for dessert, you'll never look at take-out the same. China MaMa is open 7 days a week from 11 a.m.-10:30 p.m. For more information, call 873-1977.
By Aly Wagonseller
This has been a tremendously tough year for restaurants, with no one feeling it more than the local mom and pop establishments off the Strip.  Having been a local foodie for more years than I'd like to admit, I started looking back on some of the best eateries in town  and sadly discovered that more than a few had succumb to the chokehold of our stifling economy.  Now, more than ever, we need to frequent the "little guys"; restaurants that offer real food while serving to provide jobs and a sense of community in our neighborhoods.  Here's a few of my surviving favorites and the specialties that have helped not only put them on the map, but overcome our media fueled climate of continual gloom and doom.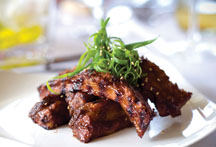 Mantra Masala, located at 8530 W. Warm Springs, #101, operates on the belief that Indian food should be healthy, yet satisfying. Breaded appetizer items like the Onion Bhajo or Chicken Pakora are coated in high protein lentil flour then flash fried in vegetable oil, wok style, as a fit alternative to deep fat frying. Staple entrée dishes boast the earthy flavors of Indian spice, something they import, roast and freshly grind daily. The  Chicken Tikka Masala–melt in your mouth tender morsels served in a creamy tomato curry that's spiked with ginger and green chilies for heat, then tamed with just the right amount of tangy yogurt–is one of many standouts.  
Todd's Unique Dining, located at 4350 E. Sunset Rd., is the epitome of David in a Goliath world, thankfully offering amazing cuisine that rivals much of what you'll find anywhere else in town.  Creative, thoughtful and just plain talented, Chef Clore uses the finest of seasonal cuisine, a philosophy that has the menu (especially the fish selections) constantly changing based on ingredient availability.  Ahi Tuna with Wasabi Potatoes and the Short Ribs with Jalapeño spuds have long been favorites, but regardless of what you order, it's never ordinary. 
UNLV Basketball fans, or just plain lovers of a juicy burger and hearty sweet potato fries should pay a visit to Grind Burger Bar and Lounge, located at 360 E. Tropicana. Racy Juicy Lucy mascot aside, the burgers, whether beef or turkey, are delicate, yet substantially legit, especially when topped with any combination of specialty cheeses, sauces and condiments offered for a "build it as you like it" experience.  Aged cheddar, applewood smoked bacon, mushrooms, ajvar mayo and an over easy egg all served on an impeccable ciabatta bun is a favorite, but how you dress your patty is up to you…and that's true beauty on a bun.
When La Madonna Avante Garde Mexican Cuisine closed late last year it truly was a sad day in the Vegas local dining scene.  Luckily, the same wonderfully different Mexican cuisine comes to us at its successor, Mundo, located at 495 So. Grand Central Pkwy.  More sophisticated than most restaurants lacking a Las Vegas Blvd. address, Chef Robert Solano transforms the typical into something wildly delicious and different, but it's his tamales that keep me traveling to this somewhat distant location. Faves include the earthy, Short Rib with Pasilla Chili sauce and giant Chipotle Glazed Shrimp versions…simply sublime.
Although there are quite a few Thai restaurants in town, for dining in an upscale, yet casual setting you really can't do better than Archi's Thai Bistro, located at 6345 S. Rainbow Blvd., Ste. 100.  Great for power lunching or a date night dinner, the décor is well above most, but seriously tasty dishes including Pad Kapow, a simple concoction of expertly spiced hamburger and rice and any of their Pad Thai selections make this spot more than just a pretty face. 
On the casual side, Crazy Pita and Rachel's Kitchen, both located in the District Shops, are fine examples of small businesses dishing out excellent food, and making friends while they're doing it.  The Favorite–scrambled eggs with goat cheese, sun dried tomatoes, avocado, mushrooms and basil–is a delicious choice to people watch with at the bistro-like setting at Rachel's, especially when accompanied by one of their Sunday mimosas!  The Kefta Pita, a flavorful ground beef and hummus sandwich, has paved the way for Crazy Pita to give back to the community via The Josh Steven's Foundation, an organization whose main purpose is to promote and reward acts of kindness in our schools. Their rotisserie chicken and variety of grilled skewers, along with notable side dishes also keep this place hopping most any time of the day.
Of course there are many more wonderful establishments sprinkled around our neighborhoods; places where pride and love of homemade recipes replace Weight Watcher menu endorsements or microwaved, prepackaged pasta sauces…blah!  The thing is, you must support them, or we'll all run the risk of a Walmart world in the restaurant industry.
By Aly Wagonseller
It's hard to miss the building.  An unabashedly schizophrenic structure where lime green siding and colorful neon fish collide with a brick, brownstone pub you'd be more apt to see adjacent to Wrigley Field than on the corner of Stephanie and Paseo Verde. I'd heard from credible sources that some righteous paella, delicious alligator on a stick and legit key lime pie could be found at this locale, but one had to wonder when pulling into the parking lot – did they run out of masonry during construction? Are there building restrictions on the usage of car crash inducing, dayglow hued paint colors on main thoroughfare store frontages?  Did I take a wrong turn and end up in the downtown Arts District?  A head scratcher…to say the least.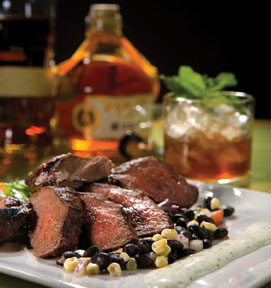 Have no fear… it turns out this perplexing segregation of architectural styles is really three places in one; a shrewd concept in dining and gaming entertainment brought to us by the proprietors of Henry's American Grill. The complex includes a Hemingway themed bar, Boar Head toting deli and Caribbean restaurant all under one roof, albeit with separate entrances, menus and decors. And, while the bar and deli certainly bring something to the table with quick sandwiches, signature Sloppy Joe's, and the opportunity to try your luck while watching the big game, it's the Caribbean Cooker, located on the flashier side of 65 So. Stephanie, that's a casual catch in neighborhood dining.   
More boat house cozy than island chic, the décor inside the Caribbean Cooker is simple and subdued, yet comfortable and casual. This is quite the contrast from a vibrant menu that calls upon Spanish, African and French influences so indicative of Caribbean cuisine. We started with a complementary mushroom sour cream dip and homemade plantain chips.  The dip was likened to pate in consistency–quite thick due to a nice, earthy mushroom ratio–yet spiced up enough to fare well with the sweet and salty plantains. Tapas selections ran from traditional Batatas Bravas (3.29) to Almond Crusted Goat Cheese with Pineapple Chutney (5.49), Coconut Shrimp (9.29) and Conch Fritters (7.29).  The Molasses Grilled Lamb Chops (10.79) and Alligator on a Skewer (7.) were both winners.   The chops are caramelized nicely; the bitterness of the char a perfect balance for the creamy goat cheese, baby greens and molasses drizzle that accompanied them. Alligator…as the cliché will attest…tastes like chicken, with this version reminiscent of tandoori in texture and taste.  Grilled mango and an aggressive habanero lime tarter sauce added the right amount of sweet and fire to round out the dish.
While you could easily just graze on Tapas and Tapatizers, you'd be missing out on the Caribbean Cooker's version of Callaloo soup, Cuban sandwiches and burgers, seafood, steak and pasta dishes and a hidden gem on the menu–paella. It may not be the most authentic adaptation of one of my all time favorite Spanish dishes, but I must say I was pleasantly surprised by the depth of flavor they were able to achieve in the Classic Spanish Valencia version (12.49). A huge portion that's big enough for two people, the Arborio rice was expertly prepared, not soggy in the slightest, and wonderfully permeated by the smoky flavors of chorizo, fresh seafood and a subtle white wine broth.  The portion of succulent clams, mussels, scallops, shrimp and crab was more than generous, making this truly a bargain for the price.  As sumptuous as this dish was though, I honestly could have done without the grilled and fanned chicken breast presented on the top. Besides appearing as a clunky afterthought in presentation, the moister, more satisfying slivers of chicken thigh found within the rice mixture were much more tasty.  But who am I to complain about too much food?  Especially when a neighborhood restaurant makes paella this outstanding.
The Caribbean Cooker is also one of few restaurants that actually make desserts from scratch, their velvety rich Key Lime and Coconut Cream pies (5.29), a decadent must have at the end of your meal.  It's just one more reason to never judge a book….well you know.   For information or reservations on banquet facilities, call 888-6565.
By Aly Wagonseller
As a general rule, I like to wait until a restaurant has had a chance to "settle in" before   dining there.  I guess in part because of the impending crowd factor, especially if it's the newest, grooviest "it" place on the block, but more likely because even the most experienced restaurateur struggles with menu, kitchen and staffing issues when yielding the proverbial newbie knife fresh off the chopping block.  So, even though I'd heard the buzz about DW Bistro, located at 6115 S. Ft. Apache Rd., #112, it wasn't until Three Square's Restaurant Week, and the prospect of sampling a three-course prix fixe dinner with partial proceeds going to this worthy cause, that I decided to give them a shot.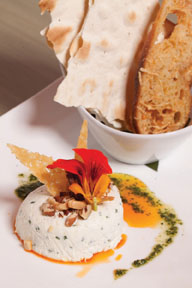 Located in an average strip mall along the empty banks of an area hit especially hard in the foreclosure department, DW is anything but downtrodden. Bright, modern décor with splashes of lively orange and green hues and vibrant artwork create an exciting vibe, with mesmerizing, chill music, eclectic touches of rustic wooden accessories, and exposed white brick wall coverings lending a yin and yang sensibility to the place.  Interestingly enough, this same balance of electricity married with an innate hominess is mimicked in the food, a testament to purveyors with style and attention to detail, both front of the house and back.
Executive Chef Dalton Wilson has created a menu filled with bold flavors developed in the Caribbean and New Mexico Southwest, yet wisely keeps them on separate plates; a decision that prevents fusion from becoming a fussy Frankenstein of mismatched cuisine.  Case in point, the Oven-Roasted Jerk Pork Shoulder ($12) is as true to its unique island culture as the New Mexican-style Slow-Cooked Pork with red chilies and an over easy egg ($12) is to its own, and they're both simply delish.  For Restaurant Week, DW offered some of their most popular selections, and it wasn't difficult to see why.  Starters included the DW Signature Salad ($9), a flavorful combination of peppery greens and creamy goat cheese brightened with citrus infused balsamic vinaigrette and sugary roasted pecans, as well as Oven Roasted Baby Back Ribs ($11), tender sticks of meaty dynamite generously rubbed with jerk seasoning made spicy with traditional Scotch Bonnet chilies and allspice. A nice slice of grilled pineapple is included to cool the heat, but maybe because of the smaller prix fixe helping, the homemade ranch listed in the menu description was omitted.  A pity as it would have been a nice addition to the dish.
Sublime Braised Oxtail ($16) literally fell off the…well…cartilage…aptly accompanied by a delish Bordelaise sauce that balanced the richness of the meat quite nicely, although I would have loved to have more of it. Chunky mashed potatoes added a substantial base for the oxen, as well as for the Jerk Lamb Chops ($24), tender, full flavored chops that exhibited a pleasant, spicy finish without going overboard.  One thing not on the prix fixe menu was DW's Mac and Cheese ($8), and it's a must.  This is the stovetop version, super creamy, made with tiny shells that hold the sauce like little bowls of cheesy goodness.  Add to this a helping of woodsy truffle oil (if you're really jonesin' for some serious mama love, bacon and mushrooms can be added for a small fee) and you've got a dish that's just plain off the charts.
Our meal with a conscience ended with the perfect sampling of both carrot and red velvet cakes and a refreshing lemon lime pudding. The cakes were moist and flavorful, accompanied by a kind of homemade Rice Krispy dipped in white chocolate that added an unexpected crunch to the confection; another little detail that elevates this restaurant above the crowd.  I love that DW Bistro participates in several charitable endeavors during the year too, serving their unique brand of home-style, eclectic cuisine to help people in our community. I'm just kicking myself for being tardy to the ball. For directions or hours, call them at 527-5200.