Browsing articles in "Haute Spot"
By Aly Wagonseller
For many, the exotic spices and flavors found in Indian cuisine are a complete mystery. I doubt it's because we're afraid to try new things, but more likely because, despite the glut of AYCE sushi bars, kabob joints or Italian bistros that saturate the Vegas Valley restaurant scene, Indian eateries continue to be a rarity. So, when asked by a vegetarian friend to join her for the luncheon buffet at Taj Palace Indian Restaurant, located at 9530 S. Eastern Ave., I was both thrilled and apprehensive.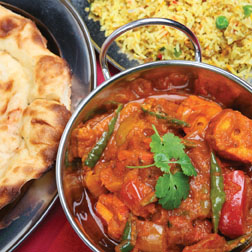 Indian food is A+ in my book. I love the exotic amalgamation of flavors that permeate the curry sauces and gravies so prevalent in this homey style of cooking. Freshly roasted cumin, coriander, cinnamon, clove and cardamom, paired with spicy peppers and tart tamarind create a flavor profile that's anything but boring. Still, a buffet is usually synonymous to yuck in my book; subpar menu choices of questionable freshness, all sitting in a water bath, heat lamp environment that typically does nothing but suck the life out of the food. This is where I was pleasantly surprised with Taj.
As we were seated by some of the friendliest wait staff I've encountered, I noticed the restaurant was nicely decorated with wood flooring and upscale Indian wall hangings and light fixtures, creating an atmosphere much nicer than your average neighborhood eatery.  I could have done without the smell of incense that clashed with the competing scent of curry, but I'm one that would rather relish the aroma of what's cookin' in the kitchen than an unnecessary, artificial cover-up. At the table, we were graciously treated to a basket of delicious Garlic Naan bread. Freshly baked in their onsite, tandoori clay oven, the bread was fluffy yet lightly charred and crisp, seasoned with just enough garlic to complement the varied selection offered in the buffet menu.
Both vegetarians and their carnivore adversaries are treated to a nice assortment of fare, a representation of some of the more popular items on Taj's regular dinner menu. In general, I was impressed with the freshness and integrity of the food, something so often missing on your standard buffet table. Fried items that included vegetable samosas were not greasy in the slightest and remained crispy, as if they'd just been removed from the deep fat fryer. Jasmine rice was perfectly cooked with a nice punch of cinnamon and cardamom, each grain separate from the next as it should be. Lentils, when served in an earthy and comforting Dal Makhani, had just the right amount of bite. Vegetarian standouts included the Navratan Korma, crispy green beans, corn, peas and carrots blanketed in a rich and creamy yogurt tomato sauce, and the Baingan, roasted baby eggplants, the sweetness of which paired nicely with a spicy sauce that's perfect for dipping your naan.
Meat eaters were treated to Goat Curry, a dish likened to a less fatty version of beef short ribs; Chicken Tikka Masala, a classic dish that, while tasty, had a bit too much acidity for me; and Chicken Korma, tender chicken in a decadent, fragrant yogurt sauce. Flavorful Tandoori Chicken rounded out the entrée menu, the bright red hue of the outer skin surprisingly tame in the spice department, yet delicious when served with the accompanying pungent, crispy onion.
You might not know much about Indian cuisine, but at $10.95 per person, the luncheon buffet at Taj Palace may be your ticket to adding some spice to your midday meal. They're also open for dinner with an extensive menu that includes smooth Taj Mahal lager and wine. For info, call them at 685-0222.
By Aly Wagonseller
Domenico DeMarco is a pretty famous guy. His name is synonymous with a tiny, hole in the wall pizza joint known as Di Fara's. For more than 45 years, people have queued up for hours in a graffiti laden neighborhood in Brooklyn, New York, just to garner a morsel of his legendary pies. DeMarco himself is something of a celebrity, earning accolades and recognition from the likes of Good Morning America to Gourmet Magazine on what many consider the best pizza they've ever tasted. Even President Obama sampled some the last time he dropped in on Las Vegas. Hype, you say? Can this pizza really be that good?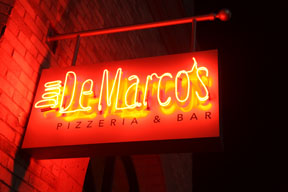 Worlds apart from the gritty, green walled pizzeria a countryside away, Dom DeMarco's, located at 9785 W. Charleston Blvd., arrived with a Summerlin-esque facelift and more than a few extra dishes designed to woo those who enjoy the trendy, neighborhood foody scene. The restaurant is impressive yet casual, with an open kitchen, a few flat screen TVs and a stunning, outdoor glass fireplace alcove that makes for some of the best alfresco dining in the city. I smell the makings of a successful conglomerate here, yet one can only hope that the namesake's claim to fame remains the focal point. Remember… it's all about the pizza.
Or is it? Not with dishes like their Grilled Sausage small plate: homemade Italian sausage served over velvety white beans, studded with roasted red bell peppers, garlic and a hefty amount of olive oil. The char from the tasty sausage permeates this dish, an amalgamation of textures and flavors that speak to those who love soulful comfort food. Eggplant Pizzettes are nicely breaded, served with creamy, whipped ricotta cheese and a fresh tomato sauce that's thankfully not too salty. Gram's Meatballs possessed a magically dense yet light texture thanks to a perfect combination of beef, pork and veal. The Soho salad was a misstep for me, mainly because I neglected to see the vinaigrette contained truffle oil, a flavor I tend to loathe as, unlike its true fungal counterpart, it can often overpower a dish with an artificially pungent punch. My guess is that's a new addition to the menu, one I'd bypass for the house vinaigrette, which I suspect is tastier and respectful to the other ingredients on the plate.
And the pizza? It's worthy of the crowds this place pulls in, not only because their stiffest competition resides on the opposite side of town, but more accurately because they make a quality pie using imported ingredients. I'm a fan of the thin crust version, choosing the Quattro Formaggio, yet simultaneously dreaming about the possibilities of the Bianca. The crust was paper thin with a crispy rim that crackled when bitten into, a very good thing. Not one of the four cheeses overpowered another, and the tomato sauce was light yet flavorful, allowing for a nice balance of tastes. There was a touch more olive oil drizzled on the pie than I'm used to, but I'm not one to complain about good imported olive oil, especially when it's sprinkled with a nice handful of fresh herbs.  Thick crust lovers are also represented with a heftier slathering of the incredibly delicious San Marzano tomato sauce soaking ever so slightly into the dense, bread-like crust, the edges of which were perfectly charred. Some might find it overly done, but don't chicken out and cut off the edges or you'll miss out on some magnificent flavor.
Pizza is personal and people will go to unusual measures to tout the superiority of their favorite pie. Based on what's coming out of the kitchen at Dom DeMarco's, I'd say Brooklyn isn't the only place they've earned some bragging rights. For info, call them at 570-7000.
By Aly Wagonseller
As I've expressed in the past, I'm generally not a fan of big chain restaurants. The food often comes across as painfully generic, while attempts at tasteful décor lack warmth and ambiance, replacing soulfulness with a corporate chill that leaves a bad taste in your mouth. It's a nice surprise, then, when a concept establishment gets it right, as is the case with Fogo de Chao, Vegas' newest addition to the ever popular Churrascaria, or Brazilian steak house. And though its location is clearly designed to attract the expense account dollars of the hungry trade show brigade, the restaurant manages to exude the same charm and rustic quality the founding family offered their patrons in Porto Alegre, Brazil more than forty years ago.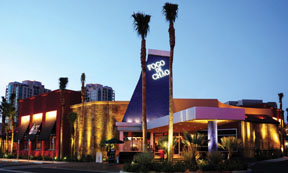 To say this place underwent an extreme facelift from its previous resident, a lackluster corporate yawner known as Cozymel's Mexican Grill, would be an understatement. Warm and rustic yet tasteful and modern, the restaurant's spacious dining area still feels intimate thanks to several interior walls adorned by murals depicting the Brazilian gaucho (or cowboy) way of life. The entryway teases the senses with views of sumptuous meat searing over an open flame and a well-appointed wine cellar encased in floor-to-ceiling glass. A separate bar area completes the arresting visual atmosphere with authentic oak wine barrels transported from the vineyards of Mondavi and its brethren lining the walls, creating an elegant culinary comfort zone.
The attention to detail in the surroundings extends to what's delivered on the plate. A prix fixe menu, typical for this style of restaurant, starts with a Brazilian bread roll known as a Pao de Queijo, an addictive little morsel filled with gooey cheese. A subsequent trip to the salad bar becomes a meal in itself, with more than 30 quality items to choose from. Aged manchego and parmesan cheeses, crisp asparagus spears, smoked salmon, imported prosciutto and salami and artisan breads are just a few of the items designed to whet your appetite. Be warned, however: 15 different varieties of meat are about to grace your table, so tread lightly at the salad bar. You don't want to fill up on small bites before you experience the main attraction.
With your table top coaster set to green light status (the reversible red side option lets your server know you need a rest), the true churrascaria experience begins. Served in the authentic rodizio style, the skilled gauchos circle from table to table carving various cuts of beef, lamb, pork and chicken directly onto your plate. Per Brazilian tradition, the meat is roasted on a spit over an open flame, a technique that not only imparts a delicious smokiness, but also sears in the juices while producing a crusty outer skin. Cuts of sirloin called Pacanha originate from the cap of the roast, a fattier version much more flavorful than traditional sirloin. Fogo offers theirs two ways, with or without garlic, both bursting with flavor. The Brazilian sausage was juicy, yet never greasy. Decadent beef ribs cut off the bone and generous portions of ribeye steak were both melt in your mouth delicious. Other favorites included filet mignon and a parmesan crusted pork tenderloin that was incredibly moist and tender. Family style versions of fried polenta (yum), garlic mashed potatoes and caramelized bananas served as bountiful accompaniments. 
A dessert and after dinner drink cart completed the evening, the standouts being turtle cheesecake with chocolate ganache and caramel or their signature papaya cream. Fogo de Chao may hail from south of the equator, but when it comes to an excellent dining experience, there's been nothing lost in the translation. Reservations are recommended, so be sure to call 431-4500 before you pay them a visit.
By Aly Wagonseller
In recent years, Las Vegas has become a culinary Mecca for the discriminating food enthusiast.  Some of the most talented chefs from all over the world have set up shop in trendy locales on the Strip. Astounding food, spectacular service and somewhat hefty price tags have become commonplace all over town, carving out a niche in our city for some of the biggest and best restaurants in America.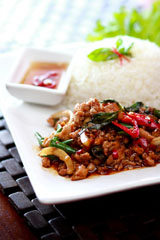 Still, some of the best dishes our city has to offer can be found in tiny hole-in-the-walls in the nooks and crannies just off the Boulevard. Places where family recipes are born of sweat and tears, where independent restaurateurs struggle to survive in a cruel industry and manage to triumph over incredible odds. These are the places that give neighborhood dining a good name.  Whether you live in Anthem, Summerlin or somewhere in between, here's a few standout dishes you shouldn't miss. You'll get to take advantage of some amazing food, help support grateful local business owners and inject some livelihood into our community and economy.
With the growth of our city comes diverse world cuisine; dishes with names you can't pronounce, ingredients you can't decipher and presentation that some might consider less than appealing.  One must-try example is a dish called Adjarski Khachapurri, found at Forte European Tapas, 4180 So. Rainbow Blvd.  Piping hot, impossibly crusty bread that's shaped like a hollowed out canoe is filled with mildly salty pickled cheese and a raw egg.  Twirl your fork through the egg, cooking it with the heat of the bread as the cheese melts underneath. Savor that first delectable bite as you listen to other patrons speaking in heavy, Eastern European accents, which only adds to the allure of this tiny little haven.
Not as mysterious yet equally delicious is Yia Yia's Pasticcio, made at The Great Greek Grill, 1275 W. Warm Springs #160. Chef Girair "Jerry" Goumroian calls upon his experience working at several fine dining restaurants on the Strip to transform this otherwise gut busting ground beef, pasta and cream sauce casserole into a soufflé-like alternative that preserves all the same flavors yet doesn't weigh you down like a brick.  Modern-day cooking has never tasted so good. 
On the Thai scene, there's nothing better than a humble Pad Kapow, a spicy and savory ground beef, vegetable, chili and Thai basil infused concoction that may as well be crack on a mound of rice. On any given lunch hour at Archi's Thai Bistro, 215 and Rainbow, you'll see 80% of their diners imbibing in its deliciousness. Not to be outdone, a new restaurant called Gaati Thai, 10545 So. Eastern, also whips up a very respectable twist on the same fare.  You'll have to specifically ask for it since it's not on their current menu, but the stylish décor and friendly staff at Gaati make it well worth a visit.    
More restaurants, both old and new, are bringing an endless list of great-tasting authentic dishes into town. East Coast Eats, 50 Valle Verde Dr., has Steak Bomb and Three-Way Roast Beef sandwiches flying off the flat top griddle to droves of sub sandwich aficionados. The busiest lunch spot in the District at GVR, The Crazy Pita, serves up tried and true selections like the Kefta pita, rotisserie chicken or creamy hummus.  Catfish and gouda spiked grits or unbelievably tasty charbroiled oysters are served up to the tune of Zydeco music at Lola's Louisiana Kitchen, 241 W. Charleston Blvd, adjacent to a trendy art district. I could go on, and I know I'm missing more than just a few, because there's some great digs off the  beaten path in this town.  I hear about them all the time and I'd love to hear about some of your favs.  Send me a note at Editor@ppplv.com. I'm hungry and always looking for something good to eat.
 By Aly Wagonseller
Sometimes a restaurant, especially one that's only been open a little over a month, isn't quite sure what it wants to be when it grows up.  On one hand, a name and concept has painstakingly been chosen; an experienced chef (ala Becker's Steakhouse) capably creates respectable dishes in the kitchen; and a good amount of cash has been pumped into sleek and inviting décor.  On the other hand, though, is what people actually perceive the place to be.   Is it a date night restaurant where you'd order $30+ steaks while sipping hand crafted martinis in a secluded and romantic setting? Or are the vibe and decidedly bar-centric surroundings more conducive to appies, casual fare and cocktails? For me, Embers Steaks Ribs & Spirits was most certainly the latter, and judging by the crowd on a somewhat lively Thursday evening, I'm not alone in my thinking.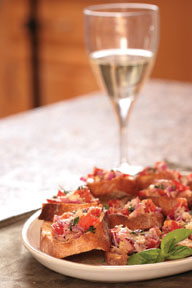 I will admit that I may be old fashioned when it comes to steakhouses, and maybe the younger crowd doesn't have the same expectations I do. All I know is that I can grill a pretty darn good steak on my backyard barbecue, so intimate ambiance and some extra TLC by experienced staff is paramount when I'm dropping 100+ bucks on dinner for two. I also want an ample tabletop that doesn't require a plan-o-gram to simultaneously support a cocktail glass, salad and entrée plate without fear of it toppling to the floor with one wrong move of my fork.  Not being able to hear your neighbor's conversation because the tables aren't right on top of each other is also a plus.  These are the little details that would keep me from revisiting Embers for a quiet steakhouse experience. Thankfully, it has so much more to offer the casual diner.  
We started with cocktails and appetizers–a delicious Dirty Girl Martini made from Pear Vodka, St. Germaine, fresh pear and lime juice, and a kind of bruschetta known as the Eggplant and Fresh Mozzarella Melt.  The cocktail was slightly sweet, yet surprisingly refreshing, balanced with delicate floral undertones of elderflower liqueur and a somewhat fibrous texture from the macerated pear.  The melt was one of those dishes that, while simplistic, capitalized on clean and pure flavor combination. Crispy, buttery crostini topped with smokey, wood grilled eggplant provided heft, while the soft, mellow cheese and fresh tomato relish served to brighten the heavier elements on the plate.  A must try, eggplant lover or not.
We opted to forego the typical steak entrées, partially because of the price tag, but also because the more modest food we saw being served to the majority of patrons looked so incredibly delicious.  I literally wanted to steal the gargantuan hamburger out from under our neighboring diner's nose, his unabashed devouring of it a testament to its appeal.  Instead, I chose the Short Rib sliders, which satisfied my craving for a sumptuous homey dish while keeping the portion to a minimum.  Served on two exceptionally fresh buns and spiced up by a dollop of horseradish that did well to tame the richness of the meat, this was glammed up bar food at its best.  Next up, the tri tip and baby back rib combo. While the meat was tender, flavorful and properly prepared, it was the side of cream corn that made the biggest impact.  Why it took a chef so long to create creamed corn that's sweet and earthy, yet maintains that fresh-from-the-cob crunch, I'll never know. Kudos to Chef Brett.    
The service at Embers was quite friendly, and I'll definitely be back for inspired selections that include a California Guacamole and Brie Melt, Rock Shrimp Tacos with Corn Salsa, or a Mahi Mahi Panini with grilled pineapple and chipotle mayo.  It may not be the steakhouse experience of times gone by, but it is the perfect place for a fun, lively dinner or happy hour spent in a hip, neighborhood restaurant that's close to home. Embers is located in Boca Park at 740 So. Rampart Blvd. Call 778-2160 for info or reservations.
By Aly Wagonseller
I'm a West Coast girl, born and raised right here in Las Vegas.  Food, and what it means to us, is different on this side of the country.  Vegas foodie history is…to say the least…not overwhelmingly rich in tradition, running the gamut from oversized shrimp cocktail at the Four Queens to all-you-can eat buffets or 2.99 steak dinners at Binion's Horseshoe.  Good deals, late night dining, but nothing we can truly call our own.  Even now, with all the world famous chefs and excellent dining to be found here, if you pick up and hit the road, chances are you wouldn't give your favorite hamburger or sushi roll a second glance in the rear view mirror, let alone dream, fantasize or downright brag about it.  That's where East Coasters have one up on us, with East Coast Eats, located at 50 Valle Verde Dr., giving New Englanders more to boast about than baseball, hockey or football championships.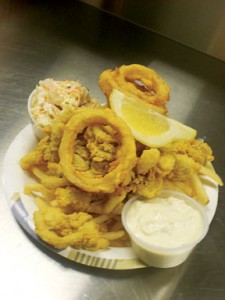 There's nothing fancy or particularly charming about ECE. There's no beer or wine, you order at the counter and the décor is average strip mall chic meshed with a testosterone sensibility; a sprinkling of New England sports paraphernalia, a few flat screens tuned to ESPN, and a flat top griddle rendering its magic.  Still, just because the place doesn't feel like a dank, old school joint from the neighborhood, it has no bearing on the authenticity of the food. I say this not because I'm an expert on fried clams with bellies (huh?), steak bomb sandwiches and something they call a "three way," because I'm not.  But I do have an ear for a Massachusetts accent, and that, along with the majority of the clientele nervously speculating about the chances of Boston garnering a wildcard seat in the MLB playoffs, was enough proof for me. This is MA transplant heaven, and the word about food from "home" is getting out.
The menu is pretty classic and quite large, offering modestly priced burgers, wings, pizza (with and without red sauce), pasta, salads and, of course, sandwiches.  Surprisingly, they also offer pricier (in the $20-25 range) specials Wednesday through Sunday that include fresh seafood flown in directly from Ipswich, MA.  We tried the Fishahmen's Plattah, a combination of fried haddock, shrimp, clams and scallops.  I've never dreamed of battering and frying a scallop likened to fish and chips, but I have to admit it was pretty good stuff. Sweet, juicy, perfectly cooked and not in the slightest bit greasy, you could tell this was made in-house, not only because of the freshness and texture, but also because, unlike battered frozen fish, the coating didn't completely adhere.  A bit messy and somewhat of a cooking faux pa? Perhaps, but that didn't stop me from eating every morsel, picking up the latent pieces of  tasty batter and wiping the cup of deliciously creamy homemade tartar sauce clean. 
Their claim to Bostonian fame is a Roast Beef Sandwich (served "two way" or "three way" depending on the toppings), and a huge steak sandwich known as a Steak Bomb. Both sandwiches are a serious bargain, priced from $4.29 to $7.99. The roast beef is the real deal, nothing pressed and overly salty here, served juicy and pink.  We went with the three way as suggested by the staff, receiving a sandwich dripping with mayo, a slice of white American cheese, and a mesquite style barbecue sauce that added nice acidity and kick to the sandwich.  Still, as good as this roast beef sandwich was, the Steak Bomb was something I'll go back for again and again, especially during playoff season.  Amazing quality beef here, no gristle or fat, just melt-in-your mouth tender meat.  It's fried up on the grill with fresh mushrooms, bell peppers and sweet onion, then topped with more of that American cheese which melts into a kind of sauce that binds the ingredients together. The soft and airy hoagie style roll it's served on is what sends this sandwich over the top, soaking in all the juices and flavors while holding this monster of goodness together. It's better than any Philly Steak sandwich I've ever tasted, which I'm sure is why the Massachusetts owners shudder if you call it such.  
East Coast Eats is open for both lunch and dinner, and they also cater–something to keep in mind for the upcoming season. With sandwiches like these, I'm happy to be a part of some serious East Coast tradition, even if it's only for one meal.    For more info, call them at 834-4444.
By Aly Wagonseller
It's strangely exciting finding a neighborhood restaurant like Forte European Tapas Bar, located at 4180 So. Rainbow Blvd.; a place where the food is as eclectic as the décor. It's funky…charming…reminiscent of  bistros you stumble upon in dark European alleyways, yet this one's propped in a nondescript strip mall you've no doubt droned past countless times during commute. Clandestine comes to mind. The dinner conversations, mostly in Eastern European dialects, halted eerily upon our entrance into the establishment. The polite, albeit noticeable stares acknowledged a stranger was in their midst. Dramatic, I know, but seriously, I felt like a camera toting, sandal wearing tourist, fully exposed to the scrutiny that Americans bring upon themselves when travelling abroad. Will I be able to pronounce the food names while ordering? Just exactly what was that I ordered? Do they really prepare Albondigas meatballs that rare in their country of origin, and if I send them back, will I offend the chef? It's these delightful idiosyncrasies that make Forte a "go to" destination for those that crave a dining experience that's slightly off-kilter from the norm.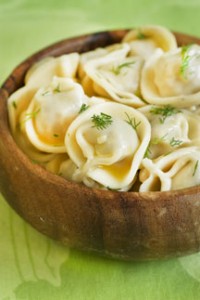 The cuisine is hardly your average small plate fare. No dumbed-down, Americanized tapas here. In fact, many of the dishes aren't even of Spanish descent, instead calling upon the heartier styles of cooking found in Russia, Hungary and Bulgaria.  Granted, they do have safer bets for the less adventuresome eater–chicken wings sautéed in garlic and Spanish olive oil, mac & cheese and stroganoff all come to mind. And yes, you'll find the requisite jamon, Manchego cheese, chorizo, and bacon wrapped dates with almonds (ours unfortunately torched to an inedible, blackened crisp) you'd expect from any self respecting restaurant with tapas in their title. But it's selections like Stuffed Squid in its own ink, eggs baked in clay pots with a variety of meats and cheeses, and an array of dumplings and other homey specialties that make Forte truly memorable.
Pelmeni, Russian style meat dumplings, were a clear stand-out and reminiscent of homemade pyrohy my mom and Ukrainian grandmother used to make.  Just enough spice in the filling, tender dough of perfect consistency (too thick and they're gluey, too thin and they don't hold up) and a nice slathering of thickened sour cream…aaah memories. The addition of green onion and chopped dill added nice texture and freshness to the dish.  Aforementioned meatballs, served with a spicy aioli, were aggressively seasoned, of generous portion size, and although a bit rare in temperature and just a tad rubbery for my taste, respectable.   Still, the dish that will have me coming back time and again is the Adjarski Khachapurri.  No need to wait for a dreaded hangover to enjoy this dish, although it would be the perfect counterpart for too many swigs of infused vodka, something Forte brews countertop in their bar. Piping hot, impossibly crusty bread that's shaped like a hollowed out canoe is filled with mildly salty pickled cheese and a raw egg.  Twirl your fork (or ask your server to do it) through the egg and the heat of the bread cooks it while melting the cheese underneath.  The bread somehow stays crisp, making the perfect vehicle for sopping up the amalgamation of delicious protein.  Who'd have thought simple ingredients of cheese, bread and egg could be so heavenly?    
Much like many European eateries, the service was not overly friendly or helpful, something that could be attributed to one server trying to man the entire restaurant on our Monday night visit.  No matter.  With vodkas to try, egg and cheese to devour and so many other international items on the menu left to experience, a trip back to Forte is happily in order.  For info, call them at 220-3876.
By Aly Wagonseller
Maybe because of the economy, or perhaps because our culture is one that's constantly on the run, the fast food industry has thrived while fine dining has…well…unfortunately seen better days.  This doesn't mean enjoying a five course meal in upscale digs is dead; that would be criminal. What has evolved though is a new generation of fast food restaurants that aim to satisfy the discerning tastes of diners who recognize quality eats, at a price they can afford any day of the week.  The Great Greek Grill located at 1275 W. Warm Springs #160, is just such a place where unassuming, simple and no frills dining has never been better.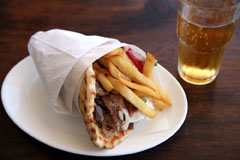 Owner Girair "Jerry" Goumroian, is no stranger to the restaurant world.  He grew up helping in his parents' Greek eateries here in town, eventually venturing on his own culinary journey by attending school then working for the likes of Adam Sobel at Rick Moonen's RM Seafood, as well as other haute spots on the Strip.  Looks like young Jerry learned a few things, as what he's dishing out at the Great Greek is cuisine that is honest in its ethnicity, yet has a modern sensibility that's fresher, lighter and definitely something special.  No matter that you order at the counter; or that the restaurant is tiny, with just a few tables for those wanting to dine-in.  What does count is that the food is worthy, and the price tag surprisingly low for the quality of what's served on the plate.
Besides a near perfect bowl of lemony, Avgolemono soup, a good representation of the classics can be had with the Mezze Plate (9.95); a nice selection of salad, pita bread, dolmades, falafel, hummus, tzaziki and a surprise serving of spanikopita.  It's fairly evident that everything is made in-house; the hummus, a textural treat that's not overly processed; a  yogurty version of tzaziki,  that's delightfully tart and hearty, yet nicely tempered by fresh cucumber; and falafel that was magically moist on the inside, despite an unusually crumbly outer texture.   The more substantial fare on the plate was equally well done, especially the spanikopita. Flakey filo was light and not overly greasy, and the spinach filling was creamy, feta cheese goodness; not too heavy and exceptionally flavorful.  
The Great Greek of course serves up the requisite Gyro sandwich (7.50) and Grilled Souvlaki Platter (10.95) that included a perfectly dressed Greek salad and crunchy fries that traditionally wind up inside the do-it-yourself pita wrap.  Both were quite good; the Gyro aggressively seasoned but in a good way, tempered by sweet tomatoes, lettuce and creamy tzaziki,  and the Souvlaki perfectly cooked – no easy feat  for chicken kabobs, which oftentimes tend to dry up and wither off the skewer. Still, my off the chart menu favorite has to be Yia Yia's Pasticcio (9.95). A Greek, ground beef and pasta casserole, layered with creamy Béchamel and tomato sauce, it's typically pretty heavy and dense.  This is where Goumroian displayed some serious cooking chops, his version exhibiting an airy, almost soufflé-like texture that preserved all the sublime flavors of the original dish, yet didn't weigh you down like a brick. Good stuff.
 The Great Greek Grill just added Mythos and Hillas beers for the sit-down crowd, and they serve homemade desserts that include a cinnamon infused Baklava, Yia Yia's Rice Pudding and Shamali, a traditional semolina and orange zest cake. Good bye kings and clowns. This is one fast food revolution you can feel good about. For take-out, call 547-2377.
By Aly Wagonseller
In general, when you think of most neighborhood Thai restaurants, heaping plates of spicy Pad Thai, a variety of curry dishes, papaya salad and fried rice comes to mind.  The food is served family style or in to-go cartons, a byproduct of décor that's typically not the highlight of the dining experience.    Now don't get me wrong. I love the sweet, salty, spicy flavors of traditional Thai cuisine; I'd eat the stuff off a slightly cracked, melamine plate any day of the week if it's good enough. And, I'm not saying that some restaurants don't cook up a far better sampling than the other guy down the street.  It's just rare that you'll find a playful, yet sophisticated take on what's considered the norm, and herein lies the beauty of Nittaya's Secret Kitchen, located at 2110 No. Rampart, Suite 110.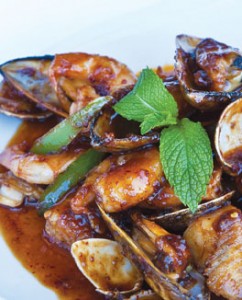 The restaurant is the brainchild of Nittaya Parawong, a talented, artistic and driven individual with a passion for fashionable food and surroundings.  Nittaya, according to our enthusiastic and very personable server, is responsible for just about every detail this tiny, surprisingly chic restaurant has to offer.  With only ten tables and as many bar stools for overflow, her choice of dark brown hues, pearl white banquette seating and modern art provides an urban feel.  Fresh floral arrangements (a nice touch that Nittaya, of course, arranges herself) and the brick walled bar create a warm, yet lively nightclub-meets-neighborhood bistro feel that's perfect for both family or date night.  Her one woman show doesn't stop there either; she is also responsible for changing things up a bit in the kitchen, personally overseeing and oftentimes preparing her unique versions of traditional Thai and Thai Tapas cuisine.
Thai Tapas…seriously?  Well why not? It's simply a trendy, much more refined Thai version of the beloved pu pu platter we Americans have clamored about for decades, with the added benefit of personalized choice.  What you do have to choose from isn't your average egg roll either. Grilled Mango Shrimp wrapped in bacon; Cilantro Steak Skewers; Shrimp in Pastry with jalapeños, leeks and cream cheese; and a Stuffed Angel Chicken Wing that was moist in the middle and impossibly crunchy on the outside are  just a few of the creative selections offered.   All are artfully plated with the kind of detail that speaks volumes about Nittaya's pride in and love for her establishment.
We started with what they call their World Famous Spinach Salad. This is not your typical salad, but more like a Thai version of chips and dip. The spinach is lightly dipped in batter and deep fried in a way that renders it crisp, without being heavy or greasy in the slightest. The lime vinaigrette dressing, a sauce I would suggest you dip into instead of pouring onto the spinach for fear of creating a soggy, tempura mess if it sits too long, is filled with ground chicken, whole cashews and carrots.  It's aggressively tangy and fresh tasting, and it's absolutely addictive when paired with the earthy, crunchy spinach leaves.  Equally enjoyable were the Whitefish Cakes.  Oh my…the flavor imparted by the licorice undertones of Thai basil is sublime, and these light, delicate and expertly prepared little morsels had just the right amount.  The addition of crispy cucumber for textural crunch and a sweet chili sauce for a bit of a kick elevate this dish to must-try status.
Nittaya's offers a large variety of family style entrees that, while more traditional, still contain a unique twist or two.  Home Style Pad Thai, with its distinctive peanut sauce, as well as Fresh off the Boat Pineapple Fried Rice, attractively served in the shell of the fruit, are two of their more popular dishes.  With an impressive wine list, many served by the glass, and special half price offers on Thursdays, Nittaya's Secret Kitchen is Thai that's got style.  Reservations are a must for dinner and can be made by calling 360-8885.
By Aly Wagonseller
There's something about the sound of a rockin' accordion pumping out some serious Louisiana Zydeco that just says party.  Add to that a dose of ragin' Cajun cuisine, a sprinkling of purple, green and gold plastic beads and a fleur-de -lis or two and you'll all but have transported yourself to Mardi Gras in the French Quarter streets of the Big Easy.  Sounds fun, don't it?  It's a good time that can be had six days a week at Lola's: A Louisiana Kitchen, located at 241 W. Charleston Blvd., Ste. 101, near the I-15.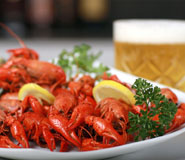 A quaint little haute spot situated in the heart of the downtown arts district, Lola's is the brainchild of  Lola "Beth" Pokorny, a charming woman who draws her culinary flair from a long line of down home "Looziana" cooks and restaurateurs, as well as her own endeavors as a successful caterer.   Beth brings a homey, soulful sensibility to Lola's; a little slice of Southern pride and hospitality that's as evident in the comfy, yet stylish décor as what's cookin' in the kitchen.   She's there to greet you most days and is happy to share the skinny on house specialties, personal faves or what's new on the menu.   
Cajun cuisine can certainly be a mixed bag, running the gamut from a humble dish of Red Beans and Rice to spicy seafood, Jambalaya and a variety of Po-Boy sandwiches.  Lola's has them all, including a seasonal crawfish boil that's offered on Fridays and Saturdays from noon until there's nothing left but empty heads, shells and tails. They're flown in fresh from Louisiana and are so popular that you need to call and reserve your stash ahead of time to avoid missing out on the fun.  For starters, you can't miss the Charbroiled Oysters.   Broiled in an open view kitchen adjacent to the small bar area, Lola's version is tender and only slightly smoky; a good thing, as it doesn't overpower the freshness of these tasty little mollusks.  Wisely restraining the amount of fresh lemon juice, garlic and cheese served atop the oysters only does more to highlight the clean flavor, making for a balanced dish that's hard to stop eating.  A Blue Lump Crab Cake was less successful, but still enjoyable.  I just would like to have had the outer crust more caramelized and the temperature of the cake closer to hot than lukewarm, something that could be attributed to the thickness of the cake.
A Cajun kitchen wouldn't hold its weight in Louisiana hot sauce without Catfish and Grits on the menu, a dish that truly shines here at Lola's.  Dubbed as bronzed rather than blackened, the spicy seasoning on this tender and flakey fish wasn't overly aggressive, something lovers of the more potent version may want to take note of.   Still, the flavors were vivid and complex served atop a nice helping of creamy grits, somewhat reminiscent of an aromatic risotto, aptly spiked with flavorful Gouda cheese and surrounded with earthy mushrooms and smoky chunks of andouille sausage.  This, to be certain, is a five star winner of a dish.   The New Orleans Style BBQ Shrimp was also quite tasty–large, perfectly cooked prawns swimming in a rich and somewhat spicy sauce with hints of cinnamon, cayenne and, I suspect, a pop of allspice.  Delicious it was with accompaniments of white rice and toasted, buttered French bread made for soppin' and washed down with the refreshing raspberry undertones of an Abita Purple Haze lager.  And, although we couldn't possibly eat more, we had to try the amazing Bananas Foster Bread Pudding. Beth's own secret recipe, the homemade banana bread and custard were artfully elevated with the addition of a sublime, cinnamon infused caramel sauce and vanilla ice cream.  Foodie dreams are made of this stuff.  
Lola's may be a bit out of the way, but the music, food and atmosphere feel miles away from anything else here in Vegas.  It's the magic of New Orleans in our own backyard.   To reserve your crawfish or make reservations, call them at 227-5652.
Recent Posts