Browsing articles in "Haute Spot"
By Aly Wagonseller
There's really nothing over the top about the food served at a Japanese steakhouse. Abundant veggie, meat and fish combinations expertly seared on a hibachi grill, while healthy and clean in flavor, rarely warrant the James Beard Award for creativity. Still, sometimes it's just plain fun to watch other people play with your food, especially when you have kids in tow or need a good cheering up from a hard day at the office. I mean seriously, if you can keep a straight face while flying fragments of shrimp are torpedoed into your mouth via a spatula wielding chef doubling as a variety show entertainer, you're a better person than I. And if you can find a teppanyaki den that also serves more daring fare, including sushi and even Thai selections, you've got a winner the entire fam can agree upon.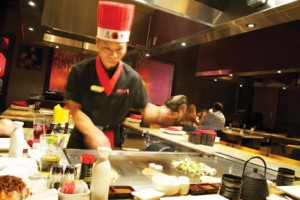 Ohjah Japanese Steakhouse, located at 8595 S. Decatur at Blue Diamond, or their newest location at 10144 W. Flamingo, is a definite "go to" for Japanese steakhouse fun and food in a surprisingly sophisticated yet casual atmosphere. Super clean (not an easy feat considering the controlled food fight that takes place on a daily basis), the décor is modern and warm, with dark finishes and granite grill side surrounds that stay cool despite what's flaming on the flattop. A separate section for those interested in other menu items sans hibachi, as well as a dedicated sushi bar, makes this restaurant a great place for both family and date night outings. Service was outstanding as well, with quick seating and food service, despite being busy on what you might think would normally be a slow Tuesday night.
Hibachi selections aside, the menu is quite large, offering a wide range of meal options from katsu to yakisoba, sushi rolls to Thai curry. Curious about the sushi, we tried the White Tiger Roll, reasonably priced at 11.95. Comprised of aggressively spiced tuna, and I mean that in a good way, the heat was nicely tamed with crisp cucumber and buttery tuna belly overtop; a tasty option that definitely warrants another visit just for the sushi. Hibachi offerings were easier to navigate, with a required basic entrée (8.95) that included soup, salad, rice or noodles and vegetables. You can stop there or add a variety of mix and match meats and fish, from reasonably priced chicken (4.95), salmon or shrimp (5.95), and filet or New York steak (5.95-7.55) options, to a decadent lobster tail (15.95) or Kobe beef splurge priced at 48.95. Let the party begin.
Out came our chef in a whirl of twirling utensils, doing all the regular shtick, including tossing egg shells into his chef hat and creating flaming onion volcanoes as only a culinary magician can do. Scallops, steak and chicken were flipped to and fro (not at the same time, mind you; these guys are versed on cross contamination issues), with the addition of butter, fresh lemon juice and ginger or teriyaki sauce spicing things up a bit. While he toiled away, we finished our appetizers; a broth that, while tasty, was plagued by the addition of unappetizing crunchy noodles that became quite chewy as they took on the liquid in the bowl; and a cooling, iceberg lettuce salad with creamy miso ginger dressing that was quite nice. The main dish was, as expected, nothing over the top from a culinary standpoint, but very well executed for this style of cuisine. Beef was cooked as ordered, the teriyaki scallops exceedingly fresh and plentiful, and the chicken still possessing some juiciness to it. Rice and noodles were nicely caramelized, and the addition of butter and soy sauce provided ample flavor.
All in all, our meal at Ohjah was a very filling and tasty one. But more importantly, it was an entertaining one; a definite plus if you're trying to amuse kids that have been home on summer break for one day too many. For reservations, call them at 868-9888, or 868-2888.
By Aly Wagonseller
Ask any hometown, die hard lover of Japanese ramen where "the" go to place for the best noodle bowls this side of Tokyo can be found, and you'll likely be steered to a tiny joint in China Town called Monta Ramen. Established in 2010, this twenty seater hole in the wall has garnered a following so loyal, many patrons routinely wait in winding lines out the door for more than an hour, rewarding their taste buds with Monta's authentic version of this Japanese comfort food and hangover cure classic. Now, thanks to a convenient second location at 9310 S. Eastern, adjacent to Gold's Gym, there's no need to arm wrestle tourists enamored by Trip Advisor reviews or suffer through that pain in the butt drive to Spring Mountain and Jones. Customers both old and new can now experience incredible food that's quick, inexpensive and just plain addictive.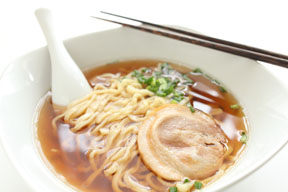 Unlike many ramen joints, where there's little to be said about the ambiance or decor, Monta Chaya feels upscale yet warm and friendly. Tiny like its predecessor, seating thirty to forty people max between a few tables and a decent size bar that surrounds the open kitchen, the restaurant boasts beautiful finishes including an unusual, petrified wood like bar that's a work of art in itself. The staff is super attentive, acknowledging all who enter with a friendly Japanese welcome while being extremely efficient. This helps keep the wait time short, even if the restaurant is busy, as it often already is.
The menu and quality of food is identical to their flagship location, with Monta Chaya offering a few extra items in the appetizer department. Favorites included blistered shishito peppers, nicely dressed in a mildy sweet miso sauce and finished with a sprinkling of toasted sesame seeds; and Chicken Karage, a Japanese version of fried chicken using delicious little nuggets of marinated chicken thigh, flash fried in a potato starch coating that keeps the meat exceedingly juicy while maintaining a delicately crispy outer crust. Not too heavy, very flavorful, and a nice option for the picky eaters in the party. Another standout worth mentioning is the Mini Mentaiko Bowl. A bargain at only $2.95 with seasoned rice, chopped scallions, shredded nori and spicy cod fish roe, it feels much like eating a deconstructed sushi roll. Fresh and super delish. Other classics include several varieties of fried rice, all superstars in their own right, and a Pork Belly rice bowl that is out of this world porky goodness. A must try if you're a fan of the belly.
And then there's the ramen. Once that first sip of rich, Tonkotsu broth and perfectly prepared noodles head down the hatch via the collaborative effort of chopsticks, spoon and individualized slurping techniques, you'll discover why this place has risen to rock star status. The broth has just the right amount of fat content, evidence they've boiled down those pork bones, collagen and fat for hours to produce a decadent soup that's buttery rich yet perfectly balanced and not overly salty. Two slices of impossibly tender Chashu pork float over top, with tender bamboo strips, shredded green onion, and kikurage mushrooms adding texture and earthy flavor. There are also several sides you can add to your bowl; the nitamago, soy flavored soft boiled egg and nori sheets were personal favorites. Some of their other broths aren't quite as indulgent, such as the Tonkotsu-Shoyu, which tames the meaty richness of the original by adding chicken broth, as well as miso and straight chicken broth versions. All are blessed with intense flavor that elevates this simple Japanese staple to something memorable and special.
Having a China Town transplant in the neighborhood goes to show that restaurateurs are finally taking notice of the burgeoning local foodie crowd who love great eats but often don't have the time or patience to drive across town to get it. I suspect Monta Chaya will soon have the same following as the original location; I, for one, will wait in line. For information, call them at 331-5151.
By Aly Wagonseller
It's the simple things that make a restaurant memorable and worth returning to on a regular basis. Fancy food and décor, if done correctly, is certainly worth the price tag. But the name of the game in a locally owned neighborhood restaurant is consistently good service; food that's prepared well and is fairly priced; and the presence of a very likable owner who's in the trenches making sure his customers feel welcome and happy with their overall dining experience. This is exactly what we found at Juan's Flaming Fajita's & Cantina, located at 9640 W. Tropicana.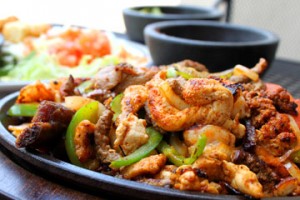 The restaurant's namesake, Juan Vazquez, has assembled a team that old time Las Vegas natives might recognize. The main man in the kitchen worked at Viva Mercado's Mexican restaurant for more than eighteen years, while other staff members (including Juan) worked there in various service positions, many until the iconic establishment suffered its demise a few months ago. This may explain why the Flaming Fajita runs like a restaurant that's been open for years as opposed to only a few weeks. The service is organized and remarkably friendly; the ambiance, while somewhat cliché, inviting and comfortable; and the food… well… honestly some of the best I've had for the genre.
You won't find Nuevo cuisine ala Border Grill or Mundo (a personal favorite) on the menu, but that in no way means that the classic fare Juan's is dishing out doesn't compare. It starts with sauces that are incredibly complex in flavor; for me, the reason why this place is so noteworthy. The kind of red chili sauce so earthy and robust it transforms a simple cheese enchilada into a masterful bite you just can't stop thinking about. Expertly prepared mole that's deep and soulful, yet doesn't finish like a brick on the palate, a trait that's given mole a bad rap in many a Mexican establishment. Verde sauce that's tart without being abrasive, balanced with just the right amount of heat to accentuate ingredients like the tender chunks of pork found in their exceedingly flavorful pork chili verde. Because these sauces are the backbone of pretty much every burrito, enchilada or tamale on the menu, I doubt you'll go wrong with anything you order; they're really that good.
But as the name implies, fajitas are Flaming's big draw. I've never really understood the affection for this particular dish, since to me there's nothing interesting about a DIY preparation of minimally dressed meat and vegetables wrapped in a tortilla. Still, a lot of people love 'em, and like the rest of their food, Juan's does them right. When they say flaming, it's literal; huge (translation: plenty of leftovers) portions of well executed chicken, steak, pork or shrimp come to the table in an iron vessel that sits atop a fondue pot style heating source. Unlike most restaurants, where the requisite  fajita Pavlov dog-like reaction is set in motion by way of the sizzling sound of meat as it makes its way through the dining room,  Juan's flambés your entrée at the table; a detail that, while entertainingly showy, actually serves a purpose to render  off  grease and sear the meat. Condiments including sour cream, guac, and salsa are plentiful, making for a very respectable version of this south of the border classic.
Velvety bean dip, blistered jalepenos and caramelized onions served with the obligatory basket of chips are an original touch, as is the option to order fresh from the skin guacamole, made to your liking tableside. It's worth the extra $7.95 if you're a fan. Round it out with a variety of margarita and drink specials (happy hour deals are served between 3-7pm) and a separate bar with plenty of tables and TVs and you're good to go for dinner or cocktails.
I love the heart and work ethic that Juan Vazquez brings to the Flaming Fajita, his first restaurant venture, and obviously a true labor of love. With the food and service expertise he's showing already, I think the future is certainly bright for this neighborhood must try. For hours and information, call them at 823-1400.
By  Aly Wagonseller
 Having been victim to some disastrous restaurant openings, I generally don't frequent the new guy on the block until they've had ample time to find their groove. Granted, there are some very experienced restaurateurs that seem to possess the golden touch from day one. But with too many hiccups to be had in terms of staff and service, menu options and food execution, they are most definitely the minority, especially if the patriarch of the restaurant lives and works a countryside away. That's what makes my visit to Poppy Den by Angelo Sosa, the newest addition in the massive restaurant revamp currently taking place in Tivoli Village, so bittersweet. Do I want to adore this place because I see its massive potential? Absolutely. But much like the relationship between a growing adolescent and a loving parent, you may have to cut them some slack while they learn from mistakes you both totally saw coming.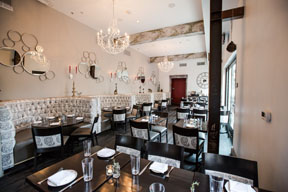 Sosa definitely has personality and wild creativity, something that any fan who's seen him compete on Top Chef can attest. These traits transcend themselves in both the conception of the menu and the atmosphere at Poppy Den. Billed as an Asian Gastropub, the décor is more sophisticated than theme-like, a blend of beautifully crafted paisley textile, distressed beam ceilings, dark hardwood tables, repurposed steel architectural details and a collection of rustic yet modern accessories that create a homey comfort zone. Not what you might expect… but this is Angelo Sosa. The second dining room upstairs is also available to rent for private parties and owns a sexier, loungy vibe with vibrant red walls and flowing fabric that's vastly different from its downstairs counterpart, and yet probably more predictable in terms of what a poppy den might conjure in the imagination.
Equally exciting is a menu that builds upon Sosa's clear understanding of Asian flavor combinations, while indulging a love for taking a ride on the fusion wild side. Herein lies the root of some of Poppy's growing pain issues. The flavors rocked in all but a few of the several small and large plate dishes we ordered, yet somehow more than a few suffered from at least one element of improper execution. Silly issues that, while not egregious, stripped perfectly conceptualized dishes of their deserved five star status. Cases in point: unforgivably chewy crostini served with an otherwise delicious Jarred Tuna, or painfully overcooked meatballs that marred the brilliantly conceived Korean chili paste, basil, ginger and Parmesan cheese tomato sauce that accompanied them. Shrimp and Grits were troublesome as well, the turmeric marinated shrimp taking on a kind of mushy, tandoori like consistency that did nothing to add interest to the sublime, velvety white polenta elegantly flavored with yuzu, lemongrass and coconut milk. Finally, a delicately flavored Green Tea and Mint Crème Brulee fell victim to unevenly bruleed sugar that either stuck to your teeth from being undercooked or permeated the palate with the bitter taste of singed caramel; a shame, as the flavors in the custard were incredibly well thought out.
Still, there were many bright spots to be had during our meal, including the Tuna Deviled Eggs, an addictive bite of chopped egg white and sushi grade tuna bathed in just the right amount of smoky paprika oil, cilantro and scallions. Or the Watermelon Salad with Goat Cheese, a refreshing, textural superstar that paired crispy fruit, mild and creamy goat cheese and a sweet and spicy topping of candied wasabi. Super creative. Miso Salmon with charred Shishito Peppers was also nicely prepared, the charred peppers a delish, somewhat bitter contrast to the sweet, melt in your mouth salmon.
All cards on the table, the food and craft cocktails being served at Poppy Den by Angelo Sosa are truly inspired, with more than a glimpse of remarkable potential once the kinks of the restaurant are worked out. It's a place on the verge of becoming a great neighborhood eatery; you just may have to be a little patient in the upbringing. For reservations, phone 802-2480 or visit www.vegaspoppyden.com.
By Aly Wagonseller
Farm to Fork. It's as trendy as reality TV, and in a place with soil as barren as it comes, it's likely to be just as counterfeit in terms of authenticity. How can a true Farm to Fork experience reside in a place where nary a cow moos or few quality ingredients grow? And while I realize that passionate people such as Kerry Clasby, the woman responsible for gathering produce and the like for the Downtown & 3rd Market, have experienced a fair amount of success in bringing the movement to Vegas, this isn't Santa Barbara County. So after hearing all the buzz about Honey Salt, the newest addition to the Summerlin restaurant scene, I braced myself for what I thought would be a disingenuous themed restaurant  developed  by  two intelligent and seasoned corporate restaurateurs more experienced at sniffing out a marketable opportunity than creating a real deal home for an impeccable meal. I was wrong… so very wrong.
Worth the drive on the 215, Honey Salt is a neighborhood spot that feels big city, yet it somehow remains soulful and unpretentious. Profoundly more polished than most locally owned eateries, it fits into the new generation of restaurant trends based in New York and Los Angeles that exhibit strategically loud acoustics and lighting that's just a bit too dark, so dark that the waiters pack flashlights to help patrons read the menu. That being said, the décor is exceptional and the service exemplary, with an open view kitchen that clearly runs like a well oiled machine. None of this is surprising considering the husband and wife proprietor duo of Elizabeth Blau and Kim Canteenwalla. For the past decade, Blau has been responsible for bringing many a celebrity chef and their restaurant concepts to our city, most notably with the Wynn properties and via her and her husband's consulting firm, Blau & Associates. Chef Kim has travelled the world, feeding a passion for the craft of cooking, and even won alongside Kerry Simons on Iron Chef America. The pair has already opened their own successful gig on the Strip, the Society Café at the Encore resort, with Honey Salt fulfilling their desire to entertain local folks with the kind of food they serve in their own home.
Blau and Canteenwalla care passionately about the quality of their food, offering simple dishes that transcend basic ingredients into something tasty and enormously satisfying. The Burrata, Rosso Bruno and Teardrop Tomato Salad ($15) exemplifies this philosophy to perfection. The buttery creaminess of the cheese lends substance yet doesn't feel overly heavy when paired with the bright, acidic flavors of the Rosso  Bruno and teardrop tomatoes. Fresh figs and a balsamic reduction add sweet elements, with fresh basil leaves and crunchy black peppercorns providing an aromatic finish. Clean, simple, amazing. Taking our server's advice to eat anything raw, we opted for the Steak Tartare ($14), a refreshing combo of righteously chopped beef combined with pungent capers and sweet, crispy bites of pickled papaya. Charred pita bread toast points added an amazing smokiness and a backyard, home-style sensibility to the dish. Another winner!
Scallops and filet were suggested as fan favorites, but as we wanted to see what magic they could do with pizza and simple chicken breast, we chose the Free Ranch Brick Oven Chicken ($22) and Charcuterie Pizza ($15). The chicken was presented airline style, with perfectly crisp skin that preserved every last drop of juice in this typically dry offering. An incredible sauce that was thicker than au jus yet thinner than gravy added savory depth of flavor, especially as it saturated the rustic mac and cheese dotted with kale that accompanied the dish. Pizza was also well executed. Aggressively peppered, paper thin cured meats were rendered so crispy that they melted in your mouth. When paired with creamy mounds of fresh ricotta cheese, a subtle tomato sauce, crunchy fennel salad and a perfectly charred crust, it's just one more example of how the best ingredients can transform the mundane into something truly special.
Farm to Fork in the literal "pick a bunch of radishes down the road" sense is certainly not feasible in our geographic locale. Still, the down to earth flavors that Honey Salt puts on a plate are much more than a fleeting trend. It's what food ought to be and then some.  For reservations (you'll probably need them), call 445-6100 or book online at www.honeysalt.com.
By Aly Wagonseller
Anyone that's been in Las Vegas for more than a blink knows Mark DiMartino has been relevant in the local restaurant scene for decades. He grew up in Vegas, working in his parents' iconic Italian restaurant DiMartino's, and later developed several of his own successful concepts, including Grind Burger Bar and the now national chain Tilted Kilt Pub. His drive and affection for developing sexy and somewhat man-centric establishments is no secret, but there's something different about his newest endeavor, Pizza Buddha, located  at 2520 W. Horizon Ridge Pkwy at Carnegie. It seems that Mark may be mellowing as a boomer on the cusp, trading the frenetic edginess of his earlier endeavors for a more joyful, "make my belly happy" mantra that's a telling tale of personal growth and, I suspect, a desire to stop and smell the marinara.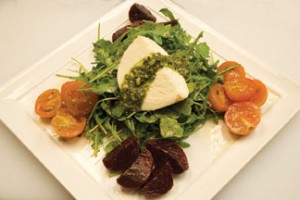 A quirky mix of Italian tastes wrapped in an Asian package, Pizza Buddha is more about attitude than fusion flavors. The menu relies on DeMartino's Italian roots with pizza, appetizers and salads, adding Asian ingredients only in small doses or menu namesake. The vibe, on the other hand, is Buddha-lectic and casual. Funky particle board flooring, Asian wall hangings and chill quotes such as "Learn to Let It Go – That is the Key to Happiness" painted throughout evoke a friendly, "don't take yourself so seriously" atmosphere designed to take you to your happy place. A small bar overlooks the open kitchen where Mark can be seen slinging pizza into brick ovens, and a few tables (the place is tiny-cozy) allow you to bask in all the good karma while enjoying some interesting yet not overcomplicated menu selections.
Like the restaurant's stature, the menu is small but never lacking in variety; no over thinking things in this Buddha den – a nod to DiMartino's minimalist vision. Fried Calamari (9.50) was tender yet crispy, tossed in a sweet but not overly spicy Thai sauce that coated the breading without making them soggy. Served atop a crunchy bok choy, carrot and green onion slaw with creamy dressing, it's a must try. A ricotta and spinach appetizer called the PB Egg Roll (7.50) transforms mama's stuffed shells into a hand held crunchfest ready for dipping in some of the best marinara sauce I've had in ages, but it was the Roasted Beet Salad (10.50) that had me om nom noming until the plate was licked clean. Wow, this is a winner; a thin slice of lightly breaded and fried eggplant served as a crunchy base to perfectly dressed and seasoned peppery rocket greens, a beautiful hunk of mozzarella and a touch of pesto. The sweet and earthy addition of roasted beets and acidic cherry tomatoes round out this taste I liken to culinary nirvana.
The aforementioned marinara served as a tasty base for crispy pizza, thicker rather than thin crusted, allowing you to build your own concoction or choose from a variety of house specialty versions aptly named after your favorite Buddha sayings. We rolled yin and yang familia, choosing the Mama and Papa Krakatoa pies (10-18.00 depending on size). Mama is an unusual hardboiled egg and roasted onion creation with flavors reminiscent of an egg salad, onion and tomato sandwich – hold the mayo and add a sprinkling of hot pepper flakes, please. It sounds weird, I know, but it's an interesting slice worth trying. Papa was reminiscent of pizza ala Hawaiian, albeit with smoky pancetta, pineapple and red jalapeño peppers, a delish version if you like this flavor profile. For me, I'm already planning my return for the My Sitar Gently Weeps (crispy eggplant and roasted onion) and Buddha Sama (white pizza with shaved garlic and more of that fabulous rocket salad) versions; I'm confident they'll make me fat and happy.
Like many of us, Mark DiMartino may be looking for peace, love and happiness in life. It's nice that he's sharing his newest brand of zen on a plate to spread the vibe. Pizza Buddha is open for both lunch and dinner. For information or take out, call them at 558-5039.
By Aly Wagonseller
Something special happens when you pair young, creative and energetic siblings with a mother willing to travel all the way from Southern Thailand just to make sure her recipes are prepared the way they were intended. It's all that and more that make Chada Thai & Wine a restaurant and wine bar that, even without the wine (the plight of a pending liquor license), provides a startlingly good choice for Thai cuisine.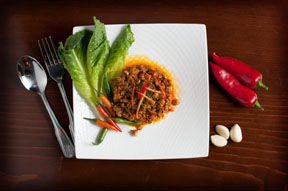 Located at 3400 S. Jones in a non-descript strip mall adjacent to China Town, the modern décor, eclectic red crystal chandelier and cool display of framed wine labels procured from the collection of co-proprietor Bank Atcharawan (former Director of Wine at Lotus of Siam) set the scene for late night Thai tapas and wine pairing. Yup, it's very much a hangout for the young and hip set, especially since they're open until 3 am. Still, being neither hip nor young should keep an Asian food lovin' aficionado away from visiting during dinner hours, where some of the most exciting Thai cuisine I've recently eaten in this city can be found at affordable prices.
Offering a decidedly smaller menu than most Thai restaurants, the flavors speak volumes in terms of authenticity thanks to sister and co-owner Aime Wanmaneesiri's mother Ampon taking charge in the kitchen. It's a temporary gig where mom has carved out a few months' time to teach the Chada chefs the ins and outs of preparing family specialty recipes handed down for generations, after which she'll be heading back home to Phuket. This is the food of love they grew up eating in Thailand; spicy, clean flavors that are wildly tasty when compared with much of the bland, watered down stuff offered by many American Thai eateries. They grind their own spices by hand, making the necessary staple ingredients, including curry paste, from scratch, forging an incredible difference in the intensity and depth of flavors presented. The typical 1-10 spice gauge is also absent at Chada; here, everything is prepared per mom's specifications, and that means it owns a nice kick.
Portion sizes are smaller than family style, yet larger than you'd expect in a tapas environment, so four or five dishes suffice for two diners. Selections run the gamut, from the daring fried pig ear, tongue and heart dish known as Lo-Ba ($8) to Miang Pou ($9), a crab meat, ginger, coconut and peanut lettuce wrap. The curry dishes are outstanding and shouldn't be missed. Slow cooked beef in Panang Curry ($9) lived up to Asian comfort food standards yet was anything but ordinary, but the Sen Mee Kang Pou ($12) was over the top delicious. The fresh, sweet flavor lent by a generous helping of crabmeat managed to stay relevant in the vivid coconut milk and lemongrass curry sauce. Served with three swirls of delicate rice noodles that added a nice textural contrast, it's a dish I will crave until next time. Per Aime's suggestion, I mixed and matched it with the Moo Hong ($8), soy sauce braised pork belly, the richness of which paired beautifully with the tart, fresh flavors of the curry. All I can say is… I want more and I want it right now. Other notables included the Sua Rong Hai ($12), tender ribeye steak served with a tart and spicy fish sauce, and a very flavorful rendition of Pad Kra-Pow ($8 for a very healthy portion), a stir fry of ground pork and chilis with the licorice undertones of Thai basil. Even though this is a popular dish in many Thai restaurants in town, this version had so much more flavor than I'm used to getting, making it a clear standout in the crowd.
Chada just opened, and even though they weren't able to serve wine at print time, they expect to be able to in the next few weeks. In the meantime, get in before the word gets out. It may be the last time you can do so without a reservation. For info, call 641-1345.
By Aly Wagonseller
The year was 2010. An era when the gourmet burger bandwagon had rolled into just about every strip mall and hotel restaurant in town. Humble hunks of poor man's steak lavished with luxurious truffles, lobster or buttery foie gras gained fast notoriety with each newer, more self indulgent creation vying for ultimate supremacy in a celebrity chef induced fight to the decadent death. Standard 85/15 ground beef mix was now passé, cast aside for trendier yet tastier brands of protein from Japanese cows genetically predisposed for superior fat marbling and a blessedly messier juice quotient. And don't even start with the glamorous make-over the French fry experienced, as if being French wasn't sophisticated enough. Still, almost three years later, and with most of us bored of all the hoopla, a breakout winner rises from the gourmet burger grill top. Bachi Burger is on the move, winning the indulgent sandwich throw down with fresh, Asian fusion flavors and a concept on the verge of stardom.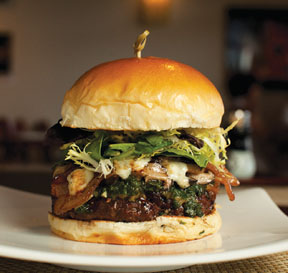 From my first experience at Bachi's Windmill location, just three days after their 2010 grand opening, I knew this place shouted "it" factor. Co-owner Ehren Watada enthusiastically explained how he and his brother Lorin, a former chef at Roy's Hawaiian Fusion, wanted to create an affordable dining experience where guests could enjoy cuisine normally reserved for higher-end restaurants. Building something from scratch while becoming socially responsible business owners was also high on their list. With Ehren's business sense and Lorin's creative chops, Bachi (a play on Hibachi) was born. A bit of an eye roll was had as I've heard this story before; the service needed work – I almost left because it took so long – and the décor, while relaxed and modern, wasn't necessarily a big draw. But after that first bite of Banh-Mi Burger greeted my taste buds, all doubt quickly faded. If every other burger on the menu was as good as this one, these guys were on to something big.
Of course they are. The Banh-Mi combines traditional Angus beef with pork, shrimp and pork pate, layered with a thin slice of Vietnamese bologna-like pork over the top. It's aggressively salty on its own, but add the freshness of carrots, daikon and mint, an understated curry aioli, and sweet and garlicky Nuoc Mam sauce and wow… it's like nothing you've ever had in a burger joint. Mr. Ho's Burger spikes the meat with a generous amount of ginger and garlic, topping it with sautéed mushrooms (not a button or cremini in sight); chopped, dried Chinese sausage, the texture like Spanish chorizo, yet flavored with sherry and garlic; hoisin mayonnaise that was a bit more aggressive than I would have liked; and an interesting purple bun that was light as air despite being made with starchy taro, hence the color. Their most popular burger is arguably the Ronin, a wild ride that combines the nuttiness of miso goma dressing, sweet Katsu BBQ sauce, caramelized onions and a tart yet flavorful yuzu aioli. Finished with a fried egg over top, an addition that adds rich flavor without masking the other ingredients on the bun, it's a burger born from true culinary genius.
Beefy burgers aside, Bachi also offers The Lonely Bird (surprisingly moist for a turkey/chicken combination), a few versions of Steamed Bao sandwiches, and an Oxtail Chili Cheese Fry appetizer that serves up spicy chili and beans infused with flavors of cowboy barbecue beef, jalapeños, perfectly crispy fries and a fried egg that melds it all together. It's the work of a madman, but man is it good.
How Lorin dreams up these wacky yet incredible flavors is a testament to his serious talent. With help from his bro, they've expanded their Windmill experiment, adding a Summerlin location at 9410 W. Sahara, with plans to cross the state line into California this fall. It goes to show that without going overboard, a better burger can evolve. One that's sure to be around for more than just a showy second or two.
By Aly Wagonseller
It's hard to "out" one of your favorite restaurants. On the one hand, you want to scream it from the rooftops when you find a local hole-in-the-wall gem that serves excellent food in above average surroundings, and with price points that are more than fair for the quality of food offered. On the other, though, why spill the bean sprouts if all this newfound popularity is sure to have you waiting longer for a table? It's not for me to decide, as the secret is definitely out on Naga Thai Dining, and although the service has gotten a bit slower than on previous visits, the food is undeniably worth the wait.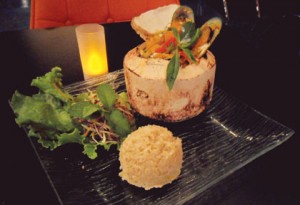 Located up the hill (not on the Eastern Ave. front) at 76 W. Horizon Ridge Parkway, Naga has a spirited vibe in more ways than one. Modern yet unpretentious décor dictates a space that includes bright colors, a soothing water feature, stainless steel decorator touches and mood music appropriate for casual, date night dining – as long as you don't mind rubbing elbows with your neighbors. Once you're seated, the staff brings out a tasting of fried wontons with sauces that illustrate the spice levels of the food via a story of "spirits" designed to gauge intensity based on mood. From the quiet Absent Spirit (no spice) to the Walking Spirit (medium intensity) to the fiery Angry Spirit (pretty darn spicy), it's a nice way to introduce Thai cuisine newbies to traditional ordering protocol. Soulful details continue with owner Supanee Janko overseeing the creation of her own vegan and meat dish recipes, many of which she developed while cooking in Thailand and California. Particular about what's on the plate, Janko insists on fresh vegetables and ingredients, often handpicking and purchasing from local Asian vendors.
You really can't do Thai without Tom Kah soup, and Janko's rendition is simply outstanding. Bright, flavorful and fresh only begins to describe this coconut milk based soup, the preparation of which successfully balanced the richness of the coconut with the tang of lime and lemongrass.  Not overly heavy, the vegetables were exceptionally crisp and the chicken perfectly poached, a nice beading of chili oil adding the perfect amount of heat to finish the dish. Sublime…really. Moo Ping, a skewered pork satay served with sticky rice (cleverly plated in a cute banana leaf cone), proved to be an excellent appetizer, the caramelized meat respectably exhibiting the Thai sweet, spice and salt trinity.
Entrees include all the norms in Thai cuisine including Stir-Fry (the basil version made with ground beef was a winner), Pad Thai and Curries. We'd heard some buzz on the drunken noodles, aka Pad Kee Mao, and ordered them with beef at Running Spirit spice intensity. Whew…this was some hot stuff! The thick rice noodles held firm and soaked up all the flavors (and spice) the dish had to offer while the baby corn, green beans, red bell peppers and onions provided farm fresh, crunchy textural contrast. Really nice dish. My favorite, though, was the Red Chicken Curry, a designation attributed to my love of worldwide comfort food and the aforementioned Tom Kah Soup, something I could literally eat every day of my life. Made with many of the same flavors including coconut milk, lime, galangal root (much like ginger) and lemongrass, the addition of matchstick bamboo shoots and basil made for a tasty concoction that was even better the next day as leftovers.
Naga Thai is teeny tiny, a true mom and pop endeavor, and as word has traveled about just how good this place is, the service has become a bit frenetic. Growing pains aside, this is one kiss and tell restaurant secret that deserves to be told. For takeout or reservations, call them at 508-2008.
By Aly Wagonseller
Attention to detail is often lost in local, family owned restaurants. For many new restaurateurs trying to ring the dinner bell, lack of it can result in the final nail in the coffin, especially when competing for loyal clientele amid a sea of endless eateries. That said, when a hometown mom and pop makes you feel like you're in an upscale hotspot on Las Vegas Boulevard while serving stellar food that won't pop your wallet seams, you tend to take notice. Marbella Tapas and Bar, located at 4561 W. Flamingo, is just that place; a neighborhood establishment that spoils customers with beautiful surroundings, exemplary service and a menu that won't disappoint.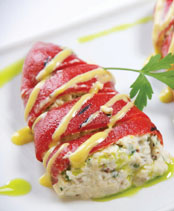 Located in a convenient yet somewhat "has been" strip mall next to the Palms Hotel & Casino, Marbella has a stunning interior. Dark wood flooring and wainscot, white linens, Spanish influenced ceiling frescos and glass dome chandeliers are just a few impeccable details proprietor Sia Amiri has infused into the decor. With 32 years of restaurant ownership experience catering to an impressive group of A-listers both here and in California, Amiri knows what discerning diners want and is determined to deliver. The upscale yet relaxed vibe is further enhanced by private eating areas, two bars and music that runs from Spanish folk to meditative chill.
The attention to detail continues in the kitchen, where everything is made from scratch, including the mozzarella cheese and an amazing crustless cheesecake. The menu is ingeniously organized and priced by plate size –  small being $6; medium priced at $9; and large, which constitutes full meals ranging from Grilled Tilapia to Lamb Chops to a 12oz. Ribeye and more, priced at a mere $16. This type of price structure lets you know exactly what you're spending for certain portions, a smart move that helps prevent sticker shock when it's time to pull out the credit card. Two signature versions of Paella are also available in half or full orders for $11-20, with Charcuterias, a specialty sausage plate meant to be split among two to four people, priced at $16 or $32. Portion sizes are ample and perfect for sharing.
Steak Kabobs, Chicken Quesadilla, Fish, Chicken or Steak Tacos, Boneless Baby Back Ribs and a variety of salads will appeal to picky diners, but being a fan of anchovies and all things Spanish, I stuck with more traditional fare. I started with the Boquerones, a heavenly combination of toasted sourdough baguette topped with shaved hardboiled eggs, mild white Spanish anchovies and grilled piquillo peppers. The dish was surprisingly light yet flavorful, the airy quality of the egg nicely balanced by the crunchy bread, salty fish and mildly sweet pepper. Another delicious gulp of my brandy spiked white sangria called for something with fat content; no better choice than the Huevos Estrellados. Crispy, thin cut French fries combined with nicely rendered Spanish Chorizo (a slight deviation from more traditional jamon) were clean tasting and not oily in the slightest. Top it off with the glorious yolk of a perfectly executed, sunny side up egg and you've got Spanish comfort food at its finest.  Piquillo Peppers with Crab Meat lightened things up, the fresh combination of crab and peppers nicely dressed with a tangy lime cilantro aioli and a spicy remoulade that, although promising, was a tad tame for my tastes. Other notable selections included a healthy portion of Shrimp Ceviche and Chicken Kabobs that, while mildly seasoned, proved an amazing flavor combination when paired with the accompanying vermicelli and rice side dish.
Our server was friendly and exceptionally attentive, and both Rozanna the manager and Sia personally visited with each patron, welcoming them to their culinary home. It's important details like these that set Marbella apart from your average local restaurant, making it a strip mall gem worth supporting. Marbella is open for dinner from 5:00 pm-3:00 am, Tuesday-Sunday. For information, call 405-0003.