Browsing articles in "Haute Spot"
By Aly Wagonseller
The old saying "absence makes the heart grow fonder" doesn't always apply to matters of romantic encounter.  Anyone that's recently frequented a favorite restaurant in anticipation of imbibing that one dish that floats your culinary boat, only to discover the "gone fishing for good" sign in the window knows just what I mean. This brand of gastronomic sorrow recently reared its ugly head when La Madonna Mexican Avante-Garde Cuisine closed its doors late last year.  No more gourmet tamales and freshly squeezed margaritas?  Seafood and steak specialties with sophisticated, Latin flair (and not a pinto bean in sight) gone by the wayside?  For those of us who revel in locally owned hole-in-the-walls that offer amazing food and atmosphere, this was a bit of a calamity. Thankfully, good things have a way of resurrecting themselves, with the original crew of La Madonna offering a moved and improved version–Mundo, A Culinary Haute Spot–as a more than impressive substitute.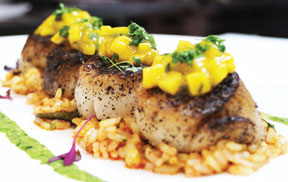 Never mind the out-of-the-way location in the World Market Center downtown, or that you have to use the public restroom located in the outer hallway of the mall as opposed to having a private lavatory adjacent to the bar; at Mundo, the good far outweighs these minor inconveniences.  Irma Aguirre has again exhibited her flair for creating a beautiful space that's sophisticated, yet simple. Weathered wood, stamped tin, crushed brown velvet curtains and artistically arranged lanterns, mirrors and candles, provide a vibe that's comfortable, yet brilliantly stylish. A welcoming bar exhibits a large glass vat of homemade sangria waiting to be poured, while serious mood music offers lively ambiance, without being obnoxiously obtrusive. It's a cool place to just hang.
La Madonna's talented Chef Robert Solano also returns, plating up his unique brand of flavorful cuisine and creating a refined Mexican dining experience that clearly steers its way clear of the rice and bean box.   Appetizers range from Chimichurri Glazed  Skirt Steak Skewers ($12) and achiote rubbed Grilled Chicken Satay with tamarind chile glaze ($12), to traditional Guacamole ($9) and three styles of salsa.  We tried the Queso Flameado ($14), a twist on the traditional melted cheese and chorizo fundido, spruced up with the addition of tangy goat cheese, roasted tomatoes, earthy mushrooms and a serrano chile sauce that added just the right amount of kick. Conversely, the Ahi Tuna Tostada ($14.), while creative, suffered from some execution issues. The thinly sliced ahi was seemingly damaged by the knife, creating a mushy texture that was overpowered by the flatbread style chip that accompanied it. It's one of few dishes on the menu that could use a little tweaking.
While Mundo offers an array of very interesting street taco and quesadilla selections, as well as upscale entrees that include Wagyu skirt steak, Chilean sea bass and prime filet mignon, for me, it's their tamales ($12-18) that foodie dreams are made of. Unlike most steamed versions that resemble a kind of maize torpedo, constructed with compacted corn mush and a smidge of filling, Mundo makes the filling the star.  Ample portions of toppings that include slow roasted short ribs in an earthy pasilla chile sauce or pulled chicken infused with a tart asada tomatillo sauce are piled over a velvety, loose style polenta flavored with sweet corn kernels and beautifully plated within a corn husk that acts more as a bowl than a mold.  The Chipotle Glazed Shrimp ($18) variety is particularly delicious, the sweet corn mush and lightly charred jumbo shrimp (surprisingly tender despite their gigantic size) married with a creamy red chile brandy sauce that's just sublime.  
La Madonna was certainly a great restaurant; one that I was truly sorry to see leave the neighborhood.  But its second born sister known as Mundo is definitely the Cinderella of the two, even if you do have to venture to Grand Central Parkway to try it.  For hours and directions, call 270-4400.
The concept of a traditional Brazilian Steakhouse, also known as a churrascaria, is a straightforward one. Here, tasty cuts of filet mignon, turkey blanketed in bacon, various types of sausage, leg of lamb, pork loin, chicken thighs, top sirloin, tri tip…the list goes on and on…are carved off their roasting spit right at the table, then served in endless quantities to happy go lucky diners willing to throw heart health and calorie consumption to the proverbial wind, at least for one succulent, meatfest of an evening.  Sure, they may offer vegetarian entrees and side dishes. Of course they'll have a fish dish or two. But if meat is your meal made in heaven, the churrascaria is paradise here on earth.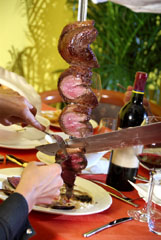 Located at 9460 So. Eastern, Brazilian Grill, formerly Steele's Restaurant, is the newest churrascaria to open in the neighborhood, offering comfy décor and lively atmosphere that's perfect for a night out with friends or family. The thoughtfully upscale dark wood and earthy color palette of the previous establishment remains, yet the new owners have added South American flair via colorful, Leroy Neiman-esque paintings depicting Carmen Miranda period dancehall girls and carnival scenes you'd expect to see in Rio de Janeiro.  In another shrewd move, the restaurant offers perhaps the best deal in town for this carnivorous feast of Brazilian persuasion, charging just $29.95 for 12 varieties of all-you-can eat meat, soup or salad, several side dishes and Brazilian cheese bread. Ala carte selections that include a vegetarian spread, a fabulous Chilean sea bass in a roasted red pepper sauce and other meat and fish selections, as well as cocktails de Brazil and several affordable wines and beers round out the menu. While not the most authentic Brazilian food I've ever eaten, it's still quite tasty for the price.
Unlike most Brazilian steakhouses, Brazilian Grill doesn't send you to a gargantuan salad bar filled with tempting morsels designed to fill you up before the meat arrives.  In fact, they don't even have a salad bar.  You do get a small salad of your choice or soup of the day, mine being a creamy carrot and ginger version that, while certainly not traditional, was truly outstanding. Customary cheese bread was different than most as well; the buttons of dough were stuffed with melted Parmesan cheese in the center, as opposed to grated cheese dispersed throughout the entire little biscuit.  No matter. They were equally addictive. Still, like most traditional churrascarias, a number of side dishes and garnishes were placed at the table prior to the arrival of the meat. Some, like jasmine rice, black beans, outstanding fried bananas, garlic mashed potatoes and the time honored condiment farofa, were quite predictable, while others–carrots layered in a tart, passion fruit sauce, and a diddy they called beef casserole that suspiciously resembled beef stroganoff–were an unusual, yet tasty departure from the norm.
The meat, of course, is what you should be saving your appetite for. It is, after all, the main draw here.  As is traditional, most was of excellent quality (with the exception of the sausage, which seemed underdone and somewhat bland), seasoned simply with sea salt, skewered on a spit and slowly roasted over an open flame. This allowed for a somewhat crunchy and caramelized crust, with varying degrees of doneness throughout each piece.  We simply told our carver (also known as a gaucho) how rare we wanted our slices to be, and it was cut to our liking. They didn't skimp on portion sizes either. The gaucho circled the restaurant in a timely fashion, changed varieties of meat with each passing and offered a little or a lot, depending on when we said "when"–certainly a license for gluttonous behavior.
The Brazilian Grill has an area suitable for larger groups and presents live Brazilian guitar music on Friday and Saturday after 6:30 p.m.  Priced right and close to home, it's a meat lover's dream.   For reservations, call them at 888-6888.
By Aly Wagonseller
Not long ago, there seemed to be a sushi restaurant in every strip mall, on every corner, in just about every nook and cranny of the city. Some, quite frankly, behaving like cheap floozies in the red light district, luring in diners with discounted, all-you-can eat offers, X-rated specialty rolls, and fish so poorly sliced, it literally didn't cut it. Not that there aren't decent sushi places that might employ a few of these marketing tactics to stay afloat; I'll avoid that backlash here and now. I'm just saying that too many neighborhood sushi restaurants have me questioning why I fell in love with this cuisine nearly 30 years ago. Where did the clean flavors and fresh fish, accompanied by sauces that complemented, rather than held their seafood counterpart captive, vanish to?  Have all the sushi chefs that actually know how to purvey quality yellowtail and skillfully slice it, all the while being playfully arrogant of the fact that they do, high tail it to the Strip or beyond? Sen of Japan, located at 8480 W. Desert Inn, has given back hope that old school sushi has not only survived, but is flourishing in a sea of make believe maki.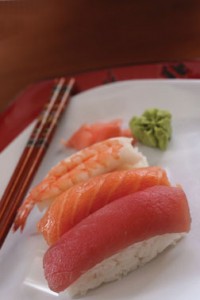 From all appearances, Sen of Japan might seem like many other local establishments. The requisite red and black contemporary décor, laminate wood plank flooring and glass tile backed sushi bar presenting a modest, yet comfy space to dine within. But, with the help of owner Hiro Nakano, former head chef of sushi heaven on earth, a.k.a. Nobu, and knowledgeable staff like our waitress Tiffany, a sweet girl, expertly adept at explaining everything from the nuances of their particular brand of ponzu to the texture of Mochi ice cream…no easy task I might add…and you've got something truly special.
Like Nobu, Sen offers a full range of Japanese cuisine that includes a wide selection of tempura, sumibiyaki (charcoaled skewers, the scallop version being quite tasty), hot fish and meat dishes, as well as specialty rolls and the like. We tried the Black Cod Soy (13.75) opting out of the optional foie gras accompaniment (an extra $9). I mean really, isn't black cod butter enough? Regardless, the fish was perfectly prepared and artfully plated, treating the eyes as well as the taste buds. I did long for the caramelized characteristics of its miso cousin, as I like a little sweet crunch to contrast with the velvety texture of the fish, but that's just me.
Hot fish is great but sushi is my game, usually indulging in a roll or two but never passing on the simplistic grandeur sashimi brings to the table.  A version they call Garlic Yellowtail (13.95) was as good as it gets; the thinly shaved fish expertly trimmed for maximum melt-in-your-mouth preeminence. Flavor and textural contrast were brought to the dish via an impossibly crisp garlic chip, spicy Serrano chili slivers and a citrusy yuzu soy sauce that was simple, bright…just plain perfection.  Spider Roll #23 (13.95) is a must, chock full of soft shell crab, cucumber and yamagobo, a pickled root vegetable that added a nice bite, but be sure to treat yourself to the Real Crab Roll with mango, cucumber, tuna and curry sauce (13.75). Unlike sushi rolls that are becoming as weighty and overindulgent as the American waistline, this delicacy is light, perfectly balanced by the sweetness of the mango and feathery texture of the crab, and elevated by the exotic flavors of a wonderful curry mayo sauce; an addition that surprisingly didn't overpower any of the other ingredients.
In addition to the Mochi ice cream and some homemade sorbets, you'd do well in the dessert department with their amazing Almond Yuzu Franijpan served with Pineapple Sorbet. Be sure to order it early as it takes about 15 minutes to bake onsite.  It's a worthy ending to a meal filled with old school, clean and honest flavors that Sen of Japan has obviously perfected.  The place fills up fast; to make reservations, call 871-7781.
By Aly Wagonseller
When questioning the originality of the newest build-your-own burger craze, I found myself reminiscing of a place I used to frequent in the mid 1980s called Flakey Jake's. A casual little burger and beer joint, Flakey's was famous for their juicy burgers and a big ol' do it yourself salad bar of fixins. Toppings consisted of garden variety chili, processed cheese slices, tin flavored olives and jalapeños, and pretty much anything else that was thrifty, yet managed to compliment a hamburger patty. There was nary an inkling of impending gourmet flair, yet even back then, the place was packed with diners that craved something a little more "their way" than the clown or king could offer.
Fast forward to now, a time when even a simple hamburger is expected to delight, ala five star status, and it's really no wonder that the craze for building your own burger has suddenly reemerged, albeit with a serious price tag. Enter Grind Burger Bar and Lounge, a polished little place that brings back the casual, good time memories of Flakey Jake's, but with a burger that's anything but tin can average.
Brought to us by restaurateur Mark DiMartino, Grind has been creating quite a stir for not only their food, but their playfully inventive mascot, Juicy Lucy.  Apparently, a naked cartoon woman that's labeled for butchering like a steer (think rump, round, loin…you get the picture) and donned on everything from skimpy tees to key chains is offending people. Really?  Hooters is kicking themselves that they didn't think of the idea first, driving home the point that shock sells and can't be taken too seriously, especially in this hell bent economy.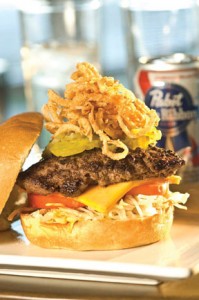 The menu is an offering of appetizers, potatoes and burgers with accompaniments that run the gamut from typical to not so norm.  Armed with a clipboard, menu and pencil, we chose Thai Calamari (9.50) and Onion Strings (5.00) as appies.  I liked the calamari; it wasn't overcooked and the sauce had a sweet little tang, but beware of the tempura lime garnish–it packs an unexpected pucker punch.  Fried onions were crispy, not greasy and served with a mild cayenne pepper ranch dressing that could have used a little more kick.  They also have three styles of fries (4-5.00), including a delicious sweet potato version that I would highly recommend, as well as a chopped salad (8.50) that could serve as a meal in itself. Portion sizes were more than ample for splitting.
Next on the list are burger choices.  You have four to choose from, a juicy ground chuck version, nicely seasoned turkey or chicken burgers, or a house made meatless variety.  They all start at nine bucks…a bit pricey, especially since the fries aren't included, but hey, this is gourmet, right?  You also have options for choosing buns (the ciabatta was outstanding); cheese that included bleu and pepper jack (+.75); typical toppings like lettuce, tomato and marinated mushrooms (two are included, +.75 for extras); condiments that included several innovative mayonnaise concoctions with the likes of basil and sun dried tomato or ajvar, a roasted red bell pepper and eggplant spread (two included, +.75 for extras); and some heavy hitting premium toppings like fried eggs, applewood smoked bacon, and Napa cabbage 3 pepper slaw (+1.50).
It's easy to go overboard, but in reality, you can create a very she-she burger for around 12 bucks; still a bit golden for some, but for those that take their specialty burger seriously, cheaper than comparables located on the Strip.  I chose the regular beef version; it had a delicate texture and was quite juicy and flavorful, perfect for the ciabatta bun which soaked in the savory flavors.  Aged cheddar, the wonderfully smokey bacon, mushrooms and the ajvar mayo took this baby over the top.  Sure, I could have added the egg, which would have been sublime, but too much of a good thing can be bad, so I'll have to save it for next trip.
Grind really is a very nice place to have a superb burger, a beer or glass of wine, or a specialty drink that's offered in both the restaurant as well as the separate bar area that's fitted with requisite gaming and flat screen TVs.  And although Flakey Jake's may have been the father of the BYO burger concept, Grind has certainly added some serious gourmet flair. Grind is located at 360 E. Tropicana.
Archi's Thai Bistro
By Aly Wagonseller
Aside from power lunching, I've traditionally associated Thai cuisine with take-out cartons and movie night.  It could be that, for the most part, the décor at truly exceptional neighborhood Thai restaurants is rarely date night appropriate. Truthfully, a more likely explanation is my complete inability to stop eating this country's wonderfully flavorful (and spicy) concoctions. An addiction that inevitably results in the dreaded button pop…not something I'd proudly like to display in public. Still, Archi's Thai Bistro, located at 6345 So. Rainbow, has given me reason to rethink my traditional homeward bound Thai-fest, providing an attractive and comfy place to dine and a friendly staff that's happy to wrap up the leftovers…even if they're destined to be devoured on the car ride home.
More upscale than most neighborhood restaurants, Archi's is a nice sized space that affords a calm, casual and somewhat private dining experience devoid of kitchen clatter or annoying traffic from the take-out crowd.  With wood-style floors, a neutral, earth-toned color palette and antique armoires and cabinets, the atmosphere is anything but Asian influenced. This isn't necessarily a bad thing, but merely surprising considering the authenticity of the Archi family's cuisine.  Zagat and Michelin rated, you'll be hard pressed to find better Thai fare in the city.
This stuff is spicy, so it's up to you to order the spice level of your liking, in this case from one to ten. This translates as follows:  Do NOT order every dish on the top of your spice tolerance level, even if you're competing for top-spice bragging rights over your dining companion. Not only will you miss out on the many subtle, yet complex flavors indicative of this cuisine, but you'll inevitably pay later. That being said, the rating system at Archi's was a bit inconsistent, making it tough to figure out just what the spice intensity was on any given dish we ordered. Pad Thai, ordered at a level 4, was relatively mild, while the Papaya Salad, ordered at a level two, was bordering on noxious. I'm not complaining, as the food was impeccable, I'm just suggesting that you ask your server for his expertise in the matter, considering some ingredients take on spice more aggressively than do others.
We started with the Moo Dadd Deaw (5.95), Tom Yum (6.95) and Papaya Salad (6.95). The Moo's (a.k.a. Thai sticks) were yummy, caramelized meat morsels served with a tangy hot and sour sauce.  The ample bowl of Tom Yum could have easily been a meal in itself.  They certainly didn't skimp on the tender chicken and fresh mushrooms in this tart and fiery broth-based soup–a true bargain on any menu. And the Papaya Salad? Let's just say this was the first time I've had this crunchy, tangy and refreshing salad filled with green papaya matchsticks, crushed peanuts and crunchy green beans all bathed in a dry shrimp, spicy lime dressing.  After getting over the confusion of not recognizing papaya that wasn't orange (hey, I said it was the first time I'd tried this), this was one of my favorite dishes, although next time I'll order it spice free, a great way to cleanse the palate between other, spiced-up selections.
Entrees include a number of curry, noodle, rice and Thai specialty items. We chose the Chicken Pad Thai (6.95), Spicy Basil Fried Rice with Shrimp (8.95), Panang Curry (6.95), and Pad Kapow (6.95).  All entrees were served in rather ample, family style portions, with an impressive amount of meat and exceptionally fresh vegetables that still had their snap. Faves for me included the Panang Curry, a delicate, yet complex coconut milk-based version that whispered (not roared) an earthy spiciness; a humble Pad Kapow which transformed simple hamburger meat into a savory, sweet and spicy comfort food that paired very well with the nutty, sticky rice served alongside; and the Spicy Basil Rice, made with large, tender and perfectly cooked shrimp, and spiked with impossibly crisp veggies and fried, spicy basil leaves–so delish.
Eating Thai food in an actual restaurant has its drawbacks, considering you can't eat 'til you drop if you're to avoid the "roll of shame" out the doorway. But Archi's makes a good case to get off the couch and savor some truly fabulous Thai cuisine in an upscale, yet decidedly casual eatery in the neighborhood.  I'll just have to keep a fork in the car for the ride home.
Caña Latin Kitchen and Bar
By Aly Wagonseller
There's something about sophisticated drinks and appetizers served in a vibrant setting that make dining out an experience rather than a hum drum meal.  Granted, you might be missing out on gluttonous portion sizes, but the pleasure of nibbling on a wide variety of inspiring flavors while imbibing cutting edge cocktails made with the finest sugar cane based spirits and freshly squeezed juices is simply way more fun. That's the idea behind Town Square's newest hip spot, Caña Latin Kitchen and Bar.
Very much a place for the trendy set, Caña will surely attract the young and the beautiful with its dark and sexy interior, ambiguous restroom facilities and pulsating mix of Latin influenced music. But it's so nicely done that those of us with Gen X and Boomer birth dates will also want in on the fun. The expansive, white onyx bar, indoor/outdoor dining areas and organic touches that include an interesting Kudzu vine ceiling treatment, as well as a psychedelic velvet wall treatment, are nearly as interesting as the food, a combination of creative ceviches, flatbreads and small plate cuisine known as Bocadillos. There's no slouching in the drink department either, with selections that include the Nacional, an easy-to-down concoction made with smooth, vanilla influenced Kilo Kai rum, a complex Creole Shrubb orange liqueur, and freshly made pineapple and lime juices; the peppery Ultimate Caipirinha, dubbed as "the new mojito"; as well as Sugarcane Sangria, Hemingway's Blackberry Thyme Margaritas, and imported beers and wine.
I'm a sucker for ceviche, a high quality fish dish that's similar to sushi in taste but substantially different in texture due to the fish's treatment with acidic ingredients, usually lime, which renders the fish opaque and firmer than its counterpart. Caña offers a wide range to choose from, including Salmon and Snapper (both $10), as well as a couple of faux renditions for the fish faint of heart. Out of the gate, Caña's ceviche was not the norm, served in sashimi like slices, a departure from traditional chunky dice, and dressed with much more interesting ingredients than lime alone.  Hamachi ($14) was the resounding fave, buttery fish accompanied by the lemony zing of yuzu sauce and an earthy soy "paint-on-the-plate", then finished with fresh cilantro and a sprinkling of sesame seeds.  Halibut ($12) was also tasty, served with chives and a drizzling of fresh coriander oil to liven, but not overpower, the mild fish.
While ceviche is certainly a Latin power dish, Caña also has some interesting items you wouldn't typically consider South American. If not a bit of a stretch, it's all in good fun, with playful renditions of Mac & Cheese ($8) made with habanero jack, Chorizo Corn Dogs ($10) accompanied by tangerine-habenero mustard, and a Meatball ($9) whose sauce suspiciously resembled that of the Swedish variety, circa 1960, but with a nice bite of pickled jalapeño to amp it up a notch. More substantial offerings, although still considered small plate, include guava glazed Short Ribs ($12), Lamb Chops with Chimichurri ($14) and the house favorite, Crispy Shrimp ($12). A few flatbread items round out the menu, with a rich, 3 Cheese Flatbread ($10)–made with tangy goat and white cheeses tempered by a layer of honey and agave nectar–a creative standout.
Throughout the meal the service was exceptional. Our waiter was well versed in the flavors and ingredients of each dish we inquired about, and frankly that's a good thing since you may not know what to expect from a huancaina, aji amarillo or chicharron sauce.  What you can expect, though, is dining and drinking that's fun and sophisticated, full of fresh and well executed food and libations, along with  a good dose of "beautiful people" watching. It's experience dining at its best. Caña is located at 6599 Las Vegas Blvd. in Town Square. For info, call 722-6060.