Browsing articles in "Haute Spot"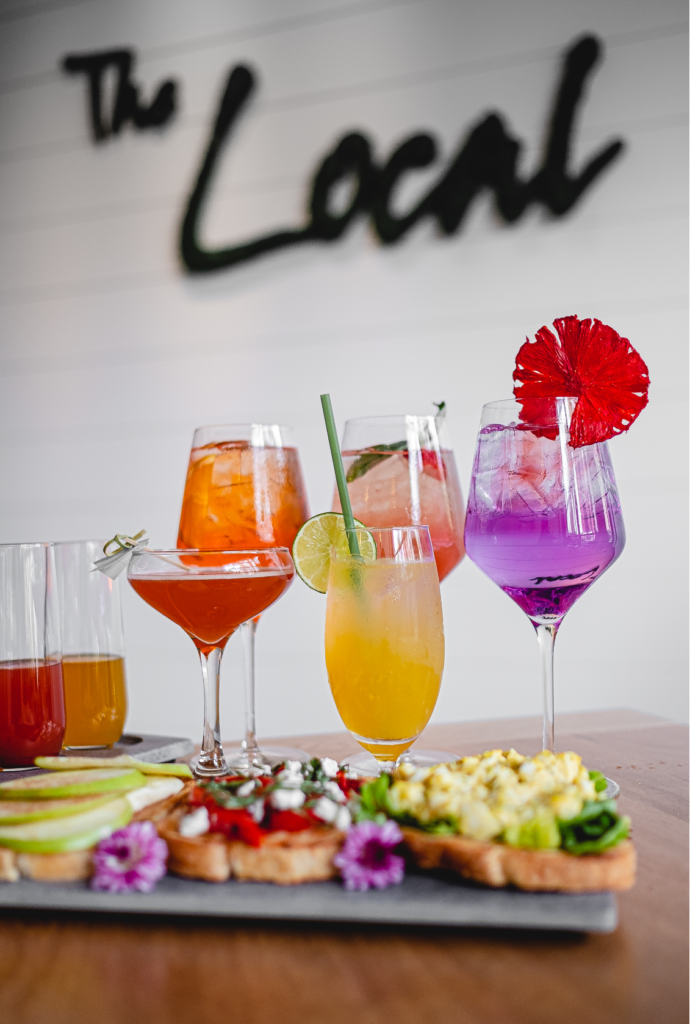 A Nip and a Nosh
By Aly Wagonseller
The quaint, neighborhood wine bar is a common find in most European and cosmopolitan cities in the U.S., yet for some reason it just hasn't caught on here. My guess is that it's because most bar owners in Vegas make their profits on the poker machines, and while the thought of enjoying a premium glass of wine or a cocktail when relaxing in a modern, non-gaming environment sounds appealing, few have the vision to make it reality. Until now that is. The Local, located in the District at Green Valley Ranch, takes one brave step toward a different kind of bar experience. One that's unpretentious and relaxed, but offers upscale wine and craft cocktails in a casual place designed for convo, not coins.
Chris and Stacy Connors (previous franchise owners of Rachel's Kitchen and co-founders of Me Gusto Tacos), their partner in Me Gusto's, Li Sun, and friends Randy and Amy Maher saw the need for a place like The Local. Finding the perfect, tiny spot at the District, they revamped the 1000 square foot space into a charming gathering spot with a bright and airy bar, a few tables and an indoor/outdoor patio area that opens out into the streets of the shopping center. Next, they hired Rafael Garcia, the former lead sommelier and manager at L'Atelier de Joël Robuchon, and the journey to offer an exceptional wine experience began.


"We were sick of the typical restaurant wine list. Most of the wines are big names and found everywhere," says Chris. "At The Local we present an international selection of wines with a focus on boutique wineries. Some of the wines we select make no more than 200 cases a year, like our 2008 DEBEIKES Cabernet Sauvignon from Napa Valley. Coincidently, they are next door neighbors to a famous winery in Napa called Opus One."
In addition to the vino, The Local serves up creative cocktails using a variety of craft alcohols, including the District Dirty, a combo of Tahoe Blue Vodka, olive brine and a blue cheese olive; the Paper Plane, which pairs Four Roses Bourbon, Nonino Amaro, Aperol and lemon; or their refreshing Venetian Spritz made with Prosecco, Aperol and a spritz of club soda. A small nibble menu keeps you from getting unnecessarily tanked, offering a couple of salads, bruschetta (the chicken salad version, made with a nice squeeze of citrus, was lighter than expected), paninis, as well as several charcuterie and vegetable board options that include delicious dips like their roasted bell pepper and feta dip. It's the perfect spicy, salty bite when smeared on a crispy veg or cracker.
I love when entrepreneurs step off the cliff to bring the community something that's a refreshing change from the norm, and The Local is certainly that. Adds Chris, "We've created a space where someone can go on a date, go out with friends, or come in solo and have a couple cocktails or glasses of wine, enjoy a cheese and meat board or salad and just have a great time with one another." For questions or info on happy hour wine deals, visit drinkeatlocal.com or call 702-665-6050.


Beyond Sushi
Hatsumi
By Rob Kachelriess
A rewarding and inventive Japanese dining experience, Hatsumi goes far beyond routine sashimi and sushi rolls. The new concept by Dan Krohmer of Other Mama is a pivotal early step in the transformation of Fergusons Downtown from a vintage, Fremont Street motel to a social entertainment space. It works because it feels like an event without feeling like an investment. Need directions? Just look for the Big Rig Jig, a towering art installation of two intertwined 18-wheel trucks in the courtyard.
Hatsumi was renovated from three hotel rooms to create an intimate, yet efficient space. The long dining room almost resembles a classic American diner, but with white brick, blue curtains and gold light fixtures to shape its own identity. The restaurant feels retro but modern at the same time—and that's not a bad thing for 2019. A sit-down counter gives customers an up-close view of Krohmer, Chef de Cuisine Bobby Silva and the rest of the kitchen team in action.
A custom-made robata grill is the engine that drives most of the menu. It operates at high temperatures of up to 1,000 degrees over Japanese white charcoal to minimize smoke and trap in the juices and natural flavors of meats, seafood and vegetables, some of which are sourced locally from Desert Bloom Eco Farm. An intriguing collection of appetizers reflect Krohmer's own exposure to Japan's culinary culture while studying overseas. The Shrimp Okonomiyaki, served on a fluffy cabbage pancake, is probably the heaviest dish on the menu, topped with a sweet and savory combo of house-made okonomi sauce and aonori seaweed powder. Krohmer's modified the recipe since the restaurant opened, adding bacon to bring out a heftier profile of flavors.
The main attraction is a varied lineup of grilled skewers, each ranging in price from $2 to $6, allowing guests to customize a meal according to their preferences in both price and level of adventurousness. Shrimp, eggplant and Kobe beef are flavorful, yet familiar, while quail, beef tongue and veal sweetbreads (organ meat) are perfect for those looking to step outside routine comfort zones. Krohmer makes full use of whole jidori chickens—processed and shipped to order from a Los Angeles farm—producing skewers that not only include a perfectly charred tender breast, but also the wing, thigh, liver, skin or heart. Anything left over is simmered into a stock reduction for a sweet tare sauce that's used to glaze the breast and served alongside a meatball of ground chicken, ginger, garlic and onion.
The vibrant and photogenic Beef Tataki mixes lightly seared filet slices with fresh greens and radish. It's topped with rayu chili oil plus a crunchy, salty mixture of fried garlic and shallots that's balanced by the bright citrus of ponzu for a refreshing, yet full-bodied dish. A $55 omakase is based on the chef's daily preferences and seasonality of ingredients. Pay a little extra for premium options, which on any given day could include an upgrade to Wagyu beef or langoustines in place of shrimp.
Hatsumi is an Izakaya-inspired social hub, where small plates are enjoyed with conversation, good friends and easy drinks. Careful attention is given to the Japanese beer, whiskey and saki selection, as well as simple well-balanced cocktails. The Japanther, despite the playful name, is all-business, blending aged white oak Akashi whiskey with bitters and the subtle almond flavor of orgeat.
Yet, Hatsumi is just the beginning. It sits across the courtyard from La Monja, another new concept by Krohmer that will focus on coastal Mexican flavors under the direction of Chef de Cuisine Noel "D.J." Flores. Both ventures represent the growth of the Fremont East district as a culinary destination for locals as well as tourists seeking an organic relationship with Downtown beyond the lights and flash of the Fremont Street Experience half a mile away.
Hatsumi is open for dinner only, Thursday-Monday, 5-10 p.m. Visit hatsumilv.com or call 702-268-8939 to learn more and place a reservation.
Healthy Comfort Food
Chanko Shabu & Bar
When it's cold outside, you can't help but crave something that warms you to the core. In America, this typically translates to gravy, biscuits and casseroles–foods that, while not particularly attractive to look at, soothe the soul and wrap you in a comfy blanket of calories. And, while there's nothing wrong with occasionally indulging in what's sure to generate an impending food coma, wouldn't it be nice to have a healthier option that's equally satisfying? Chanko Shabu & Bar, located at 5808 Spring Mountain Rd., Suite 103, is the answer, specializing in Japanese Shabu-Shabu (hot pot), Seiro Mushi and the ever popular Sukiyaki that's as pretty to look at as it is to eat.
Brought to us by the proprietors of Hobak, the Korean BBQ restaurant located right next door, Chanko uses the same high quality ingredients and attention to detail as their sister restaurant. Wagyu Ribeye and Short Ribs, Prime Ribeye, Muji Fuji Pork and a Seafood combo are all on the menu, accompanied by nourishing broths, veg and noodles rich in flavor and nutrients. You've got three different preparations to choose from as well, each producing a slightly different result in flavor and texture, with all presenting the tasty and visually stunning plate we've come to expect from authentic Japanese cuisine.
Shabu-Shabu uses flavored broth to cook the wafer thin meats of choice. A large, paper bowl placed in a bamboo basket is positioned onto a heating element that somehow gets hot enough to boil the liquid without charring the vessel. Filled with different varietals of exotic mushrooms, greens, squash and fish, the bowl contains either Kombu, Spicy Miso Pork or Garlic Pork broth that transforms into a flavorful and hearty soup. Once boiling, you'll place the meat into the broth and cook until desired doneness. Besides the proteins, you'll find yourself fishing out other edible treats, items that include spicy filled dumplings, gorgeous carrots and seafood. In addition, they provide either udon or pumpkin noodles to throw into the mix, the latter a texturally satisfy alternative that thickens the rich broth for slurping when you're done cooking.
Perhaps more obscure to the LV diner, Seiro Mushi cooks the meats via steaming in a wooden box. Also prepared plate side, meats and vegetables are artfully presented in a Retinispora tree box that's covered and placed on a pot of boiling water that steams the contents. The texture of the finished meat is impeccable, melt in your mouth goodness, providing all of the rich flavor you'd expect, yet without any grease. As an added bonus, the tree radiates phytoncide, a natural antibiotic purported to relieve stress and provide additional nutrients. Regardless of which cooking method you choose, the meal comes with your choice of six different dipping sauces that include a deliciously nutty goma, traditional ponzu, a very spicy garlic and a mustard sauce that adds a nice acidity to the fattier meats.
There are no tables in Chanko, diners being set up at a u-shaped bar fitted with individual heating elements, so…much like a sushi bar, it's not entirely set up for lively convo if you're in a large group. And, to date, they still don't have their liquor license, although the Hobak chain has the clout to get that up and running shortly. Still, it's a beautiful, modern restaurant that delivers a comforting vibe and food that's healthy, fresh and satisfying. I'd choose it over biscuits any day. For info, call 702-445-6665.
EDO Gastro Tapas & Wine: A Taste of Spain in Chinatown
By Rob Kachelriess
The diversity of Las Vegas' culinary scene may be best represented in Chinatown, where options go far beyond predictable Asian dining. A great example is EDO Gastro Tapas & Wine, an intimate, 40-seat restaurant near Jones and Spring Mountain. To clear up any confusion, the name is pronounced "ee-dee-oh", which is not only a nod to Chef Oscar Amado Edo, but also a play on the phrase "extra day off"–fitting since a meal here feels like a vacation from less adventurous dining options. Chef Edo opened the restaurant with managing partner Roberto Liendo in September, following the duo's success with Boqueria Street, a food truck that's being renamed EDO Street to keep branding on point. Both spent time at fine dining destinations on the Strip, but teamed up to carry out their own vision for ingredient-driven Spanish cuisine that aims to combine as many vibrant flavors as possible into a single meal.
EDO is best enjoyed via their 10-course tasting menu–an incredible deal at $45 per person with a $35 add-on wine flight. The selections change frequently based on the season, availability of fresh ingredients, and the mood and impulses of Chef Edo. Iberico ham, cultivated from Spanish pigs fed a full acorn diet, makes its presence felt frequently. Early in the meal, it's presented as delicate slices of charcuterie, handled effectively with a pair of tweezers. Described as an extension of the customer's fingers, the unique utensil is a familiar sight at trendy Barcelona restaurants. As the meal progresses, Iberico may resurface in a savory clam chowder or, best of all, a loin cut known as pluma, which has the texture of a steak and is lightly seared on a flat top grill. Toppings include herb-filled Cafe de Paris butter, a Palo Cortado sherry reduction, and thin potato puff pastries that balance out the meat with a salty crunch. It's the best pork you'll enjoy all year.
Spanish street fare is reflected in dishes both hot and cold. The mild consistency of cold-water Spanish octopus is given a slight kick with spicy kimchi bread crumbs, while the bikini sandwich works as a thin-pressed square of sobrasada sausage and Mahón cheese. In a calculated move, paella is almost always served near the end of the meal, so customers can feel comfortable filling up on rice after reserving most of their appetite for earlier, smaller dishes. Tomatoes and garlic are put to good use in the seafood-heavy Paella Marinera, presented with a sand timer that runs for five minutes when turned over–counting down the time it takes for the temperature to settle and flavors to emerge.
Lighter dishes include a cured Scottish salmon crostini, smoked on the spot with applewood, and topped with black truffle cream cheese. The imported cristal bread, weighed down with fresh tomatoes and olive oil, is a traditional Spanish favorite, with a thin, crunchy crust that breaks away easily into a soft, airy dough.
EDO is so small, there's no room for a full bar. Instead, drinks are efficiently prepared at a cocktail cart in the back corner of the dining room. Gin & Tonics are the specialty of the house, but don't overlook the Bitter Andy, a modified Old Fashioned made with Montana's Whistling Andy bourbon and the subtle sweetness of salted caramel syrup. The wine selection leans toward unconventional, yet affordable labels from Spain, France, Italy and California. At least five amaros are kept in stock at any given time, ready to complement dessert–especially the light and refreshing shaved strawberry ice, served alongside a heavy whipped cream and sprinkled with popcorn dust.
Learn more about EDO Gastro Tapas & Wine by visiting edotapas.com or stopping by the restaurant at 3400 South Jones Boulevard.
Blume: An Eye-Catching Culinary Experience
By Rob Kachelriess
Blume is on a mission to bring a taste of Strip-style spectacle to the Henderson dining scene. The food, drinks and environment are all designed to be photogenic conversation pieces, in which aesthetics are stressed as much as the sourcing of individual components.
The restaurant, which comes with the subtitle "The Art of Culinary", is a 6,500-square-foot space on the ground level of an office building in Seven Hills Plaza at 3145 St. Rose Parkway. The dining room makes an immediate impression with dark marble floors, Chanel drapes and imported European chandeliers that sparkle during evening hours. Other eye-catching features include an eight-foot-long virtual aquarium with high-definition images of underwater scenery and accent walls decorated with more than 17,000 silk roses and hydrangeas. If the blue tufted booths and chairs don't keep your attention throughout the meal, the purple accent lighting will.
The menu was created by Executive Chef Joseph "JoJo" Saady, who built his reputation catering private meals for celebrities and entertainment industry executives in Los Angeles. When he's not overseeing Blume in person, the kitchen is in the hands of Jesse Garza, formerly a sous chef at the Trump International Hotel, and Alessandra Madeira, who was chef de cuisine at the now-closed Bratalian in Henderson. The dishes follow a modern American template with a few unexpected surprises thrown in here and there. A good example is the pretzel board appetizer, which isn't a board (or even a pretzel, really) but more like a braided croissant, served on a plate of creamy Dijon mustard with beer cheese and artichoke dip on the side. Seasoned with a hint of rosemary and soaked in truffle butter, the bread is light, sweet and delicious, but potentially frustrating for those expecting something completely different.
A playful spin on a grilled cheese sandwich is a more rewarding mashup. Instead of Texas Toast, Blume uses its own house-made "Vegas Toast" (darkened with squid ink) to frame layers of gruyere and American cheese for a savory crunch. The presentation isn't complete until gold flakes are sprinkled on top. The Bao Bun Garden is another appetizer that exceeds expectations. Pork jowl, used in place of butt or belly, is braised and sautéed to order with a honey soy glaze. It's served on traditional gua bao with mushrooms and pickled cabbage to balance the sweetness of the meat. The dish comes decorated with microgreens and edible flowers—both a recurring theme at the restaurant.
Blume truly hits its stride with the main courses. Steaks are cooked perfectly, seasoned with little more than salt and pepper. The 36-ounce sharable Tomahawk and 10-ounce filet are worthy bone-in cuts. However, the 12-ounce ribeye is the one that puts on a show, smoked tableside with applewood and hickory. Another highlight is the double bone-in pork chop, brought over from Bratalian by Madeira. The cut is pan-seared with white wine and topped with tomato peppers.
As for drinks, the most compelling cocktails tend to be the most inventive. Squid ink makes its presence felt again in the Grandmaster, a dark combo of Kettle One Orange and citrus flavors with a cloud of coconut foam. The bourbon Manhattan is sweetened with house-made apple syrup and garnished with a lit cinnamon stick.
Blume appears to be sorting out some timing and service issues just weeks after opening, but remains an intriguing concept. It borders on fine dining but has the feel of a local's hangout, especially when the window between the bar and outdoor patio is left open to circulate a welcome dining room breeze. Perhaps it's best to give the restaurant an initial shot during happy hour (4-6 p.m. daily) and let your intrigue build from there. Visit bestvegasdining.com to learn more about Blume and to make reservations.
La Strega 
A Charmed Beginning
It's rare that a new restaurant is polished from opening day. So much can go wrong, and usually does, requiring the eager, early foodie adopter to skeptically ponder if the subpar service or inability to keep the food consistent is a function of "being new" or a show of things to come. It doesn't matter if the chef has honed her skills under some of the best mentors in the culinary arena–people like Scott Conant, Michael Mina or Shawn McClain. Or that a General Manager that knows the restaurant game like the back of his hand has joined the force to create a well-oiled machine where chaos typically reigns. It is the restaurant business, after all, and it's often not very pretty. But a charmed beginning is exactly what's taken place at La Strega, located at 3555 So. Town Center Dr. It's exciting and new without the excuses.
The name of the restaurant could be part of the magic, La Strega translates to "witch" in Italian, but more likely it's the talents of Executive Chef Partner Gina Marinelli that fuels La Strega's success. Creating a menu that reflects her experiences working for celebrity restaurateurs, tempered with family roots and extensive travel, she serves up contemporary Italian cuisine that's simple, yet prepared with sophisticated ingredients. Antipasti roams from greens to ocean, butcher and farm. Favorites include Steak Tartare Bruschetta with almond, basil, tomato pesto and ricotta salata; a selection of fresh vegetables served with whipped chickpeas titled the "Witch's Garden"; and creamy Burrata cheese paired with fresh and vibrant green tomato and garlic salsa, accompanied by house-made bread. On the lighter-ish side, they also have pizza, from traditional Margherita and Quattro Formaggi, served calzone style with sage and honey, to the fan favorite Spicy Pig, made with mildly hot soppressata, smoked mozzarella, Calabrian chilis and chives.
Main dishes include pasta as well as fish, steak and chicken offerings. It's a small, yet chef-inspired selection with nothing ordinary on the plate. Dishes might include dandelion pesto, braised beef cheeks, wild boar, a spicy, spreadable salumi known as 'nduja', whole stuffed fish, and Verlasso salmon–an open ocean, sustainable fish that's rich, fatty and flavorful. All are thoughtfully prepared in the open view kitchen, and beautifully presented. Accompany your meal with craft cocktails (the Diana made with vodka, lemon, aperol, fever tree tonic and rose was a personal fave), or wine procured from an impressive selection chosen by sommelier Stephanie Torres, formerly of Giada's at the Cromwell. Finish with signature desserts, including a Bay Leaf Panna Cotta or the Bomba–a doughnut filled with coconut cream filling and dusted with lime sugar. Order it early, as when they're gone, they're gone.
Despite what some might consider decadent food, the place is really meant to be casual, homey and unassuming, an aesthetic made successful due to bright and airy décor, lively music and atmosphere (ok, it can get a little loud), and casually dressed staff whose service is anything but lax. If there's one thing apparent about the speedy success of La Strega, it's that there's no luck involved. It's a charmed beginning that's sure to weather the test of time. To make a reservation (you'll need one), visit Lastregalv.com or call 702-722-2099.
Juan's Flaming Fajitas & Cantina
Aly Wagonseller
Capitalizing on the popularity of his wildly successful westside location, Juan Vazquez, owner of Juan's Flaming Fajitas & Cantina, has expanded to Downtown Henderson, transporting his homegrown brand of hospitality, great Mexican food and lively atmosphere to our side of the city. Located at 16 So. Water Street, the restaurant is part of the DTH revitalization, having been built and designed from the ground up by its namesake proprietor, resulting in a hip, industrial space that, based on the crowds, is clearly making a name for itself.
Juan and a handful of staff, including the original chef who now resides at the new location, all originated from the iconic Viva Mercado's Mexican Restaurant before taking the plunge to start something new six years ago. Their experience paid off quickly, resulting in an establishment that functioned much like a well-oiled machine, yet maintained the kind of friendly service and personal touches that catapult a neighborhood spot above its corporate competition. This new location is no different; in fact, I'd venture to say they've not only kept the same consistency in food and service that made their flagship location such a success, but improved upon the experience with a larger bar area and more modern aesthetic, lending itself to both family or date night dining.
You won't find Nuevo cuisine ala Border Grill on the menu, but that in no way means that the classic fare Juan's is dishing out doesn't compare. It starts with sauces that are incredibly complex in flavor; for me, the reason why this place is so noteworthy. The kind of red chili sauce so earthy and robust it transforms a simple cheese enchilada into a masterful bite you just can't stop thinking about. Verde sauce that's tart without being abrasive, balanced with just the right amount of heat to accentuate ingredients like the tender chunks of pork found in their exceedingly flavorful pork chili verde. And, because these sauces are the backbone of pretty much every burrito, enchilada or tamale on the menu, I doubt you'll go wrong with anything you order; they're really that good.
Still, as the name implies, fajitas are Flaming's big draw, and when they say flaming, it's literal. Huge (translation: plenty of leftovers) portions of well executed chicken, steak, pork or shrimp come to the table in an iron vessel designed to keep things hot. Unlike most restaurants, where the requisite fajita Pavlov dog-like reaction is set in motion by way of the sizzling sound of meat as it makes its way through the dining room, Juan's flambés your entrée at the table; a detail that, while entertainingly showy, albeit a bit smoky, actually serves a purpose to render off grease, sear the meat and produce a tasty rendition of this simple staple. Paired with any one of several margarita, beer or mixed drink options (happy hour specials run from 3-7 daily) and you've got a memorable meal that's worth the drive.
I love a local success story, and with the heart and work ethic that Juan Vazquez brings to the Flaming Fajita, it's no surprise this second location is a big hit. And, despite what may be a bit of a wait for your table, it delivers the perfect excuse for checking out some other homegrown places, including the Lovelady Micro-Brewery located just next door. It's a small town feel that's a welcome change from the big city. For reservations (closed on Mondays) or more information, call 702-476-4647.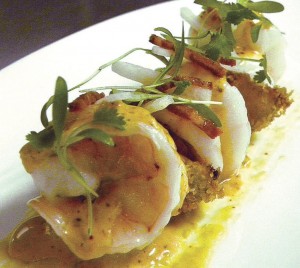 By Aly Wagonseller
IN A PLACE THAT (FOR SOME) MAY SEEM LIKE A metropolis away, one of the best new restaurants our city has experienced, regardless of locale, has taken root. David Clawson, A Fine Cooking Restaurant, located at 2840 Bicentennial Parkway between the Anthem Highland and Sun City communities, brings something extraordinary to the south side of town. The attention to detail here is aston- ishing; from the amuse-bouche of thinly sliced salmon with avocado mousse served on a Himalayan salt plank to the garde manger stylings of a meticulous young chef who artfully plates behind the open view, chef's counter seating area, David Clawson Fine Cooking is a must visit for anyone who enjoys elevated cuisine, yet can do without the snobbery that's so often associated with it.
The origins of this Strip-worthy establishment could easily be mistaken for celebrity chef status if it weren't for the philoso- phy of Chef David Clawson, an unpretentious restaurateur who prefers to offer honest, sophisticated food sans the tourist trap fluff. Chef Clawson has been in the industry for more than 30 years, opening and heading the culinary teams of fine dining establishments that include The Ritz Hotels, Hotel Nikko Atlanta and most recently the Vail Mountain Dining at the Game Creek Club and Restaurant. Living in NYC, he discovered more modern influences under the direction of Daniel Boulud. While his namesake restaurant exhibits a contemporary sensibility, he prefers to bill his fare as real food that you can identify, taste and crave well after you have eaten it. And crave I most certainly do.
The menu consists of globally influenced small plate offer- ings that are designed to be ordered on their own or paired with wine, sake and beer options as suggested on a separate pairing menu. We chose the 2 ounce pairing option and were impressed at how amiable they were to changing out options due to personal taste requirements. Not once did I feel like a low life wine slob because I preferred a Pinot Noir with my fish or a stainless steel aged Chardonnay with my steak. In fact, our server's enthusiastic suggestions for substitutions made our meal that much more memorable. This is how a real restaurant – for real people – should be.
Small plate may sound ho hum but this is not your normal fare. Organized by one word categories of food genre, i.e. wild game, fish, duck, bread, pork and so on, the menu is easy to follow and not overly complicated, yet presents a sophisti- cated flavor profile. We started with the vegetable, a cold asparagus, shiitake mushroom beauty served atop a meyer lemon curd with lemon foam. Lemon done two ways was an interesting addition to the earthy vegetables; the acidic tart- ness of the light and airy foam acting as the perfect foil to the sweet and creamy curd that coated the plate. A jumbo crab cake followed that had no binder, just huge chunks of succu- lent crab with a thin coating of panko on the outside holding it together. A delicate basil oil and vibrant red pepper sauce took the cake up several notches. Miso Sea Bass in a delicate broth, Lo Mein Garlic Noodles with crunchy garlic chips throughout, and an amazing Truffled Gouda and Fig Jam cheese plate served with house made crackers were all out- standing but for me, the Black Tiger Shrimp and Quail dish- es completely blew the lid off the place. Expertly prepared shrimp tossed in a chipotle vinaigrette were served atop a sweet corn puree dotted with chorizo slivers, jicama and cilantro micro greens. The combination of smoky, sweet and spicy was superbly balanced and, simply put, sublime. The quail offering was equally outstanding. I have to say quail is not on my staple list of food items I order at the neighbor- hood watering hole, but this rendition was bold, yet some- how homey and comforting at the same time. Marinated with an achiote spice rub, the skin was caramelized and crispy while the meat remained moist and flavorful. Served atop a green chili spiked macaroni that provided a nice kick, it's a go-to for any future visits.
There really is something special about David Clawson, both the chef and his restaurant. He's created something truly inspired and sophisticated, and he's made it for locals that know their food, but don't feel the need to brag about it. David Clawson, A Fine Cooking Restaurant also offers a Chef's Choice, multi course prix fixe Omakase experience with reservations only. For information, call 702-466.2190. ◆
If you've ever been to NYC, you've seen your share of teeny tiny café's that, while nothing fancy to look at, serve up big, bold food that speaks for itself. Small, 30-seat establishments found in the strangest nooks and crannies of the neighborhood, plating decadent mac 'n' cheese, homemade corned beef Rueben's, and signature burgers loaded with addictive accompaniments you wouldn't expect to find in a restaurant devoid of celebrity chef involvement. Here on the west coast, small restaurants like these generally have wheels beneath their kitchens, opting for a ride on the food truck band wagon rather than finding a storefront that's manageable and makes sense for a lunch-only customer base. This is what makes Truffles n Bacon Café, located at 6665 S. Eastern Ave., a unique addition to the local food scene. They're bringing an east coast attitude to the west and, in the process, sending a lot of hungry diners to hog heaven.
Frustrated by the high rents and competition of the Manhattan market place, co-owner Magnolia Magat and company decided to uproot to Vegas. With a dream to open a small café, they enlisted the help of veteran chef Jacqueline Lim. No slouch in the success department, Lim has garnered numerous awards in the culinary industry, working alongside celebrity chefs including Lydia Bastianich and Wolfgang Puck at various charitable and Academy Award Night events. With belongings in tow, Magat found a quaint, albeit unlikely home inside the Antiques at the Market facility across from Sunset Park, and TNB was born.
Although you might expect everything to have some form of bacon or truffle flavor in its ingredient list, this isn't the case. Sure… there's that outstanding, homemade bacon jam that could (and should) accompany EVERYTHING on the plate, but Lim brings a refined, umami sensibility to more casual, deli style food that doesn't necessarily need the crutch of pig fat to make it successful. We started with the Pimp My Bruschetta. Mix and match toppings makes this great for sharing, our group choosing Minty Peas with Bacon Jam (of course), Grilled Haloumi Cheese with Sautéed Grapes and Babaganoush. The toast was thicker and softer than most bruschetta, a really good thing considering the toppings, all of which were incredibly flavorful. Babaganoush had a lovely, lemony and light consistency, while the crusty, caramelized Haloumi cheese with savory and sweet grapes was a personal favorite.
Next came some of the best sandwiches this side of the Hudson. The Rueben (one of many "Specials" of the day that also included Chicken and Waffles and a Cuban Burger) was absolute perfection. Homemade corned beef is lean and juicy, cut slightly thicker than usual and served with the subtle crispness of sauerkraut that somehow doesn't overpower the sandwich like it so often can. House made Thousand Island was creamy and less sweet than cheaper versions commercially made, making for a legit balance of flavors. Mmm. Simply Jessie, a smoked salmon and egg salad sandwich on marble rye might sound odd, but you'd be missing out on one of the tastiest sandwiches I've ever eaten if you balk! Why anyone would mix these two is a cute story in itself (just ask Magnolia for the lowdown) but it's sheer genius the way the smoky fish tones down the richness of the mayo-based egg. Really, really good. And the crème de la crème show stopper? The TNB Café Signature Hamburger. GUT BUSTER, can't miss it, must have again! A juicy patty is topped with a hunky square of fried mac 'n' cheese that somehow remains creamy, smokysweet bacon jam, spicy Sriracha ketchup or mayo (your choice) all on a lightly toasted brioche bun. Patent pending as a surefire cure for late night alcohol overindulgence? You bet. All sandwiches are served with your choice of house made sweet potato or Yukon gold potato chips, fries or tator tots lightly tossed in truffle oil (hence the truffle in the name of the establishment that's, thankfully, not overdone).
Truffles n Bacon Café is open from 10 a.m. to 5 p.m., Mon.-Sat. and 12 p.m. to 4 p.m. on Sunday. They also deliver within a limited radius, but why miss out on the eclectic array of antiques you'll see as you walk through the market to the restaurant? It is, after all, very NYC to shop and eat in the neighborhood. For takeout or questions on catering, call them at 917-697-7170.
It's widely recognized that eating more fish is a good way to stay healthy. Yup, Omega 3's deliver an array of benefits including lowering blood pressure and strengthening the immune system, while also having positive effects on the nervous and cardiovascular systems. Brain food lecture aside, the reality is if you're like most people with busy lives, cooking fish at home or finding a healthy version of it while on the run or at work isn't always easy. Sushi, while awesome, isn't for everyone and neither is a formal, sit down lunch or dinner with a hefty price tag. So, how can fish-starved people who are also starved for time get their healthy fix? This is the goal of Manhattan Fish Grill, located at 4115 Grand Canyon Dr #100.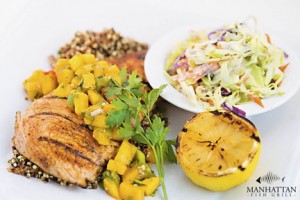 By: Aly Wagonseller
Located in a maze of streets, parking lots and retail outlets off Flamingo near the 215, this local restaurant has all the makings of a new concept (translation: franchise) business ready to set sail. Clean, open and bright, the décor has clever touches of modern, nautical influenced lighting, picture perfect food photos and a polished logo you'd expect to see displayed nationwide. Most closely likened to a Chipotle of healthy fish cuisine, they rely on counter service ordering that encourages mixing and matching of side dishes, seasonings and sauces, allowing you to be as healthy or deviant as your mood. Unlike Chipotle though, everything is cooked to order, so it's not exactly fast food… more like 15-20 minute food. Still, it's a small price to pay when you can easily phone in your order ahead of time to eat in or take out depending on the clock.
The menu is pretty abbreviated (a good thing) offering appetizers, sandwiches, tacos, salads and fish plates. The New England Clam Chowder served in a bread bowl was sadly sold out by the time we arrived so we decided to try the crab cakes. Not really a fan, unfortunately, as they resembled a giant, crab-flecked hush puppy more than their namesake. Priced at $11.00 for two, I wasn't expecting a whole lot and, to be fair, if you're going for legit crab cakes you probably should stick to a fine dining establishment. My bad. The same could be said for the Seared Ahi fish plate. Yes, it was only priced at $15.00, and included one side dish and coleslaw, but it clearly wasn't seared properly, lacking the firm texture and caramelized exterior I'd hoped for.
Overly ambitious mishaps aside, Manhattan offered some really outstanding selections that proved to be both tasty and healthy. Fish tacos (either grilled or crispy fried) were plentiful and not greasy in the least, the salmon version exhibiting perfect preparation that paired well with a spicy, tomatillo relish, guacamole and pico de gallo. Note to the diet diva: they do come with an abundant slathering of mayo based sauce and cheddar cheese, something you might want to forgo if you're counting calories. For the purest, a selection of fish platters that serve up Catfish, Mahi Mahi, Cod, Salmon and Talapia were real winners, each fairly priced between $10-$15.00. Chargrilled and offered with a choice of side dishes that include super food options like kale salad, quinoa and sweet potato fries, they're light years ahead of Long John Silver's. I chose the Orange Roughy version with Mango Salsa. The two, plentifully sized fillets were nicely charred yet retained their moisture, the salsa adding a subtle, sweet component with a bit of a kick. I couldn't get enough of the delicious kale salad, a combo filled with strawberries, almonds, jicama, carrots, dried cranberries and apples, while the quinoa, made with just enough vegetables to provide flavor without added bulk, was a tasty, protein filled alternative to rice. Sweet potato fries are some of the best around, sliced fairly thin and seasoned perfectly with garlic, salt and parsley. So good.
Manhattan Fish Grill also offers a $5.00, fish-phobic menu for kiddies under 12, as well as gluten free Lava Cake or Vegan Brownies if you're the kind that needs justification for dessert. They're making healthy eating easy for the busy masses, and that's something worth catching on to. For hours, info or to place an order, visit www.manhattanfishgrill.com or call 802-2993.
Recent Posts