Browsing articles in "Meet Your Neighbor"
By: Callie Thomas
There's a saying, "If you want to make God laugh, make plans."  Even when you think you've got your destiny mapped out, life throws curve balls.  Sometimes, it works out to be a blessing in disguise, leading you to a different course with new adventures, new people, new skills and even a new lifelong passion.  89074 resident Elizabeth Trosper moved to town from Burbank, California in 1995.  Although she had dreams of becoming a film actress after graduating from high school, attending Valley College where she was a theatre major and eventually studying at the Films Actors Workshop, it was a temp job that would open the door to an entirely new obsession.
Like many "starving artists" Trosper took a position to make ends meet as a receptionist at a public relations firm and she was hooked.  She went back to school and began her new career as an account coordinator at Manning Selvedge & Lee in Los Angeles. There she worked with some of the best talent in the industry as well as  national accounts including Sega, Mattel Toys and Blockbuster Entertainment. She continued to hone her skills here, becoming the partner of a Las Vegas public relations agency and has since opened her own company, Trosper Communications, LLC. in 2010.
Trosper has immersed herself within the community and is a current trustee, and past president, of the Board of Trustees of the Henderson Development Association and an alumnus of Leadership Henderson. She is a member of the national and Southern Nevada chapter of the Public Relations Society. She is also involved in a number of charitable organizations, providing her services on a pro-bono basis.  Trosper talks about her work, her family and her inspiration for a life well led.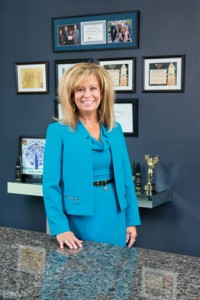 What was it like discovering a new career path?
"At Manning Selvedge & Lee in LA I discovered I liked being behind the camera more, and became skilled at providing direction for those who liked being in front of it.  My mom told me when I was growing up that I could do anything in the world that I wanted to do. I still believe that today."
As part of your PR work, you also give back to many organizations in the community?
"As a PR professional, I do pro-bono work for many organizations to raise awareness of their charitable efforts and further their cause.  I also provide financial donations when I have the means to do so."
What organizations do you support?
"I've been involved in the Henderson Boys & Girls Club, Easter Seals, Hopelink, Marion Residence and Regina Hall.  I've also served on the board of S.A.F.E. House.  Right now I am assisting the Henderson Salvation Army and Honor Flight of Southern Nevada."
That's quite a list!  Any experiences you'd like to share?
"Any time you work with a non-profit you get a glimpse into the challenges of others and I continuously thank God for his blessings on my family."
Of all your accomplishments, what makes you most proud?
"Being a mom to my son Jeremy and daughter Brooke."
What do you enjoy doing when you're not on the job?
"I enjoy spending time with those that matter the most in my life –my kids, my good friends–whether it's at an event or at home.  I like to entertain for my family as well as plan events both personally and professionally."
What life inspiration would you offer to others?
"Be kind to one another.  Be honest in all aspects of your life, especially the difficult ones. Enjoy the journey."
By: Callie Thomas
"Education is not the filling of a pail, but the lighting of a fire." – William Butler Yeats
The very essence of what a good teacher does is to motivate, inspire and engage children in the excitement and joy of learning.  That passion for education is at the very heart of what motivates Paula Naegle, Principal of Del Webb Middle School. She not only uses her enormous talent and enthusiasm for teaching to make a difference through education, but also to improve the health and welfare of children in the community.  Naegle has played an instrumental role in establishing and implementing an awareness campaign and new procedures and guidelines within her school and beyond to protect children from food allergens.
When Naegle's own children were young, she began teaching English in high school.  She also served as a faculty advisor for a number of extracurricular activities, which introduced her to community service projects that integrated her students.  Considered an innovator within the industry, Naegle launched an internship program with KLVX Channel 10. Her students at Chaparral High School were exposed to television production and later were some of the first to use that technology to televise morning announcements across campus.  Naegle would be an innovator again after meeting Scott Gordin, a sixth grade student with severe food allergies. As food allergens are a life threatening disease, Gordin's parents met with Naegle to talk about their son and how best to protect him. It was through her meetings with the Gordins that she first became introduced to and involved with the Food Allergy Research Education (FARE) organization. Paula talks about her support of FARE, her love of teaching and why it will always be a part of life as a native Las Vegan.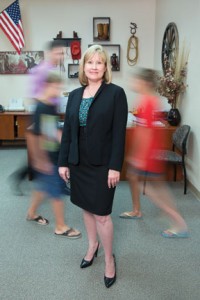 As a principal, how do you stay connected with students today?
"Beyond the administrative duties and paperwork I lead monthly book chats, participate in classroom discussions and mentor struggling students.  For example, I try to show students that service to the community and school is fun and rewarding, whether it's fundraising with our faculty to raise money for Nevada Childhood Cancer Camp Cartwheel or serving on the committee for the Las Vegas FARE Walk for Food Allergy, I try to give back wherever I can."
You were introduced to FARE through one of your students?
"I met with the Gordins to discuss their son Scott's life-threatening food allergies in an effort to be pro-active in keeping him safe and ensuring that he was included in the full realm of school activities. Mr. and Mrs. Gordin were so positive and helpful in teaching me and Scott's teachers what we could do as a school to protect the lives of children with food allergies. They introduced me to FARE, a non-profit organization that ensures the safety and inclusion of individuals with food allergies while seeking a cure."
You've spread the word about food allergies throughout your school.
"At Del Webb Middle School, we began implementing new procedures and guidelines to keep students with food allergies safe. Students and staff have participated in the Las Vegas FARE Walk for the past four years.  This year's event is on November 2 at the District Green Valley Ranch. Mr. and Mrs. Gordin, Scott and I also met with former School District Superintendent Dwight Jones to discuss the need for district-wide Food Allergy Guidelines so that all schools will adopt safe practices.  That meeting led to a great opportunity:  working together with school district leaders to provide training for every CCSD employee on recognizing the signs and symptoms of anaphylaxis and emergency procedures to help a student who is having a serious allergic reaction.  These events were made possible, in part, due to the grant, 'Educate Las Vegas,' that CCSD received from funds raised at the Las Vegas Food Allergy Walk." 
What do you think makes you successful?
"Knowing that I can make a positive difference in the lives of students is a driving force, but mostly that I was able to raise both of my daughters, Megan and Catherine, send them off to college and watch them create beautiful families of their own, all while working hard at a job that I loved."
By: Callie Thomas
Speaking up and speaking your mind has its rewards.  Resident Scott Gordin found the courage to stand up and be vocal about his food allergies in front of the school district as well as his friends. In the process, he's helped save the lives of other youth. Self-advocating has not only helped him deal with his own life-threatening affliction, but has created awareness of potentially life threatening food allergies and established the first-ever Clark County School District Food Allergy Management Guidelines which includes new regulations, policies and procedures through his efforts with non-profit organization Food Allergy Research & Education (FARE). The new guidelines are scheduled to be released this fall.
The high school senior has severe allergies to peanuts, tree nuts and shellfish.  He's experienced anaphylaxis (a potentially deadly allergic reaction), which sent him to the emergency room at an early age.  Due to his illness, he and his family did a great deal of research on food allergies and the dangers they pose, subsequently leading them to become involved in FARE.  His parents are volunteers for the annual fundraising Walk for Food Allergy charity as walk directors.  Scott was the youth ambassador for the walk the first year.  Now, he's a member of the walk committee as the teen recruit chair. He's also part of the Teen Advisory Group for FARE, which is a merger between Food Allergy & Anaphylaxis Network and Food Allergy Initiative where Scott is paired with other teens in a mentorship program. The group works on community projects to advocate and educate. He's proud of the work his volunteer efforts have produced and is always eager to share his experiences.  Scott talks about giving back at an early age, his aspirations and life as a teen in Vegas.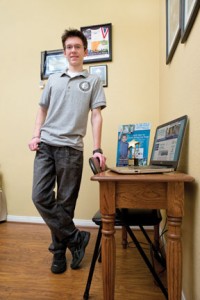 What should others know about food allergies?
"There is currently no cure.  Fifteen million Americans struggle every day from this medical condition.  One in thirteen kids has a food allergy (about three in every classroom).  Kids pass away every year from eating something they thought was safe."
Why was it important for you to volunteer?
"Other kids feel self-conscious about their food allergies, but I feel different.  It has helped save my life by being vocal.  My school, Coronado High School, is supportive and they are sponsors of our walk.  Many students volunteer and participate in the event."
Tell us about this year's walk.
"I want to invite everyone in the community.  You will support those directly or indirectly afflicted by this medical condition.  The walk takes place Saturday morning on November 2 at the District at Green Valley Ranch.  Your support will help raise funds for research to find a cure."
You've been recognized for your efforts?
"Yes, by Governor Sandoval and I received the Hero Award for my charity work, and a Humanitarian Award as Food Allergy Walk Teen Recruitment Chair in Nevada. As the chair, I've spoken to local schools and the Art Institute of Las Vegas Culinary School about the walk and participating. I secured local sponsors, volunteers, attend monthly committee meetings, and take part in TV interviews to promote the walk."
You've also done an interview on PBS and your story was featured in Today.com and made MSN.com's top 5 stories of the day…
"(Smiles) Yes, I'm really proud of that, but also the amazing support of our community and what the Walk enabled in Nevada! Thanks to our community, the 2012 walk raised $110,000 and our walk grants continue to be approved by FARE!  Together, we've increased awareness and raised funds to make our community a better place.  It's also exciting that the Clark County School District and the FARE partnership created a safer place for CCSD students and staff.  I hope to see you at the charity event November 2 –  you could be saving a life!"
For more information about the charity event visit www.foodallergywalk.org/lasvegas."
By Callie Thomas
Rob Jensen has high expectations. At least, that's how the 89144 resident and seasoned luxury real estate exec speaks of himself. It's also why he has achieved many successes in his life, which include founding the Rob Jensen Company, a high end real estate group in which Jensen is also the President and Broker. His drive in the real estate market has even landed him on television once or twice on such hit shows as Bravo's Million Dollar Listings, in which Jensen and one of his listings on the lake became part of the show. An episode of HGTV's House Hunters also led viewers to Las Vegas and featured Jensen touring homes with a couple of eager buyers. He's also appeared on MSNBC and has provided written content to The Wall Street Journal among others. But to fully understand his passion for sales and natural leadership ability, we'll have to roll back to Jensen's childhood years.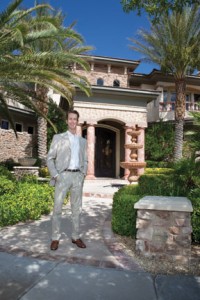 Since an early age, he's been fascinated with the "art of the deal," whether it be selling gum or selling fireworks in high school, the latter of which was ultimately the reason he did not go on his eighth grade field trip. Jensen's leadership abilities were also evident early on when he organized every kid in his neighborhood to help build the largest snow fort imaginable in his family's front yard in Eugene, Oregon. So when he finally put his skills to the test in the real estate game, it's no wonder that he would make many new friends and eventually lend his expertise to a variety of causes in the community. The list includes Smiles for Survivors, Boys Town, Three Square, Nevada Cancer Society and more. Rob Jensen discusses his successes, giving back to the community and why there's magic in Las Vegas.
So how did you actually get into the real estate biz?
"A friend was getting into business and brought me along for some appointments and I could tell it would be a great fit. The rest is history. Real estate has also been a way to meet some great people in this town."
You've also made it a point to "pay it forward."
"For me, giving to the community is two-fold. First, I am very fortunate to live the life I live. I was given a lot of great opportunities growing up and have a great family and parents. There are a lot of people that are not so fortunate with having the right people in their life or lacking the finances or health to succeed and I'm in a great position to be able to help. Secondly, being a competitive person, there is sometimes a tendency to focus inward. Helping others and focusing outward is a good way to quit thinking about one's self and puts everything into perspective. It's a win-win!"
Can you tell us about any experiences you've had with the charitable organizations you support?
"I have been a supporter of Smiles for Survivors since they were founded. As the son of a dentist, you can always say that I was raised to give this organization my support. What they do is nothing short of amazing. They are the only organization in the United States that educate the public about the oral side effects of cancer treatment, and here in Las Vegas they have a network of dentists that perform restorative dental procedures pro bono to help needy breast cancer survivors. This year, it's exciting because my company is their first-ever platinum sponsor of Blow Out Breast Cancer, which is on October 5th at Square Colour Salon + Spa. It is rewarding to see a much-needed organization grow over the years and I love supporting their mission."
If you weren't in your present career, what would you do?
"If I wasn't in real estate, maybe I'd have a career with investing. It really fascinates me these days. As a kid I used to be big into magic and doing magic shows. There's something special about creating a feeling of wonder in someone. I bet that's why David Copperfield still works as much as he does. There's always magic in Vegas."
Any words of wisdom or advice you'd give others?
"I read this quote the other day and had to save it: 'You have exactly one life in which to do everything you'll ever do. Act accordingly.' "
By Callie Thomas
There aren't many times you can actually say something is a "sure thing," but with 89135 resident Diane Fearon as the newest CEO of the Communities In Schools of Nevada (CISN), you can bank on her success.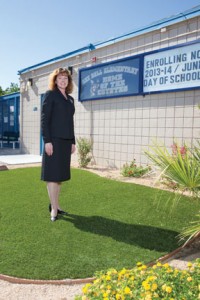 When the board appointed Fearon as CEO of the organization, they knew that her wealth of knowledge as a business executive would take CISN to new heights.  Her business acumen includes being the founding President and CEO of Bank of George, where she took the company from $21 million in capital to $108 million in assets during her tenure. She has also served as a director for the bank, chaired the bank's Loan Committee, Community Reinvestment Act Committee as well as other executive and management groups.
From her career beginnings in 1988 as a Loan Adjustment Department Manager to becoming an Executive Vice President for Bank of Nevada before joining Bank of George, Fearon has also played a part in developing partnerships between the private and non-profit sector. She's dedicated her time and expertise serving as Vice Chairman of Habitat for Humanity, board member with the American Diabetes Association and as a committee member with Shade Tree and Nevada Public Radio.  So, to Fearon, taking this next step with CISN was just another way to give back and making a tangible difference.
CISN currently supports nearly 25,000 students across 40 school sites in Southern Nevada and Northeastern Nevada, providing critical services such as medical and dental care, mental health counseling, food, clothing, tutoring, career exploration, academic development and other programs.  CISN also advocates for at-risk students at partner schools. All of this adds up to decreasing the dropout rate and increasing graduation rates, which means a higher economic benefit to the community.  Diane Fearon talks about her new career with CISN, what motivates her and a look at the person behind the success.
Why did you choose to become a part of CISN?
"Reducing our high school dropout rate is critical to the future of Nevada and it's easy to get discouraged by how far we need to go.  I'm encouraged by the talented and dedicated folks coming together to make progress.  It's also extraordinary to represent an organization that does so much with modest means, and has the hard data measurements to back up our fantastic ROI.  For every $1 invested, we return $11.60 in economic benefit to our community.  The prior banker in me loves that!"
Any experiences so far you'd like to share about CISN?
"Since joining I've had the chance to meet and begin to work with a significant number of committed and capable volunteers at all levels who are making a positive difference in the educational outcomes for Nevada K-12 students."
Why do you feel it is important to give back?
"I think there are generally two types of individuals in the world – those who multiply the potential of those around them, and those who diminish the potential of those around them.  I strive to always be a multiplier."
Of your many career accomplishments what stands out?
"I would have to say being named the CEO of CISN positions me for tremendous professional and personal growth while enabling me to have a great deal of satisfaction in being involved in improving the future of Nevada's students – who are our future."
Speaking of personal growth, is there something you'd like to share that others might not know?
"I'm the proud mother of four; my adult step-children, Natasha and Alex with husband Mike Majewski and my two nine-year old cats, Scout and Rudy."
Any favorite hobbies?
"I love to travel and have had the chance to visit some fascinating destinations such as the base camp at Mt. Everest in Tibet, China, Turkey, Greece, Spain, Costa Rica, Croatia, Italy, England and Portugal…and that's just the beginning!"
Any words of wisdom you live by?
"Probably John F. Kennedy's quote – 'to those who much is given, much is expected.'"
By Callie Thomas
For many, the topic of death is not an easy one but 89128 resident Larry Davis has devoted the past 34 years to serving and honoring those who have died.  Davis is the General Manager of Palm Mortuary's Downtown location.  As a young man he received a personal and spiritual calling to help families dealing with the loss of a loved one. Having had the opportunity to work at each of the Palm Mortuaries in the Vegas Valley, Davis has become very familiar with the people that make up the community he has called home since 1995. His devotion to supporting others has led him to create a monument dedicated to the civil rights movement in Las Vegas called the Garden of Dreams.  As part of the program, a scholarship is offered with the Public Education Foundation to help local students obtain their educational goals and to encourage them to pursue their careers in Las Vegas while contributing to the city. Founding a new program and developing a monument is not easy, but Davis knows a thing or two about hard work.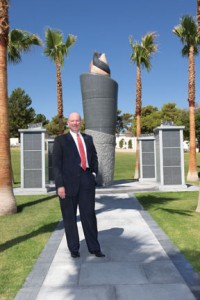 Upon graduation from high school he began his career at a family-owned mortuary in Southern California where he learned to respect the industry.  After attending mortuary science college, he spent the next 15 years working for Pierce Brothers Mortuaries in Southern California which includes the location in Westwood Village where famous entertainers like Marilyn Monroe, Natalie Wood and Jim Backus are laid to rest. He took a leap of faith by leaving his family and friends to move to Las Vegas, and has since become entrenched within the community, lending his support to a number of organizations including Nathan Adelson Hospice, United States Veterans Initiative and Keep Memory Alive. Davis talks about his prized accomplishment, and living to the fullest in Las Vegas.
What was your inspiration in creating the Garden of Dreams?
"I think it stems from an innate desire to help others.  That drive was really fundamental in coming up with the idea for the Garden of Dreams.  I wanted to create a space that invites people to reflect on our journey toward equality for all."
Tell us about the monument and scholarship fund.
"The monument, which resembles a giant granite torch, is engraved with the words dignity, equality, justice and freedom.  It is a tribute to the equality movement and a symbol of Palm Mortuary's commitment to educating young people who demonstrate the ideas of civil rights heroes.  A college scholarship will be awarded to one student each year, funded in part by the sale of pavers along the monument walk and burial cremation plots surrounding it.  There are 14 granite stars, representing the 14th Amendment.  We will hold an annual dedication to recognize a significant contributor to the civil rights movement locally or globally."
You have to be proud of creating the Garden of Dreams.
"I am honored that the community has been so supportive.  When I drive downtown on Las Vegas Boulevard and see this permanent monument to civil rights that I had dreamed of and is now built, I feel incredibly proud."
As part of the community, what would be your most memorable experience?
"Believe it or not, my most memorable experience was fairly recent.  We worked with Metro and the family of a fallen officer on his arrangements and just being able to help and honor a community hero with his loved ones is something that will always stay with me."
What do you think makes you successful?
"For me, being successful isn't about wealth or material things. It's about being able to help people in their most difficult times."
What is your favorite way to unwind after a long day?
"I enjoy going out to dinner with friends but mostly spending time at home with my husband Lee Cagley and taking our two dogs Maxwell and Bentley for a long evening walk around the lakes in Desert Shores."
By Callie Thomas
There's no question that the Las Vegas real estate market has undergone a rollercoaster existence for several years now. Fafie (pronounced Foffee) Moore and her husband Jeff, residents and partners in Realty Executives of Nevada and Realty Executives Intermountain Region, continue to roll with the punches and have maintained a successful business. Their success has been the inspiration for supporting many local artistic programs and nonprofit causes.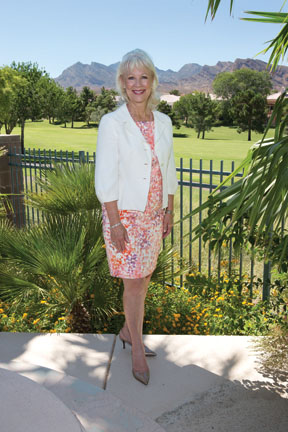 Moore began her career in real estate in 1981 after her job with the Arizona Department of Education was eliminated due to budget cuts. A friend suggested becoming a realtor. In her first year, she sold a house every two weeks, and that was during a time when interest rates were 18% and qualifying was difficult for potential home buyers. To this day, Moore considers the period "the best training possible." She and her husband used their real estate savvy when determining their moving date to Las Vegas twenty-four years ago. It was on Thanksgiving Day, because they thought people would not be buying houses that day.
With the philosophy that everything thrives and grows when it is fed and nurtured, Moore has been passionate about supporting the community. The Moore Family is a benefactor of The Smith Center for the Performing Arts as well as the Las Vegas Philharmonic. She also supports the Goodie Two Shoes organization, which provides socks and shoes for children who cannot afford them. For many, these are the first new shoes they've ever owned. Moore also serves on the committee for the Kick Off Your Heels Luncheon (KOYH), which takes place annually during the Shriners Hospitals for Children Open. Fafie Moore talks about her passion for these causes and provides some secrets to her success.
Why has it been important for you to support the community?
"Las Vegas has been very good to us and we feel that it is our responsibility to return the favor by making our home community a better place."
You've helped a number of organizations. Tell us why you gravitated toward Goodie Two Shoes.
"It's such a simple thing to provide socks and shoes. If a child doesn't have them, they don't go to school, they don't go outside to socialize and they miss out on so much. The joy of seeing a young person put on their first pair of new shoes is a very moving experience."
There seems to be a trend going with the Kick Off Your Heels Luncheon.
"Actually, ladies attend the luncheon sans heels in support of Shriners Hospitals for Children. Susan T. Spencer will be our keynote speaker and the event will also feature a live auction. I am serving on the committee and this year's event will be held on October 15th at TPC Summerlin."
Any experiences through this event you'd like to share?
"The true joy of chairing the KOYH luncheon is to meet the child ambassadors that have been helped by the Shriners Hospitals for Children and to hear the gratitude in the voices of their parents for the gift of a solution for their child's issue. Seeing a little girl in a party dress who was in critical condition just a year earlier is what it's all about."
You also support the arts in the community?
"I believe culture is critical to the future maturation of our community. Jeff and I love to support events at The Smith Center and tell people all the time that Las Vegas has this new treasure in the desert."
How do you unplug after a busy day?
"I enjoy watching movies, sewing and making online photo books of our children and their families, including our six grandchildren."
What makes you successful?
"I love what I do and I do it for the right reason. Also, my parents taught me to never be a quitter or a liar. I have found that to be very sound advice. Many times, success follows your last failure."
By Callie Thomas
"In this life we cannot always do great things. We can only do small things with great love."
-Mother Teresa
 Life can take you in many directions. Take 89074 resident Jeffrey Gordon, for instance. He's been in leadership roles throughout his career, from being the General Manager of a local radio station to the President and CEO of an outdoor advertising company. He's also been at the helm of a professional basketball team both in Wyoming and in Las Vegas, and for the past fifteen years he has been serving as the President and CEO of the Nevada Childhood Cancer Foundation (NCCF). In each of these positions, he has had an opportunity to meet and work with many people throughout the community, including industry leaders, politicians, athletes, parents, students and others. But it's his work with the Nevada Childhood Cancer Foundation that has made the most profound impression of all. What he's learned and has since shared with those around him is that real courage does not always roar. It takes courage to continually take the path least taken to make a difference, and it's quite another form of courage to do it with grace, dignity and selflessness.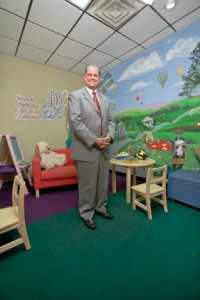 Jeffrey Gordon has served on a number of boards and supported many charities including Big Brothers Big Sisters and Special Olympics. He continues to be drawn to organizations that assist special needs children, so the Nevada Childhood Cancer Foundation was an inspired choice. This husband and father of five children is passionate about helping others that have not been able to help themselves. He believes strongly that a positive attitude can be the catalyst in creating positive outcomes and encourages that mantra in others. Gordon talks about his indelible experiences through the Nevada Childhood Cancer Foundation, his cherished accomplishments and why there's always time for a ride on his Harley.
What is the most influential experience you can recall at the Nevada Childhood Cancer Foundation?
"I've been involved for over fifteen years, so I could share hundreds of experiences. Like the young man who struggled for the first ten years of his life not knowing a truly healthy day. He wanted to come one more day to Camp Cartwheel, our three night camp experience designed to help children with cancer or other critical illnesses, as well as their siblings, enjoy time away from the stress and hospitals they endure on an ongoing basis. I had the privilege of driving him to camp even in his much weakened state. We talked about his life and love and gratitude for his parents and all those who loved him. When I drove him home, he said he had the greatest day of his life. At that moment, it reminded me of the heartfelt quote that courage is a quiet voice at the end of the day that says I will try again tomorrow. The young boy passed just two weeks later and I will never forget the lesson that I learned that day."
What drives you to succeed in life?
"I feel every experience we go through is to prepare us to help someone else. I also strongly believe in maintaining a positive attitude. A positive outlook can cause a chain reaction of events that can create extraordinary results."
You have received many distinguished honors for your efforts in the community.
"I am very proud of the awards which have been a team effort in helping to make things happen. The Citizen of Distinction Award was presented by the Mayor. I have also received the Philanthropist of the Year Award, the Toastmaster International Award for Leadership and Service and recently the key to the city, which was presented by Mayor Carolyn Goodman."
What makes you most proud?
"Being a good father, helping others and living a healthy lifestyle."
Does that include de-stressing with your Harley?
"I love to ride my bike and go on long trips. I continually surprise others when they see me in my leathers."
By Callie Thomas
Have you ever heard of someone described as a great "closer?" They're the type of person that has super powers when it comes to persuading and motivating others to "seal the deal." Meet Amy Rossetti, who may possess the many talents of a good closer but is better known as a great opener. Rossetti has put her super skills to the test and played an influential role as part of many "opening teams" that have launched some of the community's most recognizable businesses.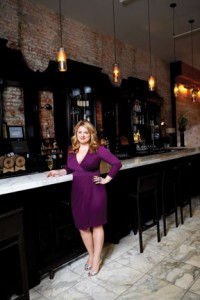 Throughout her career, Amy has opened ten restaurants and casino resorts including the Bellagio, Wynn, Encore and The Cosmopolitan, while also securing valuable partnerships in conjunction with these properties such as the South Beach Wine & Food Festival, New York City Wine & Food Festival and Top Chef Masters. She currently serves as The Cosmopolitan's Vice President of Public Relations and has earned acclaim for cultivating relationships with top media outlets. Her successful efforts have earned her a Gold Adrian Award from the Hospitality Sales & Marketing Association International, and she's also been a recipient of Vegas Inc's 40 Under 40, which annually recognizes influential local individuals in the business community.
While Rossetti has experienced much success in her career, she is passionate about donating time and resources to community organizations such as Communities in Schools of Nevada as a member of the Board of Trustees, and she participates in the Mentor Program at her alma mater, UNLV. She has also worked alongside organizations such as The Today Show's Lend a Hand Project benefitting the Culinary Training Academy of Las Vegas, Three Square Food Bank, Meals on Wheels and the James Beard Foundation. Amy Rossetti talks about making a difference in the community and why travel and adventure are in her blood.
Tell us about your experiences with Communities in Schools of Nevada.
"The philanthropy group is comprised of diverse, influential, like-minded individuals with a common goal to make a difference in the dropout crisis in Nevada. We determine student needs and establish relationships with local businesses, social service agencies, health care providers, and parent and volunteer organizations to provide needed resources to keep kids in school. We recently launched another facet of the program called The Community."
Tell us about "The Community."
"Co-chairs Alyssa Anderson, Courtney Schorr and myself helped to launch The Community this past April to give young philanthropists in Las Vegas the opportunity to meet others with a common purpose. Our goal is to develop a platform to create education advocates while making giving accessible and social through a series of events created for our members, by our members."
What or whom has inspired you to get involved in philanthropic efforts within the community?
"Throughout the course of my career, I've been fortunate enough to have four inspirational mentors: Elizabeth Blau, Lisa Marchese, Susie Lee and Elaine Wynn. I always think about how their time, dedication and commitment made such an impact on me both professionally and personally. Collectively, they introduced me to many opportunities within the community and my heart led me to what I was passionate about."
What do you enjoy doing in the free time that you have?
"I am a collector of vintage cookbooks, specifically from the 1940s. I love the way the books were written during that time. Women were learning to cook for their men as they were returning home from the war. My grandfather was a spy and later recognized as a World War II hero. I know that's why this era truly resonates with me."
So maybe that's why you're always ready for a bit of adventure?
"My bags are always packed, so there is always a good chance I'll be traveling!"
By Callie Thomas
How many times have we used the words "if only"? If only I had chosen a different road, taken a friend's advice, remembered someone's birthday, paid more attention to my children, made someone else's life a little easier… if only. We've all thought it at some point or another, but we would do well to take a page from 89012 resident Daniele Dreitzer, who strives to make every moment count. It's not easy, but Dreitzer is willing to look at things from a different perspective, forge new territory and take risks to make a difference every day.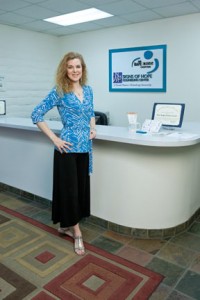 Truth be told, what Dreitzer does every day would be considered difficult by any circumstance. In her role as Executive Director for the Rape Crisis Center in Las Vegas, maintaining a positive, motivational outlook would be considered a gift. Each day she and the many volunteers and staff of the organization reach out to people who are at one of the lowest, most challenging points in their lives. Dreitzer is no stranger to nonprofit work. Her entire career has been spent in the field, starting back in high school when she volunteered at a soup kitchen in her hometown of Chicago. Since then, she has honed her talents working with other charitable organizations and has been recognized for bringing people and organizations together to make a difference.
When she's away from the office, Dreitzer is a proud mom of thirteen year old daughter Julia, in whom she hopes she has instilled her sense of community and "do it now" attitude. We had an opportunity to talk to Dreitzer about her work with the Crisis Center, her influence on those in the community (including her daughter) and about her unique way of unwinding after a busy day.
What drew you to pursuing a career in the nonprofit sector?
"When I was volunteering at a soup kitchen just before going away to college, I realized that for what it was going to cost for me to go to school for one year, several of the people in that soup kitchen could have a place to live, food, etc. In that moment, I realized how fortunate I was and decided that I would use my education to try and make the world a better place, and that's what I've continued to want to do every day."
Tell us about your experiences with the Rape Crisis Center.
"We are there to offer hope and support. Every single person that I've had contact with touches my heart. Whether it's a victim who calls on the hotline because it's the first time since the assault that they've been alone and need a friendly voice on the other end of the line, or a parent who has just learned that a child was sexually abused and is trying to get them help, or an older victim who just didn't think things like this could happen to someone their age, each story is uniquely impactful."
What do you think makes you successful?
"I am not usually daunted by the fact that something has never been done before. I love to problem solve and believe in bringing people and organizations together."
How have your philosophies influenced your daughter?
"I am so proud of my daughter. The amount of confidence she has as a thirteen year old girl is amazing. I hope I've had something to do with that. She hates injustice and unfairness of any sort because she has grown up seeing a lot in the community and helping at different organizations."
We understand you have a unique way of unwinding?
"I don't think of myself as a violent person at all but I take body combat at the gym once a week. I think of some of the perpetrators I hear about at the Center and when we're punching and kicking during the class I visualize them and it releases a lot of stress!"
Why is it important for you to give back?
"In the end, I never want to look back and say if only I had done that it would have made such an impact. I just want to do it!"