Browsing articles in "Meet Your Neighbor"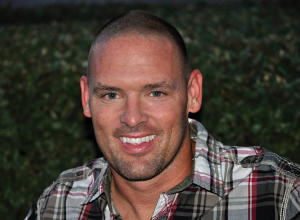 It seems triathlons are big biz these days, but an Ironman, well that's a race of a different breed. After crafting the original Silverman event back in 2005, Frank continued to direct this arduous display of athletic prowess until 2010. Silverman was then acquired by the World Triathlon Corporation, a.k.a Ironman. Working with them, alongside the City of Henderson, he's been a key player in bringing thousands of athletes (and their tourist-spending wallets) to Henderson to compete in various Ironman and Ironman 70.3 events. Coming full circle, the Ironman 70.3 Silverman race will return this October, with Frank again at the helm. To the delight of returning and future athletes alike Frank adds, "I plan to continue to host the Silverman 70.3 triathlon in Henderson. I love race directing and being involved with triathlons around the world."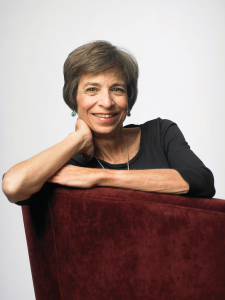 After working tirelessly with the Volunteer Center of Southern Nevada, Fran took some well deserved time off to "recharge". But philanthropy is in her DNA, so along with colleague Nancy Sprague, she soon established an affiliation of ITN Independent Transportation Network, a senior citizen transportation service with affiliates across the United States. With funding generously provided by the Regional Transportation Commission (RTC), they were able to get the venture off the ground in less than a year, offering the elderly transportation around the city by way of volunteer drivers and a small staff. Recognizing the shortage of paratransit services, especially in age restricted communities like Anthem, the RTC again partnered with ITNLasVegasValley in 2011, providing retrofitted mini vans to accommodate wheel chair access. This collaboration resulted in ITN going from 100 rides per month to more than 3500 rides per month in a very short period of time.
"We exceeded 75,000 total rides by the end of 2013," Fran commented. "More than 400 individuals per month are able to get to doctor's appointments, work, day programs and worship services, while also having fun visiting friends and relatives or even the casinos. Seniors and individuals with disabilities are able to remain active, contributing members of the community thanks to their ability to get from place to place." She adds, "It is truly gratifying to know we are making a difference." For information on ITN services, visit www.itnlasvegasvalley.org.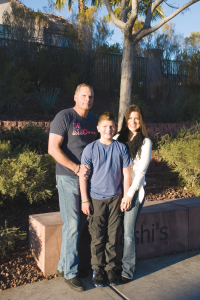 In a brave effort to honor the spirit of their late son Josh, the Stevens family has created a worldwide initiative to encourage children to embrace being kind. The Josh Stevens Foundation has made great strides over the last few years, engaging 350 schools in 7 states while including children from Uganda via a Kind playground named after Josh. Since 2009, Drew has spoken to more than 300,000 kids about the importance of leaving a Kind legacy behind, while Barbara oversees all design aspects of the Foundation and their "Be Kind… like Josh" apparel, a major source of fundraising for the organization.
"Through the work of our family, along with foundation supporters, volunteers and staff, Josh will forever be known as the Kind kid who started a Kindness revolution," says the Stevens family. "Barbara and I feel blessed to have so much support for Josh's Foundation, and our family is so grateful that his heart continues to shine in our community and beyond." To help further their mission of Kindness, visit www.joshstevensfoundation.org.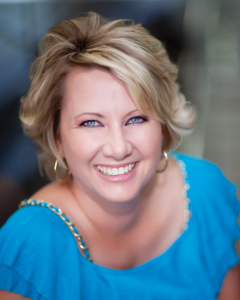 Since being featured eight years ago, Nikki Berti, Co-Founder and CEO of Goodie Two Shoes Foundation has grown the organization from a single shoe distribution event, held once a year and run from her home, to providing thousands of Southern Nevada children with new shoes and renewed self esteem. With a permanent warehouse and 48-foot mobile shoe-store-on-wheels, the Foundation outfits 10,000 Southern Nevada children in need via 25 coordinated and scheduled school-based shoe distribution events held September to May, each school year. They recently hit an impressive milestone of outfitting 40,000th kids this past October, distributing 20,000 pairs of those sneakers in the past two years alone.
"We don't just hand a child a pair of new shoes" says Berti, when asked what makes Goodie Two Shoes different than other organizations. "We make the participants the center of attention and empower them with choice by giving them the opportunity to select any pair of shoes from our traveling inventory of high-quality athletic shoes, just like the ones their friends at school might be wearing." To help them grow, visit www.goodietwoshoes.org
From our very first issue 10 years ago, we embarked on a mission to bring attention to all that's good in our community. Tired of negative press and news stories that did nothing to bring positivity to our daily lives, we decided to shine the spotlight on those who were making a difference. We caught up with a few of those special people, all of whom continue to make Las Vegas and Henderson a place we're proud to call home. We're truly grateful for what you, and many others in this community have done to create a better future for all.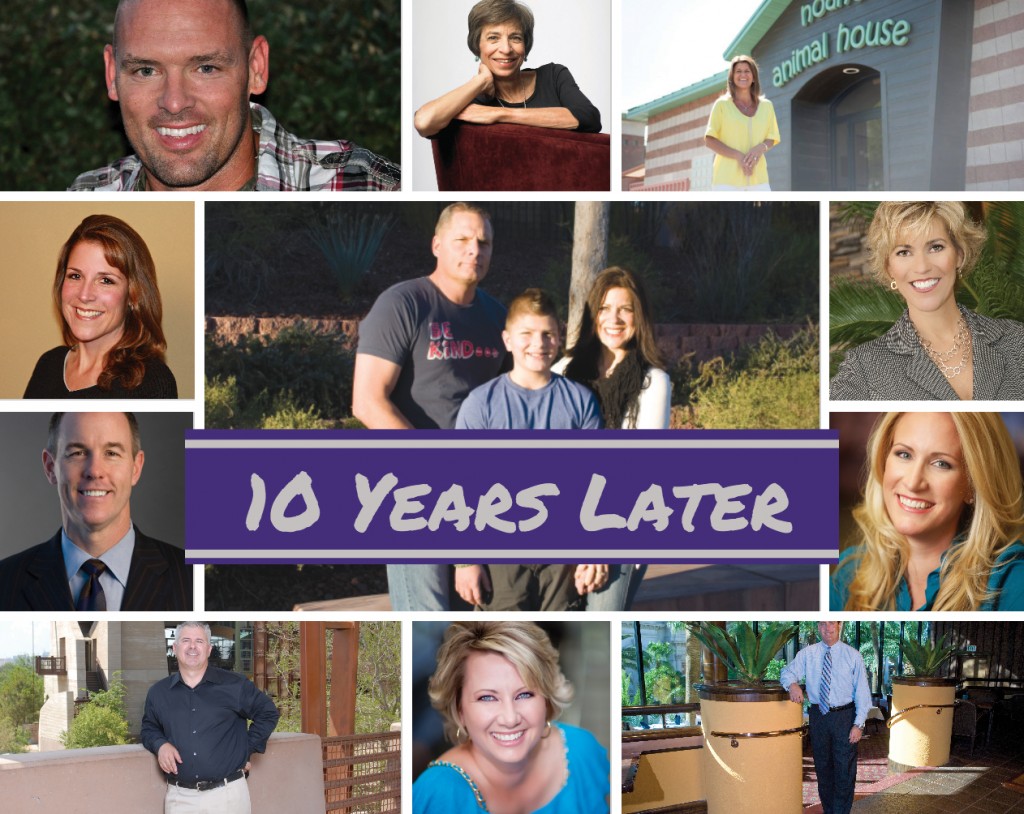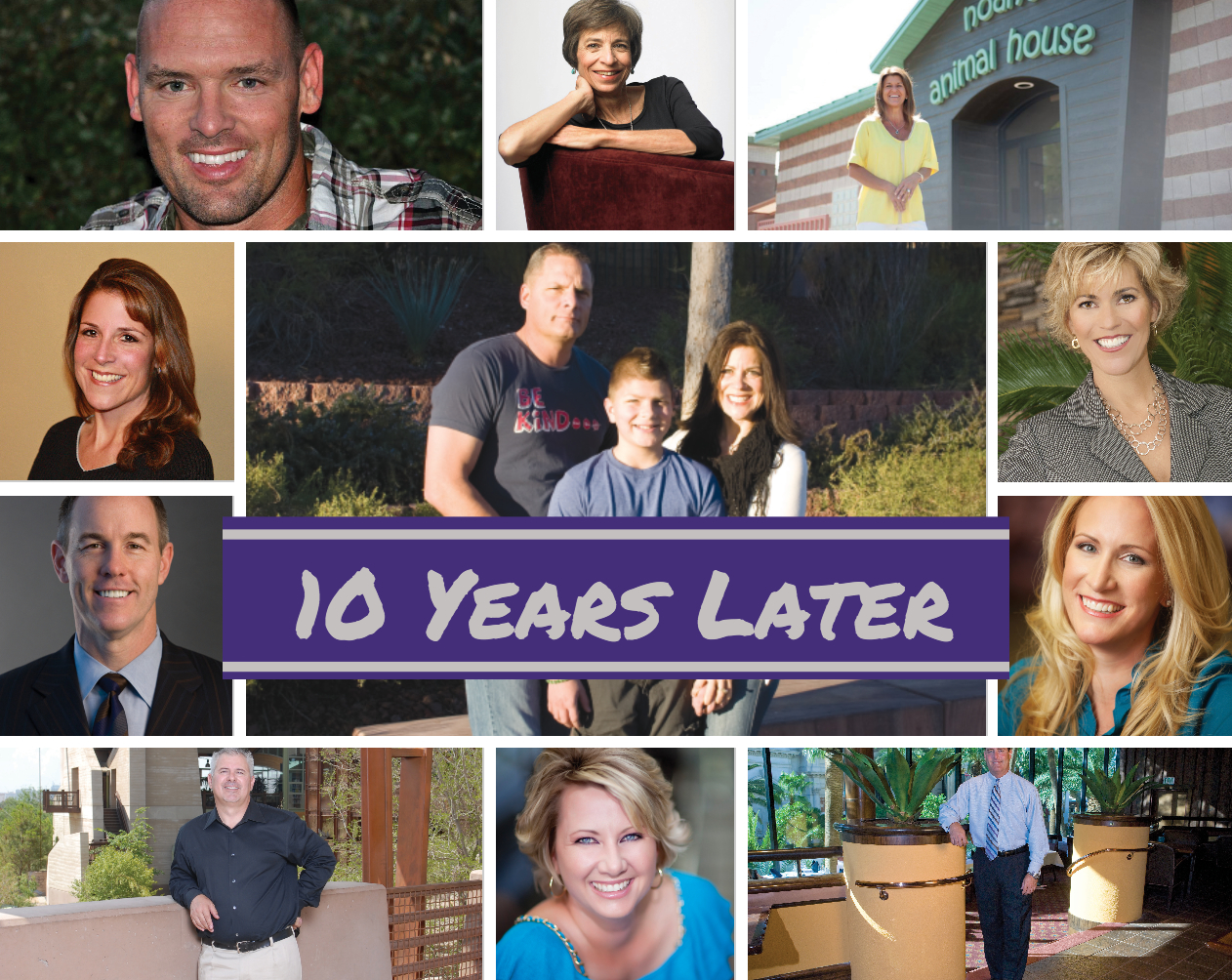 Click on the links below to see what they're up to:
Nikki Berti, Goodie Two Shoes Foundation | 2006
Drew and Barbara Stevens, Josh Stevens Foundation | 2009
Fran Smith, ITNLasVegasValley | 2007
Frank Lowery, Ironman 70.3 Silverman | 2005
Pat Byrne, Boys & Girls Club of Southern Nevada | 2006
Shawn Ritchie, Epicurean Charitable Foundation | 2007
Staci Columbo Alonso, Noah's Animal House | 2006
Stacey Escalante, American Cancer Society Cancer Action Network | 2010
Jeff Roberts, Springs Preserve & Desert Living Center | 2008
Paige Candee & Paula Lawrence, Dress for Success | 2011
By Callie Thomas
"The best and most beautiful things in the world cannot be seen or even touched – they must be felt with the heart." – Helen Keller
The gift of sight is truly a blessing, and it takes a man with an enormous amount of heart to dedicate himself to allowing others that opportunity. Resident Steven Leibowitz specializes in ophthalmology and has used his skills as an eye surgeon to help his patients. He's founded The Center for Graves' Disease at Sunrise Hospital & Medical Center to ensure that all Southern Nevadans have access to first-class medical care without having to leave the state. He has also personally funded medical missions to the Island of St. Lucia in the West Indies to provide much-needed eye care.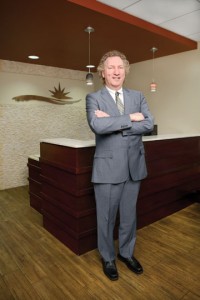 To say that Leibowitz is an accomplished eye surgeon would only be the beginning of the story. He attended Columbia, interned at Stanford and did his residency in ophthalmology and his fellowship in ophthalmic plastic and orbital surgery at Harvard. After his training, he joined the faculty at the Jules Stein Eye Institute, at UCLA Medical Center. Although a Las Vegas resident since 1993, he is still on the faculty there and travels to Los Angeles every week doing surgery, teaching and research at the center.
It is evident that Leibowitz is passionate about giving back, as his entire practice has been built on that philosophy. He assists those without access to medical eye treatment by traveling and providing his skills to people in need inside and outside of the country and has been a part of the Founders Group, which provides funds to local charities. Steven Leibowitz talks more about giving back and shares some personal facts that even his friends may not know.
Tell us more about some of the charitable organizations you support.
"I was a member of the Founders Group for years. We sponsored the Las Vegas PGA annual tournament and gave away the entire profits to local charities. While it was very time consuming we gave away $16 million dollars to local charities. Through UCLA I started the ophthalmic plastic, orbital and trauma service at Martin Luther King Hospital for this much underserved medical population, and operated on over 50,000 patients there."
How did you get started with the missions to St. Lucia?
"I started going there when I was a resident at Harvard. At that time, there were 120,000 people and no ophthalmologists. Today there are 170,000 people and four ophthalmologists. In this area people walk four hours to come to my clinic. Everyone from the Prime Minister to the poorest person comes to the clinic."
How does your practice here assist those in the community?
"In addition to founding The Center for Graves' Disease at Sunrise Hospital, I also operate on Saturdays and Sundays so that people can have needed surgery and not miss time at work. During the recession when many of my patients lost their jobs and their insurance, I still kept them as patients. When many ophthalmic plastic surgeons around the country don't accept any type of insurance, I accept Medicaid and others so that all patients can have needed surgery."
What are you most passionate about?
"Aside from raising my three sons Jeremy, Brett and Shaine, it would be helping the less fortunate. I grew up in an economically depressed neighborhood in Philadelphia and went to university on full scholarship. I also try to help young people apply to university and attend top colleges."
So, we hear there may be a surprising job that some may not know you've had?
"I was a Ringside Physician for the Nevada State Athletic Commission for 3-1/2 years. My favorite quote is by Mike Tyson, who said that everybody has a plan till they get punched in the mouth."
If you weren't an Ophthalmic Plastic Surgeon, what would be your other dream job?
"Commissioner on the Nevada State Athletic Commission."
By Callie Thomas
"Not the glittering weapon fights the fight, but rather the hero's heart". –Proverb
There's a very good reason that firefighters have long been considered heroes…they possess equal parts courage and heart. Resident Dean Fletcher has been a firefighter for the City of Las Vegas for more than 31 years, and has not only served the city well but continues to show heart through his volunteer efforts. Whether it is the American Red Cross Southern Nevada Chapter, the Muscular Dystrophy Association (MDA) or his work as a board member for the Professional Fire Fighters of Nevada Benevolent Fund, it is easy to say that Fletcher is driven to influence positive change and make a difference throughout the community.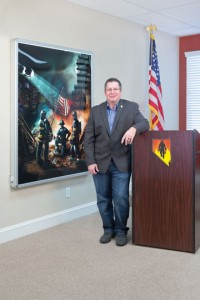 The 33-year resident has established deep roots in the city he calls home. He and his wife Cindy have been married for 32 years and both of their children, Ashlee and Ryan, were born in Las Vegas. Fletcher and his wife are equally elated to have welcomed their first granddaughter, Flynn, in December. Children are and have been an important part of his life, and so it is natural that he has aligned himself with organizations that assist them including the Coats for Kids Program, the Public Education Foundation and the "Fill the Boot" MDA Drive. Although he considers himself a "simple" person, Fletcher has made a difference in the community. He shares some of his experiences through the charities he's chosen, as well as a passion for all things sports.
How is it you first became a firefighter?
"I was a firefighter in the U.S. Air Force prior to becoming a firefighter with the City of Las Vegas."
Any experiences in the early days of your career you'd like to share?
"Well, as a rookie firefighter I responded to both the MGM and Las Vegas Hilton fires the first six months of my career within the Las Vegas Fire Department."
Tell us a bit about your volunteer efforts. How did you get started?
"Over the past 31 years as a firefighter for the city, I was able to become involved in the Professional Fire Fighters of Las Vegas local union early on in my career, which eventually allowed me to serve as the Southern District Vice President of the Professional Fire Fighters of Nevada. The Fund allows us to assist many charitable organizations such as the Coats for Kids Program, which will provide new coats for children in need throughout Northern and Southern Nevada. Volunteering for the American Red Cross Southern Nevada Chapter was also part of a natural progression as they assist citizens on a daily basis because of fires in their residence. The Red Cross does an exceptional job of helping families who have been affected by home fires, which is a big part of why I continue to volunteer for them."
Any personal experiences you'd like to share about these charities?
"While working with the MDA, you become very attached to the children that are affected with Muscular Dystrophy. This charitable cause in particular has become a very rewarding (yet sometimes difficult) experience as the Professional Fire Fighters of Nevada continue to assist children affected throughout the years."
So… we hear you're a really big sports fan…
"Yes, I enjoy watching college sports and I'm a big football fan… love playing Fantasy Football as well as traveling to watch college and professional football games. I'm also a pretty big Dallas Cowboys fan."
So…if you weren't a firefighter, what would be your dream job?
"Coach of the Dallas Cowboys."
By: Callie Thomas
This month, many of us will consider what we want to accomplish in the year ahead…new resolutions, aspirations or just taking time to appreciate others and embrace life with a bit more gusto. Resident Joanie McCarty is not one to stand on the sidelines of her life and is an inspiration on becoming more involved with family, home, work and helping others throughout the community.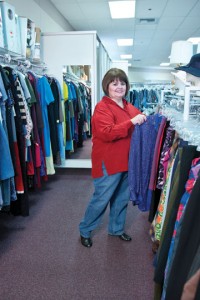 Although originally hailing from Milwaukee, Wis., McCarty and her family moved to Southern California, then on to Naperville, Ill. and finally to Las Vegas five and a half years ago. Joanie and her husband, Alan, have been married for the past 37 years and have three sons, John, Robert and Matthew. She has always stayed active in her children's lives and while her husband was a Little League Coach for all of the boys, she was their team mom. She also ran the Little League Snack Bar, and when her kids were in grammar school was the PTA president, room mom for class parties and field trips, and a teacher's aide when they were in the 3rd grade helping under achievers.
When her children were older she decided to go back to work in accounting, a career she had started prior to being a stay at home mom. She worked for Lawry's Foods Inc., where she learned more about fundraisers and getting involved in the community. As a newcomer to Las Vegas, McCarty came upon The Assistance League where she found truly caring, giving women who were making a difference. She joined the group as a volunteer but also found many new friends. Joanie talks about her work with the organization and why she tries never to miss a Green Bay Packers game.
How did you get involved with The Assistance League?
"The day I went to their new member's coffee, I really didn't think I would join, but thought, what the heck, I'll go check this out. It was raining and I looked like a drowned rat. I walked in and saw the beautiful fresh flowers on the tables and everything was first class. As I listened to the president and all the speakers and took the tour of the facility, I knew this is where I belong."
What is your role with the group?
"I am the chairman of their Thrift Shop. The shop's income takes care of the Assistance League facilities and Operation School Bell. I got involved because I feel every child needs a good start in life and when I saw the way The Assistance League works for our community children I knew I had to be a part of this wonderful organization."
Any experiences you'd like to share?
"It's so satisfying when I hear the customers compliment our prices, the merchandise, the cleanliness and our wonderful volunteers. We have customers who come in here every day, as it is their social place to meet. People may not be able to afford a nice outfit or a new pair of shoes and they are thrilled with the merchandise. It brings a smile to my face to see them excited about what they've found."
What would you say you are you most passionate about?
"My grandchildren. They live in Chicago but we get to spend time with them in the summer. I try to teach them games and things that I did when I was young like swimming, skating and hula hoop and try to get them away from the video games. We tell stories at night and I get a hundred kisses and hugs before tucking them in."
So… we hear you're a "Cheesehead"?
"Yes, I'm an avid Green Bay Packers fan and try not to miss ANY games. If they win it really starts my week and if they lose I am really sad, but I'm over it by the next Sunday."
For more information on The Assistance League visit www.assistanceleague.org.
By Callie Thomas
For many, the mere idea of shopping conjures up a feeling of excitement and adventure. It's a true passion and some even consider it a "sport" to track down the latest trend or the best deal. Shopping, marketing and the arts are all passions of 89135 resident Wendy Albert, and she is happy to be able to combine those interests in her work within the retail industry for the past 20 years. She has honed her skills in this arena and utilized her expertise within the marketing departments of nine different shopping centers throughout her career. Albert moved to Las Vegas in 2001 and continues to be a part of the city's ongoing transformation into a premier shopping destination by marketing the Miracle Mile Shops at Planet Hollywood Resort & Casino.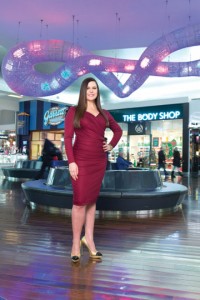 While shopping (particularly for shoes) has always been near and dear to her heart, so has giving back to the community. Through her work with the Miracle Mile Shops she has become involved in community relations efforts including overseeing donations to a wide variety of nonprofits such as Opportunity Village, Habitat for Humanity and HELP of Southern Nevada, as well as the Boys and Girls Clubs of Southern Nevada. She also participates in numerous charitable events, both hosted at Miracle Mile Shops and off-property. Her desire to give back to the community began in her college years when she was involved in student-group activities that included feeding the homeless. Today she is especially happy to support organizations that allow her to interact with kids such as the Girl's Day and Fun Day for Kids program through the Boys and Girls Clubs. Albert tells us about her volunteer efforts and interest in the arts, and shares her life inspirations.
Of the many charitable organizations you support, you have a soft spot for the Boys and Girls Clubs.
"Yes, I'm actively involved and have served on the Board of Directors for many years and have been fortunate to participate in numerous committees and events. My favorite thing is being matched up with a child and spending the day with them. I'm always touched by how much the children seem to value a few hours of our time. I benefit from these days so much more than the children do!"
Why do you think giving back is so important?
"Giving back reminds me that the world is so much bigger than our lives here in Las Vegas. I'm humbled by how fortunate I've been and, over the years, I've learned how important my time and effort can be. People depend on other people and I think we need to continue to lift each other up as a society."
You also have a passion for the arts, which you've combined to help the community?
"I am passionate about all forms of artistic expression whether it be found in museums, theaters or concert halls. I am also a member of the Bellagio Modern Art Council that supports art programs in the community and benefits the Public Education Foundation. I enjoy being a part of groups that do so much for children in our city."
What do you enjoy doing when you're not crunched at work or volunteering?
"I enjoy traveling and spending time with my family and friends. I'm actually a really big foodie and love trying new restaurants. We're lucky to have so many options in Las Vegas."
So, if you weren't in your present job what else would you like to do?
"Without a doubt, I'd be a food critic."
Do you have any life inspirations that you'd like to share?
"I try to remember to tell the people that I care about that I love them. I don't take for granted how much they mean to me and how appreciative I am for all of them and what they bring to my life."
It is the season of giving and that suits Carol Marker just fine. Although currently retired as manager of the family business, Marker Boat & Mini Storage, not a day goes by that Carol doesn't keep busy or take on a challenge to make the community a better place. In fact, her definition of "retirement" would not be complete without tackling a problem or finding a solution to help others.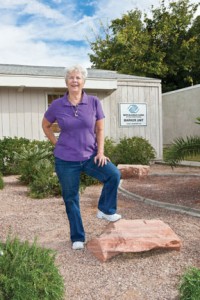 As a wife, mother and grandmother of four, she has been particularly interested in finding ways to help young children. She has been involved in a variety of charitable organizations including March of Dimes. She's also assisted at a home for unwed mothers, and has been an Association President and Troop Leader for Girl Scouts as well as a Den Mother for the Cub Scouts. Out of all the organizations to which she's lent assistance, however, it is the Boys & Girls Clubs of Henderson (now Southern Nevada) that is closest to her heart. Carol is a past President and Board Member and has made an indelible influence on its success through leadership. During her tenure she introduced new programs, many of which are still in practice today, and pushed forward even when things got tough for the group.
Boys & Girls Clubs of Southern Nevada provides a positive place for kids to go before and after school and during summer break. The group offers affordable and fun activities for youth age 5-18. The organization's caring and dedicated staff provides weekly programs including activities such as sports, table games, board games, arts and crafts, technology, educational activities, field trips and more to help nurture productive, responsible young citizens. Carol Marker talks about the Boys & Girls Club, and why giving up…on anything… is just not in her nature.
What or whom do you think inspires you to want to help others?
"My life inspiration was my mother. She was a great lady and demanded the best from me. She believed that the more you gave to aid the community or family, the more that would come back to you. The last few years of her life were difficult for her, but she handled them without complaint and with dignity. It is my hope that I reflect some of those traits as I go through life."
You must have also inherited your mother's will to keep pushing forward?
"I have been known to tackle any problem and work alone or with others to find and implement a solution. I do not know how to give up on a task."
That includes the Boys & Girls Club of Southern Nevada? It went through a rough period at the beginning.
"I have seen the Clubs from a time of almost financial ruin to a successful, healthy organization. At the time I was President, the Henderson organization was in jeopardy of having to put locks on the doors because of financial problems. With the help of new Board Members and Mike Meyers we were able to put the Clubs on secure financial footing. I was the originator of our current annual auction and have participated in the ongoing merger discussions with the Las Vegas organization."
What are you most proud to have achieved with the Clubs?
"I am most proud of the Marker Unit of the Boys & Girls Clubs of Southern Nevada, which is still one of the year-round clubs that provides programs for young children."
So tell us about retirement life. How is it different on a day-to-day basis?
"I can't think of a better job than the job of retirement. It is hard to go from the work-a-day world to days of seeming unending free time but I hope to do it well enough that I will have done and seen everything I can."