Browsing articles in "Meet Your Neighbor"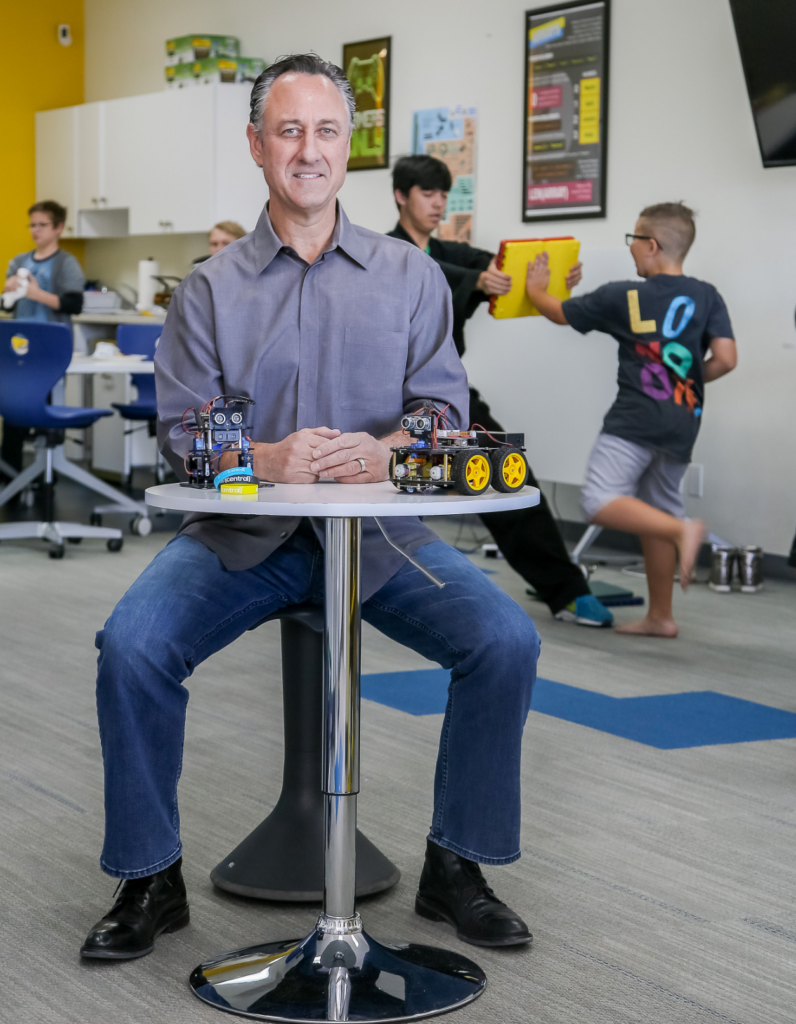 Meet The Neighbor
ERIC MENDELSOHN
By Callie Thomas
Where did the summer go? The temps are still high, but in Vegas it's already back to school for valley kids this month and time for re-focusing on studies from math and science to English, history and technology. With over twenty-five years of teaching experience and education management under his belt, along with an M.A. in English as well as extensive program development, Eric Mendelsohn has worked with a wide range of students from diverse cultural and educational backgrounds. His passion for computer sciences has also ensured that Las Vegas students have the ability to gain integral knowledge and skills in a vast and ever-evolving field of communication, which he accomplishes through programs he's created as an outreach effort of Code Central, a business he started with his brother Brian about three years ago.
Mendelsohn and his family are six-year Las Vegas residents, originating from San Francisco. In those short years he became the recipient of the 2017 Las Vegas Top Tech Executive Community Exemplary Award for outreach and involvement by bringing technology education to youth in the Las Vegas area in association with the Clark County School District and Girl Scouts of Southern Nevada. He's not only been a contributing member of the Nevada Board of Education's Computer Science standards writing team, he helped to create the state's new Computer Science curriculum. Mendelsohn currently sits on the advisory board for LIED Stem Academy and is a member of the School Organizational Teams at Wallin and Wolf Elementary Schools. Through these endeavors he's brought coding to kids across the valley. "It's important to me that I give back to the community by offering whatever resources and knowledge I have to benefit others," he said. "I enjoy creating opportunities that inspire others to learn, especially as a father of a third-grader."
This past summer the organization offered a series of tech camps for kids age 7 to 17, providing a fun and collaborative space that inspires creativity and teaches programming skills from developing websites to programming robots and creating video games. "My goal was to create an environment where boys and girls could learn valuable skills and coding. They also are given the ability to develop critical thinking and problem-solving skills. My vision is that some will eventually become computer programmers in the industry."
Earlier in the year, Code Central also held its first Student Showcase event at the Switch Innovation Center. "We had over 150 students and family members attend, and Senator Jacky Rosen came to speak about the value of what we are providing the youth," Mendelsohn said with pride. In addition to the Showcase event, their philanthropic endeavors also include FACES, providing free family coding events to CCSD families; hosting workshops for the Girl Scouts of Southern Nevada to earn badges in technology; hosting free video game design workshops to members and visitors of the Discovery Children's Museum; and offering summer camp scholarships for middle and high school students through the Southern Nevada Cybersecurity Alliance, among others. "I love to create learning opportunities for others and for myself," he said, which includes exploring another passion—music. "I play the drums and love to see live music."
Whenever Mendelsohn isn't teaching, working on his business and the many outreach programs for our city's youth, you'll most likely find him spending quality time at home with his wife and daughter. "My wife and I both have crazy work schedules, so it's a real treat for all of us to be home together."
Although he's accomplished much throughout his career and throughout the community, Eric Mendelsohn doesn't consider himself a success. "Success to me means doing and giving my best at all times, and I fail at this often. I am a work in progress!"
By Callie Thomas
Life and circumstance are constantly changing, and from adversity can come great accomplishment and success. Heather Engle has found that success after making some life-changing decisions and finding her passion and calling as the CEO and first female executive in the history of the Las Vegas Rescue Mission. "My career today was chosen for me twelve and a half years ago by God when I became sober," says Engle. "What was suitable prior was no longer, so through an evaluation and circumstances that opened doors, I received the great honor and privilege to share my life with my fellows who are suffering from the bondage of self."
In her position as CEO, Engle oversees every aspect of the nonprofit, including government and community relations, acquisition of donor gifts, resource development planning, as well as recovery and shelter services and programming. Since accepting the role in 2018, her focus has been to remove the stigma associated with true homelessness and addiction and continue the groundwork that had been laid out before her in the areas of expansion and growth of the Christian ministries department. She added, "By expanding our Shelter of Hope, more women will receive relief from homelessness, and we can fulfill the need for transitional housing and treatment beds. With the lack of housing, we will be feeding more and more individuals and families in crisis," Engle said. "We are also one of the only on-demand treatment facilities in the valley, so anyone needing drug and alcohol treatment can come here without insurance or other monetary issues that prevent them from care. Finding ways to keep this program in operation is on my immediate radar as well."
Since opening its doors in a small storefront building that included a chapel, kitchen and a shelter that could only house a few men in 1970, the Las Vegas Rescue Mission has grown to cover two city blocks in downtown Las Vegas to help hundreds daily and serve more than 30,000 meals on a monthly basis. The campus includes dining and training facilities, the Shelter of Hope housing, a facility for single fathers with children, a chapel and a thrift store. On July 4, the mission will hold its annual Independence Day Community Meal Service.
Engle has a deep connection with the work of the mission and the people that they are able to help each day. "I've been personally associated with the Rescue Mission as a community partner throughout the years. I understand and live in long-term recovery. I had a shattered life and hurt family and friends. I know what that is like, and I know what recovery, freedom and forgiveness has given me on the other side." In addition to the Las Vegas Rescue Mission, Engle also sits on the board with her family foundation, There is No Hero in Heroin. "My involvement is one of the heart. The organization was founded by my husband, Joe Engle, after the death of his son Reese Engle. No Hero in Heroin brought the first publicly funded recovery high school in the nation to Las Vegas, and we just graduated twelve incredible students. We also run the alternative peer group housing, which is at the heart of recovery for the school."
At the center of Heather Engle's life success is her trust in faith, recovery, family and "a tribe of strong amazing women." Family is everything to Engle, and at the center is her husband Joe, who she says was a prayer answered, along with her children, Taylor Coombs and Christian Frost, and her bonus children, Reese Engle, Dylan Engle, Shane Engle and Adam Engle.
"Everything I am is 100% due to the faith and the people in my life. My recovery community and my family are the thread that is woven in and throughout me. There is no greater strength that correlates to success. Life is not a dress rehearsal so live out loud every day."
Lacey M. Huszcza
By Callie Thomas

Las Vegas entertains in so many ways, but it's the music that conjures that feeling of excitement in the millions of people that visit our city, as well as those that are proud to call it home. From the breathtaking synchronized playlist of the Bellagio Fountains and the adventurous and inspirational soundtracks of Cirque Du Soleil, to must-see headliner concerts and our very own Philharmonic, music is the heartbeat of Vegas. Nobody knows that better than Lacey Huszcza, pronounced (HOO-shuh). "I'm thrilled to be in my first six months as Executive Director of the Las Vegas Philharmonic. The best thing is that I get to work with fantastic musicians and a wonderful artistic mind in Music Director Donato Cabrera and with so many Las Vegans," she beamed. "I have the joy of collaborating with other arts and community leaders, as well as talking with donors and subscribers that are moved by the music. So often I get to help awaken possibility in other people. That is where the magic really happens."
Music has always been a part of Huszcza's life, so it was inevitable that she would gravitate to a career where she could nurture her passion. "I grew up in Colorado, and like a lot of people, played piano and then started playing in my school band. I was a French Horn player, and I loved participating in music of every kind. I played in youth orchestra, in my high school jazz band, and in our wind ensemble." One of her favorite activities was to help coordinate the annual Music & Blossom Festival in her community. "I was in high school, so my coordination related primarily to the band competitions, but the festival had a parade, jazz band competitions, an arts and crafts fair, a carnival—it had everything! I loved how the whole community was a part of it. It brought people together, drove tourists to town and highlighted what made our city special." Several years later when Huszcza was about to graduate from college and had determined that a career as a professional musician wasn't for her, she found an internship at the Arvada Center for the Arts & Humanities, which is where her career path was solidified. "I worked with the fundraising team and learned the importance of donations and improved my skills in that area," she said. From there Huszcza moved to L.A. and began working with the Los Angeles Chamber Orchestra and helped fundraise, create events and put a spotlight on the artists, all while getting her MBA at Pepperdine University to ensure she had the business background to one day run an orchestra. She and her husband Dan, a freelance trumpet player whom she met while at the University of Colorado Boulder, moved to Vegas last year to begin her adventure with the Las Vegas Philharmonic.
The LV Phil's mission is to inspire a lifelong appreciation of music through performances and educational experiences that will enhance the lives of residents and the culture of the city. Over the last twenty years, the LV Phil has performed more than 150 concerts and youth concert series and has served over 250,000 students. This May, the Philharmonic will present the Season Finale concert, "Ode to Joy", performing Beethoven's Symphony No. 9 (which drew inspiration from the French poem titled Ode to Joy) & Mendelssohn's Violin Concerto. "I am excited that I get to lead the Las Vegas Philharmonic into the future and contribute new dimensions to its legacy," says Lacey. "I believe that art done well creates a space for emotion and expression of that emotion. Art can lift us up or help us sit back in thought. Art can provide clarity or create questions that make us think deeply about ourselves and our surroundings. My good friend and conductor Jeffrey Kahane once said that for an orchestra to truly fulfill its highest potential, it must be an 'instrument of the community', and that is my hope for the Philharmonic in Las Vegas."
​

Dr. Jeannette Nee
By Callie Thomas
In life, each decision leads one toward a specific path, and as those decisions gain momentum, they create a fabric of adventures, challenges, loss and love. For Dr. Jeannette Nee, the heart of the matter has always been about making a difference. Whether that's improving the lives of others as an interventional cardiologist with Cardiovascular Consultants of Nevada, now a division of Healthcare Partners, or fostering and caring for animals through The Animal Foundation.
Dr. Nee received her degree in molecular biochemistry and biophysics from Yale and did her cardiology fellowship at Stanford, which places a heavy emphasis on research. Her decision to move toward the research side extended her stay at Stanford by two years doing laboratory research, but a desire to work directly with patients moved her to Henderson in 1997 where she became part of the cardiovascular team at Cardiovascular Consultants of Nevada. "For nearly twenty years I had the privilege of improving the health of my community, one patient at a time," says Nee. "I retired at the end of 2016 and looked for rewarding volunteer opportunities that involved physical activities, but were low stress, especially after having been in a high stress profession for decades." Over her career, Nee has volunteered in emergency rooms, rape crisis programs and battered women's shelters. She and her husband, also a physician, had even volunteered for six months at a medical clinic in Southern Highlands Province of Papua New Guinea and wanted a change. "I've always had a love for animals and looked for opportunities to work with them."
That decision led to volunteering at Spirit Therapies, which uses therapy horses to help people with physical or mental challenges, but it was thirty miles one way from her home. Although it was an active and highly rewarding experience, she eventually transitioned to volunteering at the Nevada SPCA. After socializing with the shelter dogs and cats and walking their dogs, Nee's desire to foster animals led her to The Animal Foundation. "Fostering promotes effective socialization and improves an animal's chance of getting adopted," she said. "I realized I could help, not to mention the sheer fun of interacting with kittens and puppies!" The Nee family started by fostering a puppy for The Animal Foundation's Best in Show fundraiser last year and became hooked. This year's Best in Show event takes place later this month and involves over 100 volunteers. "After my first foster experience, I became one of the many volunteers and, so far, have fostered two puppies and twenty-two kittens!"
Nee's entire family have enjoyed fostering animals for the foundation, and even their yellow lab, Max has gotten into the act, being a very kind and patient big brother to the other animals. "Some of our funniest laugh 'til it hurts moments have been with the foster pets. I believe that caring for them has helped bring my family even closer together." The Animal Foundation's mission is to provide a humane and compassionate community for all animals and to save the lives of all healthy and treatable animals in the Las Vegas Valley. "Like people, each animal has their own personality, problems and issues but communicates differently. It can be very fulfilling to figure out how to help one particular animal and see them improve with each visit." As a doctor, Nee also acknowledges the health benefits of fostering. "Interacting with animals lowers blood pressure, cholesterol, triglycerides and provides opportunities for exercise, outdoor activities and socialization."
Dr. Nee has led a very successful life and is proud of her career and her two daughters. Although her life has not been without its challenges and losses, she attributes her accomplishments to being very focused, determined and independent, and having a strong work ethic that she learned from her parents. "You can never work too hard. Always do your best and never give up a struggle worth fighting for."

Greg and Dana Lee
By Callie Thomas
The start of a new year is a time of reflection…of where our lives have taken us and where we intend to go. So, if someone asked you what you would attempt to do if you knew that you could not fail, what would be your answer? It's a question that Las Vegas resident, entrepreneur and philanthropist Greg Lee reads frequently on a paperweight that was given to him by his best friend. "Fear of failure stops people from starting to take action," Lee said. "We will not always be successful in what we choose to do, but we will never accomplish anything if we're afraid to start." Greg and Dana Lee have never been afraid to chart new territory. This is evident in all that has been accomplished by this Las Vegas/Mesquite power couple throughout their lives, from successful business careers to their work with local charitable organizations, including Communities In Schools (CIS) and other educational causes.
Greg Lee is Chairman and CEO of the Eureka Casino Resort, a company he founded with his parents, Ted and Doris Lee, that was recently named by Fortune Magazine as one of the Top 100 Mid-Sized Companies to Work For in America. "I grew up in San Francisco, but spent many years visiting Las Vegas with my parents who were small scale real estate developers and had many projects in Vegas," he said. "I first entered the real estate and casino business in 1988, but then returned to school at USC Law School and became an attorney. I practiced a couple of years in New York City, which was where I met my future wife, Dana."
During that time, Dana was building her career around her passion for art history. "I was an unfocused senior," she said. "My first job was at a large advertising firm, then I was a fashion publicist at a PR firm." It was that experience that spurred her to pursue her true passion, which was to graduate from Brown University, and then get her masters in non-profit arts management at Carnegie-Mellon University. "I worked for the then developing Andy Warhol Museum, and upon graduation, I returned to New York City where I met Greg and worked for the Guggenheim Museum in development. During that time, I volunteered working with at-risk children and kids at Mt. Sinai Hospital. Today, my varied career experiences lend beautifully to my non-profit advocacy work."
Greg has served on several community boards that include past Chairman of the UNLV Foundation, the Las Vegas Convention and Visitor's Authority, and the Las Vegas Metro Chamber of Commerce; as well as the Meadows School, the Young President's Organization, and the Harvard Club of Nevada. In Mesquite the Company created the Eureka Community Initiative, which supports more than 50 programs that improve the local community.
Dana affectionately calls herself a "serial board member." She's resided on the board of the Nevada Ballet Theatre and the Las Vegas Art Museum and currently is involved with the Nevada Women's Philanthropy (founder and past president),Teach for America Las Vegas Valley, The Guinn Center and CIS. "I am passionate about education and ensuring that every student, regardless of background, can have an excellent education."
CIS is one of the largest state initiatives and has proven to keep students in school and on the path to graduation by connecting students and their families to critical educational and community-based resources. They operate 63 school sites in Nevada and serve over 67,000 students. "We are attracted to causes like CIS that can improve the quality of life and develop people who will provide lasting change and improvement into the future," says Greg.
The couple was recently honored for their efforts in bettering the education of Nevada at the Communities in Schools of Nevada 2018 Today for Tomorrow Gala. The annual star-studded fund-raising event surprised the pair with a special tribute video featuring prominent DJ Steve Aoki and KSNV News 3 Anchor and supporter Krystal Allen. CIS Board Chair Robert Glaser and CEO Dr. Tiffany Tyler also announced that a community library would be donated to students in the Lees' honor.
Of their many accomplishments, Greg and Dana Lee are most proud of their own family, including son Graham (who is a freshman at Brown University) and daughter Katie, a senior at Bishop Gorman High School. "Our children truly are our future," Greg said. "I enjoy mentoring our kids and other young people in the community and helping turn their visions into reality."
Kelly DeGuzman
By Callie Thomas
There are times in our lives, whether young or old, that circumstances or necessity calls us to ask ourselves, "What is my purpose?" It is a heady question, but legendary artist Pablo Picasso summed it up by saying, "The meaning of life is to find your gift. The purpose of life is to give it away." When Kelly DeGuzman moved to Las Vegas from Huntington Beach in 1989 with her then fiancé and now husband of thirty years, Jerome, she had followed a very different career path than she had initially intended. "I started out working in banks, a law firm, then aerospace," DeGuzman recalls. "When we moved to Las Vegas I wanted to go back to my first love, which was working with kids in need. My mom was an incredible role model and very active in our community and encouraged me to volunteer. As a result, I ended up being the CEO of a non-profit specializing in this area for nearly twenty years." During that time DeGuzman became the mother of two sons, Alexander and Joshua, and took a break from the work force. She was later approached by Junior Achievement of Southern Nevada to take on the role of Director of Operations, and she gladly accepted.
Junior Achievement of Southern Nevada was formed in 1996 to assist grade school children from K-12 with programs and curriculum to learn key life skills such as the importance of saving, the difference between wants and needs, and learning key economic principles and personal budgeting. With the motto "We're in the business of building brighter futures", the organization reaches over 20,000 students annually through the Clark County school system. Since it began in Southern Nevada, more than 330,000 students have been provided with practical, hands-on financial literacy programs. Over 285 local businesses and 6,800 business role models have taken part in the curriculum. "We can't do enough to support the kids and help them to achieve their goals and dreams, but most importantly, to keep them safe and have them feel safe in this difficult global climate."
The organization has held exciting fundraising events, including raffles during Vegas Golden Knights hockey games at T-Mobile, a raffle for a 2018 Harley Fat Bob which will be given away at the annual 4.01K Race for financial fitness this coming April. "Giving back is about being engaged, caring about what is happening and having a voice," DeGuzman said. "These events and our volunteer programs provide opportunities for others in the community to do just that."
Over the years, Kelly has also been involved in a variety of charities, including being the Board President of Young Artist Orchestra, a free music program in Nevada that is passionate about educating, promoting and developing the musical talent of young artists. "Within all of the charities I have been involved with, I received more than I could possibly give," she said. "Each person is so unique and special, and we can learn all of our life lessons if we just take the time to listen."
While she is dedicated to helping our community's children, her first passion is spending time with her own family. "I love being at home playing board games with my boys, reading, or attending a concert with my husband. My family's love and support helps me get through all the rough times and gives me the wisdom to appreciate all the times of my life."

Christine Zack
By Callie Thomas
Easter has come and gone, but anytime is the right time to support the healthcare services provided by Easterseals Nevada (ESN). When ESN began in 1976, it was called the Southern Nevada Association for the Handicapped. The organization later expanded to provide services for the entire state and, in 2002, entered into an affiliation agreement with Easterseals, Inc. for marketing and branding purposes. Today, ESN remains an independent non-profit dedicated to enriching the lives of its clients. President and CEO of Easterseals Nevada, Christine Zack, is passionate about preventive healthcare. "The opportunity, as a non-profit, to reinvest our profits into programs, services and employee engagement and recruitment means we are able to offer preventive healthcare services to children throughout the state and provide capability enhancement, enrichment and career services to adults," says Zack. "We are in a unique position to provide healthcare and human services to infants through seniors. Families are grateful for this continuity."
If you ask Christine Zack to summarize her career path, she would say it sounds like the title of an article written by a former practicing attorney, Wendi Weiner, called "How I Used My Law Degree to Get Out of Law." During her sophomore year in college she interned for a lobbying firm that represented several healthcare clients that included non-profit trade associations. "I went to law school with the goal of becoming a lobbyist but took a detour," Zack fondly recalls. "I first worked as in-house counsel for a national hospital and skilled nursing facility chain and was later promoted into business roles and eventually became Chief Risk Offer and Chief Strategy OfficerOfficer for three different national organizations. When I was presented with the opportunity to join ESN, which has a lobbying component, it was a chance to return to where I started my career with non-profit healthcare organizations."
ESN specializes in pediatric rehabilitation services, including physical therapy, occupational therapy and speech therapy for children in their homes through its Early Intervention program. The organization also has two Therapy Clinics for kids of all ages, capability enhancement and enrichment services for adults and oversees assistive technology initiatives and independent living home and vehicle modification projects throughout Nevada. "I've had the opportunity to witness firsthand the continuity that we provide to families," says Zack. "On Valentine's Day this year, Hewlett Packard conducted a team-building exercise with nearly 500 members of its global sales force where they assembled adult wheelchairs at the Sands Convention Center. One of the chairs was presented to a 2-year-old ESN Early Intervention client and her mom. The mom's acceptance speech noted that her daughter, who has Cerebral Palsy, will grow up and need one of the 80 adult wheelchairs that were built and donated to ESN. "Hearing one of our clients talk about the link between our children's services and adult services highlighted for me that the continuity we provide to families is truly distinctive."
Whether its ESN or other organizations that Zack supports, such as The Shade Tree, Noah's Animal House and even her neighborhood HOA, she believes giving back is something that not only includes donating money, but giving your "time, talents and passion." One of her favorite quotes is a line from the Dr. Seuss book, The Lorax: "Unless someone like you cares a whole awful lot, nothing is going to get better…it's not."
Christine Zack attributes her successes to her incredible personal and professional support network. "I believe in surrounding myself with people who are 'smarter' than me in their area of expertise, because it enhances my own knowledge base. I also want to reiterate what Sheryl Sandberg, Melinda Gates and Warren Buffet have been credited with saying, which is a variation of 'the most important decision you will make in your life is who you marry.' Oftentimes we think about our professional contacts and resources outside the home when defining success, but I firmly believe that the most important factor in your career success is your spouse or partner."
Christine Zack is married to Judd Gundersen, a Las Vegas City Firefighter and commercial pilot. They have a 6-year-old son, Bergen, who is graduating from kindergarten, and three rescue dogs.
By Callie Thomas
The word Tzedakah in Hebrew means philanthropy, charity and a form of social justice in which the donor benefits from giving as much or more than the recipients. This concept is an integral cornerstone of Jewish life. Stefanie Tuzman discovered her passion for giving and for working in the nonprofit world and, in particular, with the Jewish community of Las Vegas in 2007. "My work has literally become my life," says Tuzman. "I met my husband Jon in 2009 through the Jewish Federation, now called Jewish Nevada, and many of the contacts I have made through this work have become my closest friends." Tuzman has worked in just about every area of the Federation and is the new President and CEO of the organization. "I am so blessed to have the opportunity to help lead the organization to make a great impact in our community, which represents more than 70,000 Jews in Southern Nevada."
Jewish Nevada is a 50+ year philanthropic organization that strives to build vibrant and thriving communities and support the Jewish life. In her role, Tuzman works to help raise dollars needed to sustain the other agencies in the community that are helping to build and maintain that life, not only in Las Vegas, but around the world. "I'm so proud of the work that we do in our community and beyond," she said. "No other organization touches so many different lives from the generous support of individuals and businesses, whether it be day school or preschool scholarships, providing camp scholarships, support for Holocaust survivors or helping to feed the less fortunate with a food pantry. We're dedicated to helping people throughout the community whether or not they are Jewish."
Jewish Nevada raises dollars to assist those in need throughout all phases of life. The organization hosts a number of events and galas to raise awareness and funds for these initiatives. Pomegranate 2019 coming this March, for one, is the Jewish Nevada's Women's Philanthropy council event featuring guest speaker Essie Weingarten, founder of Essie Cosmetics, which hopes to raise critical funds to support their efforts. "I put all my time and energy into my work, helping to grow and sustain our community, but the community has given so much in return," says Tuzman.
The organization offers a variety of ways to get involved from JCC activities just for kids and families, to those for men, women and young leaders. "Education, volunteerism and donations are key in keeping Jewish Nevada a top-level organization that helps others. Through our grant, scholarship and loan programs, we make educational, medical and religious endeavors affordable and enhance the lives of those living in Nevada."
Tuzman is not only proud of her accomplishments with Jewish Nevada but of the life and family she's created along the way. Las Vegas has given her many memorable moments, from her husband's proposal at Picasso in front of the Bellagio fountains to the birth of their daughter, Tova two and a half years ago and acquiring their family Beagle named Brie. When she's not working hard at Jewish Nevada, she enjoys spending time with family, cooking with her husband and trying new dining experiences. "Everything I do is to help create a vibrant Jewish future for those who live here and especially my young family." For information on the programs of Jewish Nevada visit Jewishnevada.org.
"No hour of life is wasted that is spent in the saddle." – Winston Churchill
A study by the American Youth Horse Council found that equestrian activities have a direct affect on enhancing a range of life skills in children. Children are naturally attracted to horses and they make wonderful childhood companions. They help children build character in addition to providing some healthy benefits like increased balance, coordination and flexibility.
Resident Kathryn Davis grew up in Irvine, California where her family kept horses at Irvine Park. She and her sister made lots of friends who loved animals and her experience with horses throughout her youth provided her with a loving, learning and yes, stable environment. When she moved to Las Vegas, she looked for a place that her children would have a similar experience. Little did she know that she would end up with three horses of her own and be looking for a place to live with them. The Las Vegas Riding Academy was the perfect solution. Davis is the owner and instructor of the facility which offers kids an opportunity to learn to ride, care for and develop a passion for animals and the great outdoors. Most of the horses Davis uses for her lessons have been rescued and she supports organizations that not only save horses but provide other services like therapeutic riding for kids. She is passionate about an organization called Spirit Therapies, which assists physically, mentally and emotionally challenged children by connecting them with trained therapy horses, certified instructors and compassionate volunteers.
Kathryn Davis talks about her dream of creating a facility with horse camps, play days and therapeutic riding for handicapped kids. She also discusses what children of today can learn from the experience and how her own mother was influential in her love of horses.
Tell us about your dream of creating a facility that includes therapeutic riding.
"I have dreamed of having a nonprofit organization that would bring in kids from all walks of life to share the therapeutic effects of horses and animals. It would be a place where kids can spend time outside; a place to learn to care for and be compassionate about animals. I am so passionate about this that I always seem to be talking about it. I have several people who share the same dream as I do and we are working toward building a facility that will provide these services. Las Vegas Riding Academy is busting at the seams so I know there is a real need out there."
What do you hope kids will learn from the facility?
"I have children who come to Las Vegas Riding Academy and don't realize eggs come from chickens. We need to get our kids away from the computers and back outside interacting with their environment. I want kids to learn that life has its ups and downs, but animals have unconditional love and they don't judge you."
Tell us about your support for organizations like L.E.A.N., Shiloh Ranch in Sandy Valley and Spirit Therapies.
"Most of my lesson horses have been rescued. There are lots of wonderful horses out there that need a home. Organizations like L.E.A.N. and Shiloh Ranch help save horses. Spirit Therapies offers therapeutic riding for mentally or physically handicapped kids as well as military members with physical or mental challenges. We recently sponsored an American Competitive Trail Horse Association horse show and the proceeds were donated to Spirit Therapies."
What or whom do you think was the biggest influence in your love of horses?
"I was taught a lot by my mother. She was the youngest of six kids and grew up during the depression. Her mother died when she was five and when her father lost his job and couldn't afford to feed the family, the kids were sent to other families. My mother ended up on a farm and became a horse lover. She also became a queen of the Ryan Horse Shows and I still have her trophy and pictures from 1944."
Opening a new business is never easy, and focus tends to be on getting all the operational aspects in line (dealing with construction, décor, hiring employees, ordering supplies and so much more). So, it's pretty rare for a brand new business to immediately incorporate a community outreach initiative in the first year, but 89074 resident Yannick Augy, General Manager of Hakkasan Las Vegas Restaurant & Nightclub was instrumental in making it happen.
Since opening in May 2013, giving back to the community has become very important to the organization, leading to the development of Hakkasan's overarching local non-profit program, "Hakkasan Gives Back." Augy and the team set out to identify a partner the company could relate to in the food service and hospitality industries, and found Three Square Food Bank, a non-profit committed to feeding the community with quality meals.
Augy has had a passion for food and dining since growing up in the Loire Valley of France. His grandmother first introduced him to the restaurant business at age 13. He gained his education at Jacques Cocur, culinary school in Borges, France and completed a Master of Hospitality Management and Tourism Accounting from the University of Angers. His diverse training included being a Demi-Chef at the Michelin-starred Le Clos des Sens at the Châteaux & Hôtels de France and Assistant Maitre D' at Hostellerie le Phébus at Relais & Châteaux. Augy worked at a number of high-end hotels throughout France, the United Kingdom and Monaco before coming to Las Vegas where he took a Food & Beverage position with the MGM Grand Hotel Resort & Casino. He later joined Hakkasan Las Vegas as Assistant General Manager where he worked to open the venue and, just a few months later, became the General Manager. Yannick Augy shares his experiences with Hakkasan Gives Back and his other accomplishments.
What is it like being involved with Three Square?
"I feel privileged that we were able to raise so much money so Three Square can provide thousands of meals to its patrons in-need. It's a great feeling of accomplishment to know that I helped contribute to a great cause and I look forward to many more opportunities like this one."
What are some of the initiatives of Hakkasan Gives Back?
"We wanted to align ourselves with a local food-based organization and give back to the community any way we could. Three Square Food Bank introduced us to their facility just before the holiday season and just a few days later, we created a campaign to help increase hunger awareness within Southern Nevada. Our next step was to have our staff involved (both in the restaurant and nightclub) as they raised contributions and donated their personal time at Three Square's warehouse to help assemble meals for those in need
In just two hours we packaged 10,000 meals to-go for the Kid's Café, 1,500 bags of food for Backpacks for Kids and 130 Senior Share Boxes. In addition to this volunteer activity, for each guest that dined in the restaurant during the month of December, Hakkasan donated $5 to the nonprofit organization. In January 2014, Hakkasan restaurant hosted Three Square Food Bank's key executives and board members to present a cumulative check totaling $50,636 which included all funds collected throughout this time."
What are you personally most proud to have achieved?
"I am extremely proud of what Las Vegas has given me. I left France in 2007 right after college, leaving my entire family and friends back home to come to a country where I didn't know anyone, didn't know if I was going to like it or make it. I will always be thankful to MGM Grand for giving me the best work experience and opportunity to grow."
You've also received a few awards along the way for your efforts.
"I'm very honored to have received awards such as the MGM Mirage Warriorship Award, the Seventh Restaurant Service World Award and a few others. It's a great feeling to be recognized, especially in a city that is so full of exemplary leaders in the hospitality industry."
Any life inspirations or quote you'd like to share?
"My boyfriend introduced me to a TV show called Super Soul Sunday with Oprah Winfrey and one episode with Howard Schultz, the CEO of Starbucks, fascinated me and was a great lesson. I learned to lead my team not only by the way I see my surroundings but also the way I see myself. Also, my grandmother Suzanne would say, don't forget to smile, it's the only free thing in this world."
Recent Posts